This is the second episode of Follow the Expat, a project that focuses on people living abroad.
Today we're spending time with Magda, a Pole who lives in Porto. Magda will show us the city and tell us about her life abroad.
Check out the walk through Lisbon with Ania from The Lisboner
Magda is my sister and I decided to do this interview with her because, despite being 4 years younger than me, her determination and maturity has always been a source of inspiration and motivation for me. I really wanted you to see Porto from her perspective and find out more about life in Portugal from Magda. It was also a good opportunity for me to go to Porto and visit her for a couple of days.
I encouraged Magda to do this interview for a long time. Very often the people I invite to my projects are quite shy and they claim they have nothing to say, that their life is not interesting. Magda thought the same, but I finally managed to convince her and in September 2019 I got off the bus in Porto and spent 2 days sightseeing and asking Magda hundreds of questions about her life there.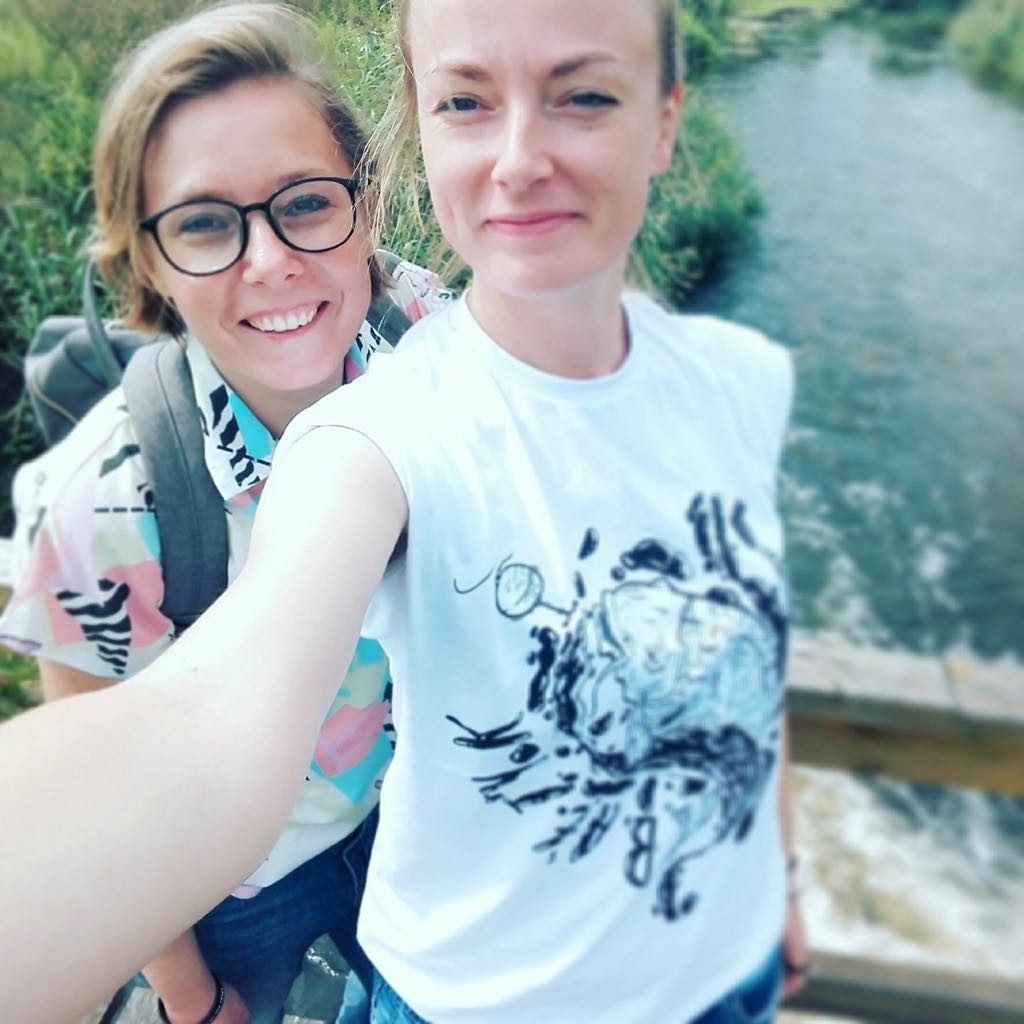 Tell us about yourself
Hi, my name is Magda. I come from Łeba (north of Poland). I have been living in Porto for 2 years now. I'm a freelancer and I work as a graphic designer. I work on branding and corporate identity, to be precise.
The place where Porto finishes
We leave Magda's apartment on a very rainy and cloudy morning. Armed in an umbrella and one waterproof jacket we hope that it won't rain too much. The temperature is quite fresh and not too low. In comparison to the previous days, when it was so hot you could barely breathe, I find this weather to be nice.
Magda doesn't really live in Porto, but on the other side of the river from it – in Vila Nova de Gaia. This is the place where Port wine is produced. The biggest attraction of the area are the huge wineries, where the drink is stored and where you can participate in tours and wine tastings.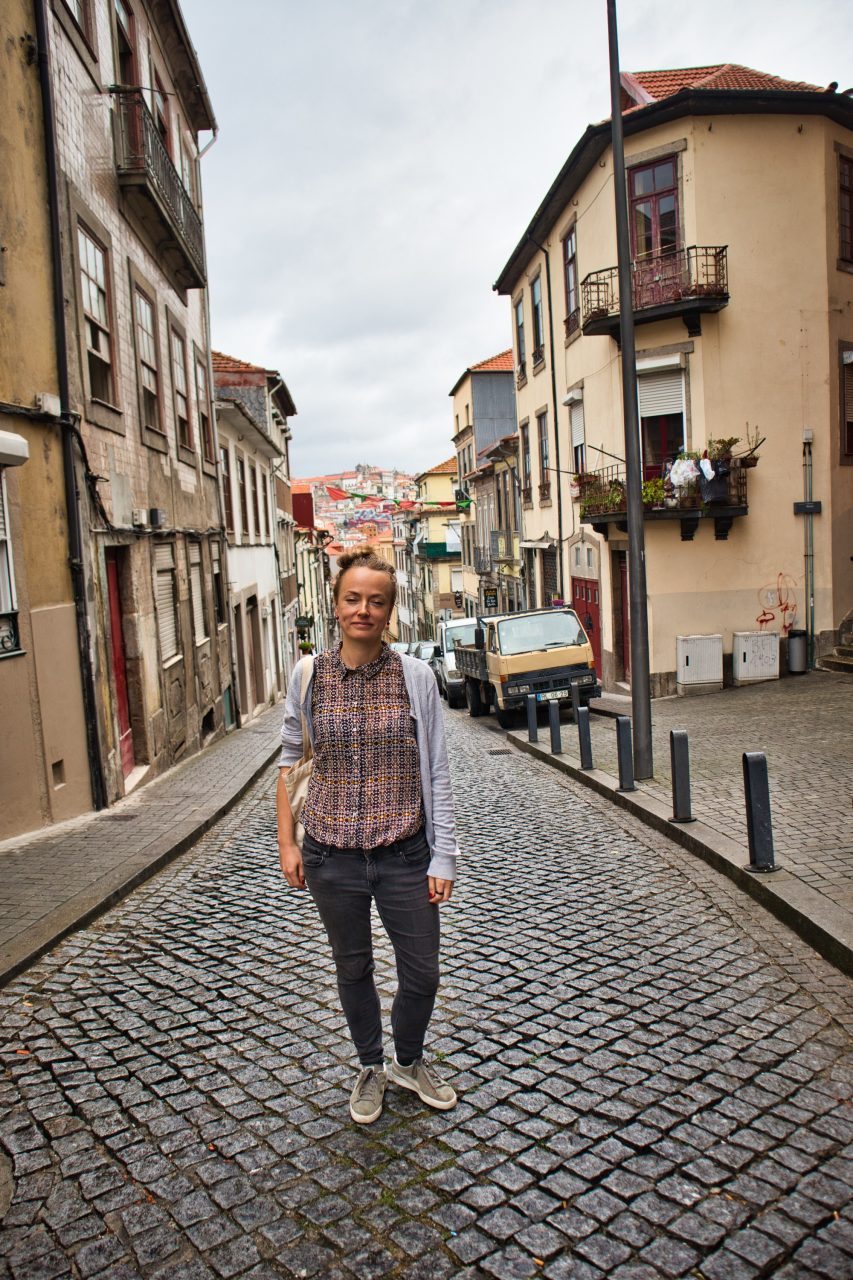 Today we are not going to the wineries. We have done the tour before and I have written about it in my post about what to do in one day in Porto. Check it out!
Instead, Magda takes me for a walk around Vila and a breakfast in a very local place.
Not many tourists come here. Normally, some people turn into the side streets from the river, but don't go too far. Perhaps they can't be bothered to walk up the hill so much, which I understand. The streets here are located on very steep ridges and you really need to be fit to be able to walk all the way up. However, I must tell you, it's worth the effort.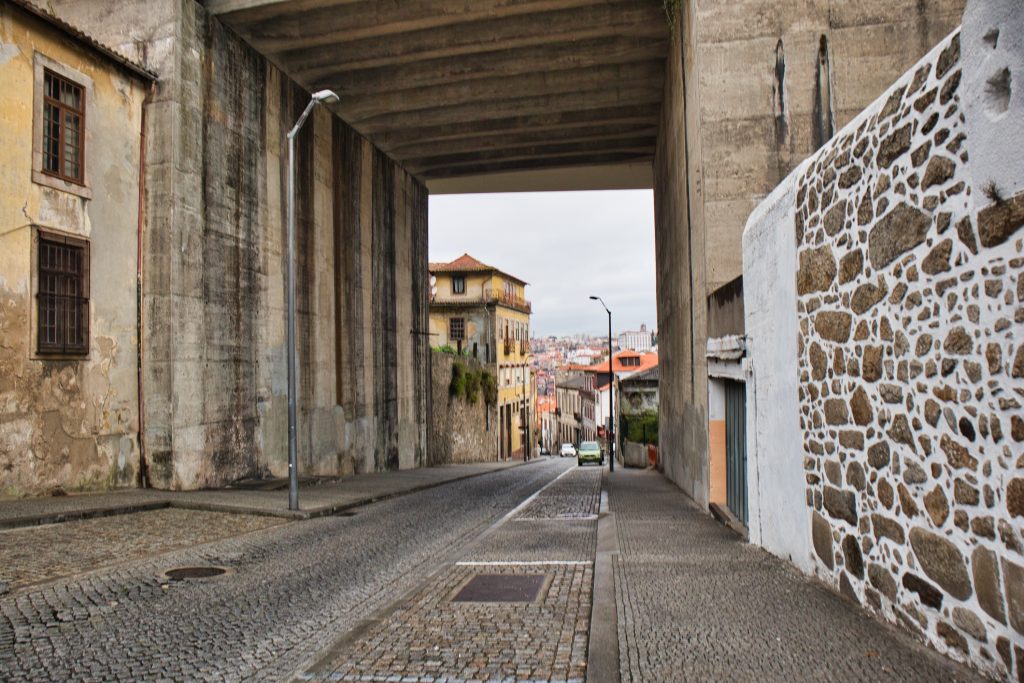 Vila has an amazing atmosphere. Old, antique houses, local inhabitants sitting on benches and very charming cafes with cheap food – this is what those visiting Porto want and expect from the city. This is Portugal that's off the beaten path.
Are you not bothered by these hilltops?
It's a matter of getting used to it. Once you do it many times per day, you stop feeling so exhausted when you walk up.
A very Portuguese breakfast
For our breakfast and coffee we're going to……a grocery shop. The first part of this place consists of shelves with fruits, vegetables and washing detergents. You can't really tell that you can get breakfast here. A few steps further, there is a section where you can sit down and eat. Small tables with colourful clothes and a bar with pastries fill up the little space.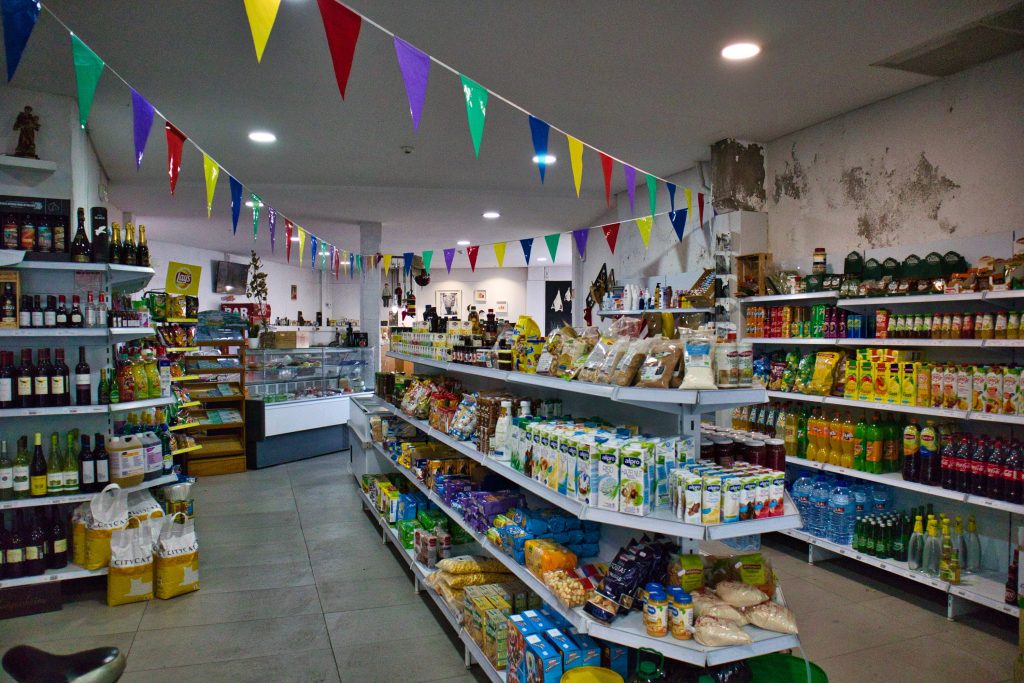 Our order is quite modest – normal, white bun with cheese, no butter and coffee.
We are amazed by the freshness of the roll. It might just be a normal piece of bread, but it tastes like heaven!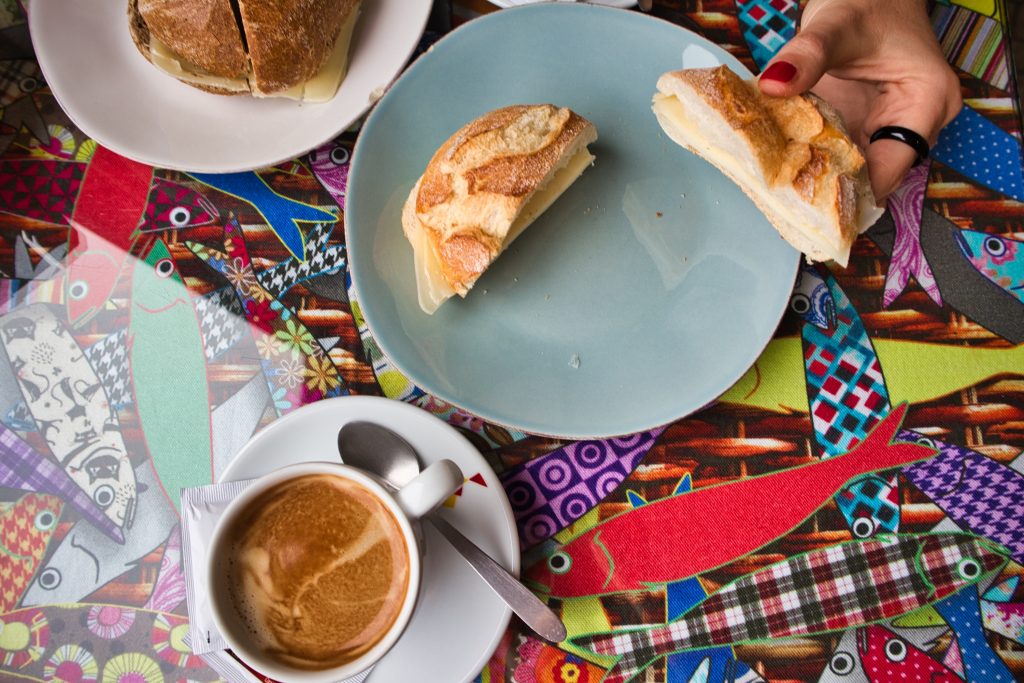 'Do you want a glass of Port? – asks Magda. I make a disgusted face. Drinking alcohol at this time of the day is not really something I enjoy, but Magda assures me that when she comes here after her morning run, at 8am, there are older people sitting at the tables and drinking Port. It sounds charming, but I quit the idea of drinking wine so early.
For a good breakfast go to Mercearia do Bernardino.
What were your beginnings with emigration like?
After a couple of years working in a corporation, I decided to go to Thailand, where I worked for an NGO. I wanted to try something different, so I moved to Laos for 9 months and then I started freelancing and travelling. I like living in other countries. Thanks to it, I really learned a lot.
A secret garden and other hidden gems
Magda knows a lot of nice places in Porto, which are not on any tourist maps. She leads me through alleyways and empty streets to something she calls 'a secret garden'.
It starts to pour down with rain, so we run and finally reach a beautiful, old gate, which opens to a small square. We hide from the rain there and when it stops, we go to explore.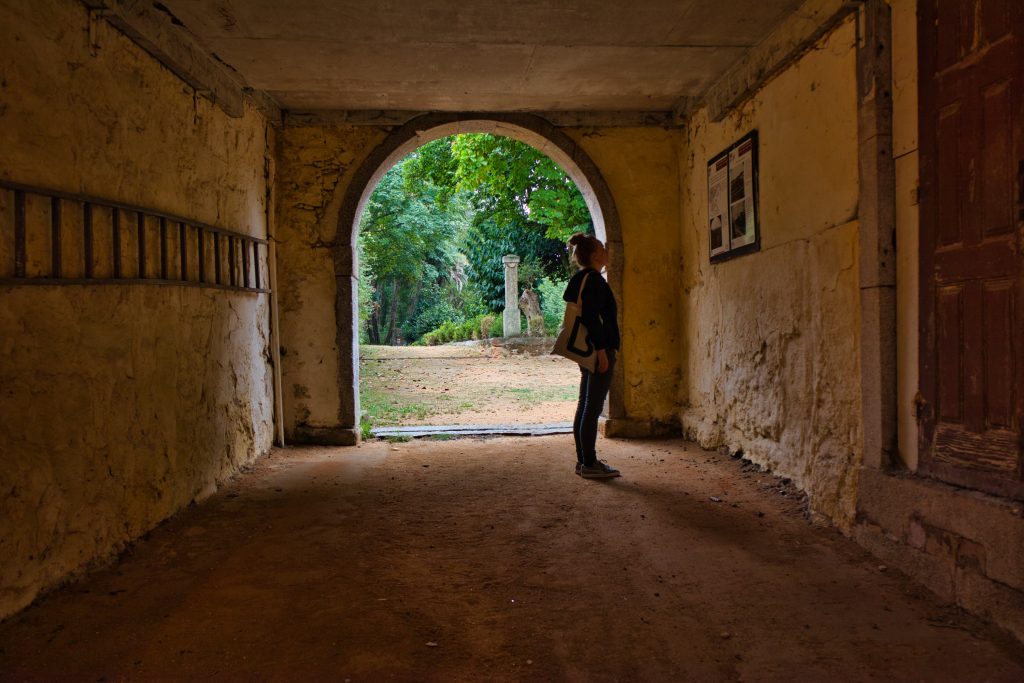 Everyone thinks that in Porto the weather is always nice and warm. It's not really like that. It's often cold, rainy and very humid.
We stop to look at a great, old villa standing next to it. The whole building is covered with leaves and plants. It looks majestic, mysterious. Next to it – a small pond with a beautiful fountain and a sculpture of a woman.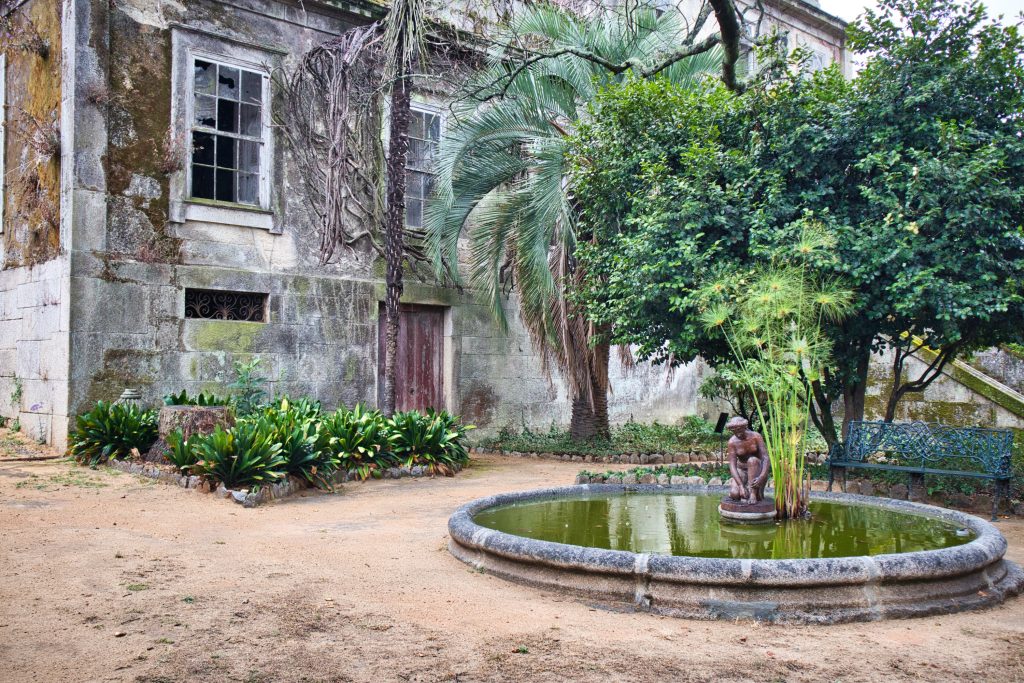 The park was established almost 200 years ago. It contains over 200 kinds of camellias, which are the symbol of Porto. They bloom in spring and make this place a truly extraordinary spot on the city's map.
Relax in Parque da Quinta das Devesas. Come here during spring or summer. The entrance is free.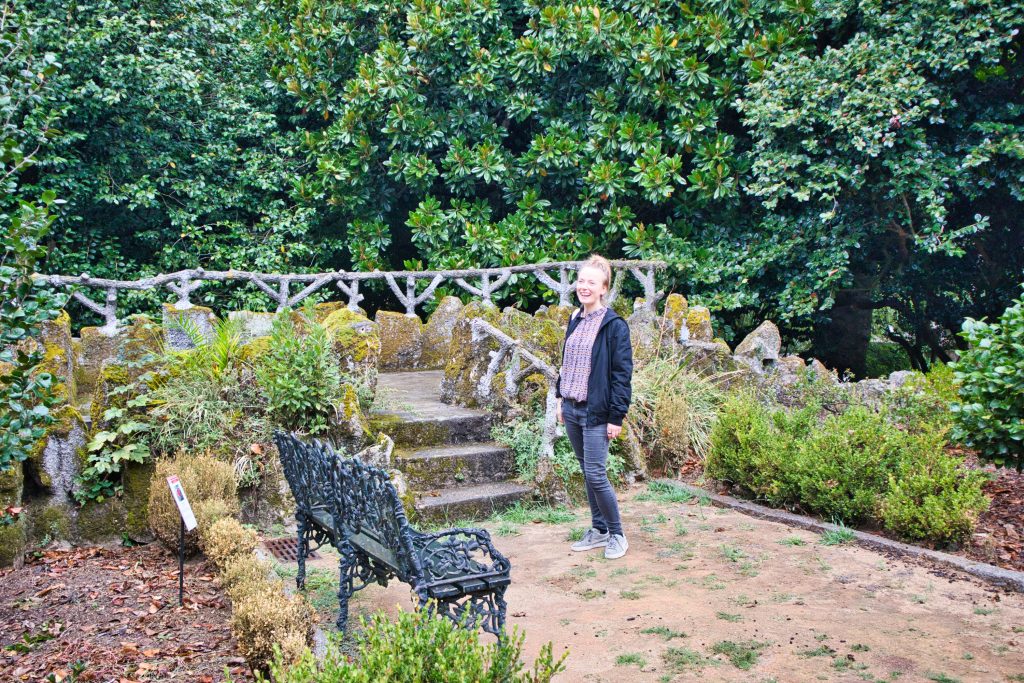 We go down the street and finally reach the river – the most touristy part of Porto. Due to the weather, there are almost no people here, which is great for us. It's just a shame that it's so windy.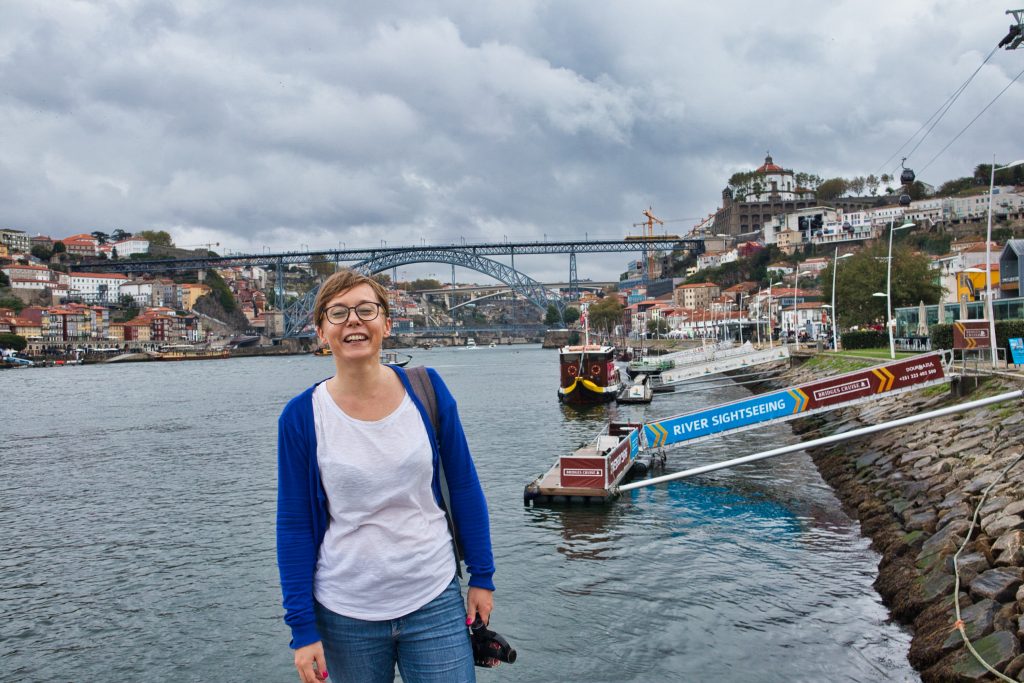 We get to the river and we take a few photos. Then, Magda leads me to the back of the wineries that line the shore. This time, we are going to a very interesting place.
3+ Arte is a small, artistic cafe. The entrance looks amusing and it's quite hard to figure out what this place really is. Inside we find an exhibit of hand-made small doll houses, created by the local artist group. A little bit further, at a very interesting installation, consisting of a camping van and other little, quirky things, you can drink a glass of Port, eat something and buy a very unusual souvenir from Porto.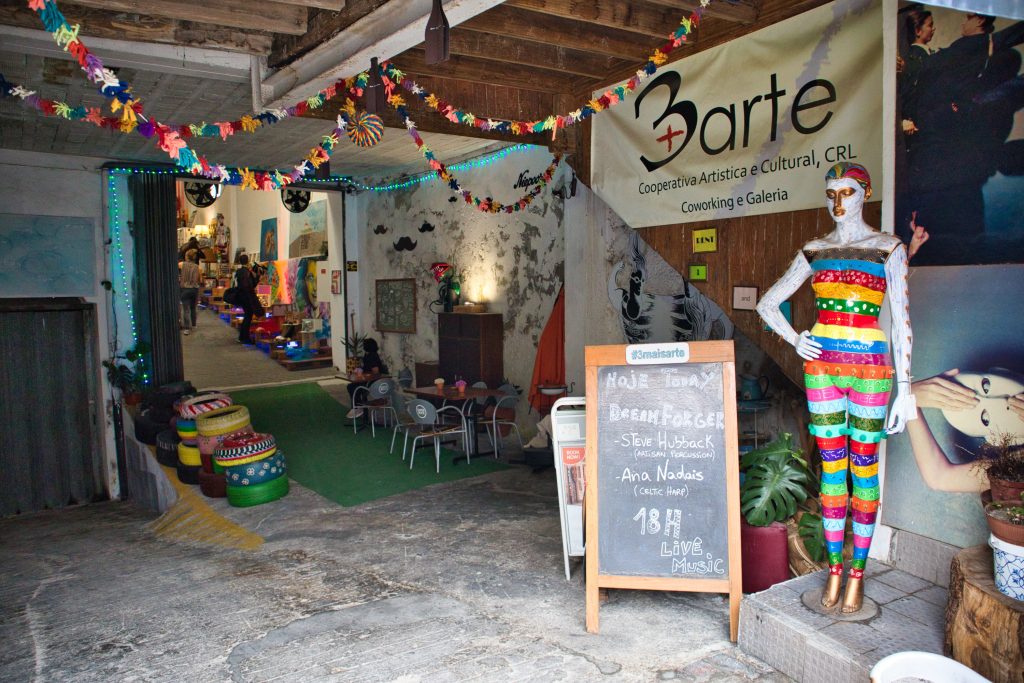 During our visit, there was a small market where independent artists were exhibiting their works.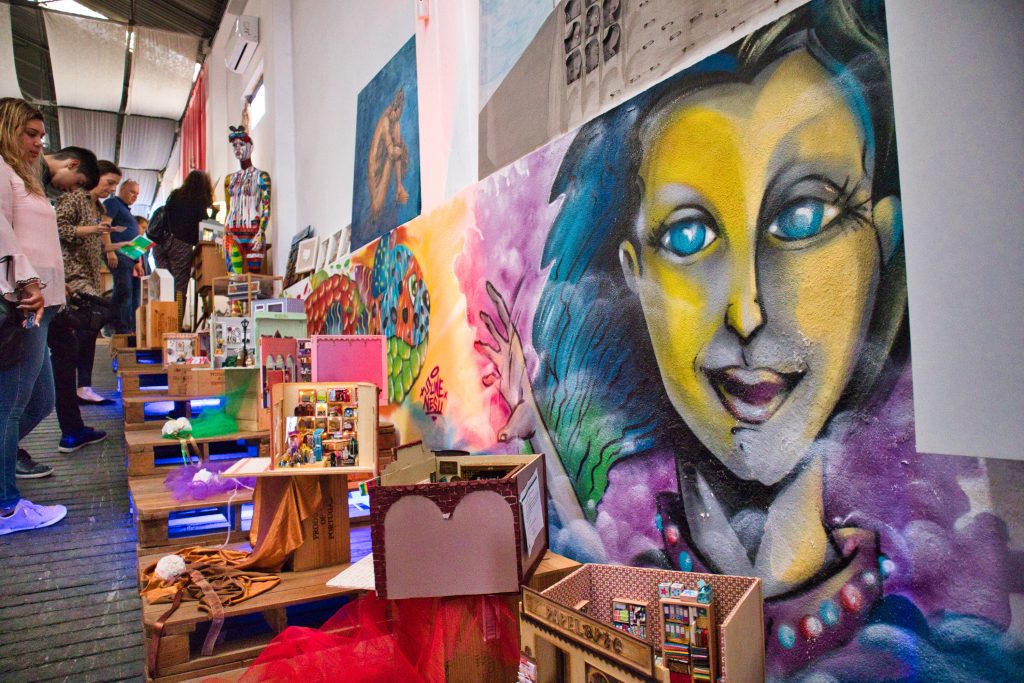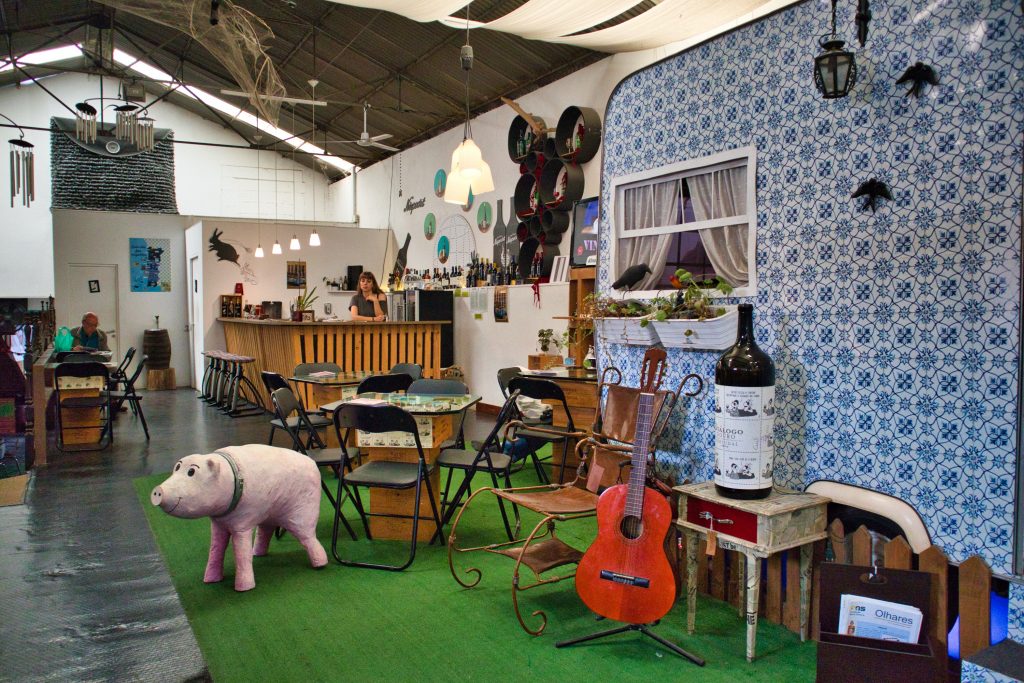 Art and Port in one – 3+ Arte.
One of the most famous Portuguese street artist – Bordallo II – left his artwork nearby the 3+ Arte. It's a huge rabbit made out of metal and plastic and situated on a corner of a building, thanks to which it looks very realistic and interesting.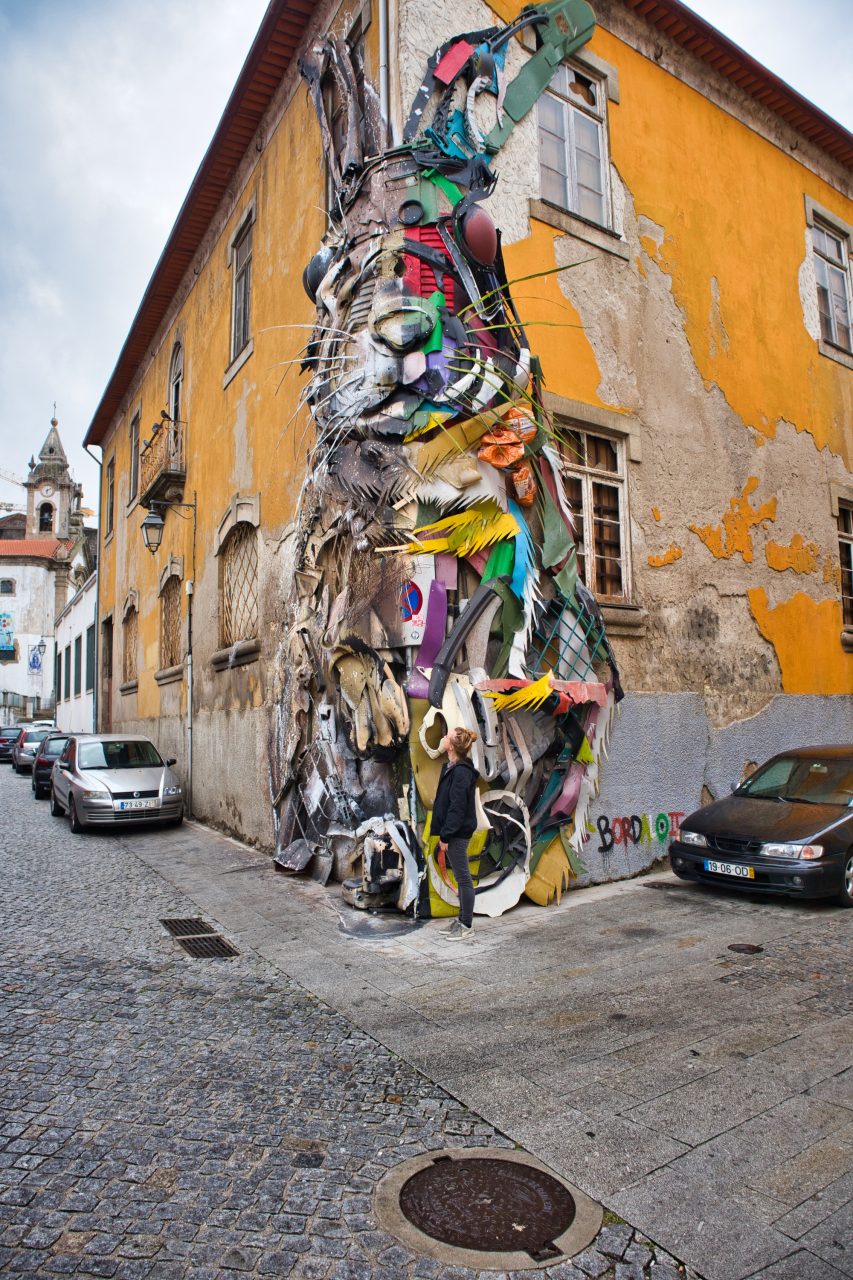 Check out the street art by Bordallo II.
Coffee and Port – This is what we love in Porto
In the evening we're going to a feast organised by Nomadic Munchers, so we're not focussing on food so much at the moment, but due to the constantly falling rain we decide to sit in some nice and cozy places in Porto.
When I say nice, I don't mean anything fancy, quite the opposite. First, we stop for a coffee in a place, where the plates jingle, the coffee machine hisses and where conversations mute the match that is playing on tv. It's one of the typical Portuguese cafes/eateries.
We get a bit dry, charge our phones and cameras and about an hour, we go further.
Magda takes me for a small lunch to a place, where they serve very good sweet potato fries and a vegetable soup.
Is it hard to be a vegetarian in Portugal?
I've been a vegetarian for 8 years now. Yes, it's very hard to find any vegetarian options here, especially in the local places. The only alternative is the vegetable soup, which usually doesn't have any flavour and it's bland. You can also eat a toast with cheese. If you're a vegan, then your options are even more limited. However, there are more and more vegan and vegetarian restaurant. Normally, they are a bit too expensive. I usually cook at home.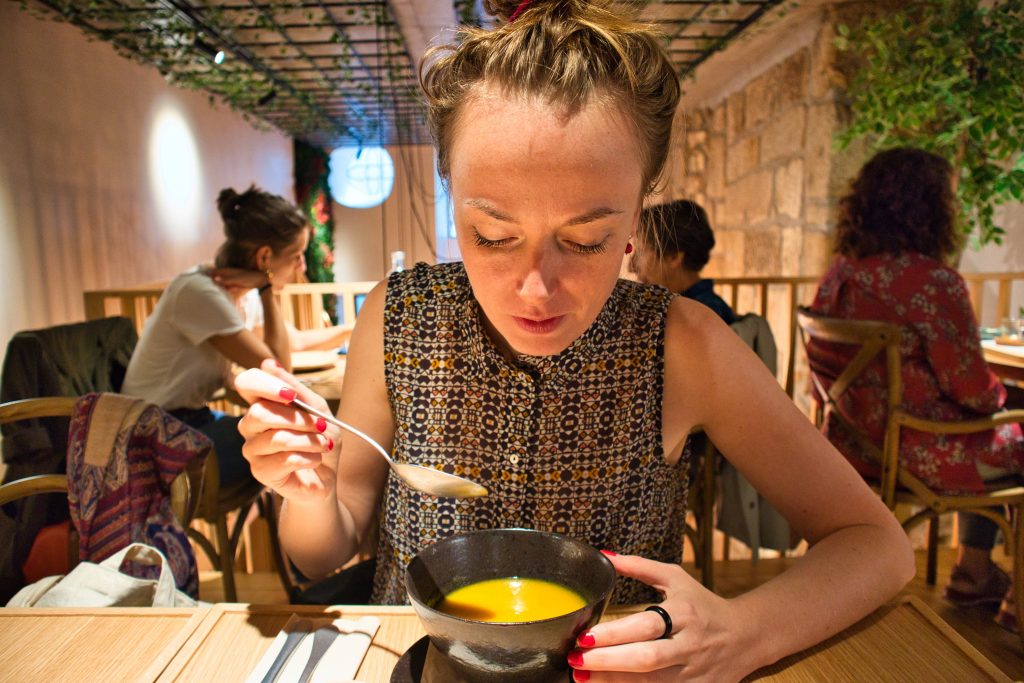 Once, in Porto, I stayed for a weekend in a rented Airbnb. The place for beautiful, but the area didn't seem the safest. Downstairs, in a small bar, the locals drank wine, talked and sold illegal substances. Despite its grim look and dodgy atmosphere, the bar seems quite friendly to the outsiders and we bought beer and wine there everyday without being bothered. We weren't scared to walk by at night either. The locals left us alone.
After the coffee with Magda, we decided to go there to drink Port. During the day the bar is very quiet. A couple older gentlemen sit at the tables and watch Pimba videos – Portuguese pop music. A girl brings us two shot glasses and pours some wine. From the first sip it's obvious that it was made there. It tastes like some home made wine by grandad used to make, but it's not very strong and it doesn't kick you in the head straight away.
We feel strong enough and a bit better to face the pouring rain.
Try some home made Port and local atmosphere at Churrasqueira Brasil.
Artistic Porto
Magda graduated from art school and then she studied graphic design. No wonder then that she's interested in art and she knows what goes on in the artistic world of Porto. Every time I visit her, she takes me to some exhibits or events.
This time we're going to a shopping mall.
There are lots of half empty shopping centres in Portugal. Quite often the spaces are used for other things than shopping.
For example, today there is an art festival. Some independent artists show off their works. There are some things for sale and some are just as a part of an exhibit. Everyone here hopes they can sign a contract with a gallery or an agency.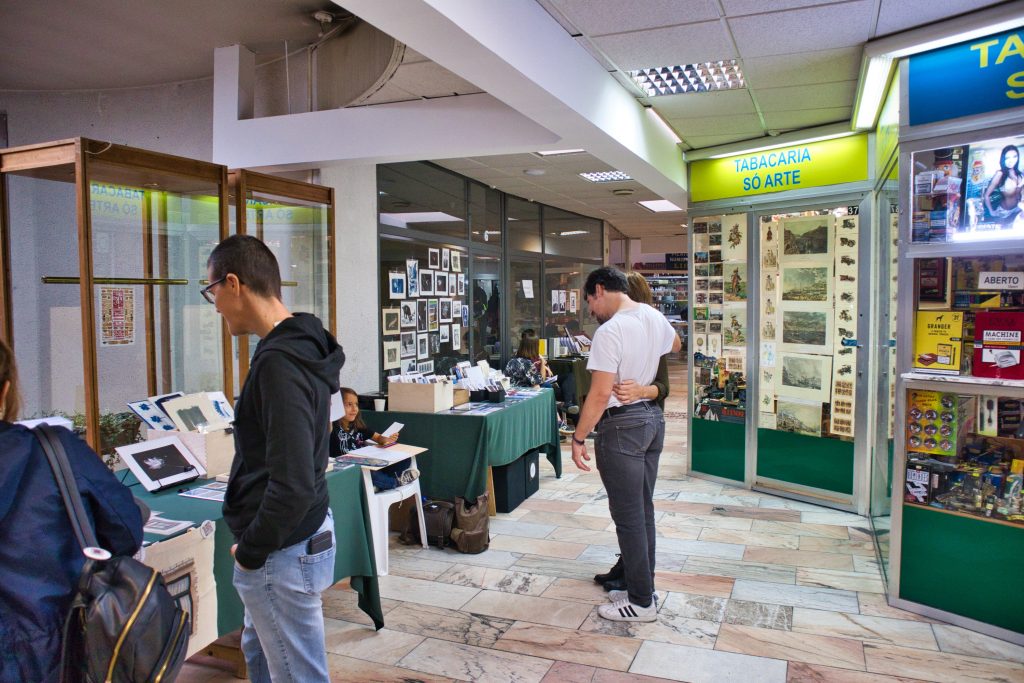 In the shopping centre you can also find tattoo studios, shops with antiques, art workshops and art schools.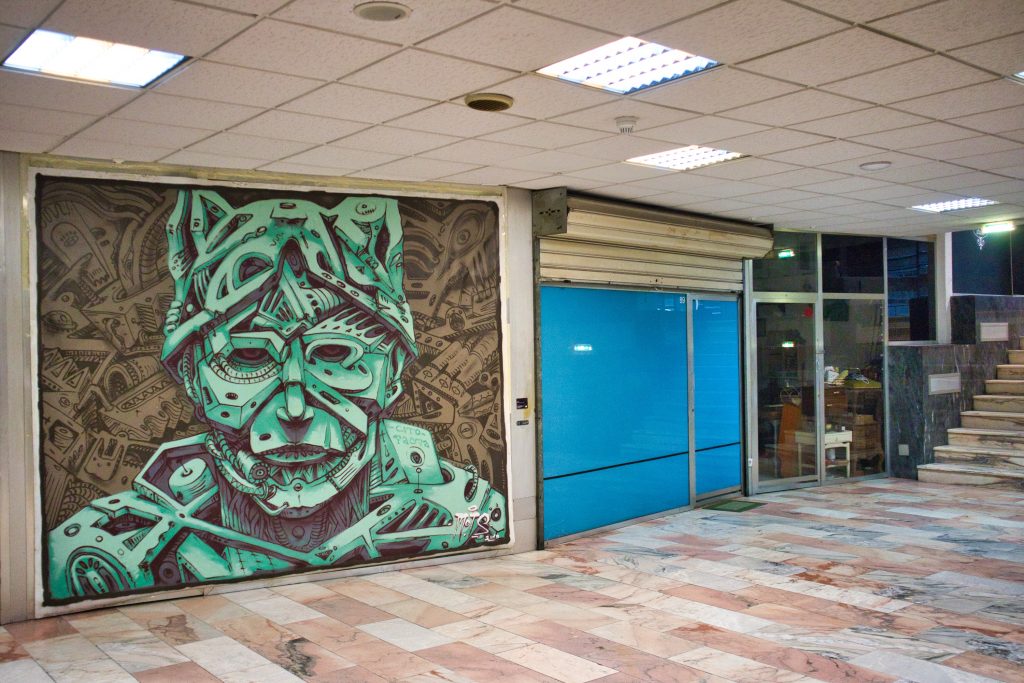 Experience this art atmosphere – Centro Comercial de Cedofeita .
What do you do in your free time?
I like to go for a walk, discover new places, travel and attend different events. And besides that, like any other normal human being, I like to read and watch Netflix.
Something for the stomach
In the evenings we go to a special event. Nomadic Munchers is a new initiative on the cultural map of Porto.
Every expat knows how important it is to eat well and meet new friends. Nomadic Munchers provide exactly this: good food and an opportunity to meet new people.
Together with Magda, with glasses full of good wine, we talk to other attendants of the meeting. There are people from all over the world: New Zealand, India, Holland, England, the States. Everyone is buzzing with anticipation to try something really good.
I haven't been to such a cool event for a long time. As soon as I tried the food, I knew that this is the best one of all! On my plate I have a real poetry of flavours and aromas and my new friends, whom I've just met, make my time even better by telling me their stories.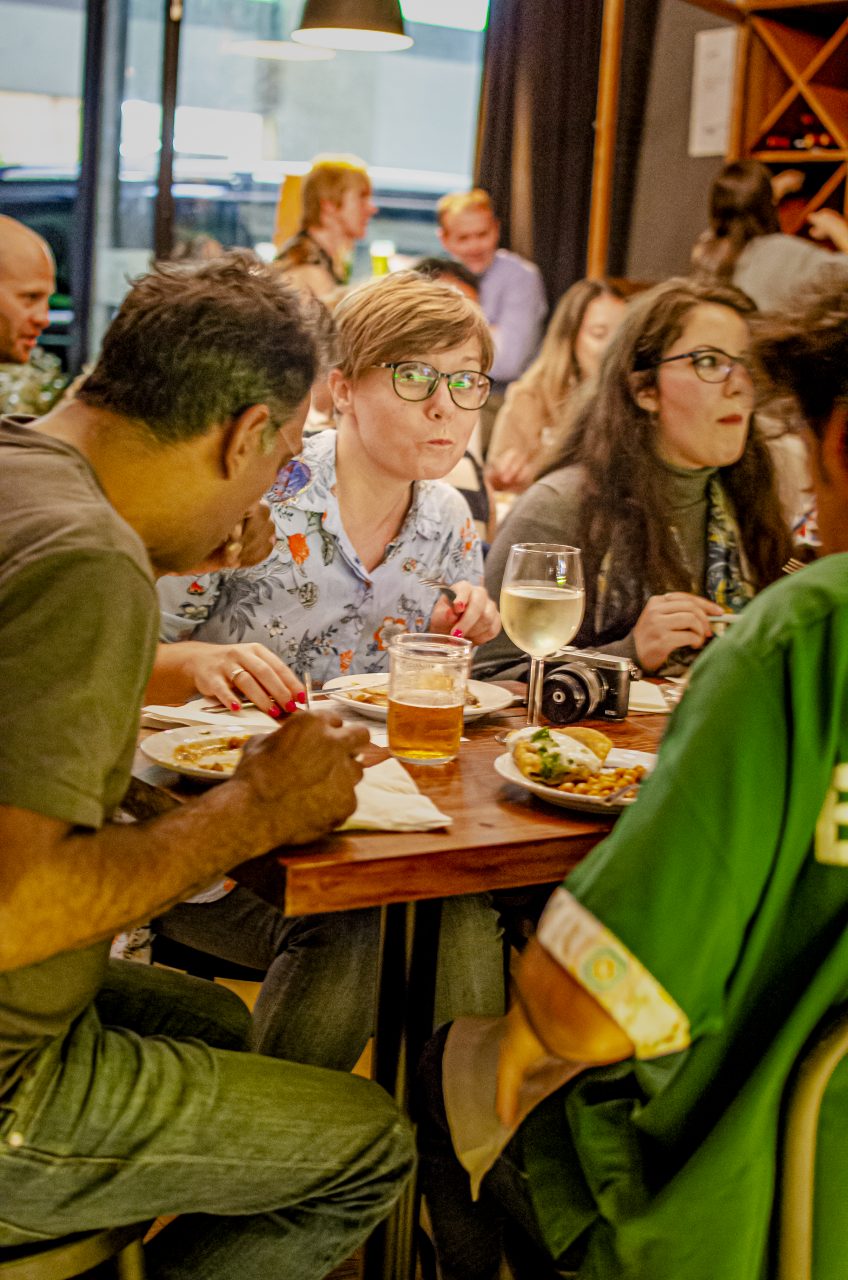 The time flows. At the end we stay a bit longer to talk.
What is it like to live in Porto?
The next day Magda spends some more time with me and talks about her move to Porto.
What brought you to Porto?
I stopped here on my way from Asia. I was looking for a good place to live, with good weather, which (as you can see) hasn't really happened. The weather here is quite bad, but I like this city very much.
I remember when Magda first moved to Porto. She was in awe of the city, its architecture, its atmosphere. When I came to visit her I thought the place was really extraordinary. I didn't expected it to be so beautiful.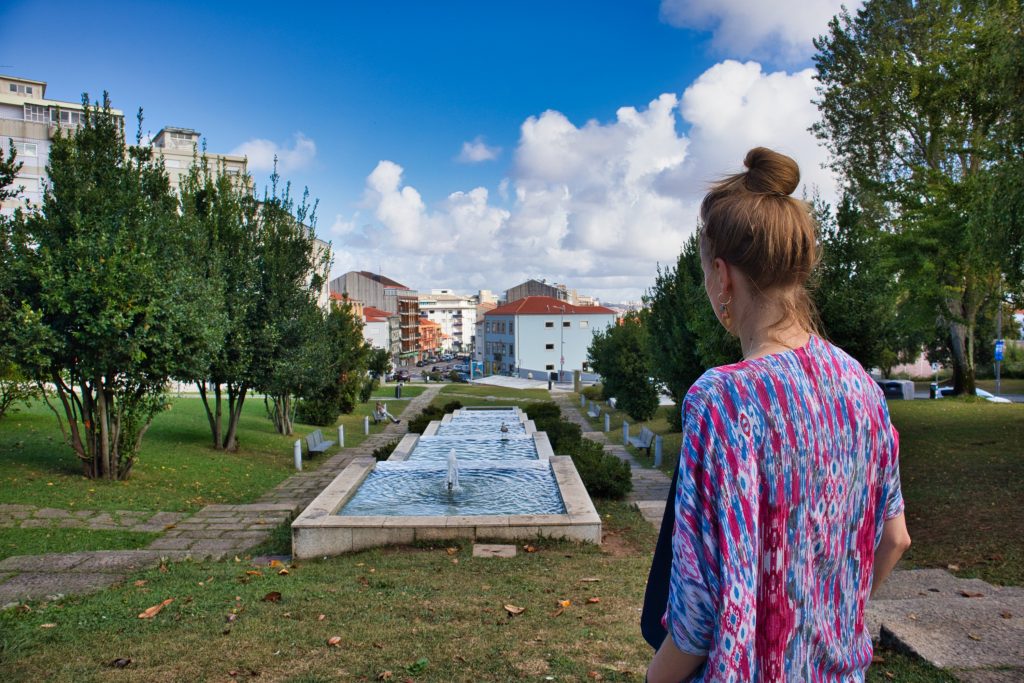 With time, Porto started to be too small for Magda. At the moment, she complains that she doesn't really feel like going out and that everything is the same. We both suffer from the same disease – we love to relocate, we don't like routines and we enjoy new places. I understand her. Now Magda thinks of moving to Lisbon. She doesn't want to leave Portugal yet, but she craves change and for now Lisbon seems like a good choice.
Porto is not a bad place to live. It's cheaper, quieter and less chaotic than the capital. However, it's small and it's probably not the best for someone who likes to discover something new every day.
Do you want to go back to Poland?
Not at the moment. Poland is good to visit. Going back means a step back for me. Living abroad gives me an opportunity to get to know new people and learn a new language.
Why does Magda love Porto? She says that she loves it because of wine and coffee and for its closeness to the beach. She's not a person that likes to laze out on the sun whole day, but she goes to the beach to walk and get some rest from her work and the city.
She doesn't like it for crowds of tourists, who come here in thousands during the summer. She is not very happy with the weather either. Constant rains in the winter make living in Porto a bit hard.
She lives in a rented room, in a huge block of flats, on the suburbs of Vila Nova de Gaia. The room costs 250 Euro. She would like to move to Lisbon and rent a flat there as she doesn't want to share an apartment anymore. She is a little afraid of not finding anything suitable though.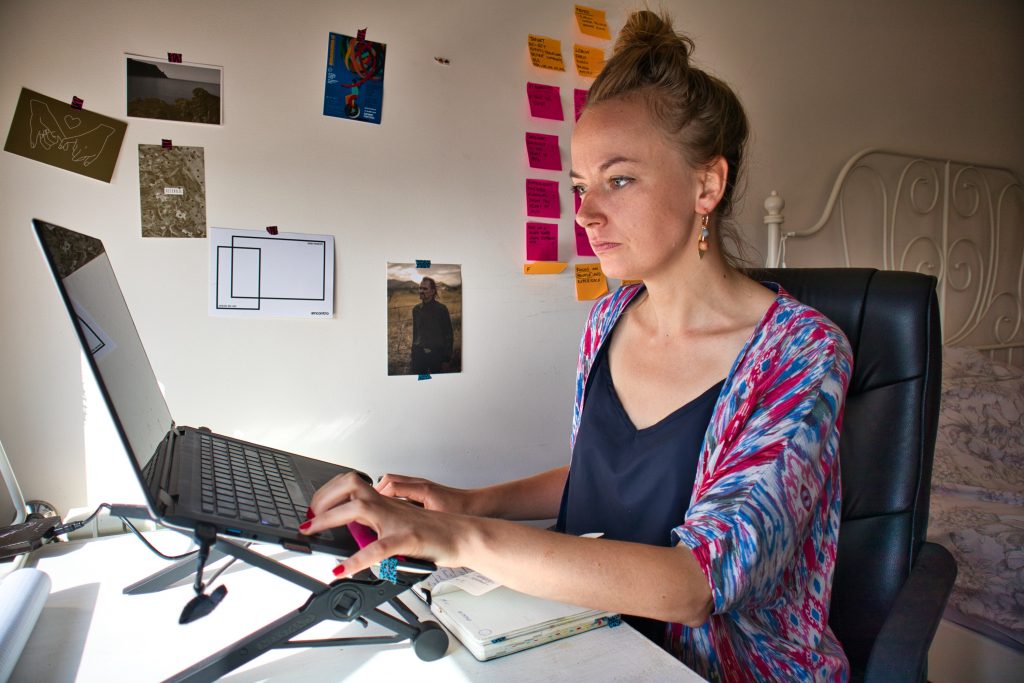 Finding a place in Porto wasn't easy and she was very lucky to find something decent.
Many people, before moving here, think that they will live in a tenament house, in the city centre, in an apartment with wooden floors and high ceilings. Those places are usually old and very neglected, but also very expensive. That's why it turns out quickly that it's better to rent something in the suburbs and in newer buildings.
I say good bye to Magda in the afternoon. We drink a quick coffee and hug each other. I promise myself we'll see each other sooner. It's a bit strange that we live so close and we visit one another so rarely.
Expat advice
Magda has special advice for you. We hope that they will be useful in your travels as well as your move to Porto.
The must sees in Porto
Afurada – a fishing village, located on the other side of the river from Porto. It's still very local and you can get there by a very charming bridge which leads along the river.
Maus Habitos – for all alternative culture lovers. The club is located on the first floor of a building that consists of a public parking. It's a very unusual space and inside you'll find a gallery, a club and a restaurant.
Serralves –at the centre of modern art you will find a beautiful park, which has plants from all over the world. In June it hosts a street theatre festival.
One advice for those who want to move to Porto
If you want to move to Porto, remember that finding a place to live might take you ages. The quickest way to find one is to use Facebook, but be aware that the prices there are much higher than you would normally get.
One secret place that no one knows, but it's worth visiting
You're wondering what this place is? Become a Patron of The Blond Travels. Suport my project Follow the.. and get some prizes, souvenirs from my travels and advice from those that took part in the Follow the interviews.
Find out more about Magda
You can find her on:
Facebook
Instagram
Check out her blog and her website.