The Lisboner – Anna Szostek – a beautiful Polish girl from Warsaw, who has been living in Lisbon for 8 years, knows the city inside and out. Her love to everything what's Portuguese is visible on her blog and her Instagram profile. Who would show me the capital of Portugal better than her? I asked her to take us for a walk and tell us about her life in Lisbon.
When you're an expat (or an immigrant, if that's the term you prefer to use), life isn't easy. And when you're a certain age, things might seem more difficult. For example, making friends. As a person in her late 30s I choose people to hand out with a little bit more carefully. I want to surround myself with those that have something to say and I spend time with people who don't consume my energy.
Anna chatted me up on Instagram and offered to go for some wine with me. That's how our friendship began. I think that she really knows Portugal and Lisbon. That's why I chose her as the first one to participate in my Follow the project, which focuses on people living abroad.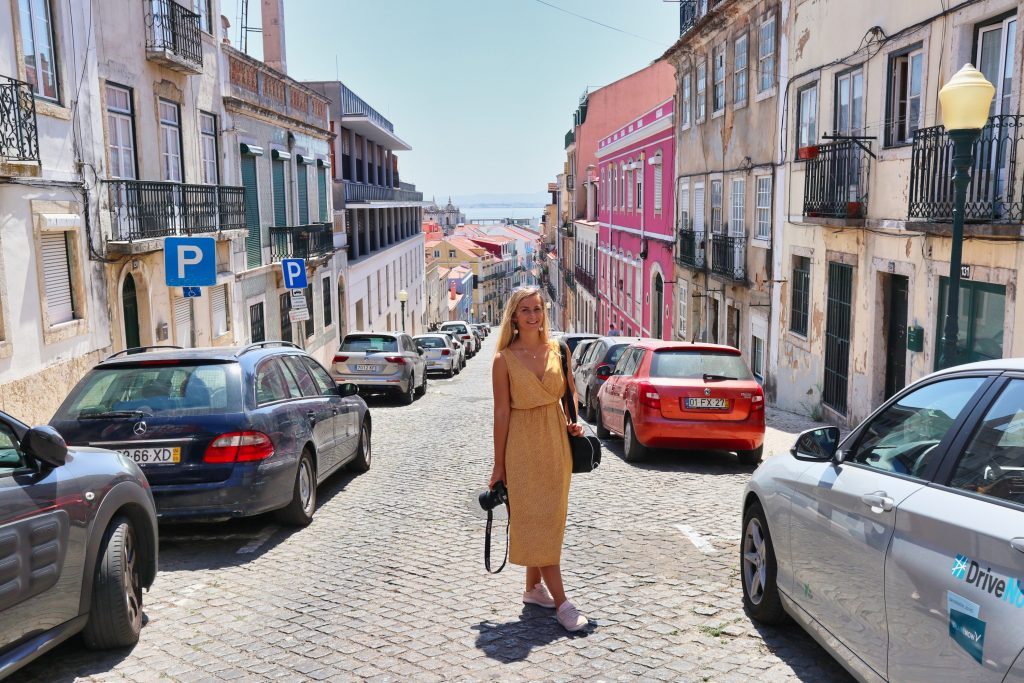 Walking around Lisbon with The Lisboner
Lisbon is not a big city. There are a lot of interesting and charming places. Ania planned a whole day of sightseeing, walking around and, of course, eating and drinking.
A sweet beginning
It was a very hot August day and we met at Baixa Chiado, a very popular spot on the tourist map of Lisbon.
'Before we go, we need to drink some coffee' – said Ania. I never decline such offers. We went to the nearby Manteigera, a bakery and a pastry shop, which is famous for its pastel de nata. Some argue that they are better here than in Belém. I don't really have my own opinion about it. I can eat them all the time, everywhere.
As true locals would do, we ordered a small coffee (um café) and a pastel de nata each. We stood at the counter and agreed on the plan of the day while sipping on the coffee and munching on the sweet pastry. That's what I call a good beginning of the day!
Who the f** is Ania? Tell us about yourself!
Hi, I'm Ania. I'm from Warsaw. I came to Lisbon in 2011 to study at Erasmus programme. I was a student here. And now it's been 8 years since I moved here.
You never know what's behind the corner
I know Lisbon pretty well, but I always find here something that can surprise me. Last year I visited the city with Wolfgang from with Locals. Today Ania took me through a similar route, but we saw some really cool places I hadn't visited before.
Tourists usually stick to the main streets. The area around Baixa Chiado are less frequently seen by them. The main square makes such an impression on everyone that people forget to wander off. Bairro Alto, which lays just next door is famous for its parties and during the day it's quiet and empty. Walking here in the morning might not make you fall in love with Lisbon (there is rubbish everywhere and the stench of urine is not the smell you want to experience in the morning, after your breakfast), but you can only step away a couple of meters to find some really beautiful streets and houses.
We stepped away from the bars and went towards Santos. I would say that the true Lisbon, the one that you're dreaming of discovering, charming and colourful, is right here.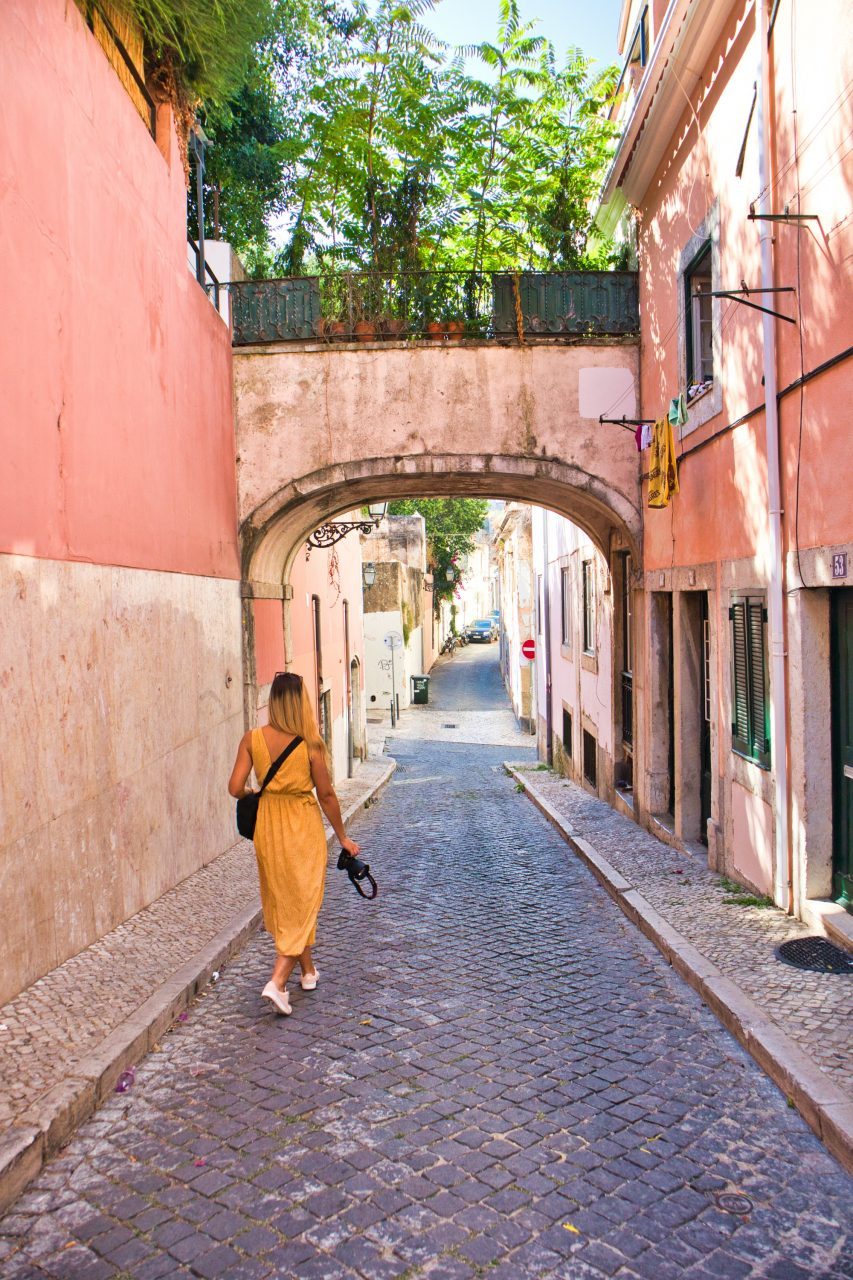 An older gentleman stopped us when we were taking photos of one of the buildings. He advised to sneak a peak at one of the opened gates. Inside we found a long, stone corridor. Morning light was falling on the walls creating beautiful shadows. A bit further from there we stumbled upon a small house with lots of plants growing around its windows.
What were your beginnings in Lisbon like?
It wasn't so easy after I finished my studies. We had an economic crisis and even the Portuguese didn't have jobs. First, I worked as a waitress and a bar tender, then I got a job in an office, where I gained some experience. And so it went, from one job to another. Now, I am working in a bank and I'm satisfied. Sometimes I think about going back to Poland, but I feel that Portugal is my home and I just don't want to move back to my home country.
Isn't it beautiful?
Despite the heat, it was a great experience to walk around Bairro Alto. I didn't even know when we go to Principe Real. We both think that it's the best part of Lisbon, where you can find nice coffee shops, beautiful streets and Jardim de Principe Real – a small park with a huge, almost a 100-year old cider tree.
It's also a very stylish and expensive area, where those that have money hang out, or live. There are still some nice tenement houses here with beautiful facades and a couple of great tascas – cheap, traditional restaurants, which Portuguese peole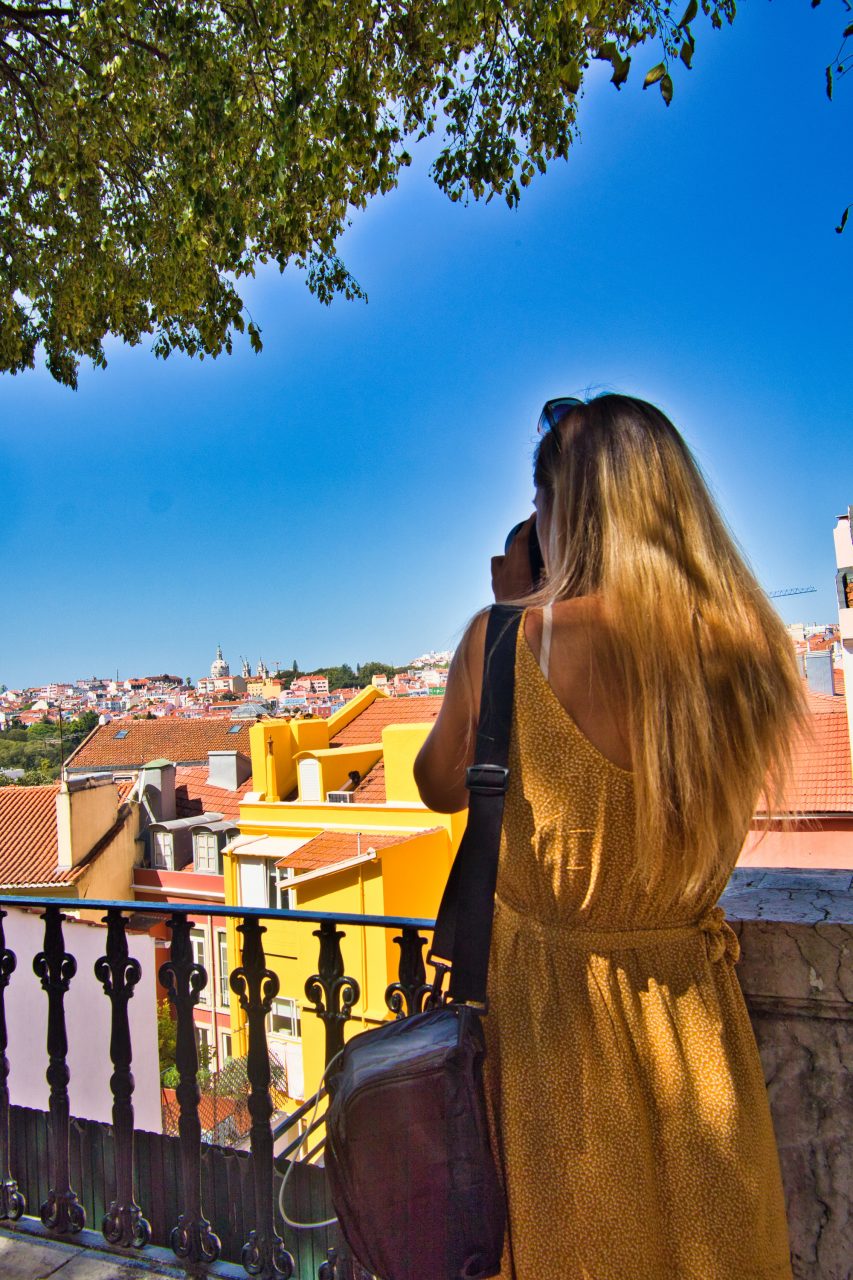 This part of Lisbon always amazes me. I like it because it's far away from the chaos of the touristy places. You can only turn somewhere to find peace and quiet.
Sāo Bento is a street which is not far from Rato and is very popular among freelancers and nomads due to the apartment availability, stylish coffee shops that offer good food, coffee, fast internet and sockets for laptops, which is not that common in Lisbon.
To tutaj niedaleko mieści się Copenhagen Coffee Lab, którą znają niemal wszyscy, którzy pracują zdalnie w Lizbonie, a zaraz obok Nannarella – mały sklepik sprzedający nieziemskie lody. Oczywiście, to był nasz kolejny przystanek. Nie mogłyśmy sobie odmówić takiej przyjemności!
Why do you love Portugal?
I like it because of its good weather. People are nice and friendly. I like the laid back lifestyle. I also love wine and seafood, of course.
Time for memories
Around noon the heat started to really bother us. When we got to the street, where Ania once lived, we were both a bit tired of walking. We stopped by her former house.
When I was at uni, I lived in a huge apartment, which was divided into small rooms. There were 13 people living there. We only had one bathroom! But when you're young, you don't really care about this. I then moved to a different place with a friend of mine.

We lived here for a while. There was nothing around, no shops. The rents were low. It was only a few years ago. We didn't have any problems with renting a flat in Lisbon. And now…To rent a room, wherever in the centre, you really need to have a lot of money.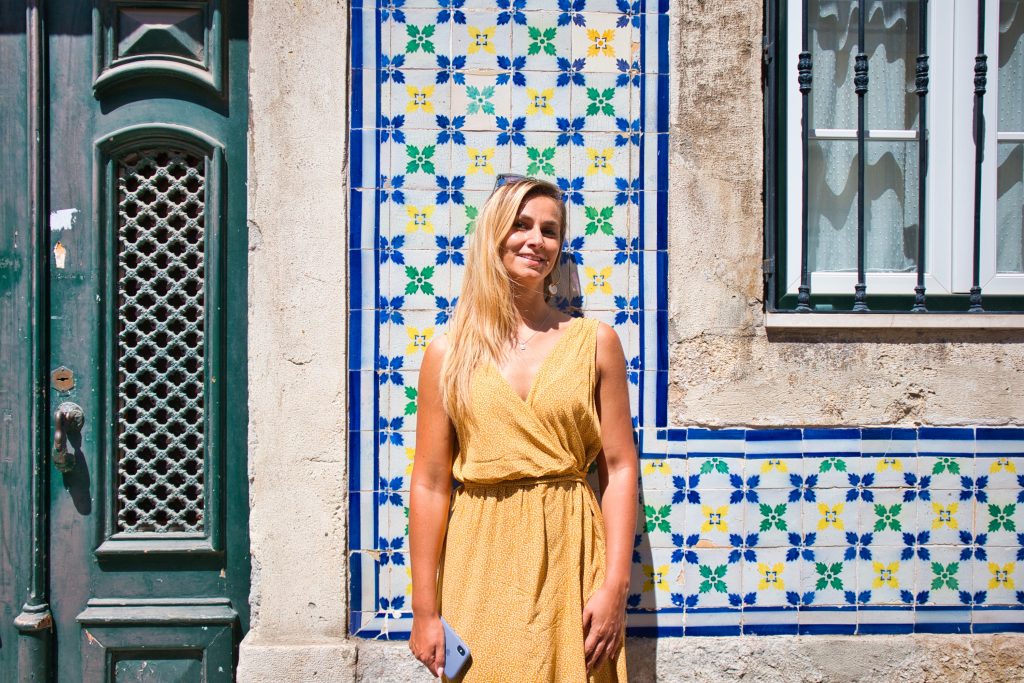 That's true. Before I moved to Lisbon, I imagined that I would live in one of the apartments in the centre. I read before how cheap the rents in Lisbon were. The reality was quite different and, as it turned out, renting a flat in Lisbon wasn't easy and it might get worse in the future.
If it's hot, you have only one choice – to drink vinho verde
Slowly, walking, we got to Museu Nacional de Arte Antiga – The National Museum of Ancient Art, a place, which is often missed by visitors. Last year I was near it with Wolfgang, who also showed me a couple of beautiful restaurants and bars in the area.
Outside of the museum there is a small square with a fountain Chafariz da Janelas Verdes, and a French Bakery La Boulangerie, which serves fresh croissants on a terrace with a view on the fountain I mentioned earlier.
It was nice and cool in the museum. But this time we didn't go there to see the works of art, but to drink wine. If you follow me and Ania on Instagram (see links below), you know that we are both very fond of wines.
There is a small bar with a beautiful garden just at the back of the museum. It offers amazing views on the river, the red bridge and Christo Rei – the monument of Jesus the King. The entrance to the garden is free and everyone can try some fresh food and drink wine on the terrace.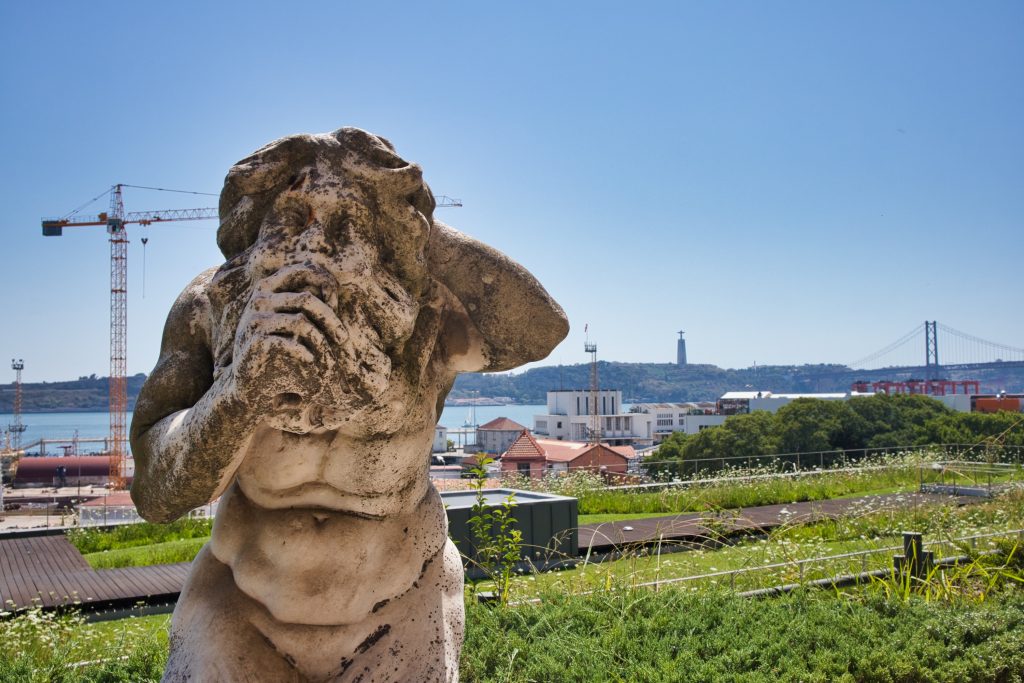 When it's so hot, you only have one choice – vinho verde! We took a bottle and sat in the shade.
What is the best wine in Portugal?
There are no bad wines in Portugal. I recommend the app Vivino. It allows you to take a photo of the label of the wine you're interested to buy, then you upload it and you can see the ratings of other people who drank it before.

I recommend using the promotions and discounts in Continente. Pingo Doce has also its own brand of wine and they are really good!
A royal lunch in O Palácio
What other things do we share with Ania? One of them is the love for food. She always takes me to places, where my taste buds explode.
We took a light stroll from the museum. Ania also showed me a small bar, which looked very stylish. As it turned out the owner was Polish. Maybe that's another person for my Follow the…series?
My stomach was protesting and letting me know that it was lunch time. At last we reached O Palácio. The restaurant didn't look impressive from the outside. The grey walls with glass door wouldn't have draw my attention. There were lobsters, crabs and fresh fish displayed in the windows. Inside a wonderful chaos was already in full swing. Waiters were running around, the bar tender made noise with the coffee machines and the white saucers that are used for every single caffeine drink. The locals were drinking beer, laughing and chatting loudly.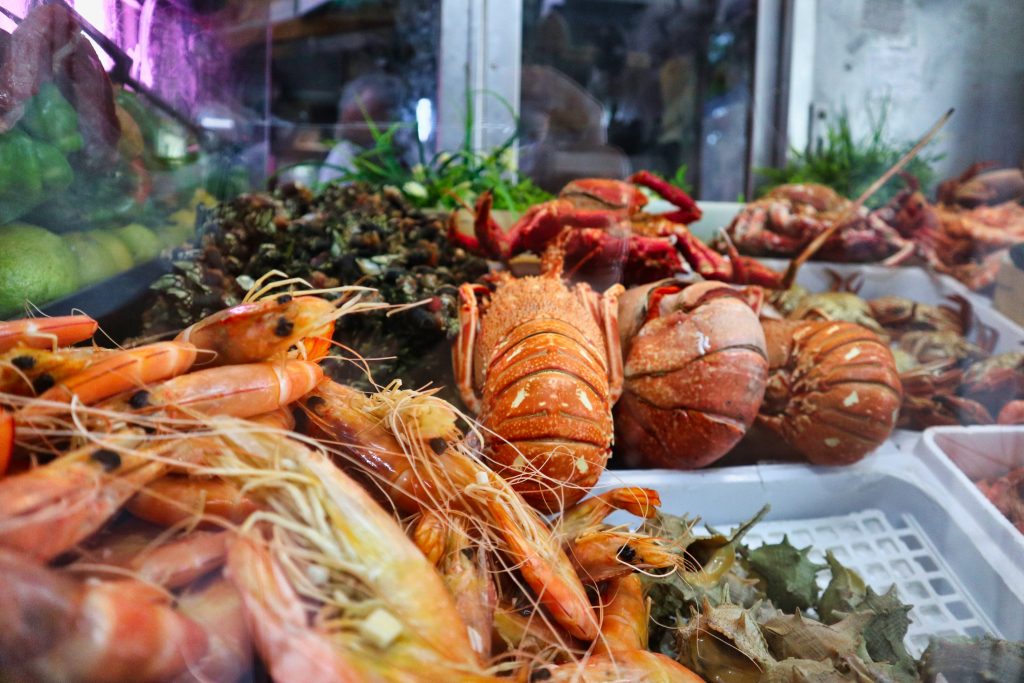 Ah! What a lunch it was! Prawns, ham, bread and more wine…I was full, but I didn't want to finish eating! It was the best food I had ever had in Lisbon!
How to find good food in Lisbon?
My advice – eat where the locals eat. If you see Portuguese people eating somewhere and the place is busy, that means that it's good. I always choose places like that and I have never been disappointed.
A good end to a good day
Before we finished our walk around Lisbon, Ania took me to one more place, which I didn't know existed.
Tapada das Necessidades is a small, charming park with benches and green spaces to enjoy. There are quite a few people here on hot days that come here to rest in the shade of the trees. We stumbled upon a Nepalese family celebration.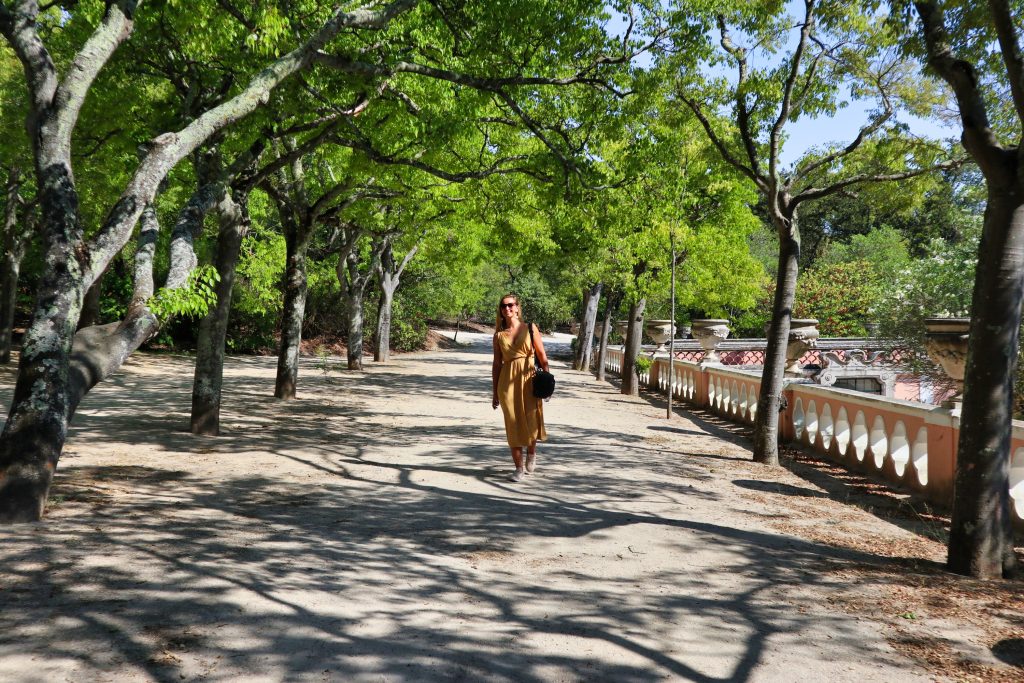 Opposite the park there is a view point that overlooks the river. The whole thing is spoilt a little by a white building, which covers the 25-th April Bridge, but the view is quite nice anyway.
How do you spend your free time?
I like going to parks. My favourite ones are the Gulbelkian Park and Estrela Park. I also like eating out and drinking wine and on the weekends I usually go to the beach.
Every time I walk around Lisbon, I find something new, something that amazes me, surprises me and charms me. Ania showed me places I hadn't known before and drew my attention to areas I had been avoiding. This is the true proof that we often don't appreciate things we have nearby.
If you want to know more about Ania and would like to follow her, check out her blog and her social media:
Facebook
Instagram
Don't forget that I'm also on Instagram!
Follow the…is my new project that focuses on people living abroad, I spend a day with them, they show me their city and how they live. Thanks to that we find out the most interesting facts about the place and some of the best advice on how to move there.
You can support the project by becoming a Patron! Check out more information here!