The White Temple and the Black House in Chiang Rai are two totally different buildings. The first – in the south – looks like out of a fairy tale. The second – the Black House in the north – is the headquarters of the devil himself. Both buildings are wonderfully odd and stunning at the same time, both contain strange art, which either makes you think, or laugh.
I had wanted to visit the White Temple for a long time. In photos it looked like a fairy tale palace, so I grabbed a first opportunity to go to Chiang Rai and visit the it. The Black House was an attraction I hadn't plan to see at first, but once I heard about it, I just couldn't say no to a trip there.
Along with 3 other friends we rented a car for 2 days and we headed to Chiang Rai. Our getaway turned out to be a great idea for a day trip outside of Chiang Mai. We stayed there for a couple of days, but you can leave in the morning and go back on the same day.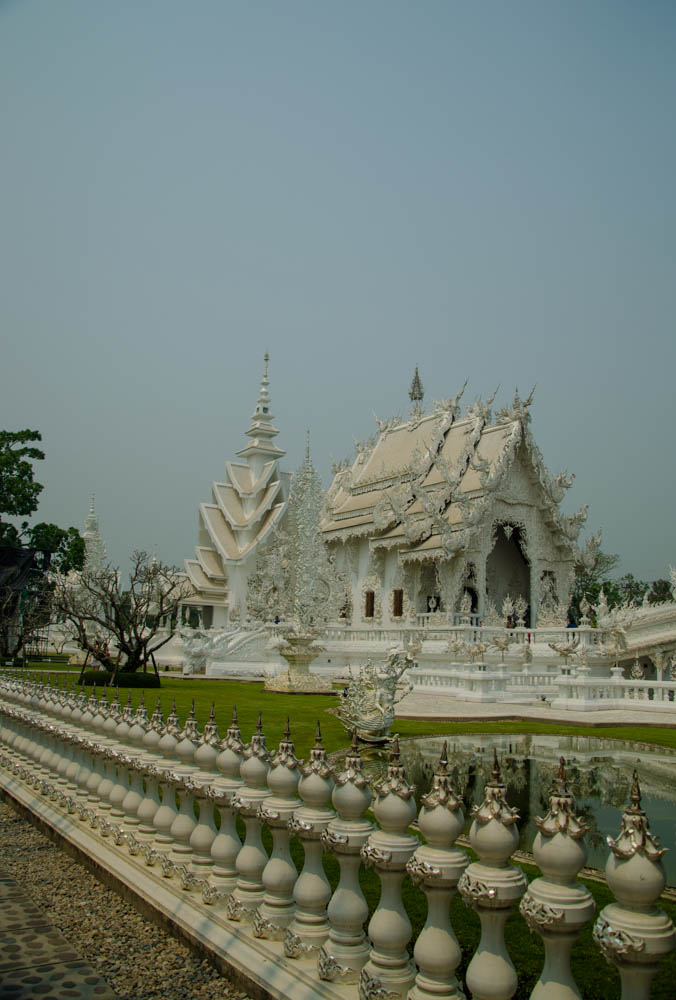 Visiting Wat Rong Khun, the White Temple in Chiang Rai
Our first stop was the famous White Temple. I was very excited about visiting it as I had heard a lot of things about it. The experience left me baffled, but before I tell you all about, let's have a look at some facts first.
The history of the White Temple
Wat Rong Khun, is not really a new temple. At the end of the 20th century it was in a very poor condition. The restoration works stopped because of lack of money.
A local artist, Chalermachai Kositpitat decided to completely rebuild it in 1997. He funded it all with his own money and wanted the temple to become a centre of meditation and prayer.
The architects and the designer are still building it and it is said that they won't finish anytime soon. The artist has already designated others to take over the building project after his death.
At the end of the construction it will consist of 9 buildings, including the monks' living quarters.
Why is the temple so special?
The White Temple is a very famous attraction in the north of Thailand. The crystals that cover the roofs and the walls of the structures shine in the sun making it look like something like out of a fairy tale.
The crystals and the white colour symbolise Buddha's purity, wisdom and teachings. It's every Instagrammer's dream! However, this also makes the temple extremely popular, so bear that in mind and when you visit, be ready for crowds and standing in queues for quite a long time.
The tour around the White Temple in Chiang Rai
Touring the temple won't take you a long time unless you are a fan of architecture, or find this place especially stunning. There is not that much to see here yet. Above all, there are many people here, which makes it harder if you want to see everything up close.
However, if you are patient enough, you will be able to get out a lot out of this visit.
The outside of the temple
The temple complex consists of the main temple and some smaller ones. Fountains, green lawns and walking paths surround it and despite the crowds, you can still find a peaceful spot to admire your surroundings.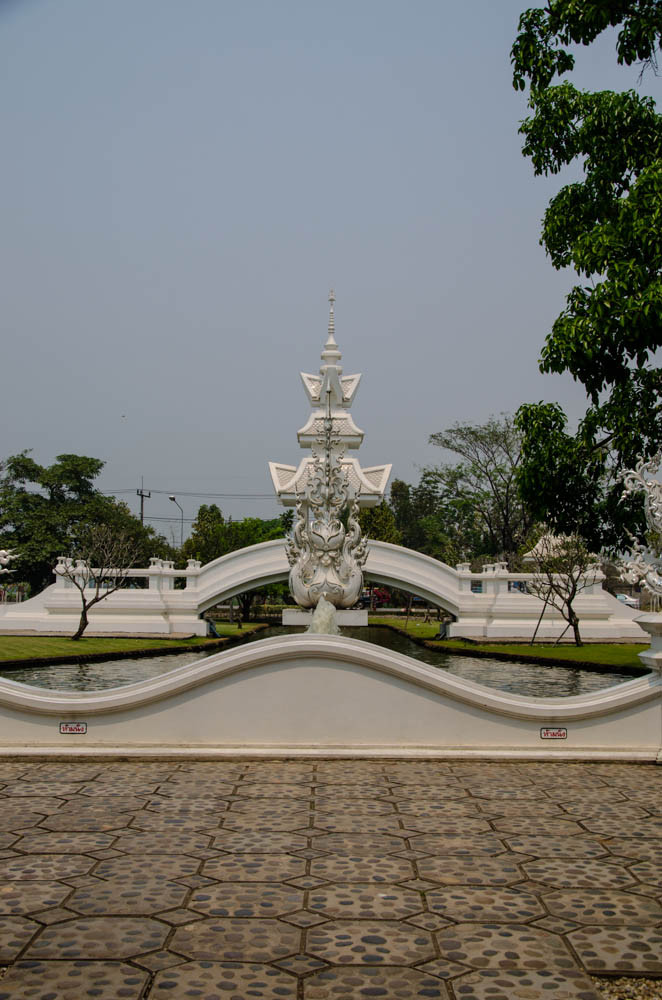 A stunning bridge, guarded by angles and demons, leads to the main building. It is surrounded by hands, coming out of the ground, pleading to be rescued from hell.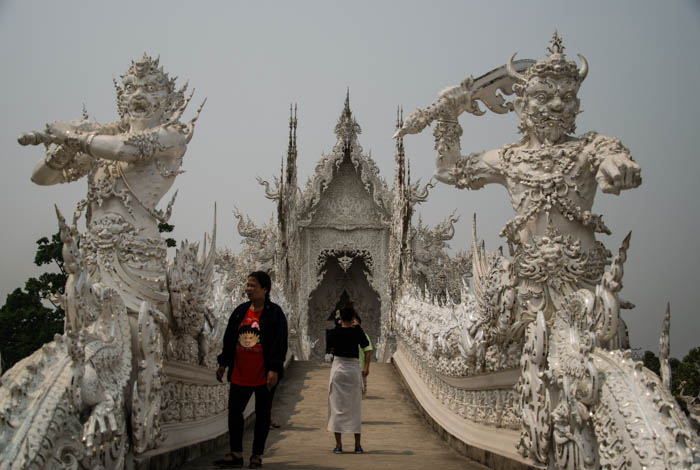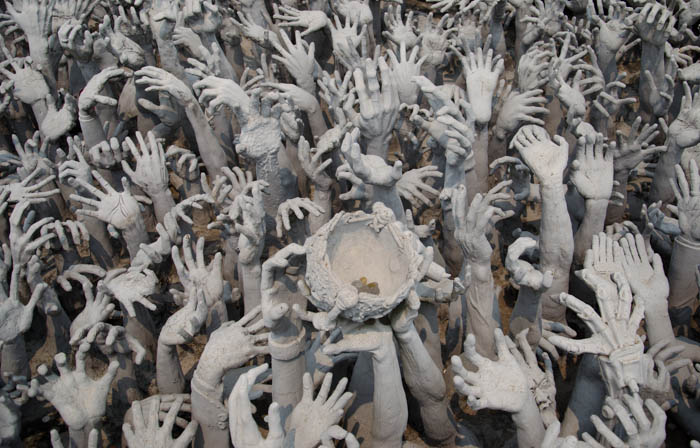 Once you walk on the bridge, there's no way out. If you want to turn around, you will be reminded by a man guarding the entrance that turning back will bring you back to hell. So, there is no other way, but to proceed and follow the marked route.
The funny and strange
The interior of the Wat is surprising. I expected something equally stunning as the outside. All I found was a tiny room with a big Buddha statue and walls covered in most bizarre paintings I have ever seen in a place of worship. The room is orange and blue with drawings of tiny figures of Batman, Neo from the Matrix, Kung Fu Panda and Michael Jackson all surrounded by small space rockets. Unfortunately, you can take photos of the interior, so I looked at the walls, trying to understand the purpose of it and failing, so I made another circle around the building and left.
I walked around the temple. It turned out that it wasn't the end of the 'artistic' surprises. I found some hanging heads on the trees….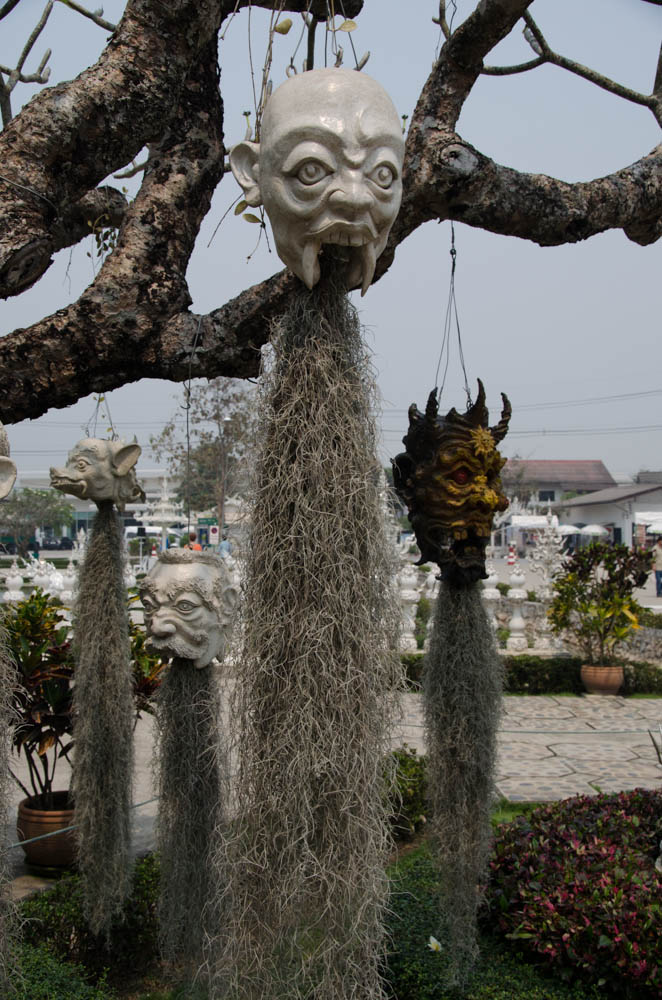 Thais have a very specific picture of hell and they often show it in the art, which is graphic and doesn't leave anything to the imagination. If you ever stumble upon sculptures of demons torturing humans, you will understand.
There are certain punishments for every single crime and these punishments are painful and gory.
Hanging heads in the White Temple's gardens are supposed to show one of the things that awaits us in hell and considering how graphic these things can get, the masks are quite subtle.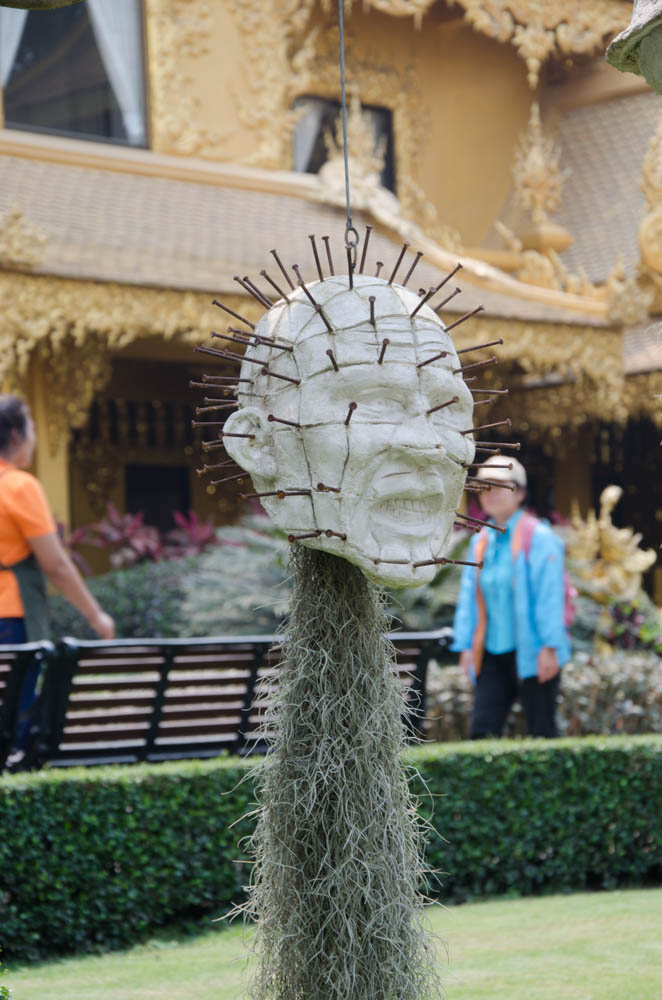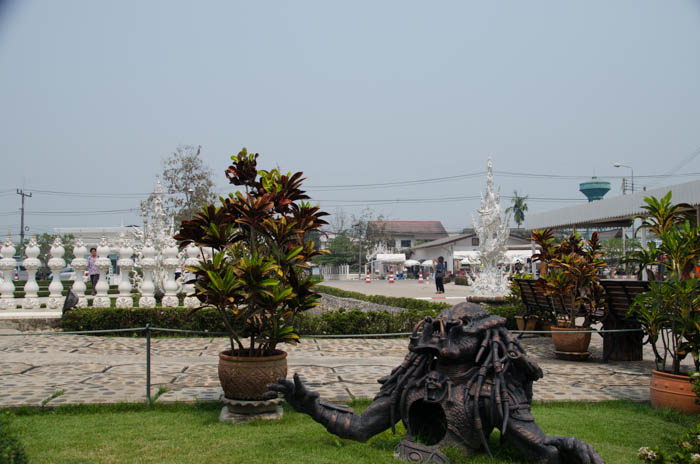 I tried to keep my mind open, but the temple was so strange and the art work seemed just pointless that the whole experience left me a little disappointed.
The temple is a major tourist attraction and there are lots of people coming here every day. The building is pretty, but if you're looking for something tranquil and peaceful, this is probably not the place to go.
However, I would say that the whole site is very interesting and definitely worth a visit, especially if you like quirky things, are interested in art and Thai culture.
Visiting Baan Dam, the Black House in Chiang Rai
I hadn't known about the Black House until someone mentioned it to me a few days before the trip. I was intrigued and excited to see it for myself.
The concept
The Black House was built by a local artist Thawan Duchee, who is a very controversial figure in the Thai society. His earlier works were scrutinised by the critics and the public for disrespecting Buddhism. Thanks to the help of some of the other prominent Thai artists, Thawan Duchee is now an influential figure in the Thai society.
The whole complex portrays hell and is a complete opposite of the White Temple.
As the White Temple it is not finished yet, and it will take another couple of years to complete it. However, the main building is open to the public.
The tour around the Black House
The Black House, Baan Si Dam, is located in the north of Chiang Rai. It took us two days to find it. On the first day we spent 2 hours driving around the suburbs, looking for signs, trying to use the Trip Advisor and asking locals. We were more than frustrated. We gave up and decided to try again the next day. Luckily, we found some pretty useful advice online. Then, we got lost again, but after a while we found the sign to the site.
Please bear in mind that I visited it almost 10 years ago and I'm sure that it's easier to find it with all the digital tools we have at the moment. Have a look at the useful information section below.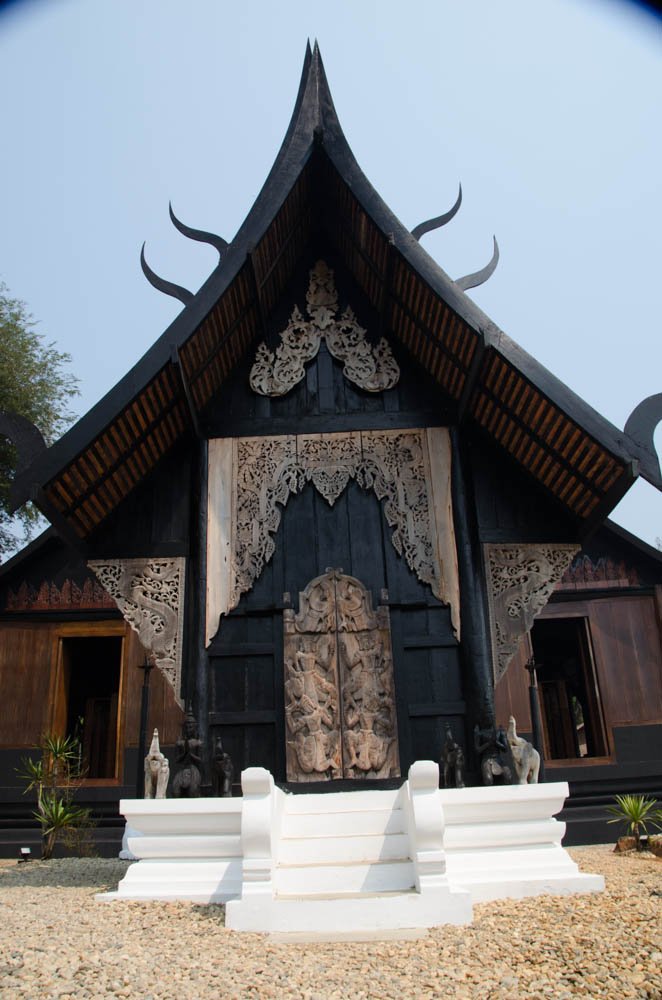 The darkness of the Black House
I think it is my favourite gallery place so far.
The Black House is a total opposite to the White Temple and it is creepy, dark and a little scary.
The main house is shaped like a temple and contains furniture made out of animals' parts. Inside it is dark, only lit by the open windows and doors. The central part of the room contains a long table with chairs made out of bones. On it lays a crocodile skin, painted black and lined with candles.
A little bit of breeze blows through the building, making an echo sound, which can bring goose bumps to your skin.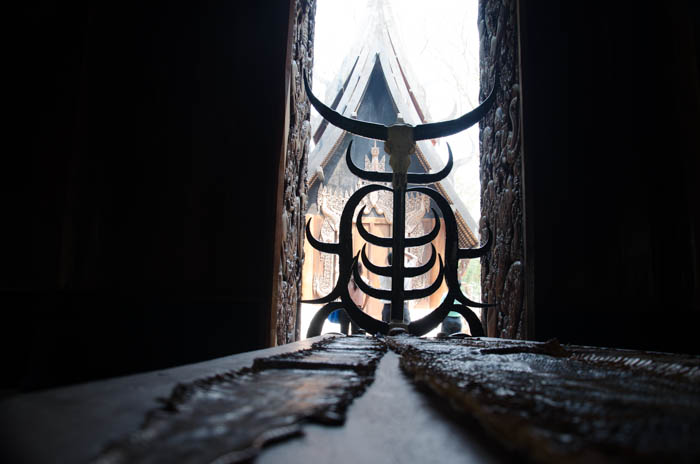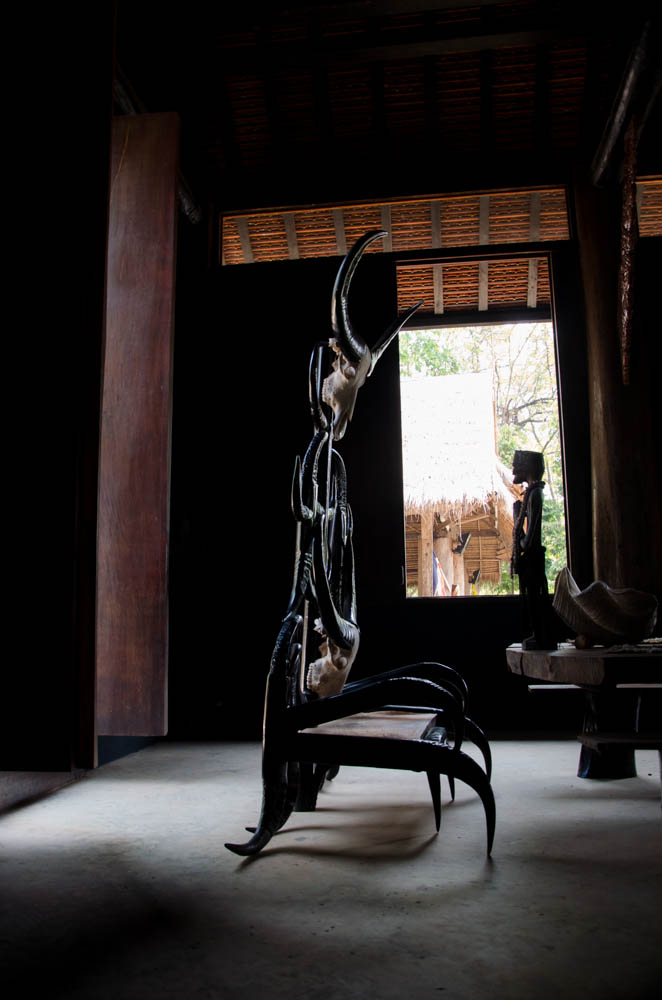 I couldn't help but imagine devils sitting around the tables, debating over current affairs in hell.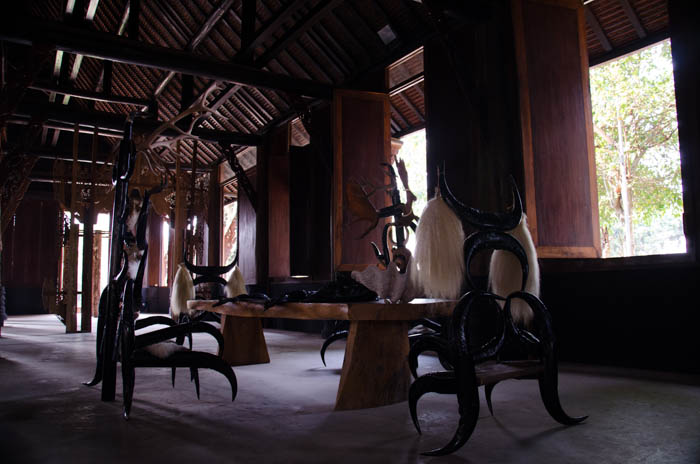 The rest of the buildings were closed to the visitors during my trip there. However, you could easily peak inside. One of them is clearly a torture chamber, where the devil takes care of sinners.
Summary
The White Temple in Chiang Rai to me was a little too much. It seemed that someone tried too hard to make it quirky and unusual. The Black House was one, whole concept, where everything went together really well. I liked the idea of placing a white, pure building that symbolises heaven in one part of the city, and a black, hellish one in the other end.
In conclusion, regardless whether it was intentional, or not it is a great way of placing Chiang Rai on a map of artistic places to visit.
Visiting the White Temple and the Black House in Chiang Rai – Useful Information
It's a great idea to combine the trip to Chiang Rai with visiting these two places. You can do it in one, or two, days.
Here is the most useful information.
How to get there?
There are many options on how you can get to Chiang Mai and visit these two places. Here are some of the options.
Chiang Mai to Chiang Rai by a car, or a scooter
I went by car with some of my friends. In addition, it was our first independent trip. Driving through the highway from Chiang Mai to Chiang Rai was a little hectic and stressful and I'm not sure if I would recommend this type of transportation. However, if you feel like you can do it, then you can easily book your car through Rentalcars. You will need to pick it up from the airport, but some car rental companies offer to bring the car to you for an extra price, which is very convenient.
Riding a small scooter there is a bad idea. It's a long way and if you don't have time and don't plan on stopping somewhere, it will be very tiring. Besides, the main road is very busy and not very safe.
I would say that it can be a pleasurable ride for experienced motorcyclists.
As mentioned before, we had some problems with getting to the Black House. As this was a long time ago and there was no GPS, or the places in Thailand weren't marked that well in Google Maps, you can be sure that nowadays it's easier to find it.
White Temple map
Black House map
And here is a route on how to get from the temple to the house.
There's also an option of hiring your own driver that will take you from Chiang Mai to Chiang Rai.
Going on a tour
There are many tour operators that organise trips from Chiang Mai to Chiang Rai. Some will probably be available to buy at your hotel in Chiang Mai. Personally, I avoid these type of trips and don't really recommend them. The guides squeeze people in a mini van, drive you around giving some information about the place and there's no real interaction with the local culture.
If you would like to go on a tour and visit the White Temple and Black House in Chiang Rai, then I recommend Take Me Tour. I have done many trips with them, including a Chinatown tour in Bangkok and visit the Mea Teang Dam and Blue Temple in Chiang Mai. I can't recommend them enough. They are wonderful! Every trip is small, limited to a couple of people, customised to your needs and it seems like you're on a tour with a friend, not with a guide. Check out their tour in Chiang Rai. It looks amazing!
Going by bus
If you want to take public transport, then a bus is the best option.
From Chiang Mai to Chiang Rai it's about 3 hours drive. You can take a VIP bus from the Arcade Bus Station in Chiang Mai. Just head to the Green Line Bus stand. Don't forget to pick up your queue number first!
In the high season (October – March) it's best to order tickets online a couple of days before. I highly recommend this way of purchasing tickets. It saves time and money!
Once in Chiang Rai, you can take a bus from the station to the White Temple. There are 3 buses available: 1246, 1244 and 1241. Alternatively, you can take a blue songteaw, which costs 20 Baht per person. The journey will take around 30 minutes.
From there, you can order Grab (a Thai alternative to Uber. It's easy to download it on your phone.) to get to the Black House. And from the Black House, order another taxi to take you either to the station, or to your hotel.
Admission costs
Visiting the White Temple costs 100 Baht per person.
A ticket to see the Black House costs 80 Baht per person.
Opening hours
The temple is open from 8:00 until 5:30.
The house is open from 08:00 until 5:00.
Where to stay?
If you're planning on staying in Chiang Rai a couple of days, here are some suggestions of places to stay:
Do you have any questions? Would you like to share your experiences or your point of view? Don't be shy! Leave a comment!