I usually don't like going to all the ceremonies and activities at school. They are all in Thai and I hardly understand anything that's taking place, most of the ones that we've had so far had something to do with Buddhism, so there was a lot of praying and, if they happened to invite a monk, the whole thing didn't seem to have an end. At first I found everything fascinating and interesting, but after a million-th time it all seemed the same. However, last Friday it was a different story. The school prepared Christmas activities and I hadn't even expected how hilarious the whole thing was going to be. They even asked me to invite my friends, so they also could enjoy the festivities.
My sister, my two other friends, and I turned up at school before 8 and made our way to the assembly hall, where my already stressed out boss was running around shouting out orders in Thai. He came to say hello and greet the guests, while his best friend, Teacher Boy, was taking photos of him, surrounded by 4 white faces. 'Welcome' he said to my friends 'I hope you have a great time. Now photos!' he ordered Teacher Boy and after a minute or two he was gone.
We sat on the provided chairs, in the 'VIP area', just behind the Director, and waited for the ceremony to start.
The entire show was suppose to be in two languages, so the guests could also understand.
'Did you understand that?' Cel, one of my friends, asked my sister, after the Director made the first speech 'that was in Thai right?' My sister shrugged her shoulders 'I think that was in Thai and in English, too. But I had no idea what she said.'
I had also been asked to make a speech. I was too lazy to write one, so I printed this from the internet and decided that I would add some Christmas wishes at the end.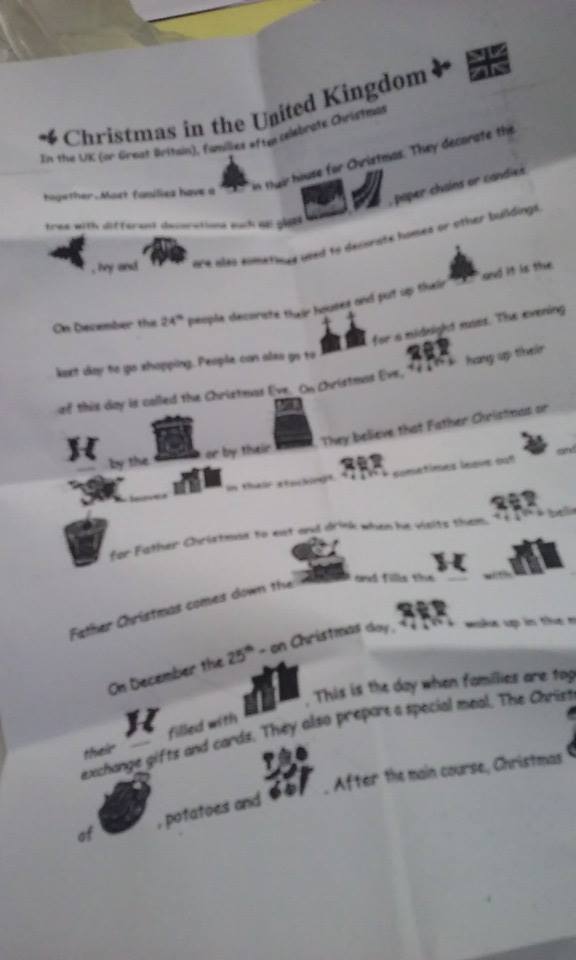 I had had some problems with my contact lenses that morning and when it was my turn to go up to the microphone I couldn't see much. I looked at the piece of paper. The text and, what's worse, the pictures were all one blur. I blinked, and I blinked again, which made it better. Then I thought about my friends laughing at the speech and how ridiculous it was for me to read out of a word puzzle, then how funny it was that I couldn't see a thing, and I could barely control myself. I regained my composure quickly, blinked a few times again,  and read the whole thing in a speed of light.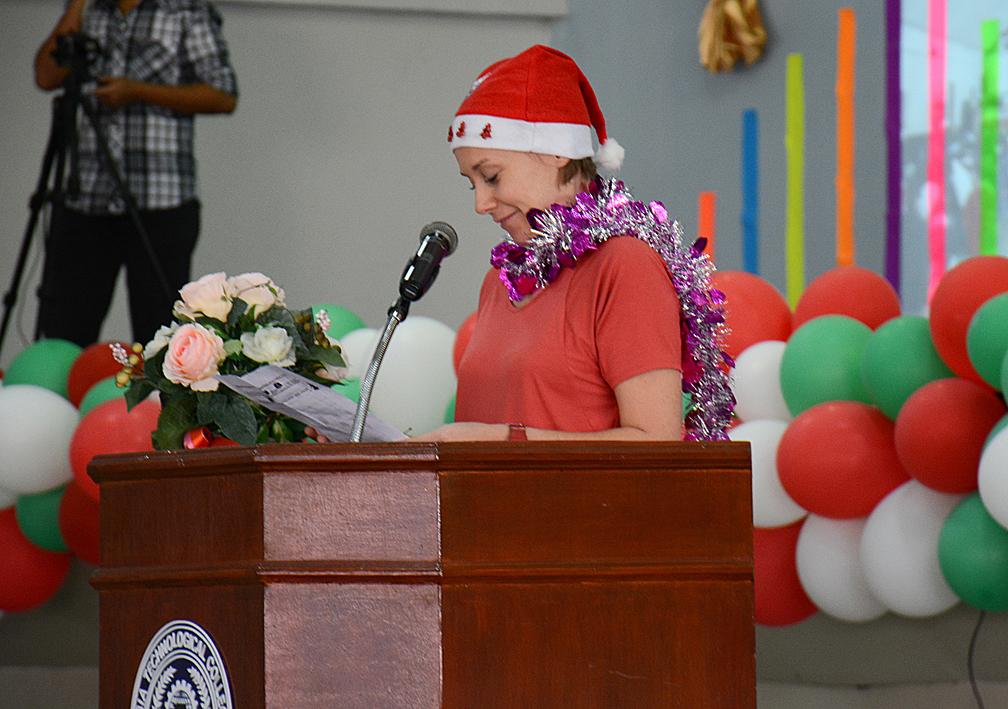 After my speech there were a couple of dance shows. First I thought the awkward, almost child-like dancing was cute, but after a while I just couldn't stop laughing. The choreography was so bad and un-synced that it would have made the guys from Fat Boy Slim's video proud. Every group that danced had one person, who knew all the steps, but the rest of the kids looked like they had just been asked to join the performance and couldn't keep up.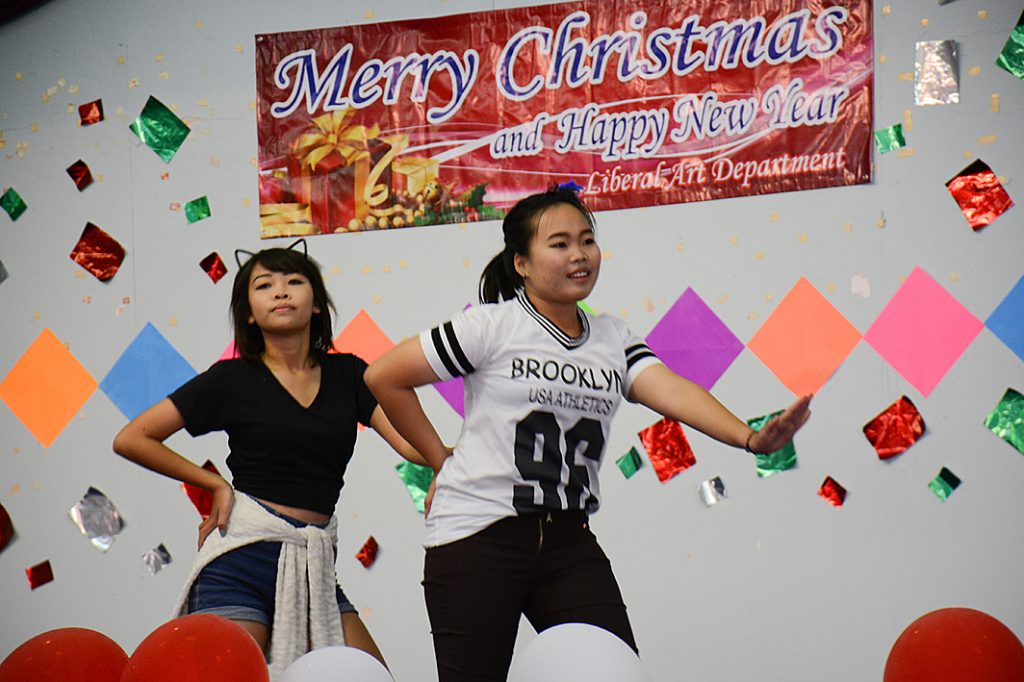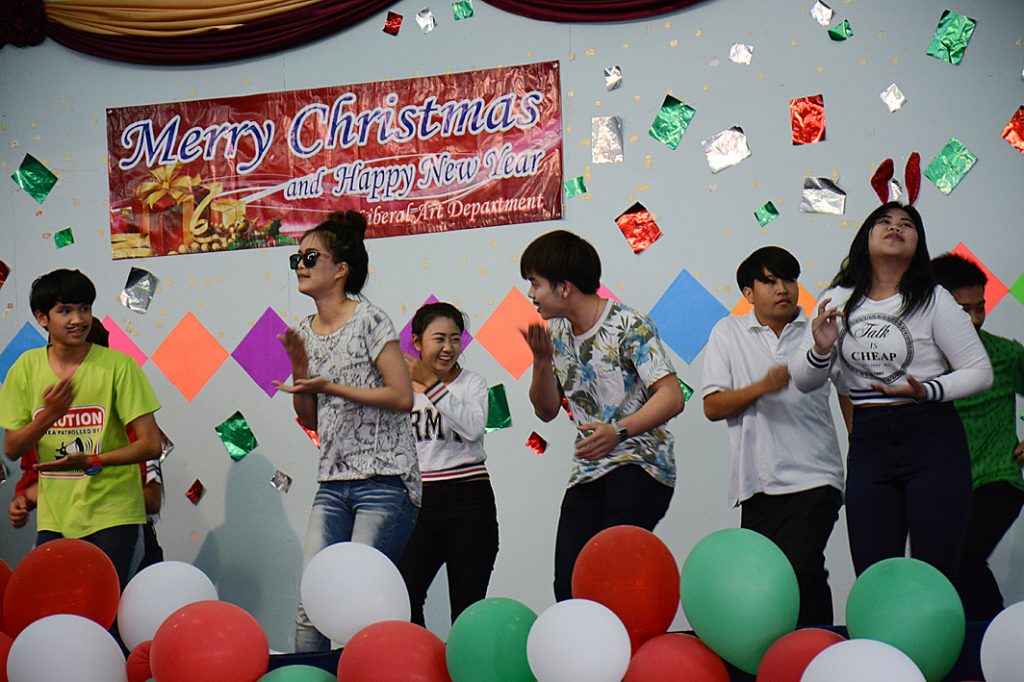 Between the performances there were three rounds of balloon competition, where the participants had to blow up balloons until the balloons burst.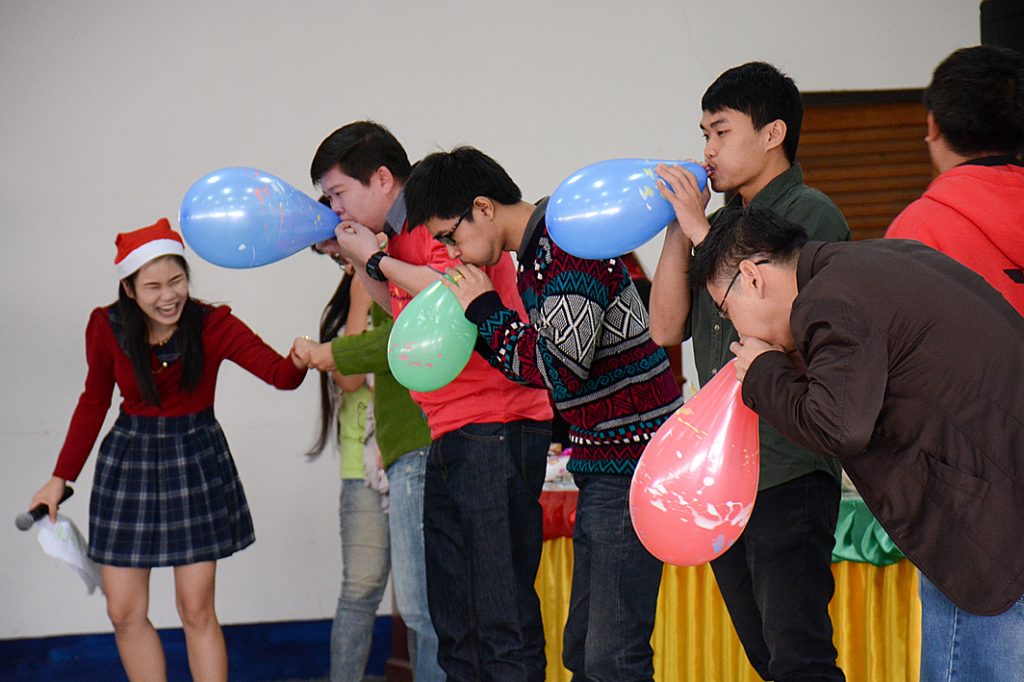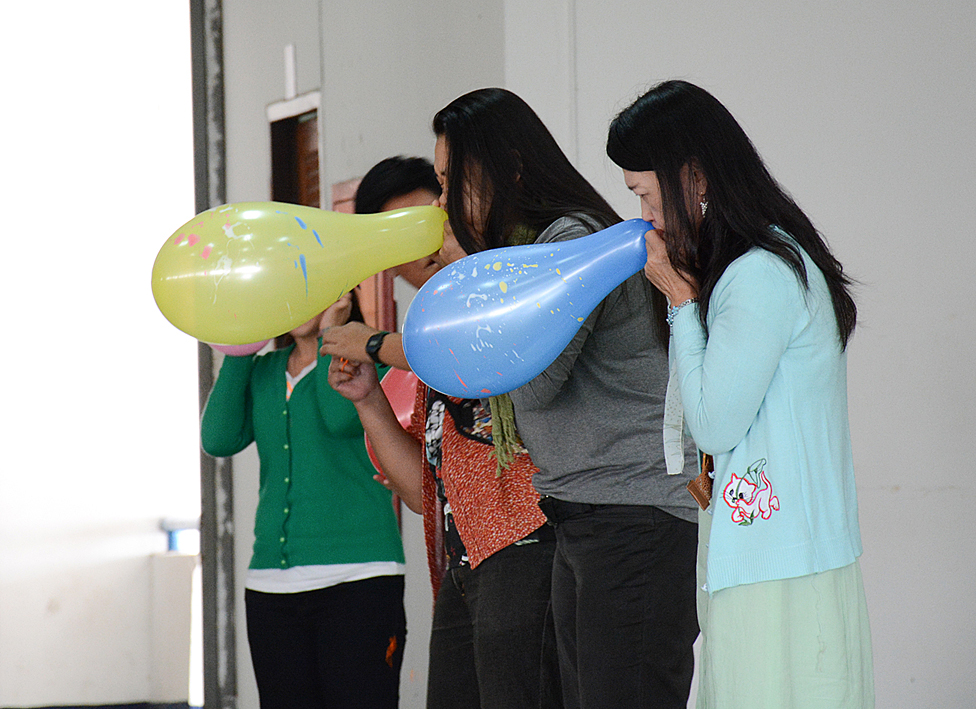 The competition was followed by the first fashion show, and then by the story of Jesus, which was my favourite part. The kids didn't put much effort into making any costumes, and they all wore red capes and their normal, every day clothes. The decorations consisted of a big, cardboard Santa Claus and cross eyed reindeer. One student was narrating in Thai and the actors just stood, or walked around the stage and made gestures with their hands. The Virgin Mary was one of our ladyboy students, which made us crack up so much tears were streaming down our faces. She popped the baby Jesus out from under her dress. Poor Jesus, who was made out of scraps of material, was quite ugly and looked a little sick.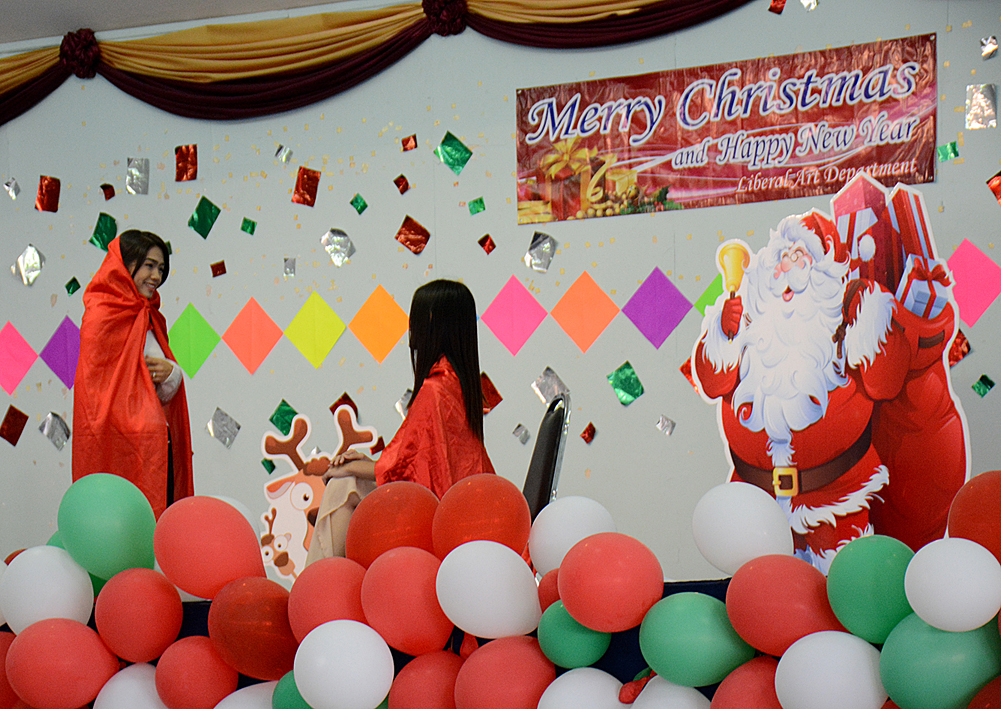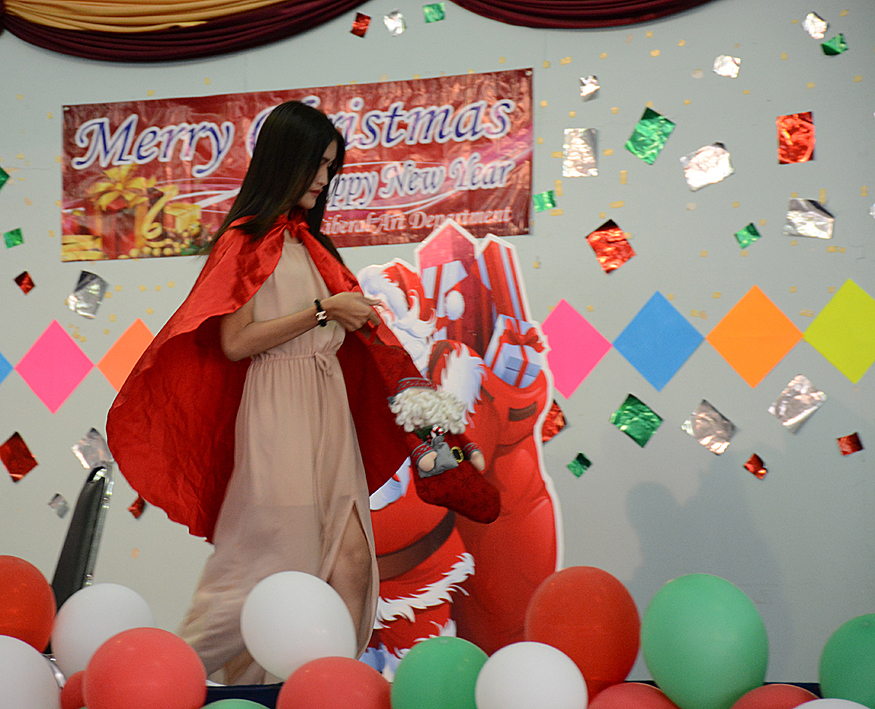 During the whole time the audience, that consisted of the students and teachers, didn't pay much attention. They were talking, walking in and out and only the first few rows were actually watching with very bored expressions on their faces. Only when a few girls in very short skirts came on stage, everyone went absolutely crazy. They were cheering like it was a strip club.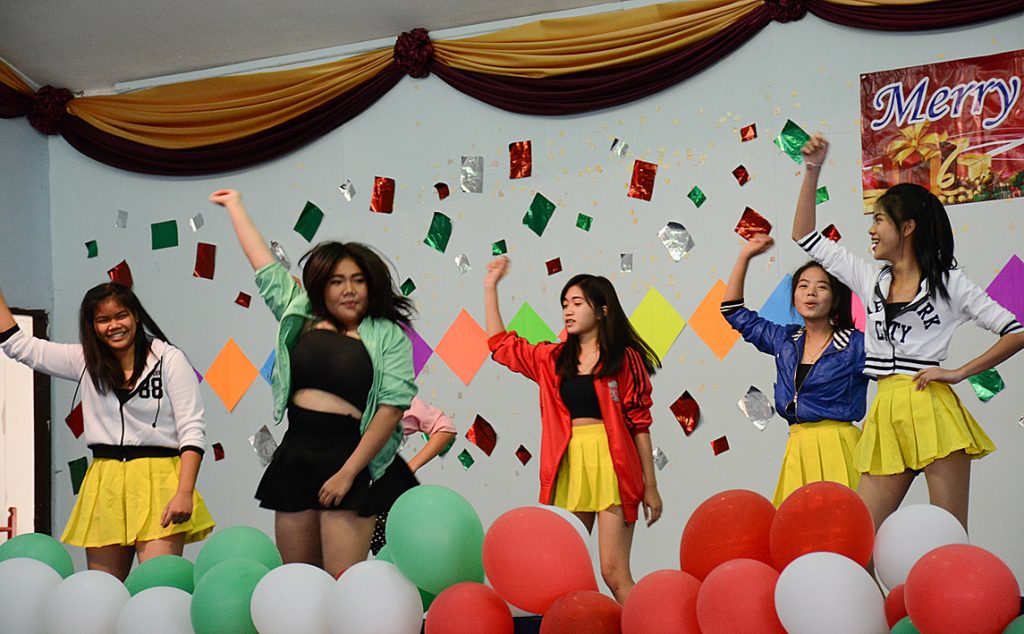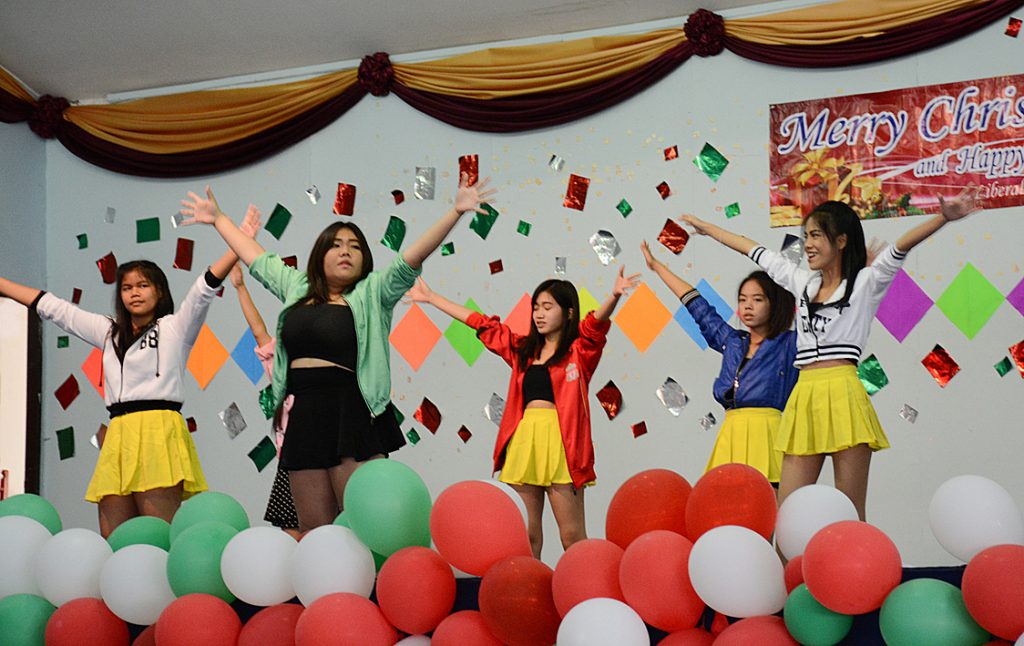 That was followed by the second fashion show, at the end of which two of the teachers walked out on stage, one wearing a very short Chang dress and holding a metal bucket, in which the Chang waitresses serve ice for your beer. That raised the temperature in the room as well.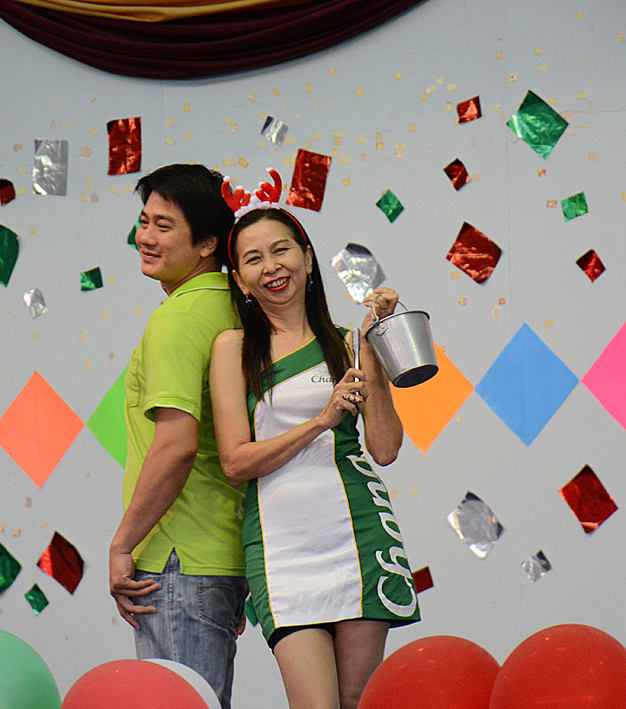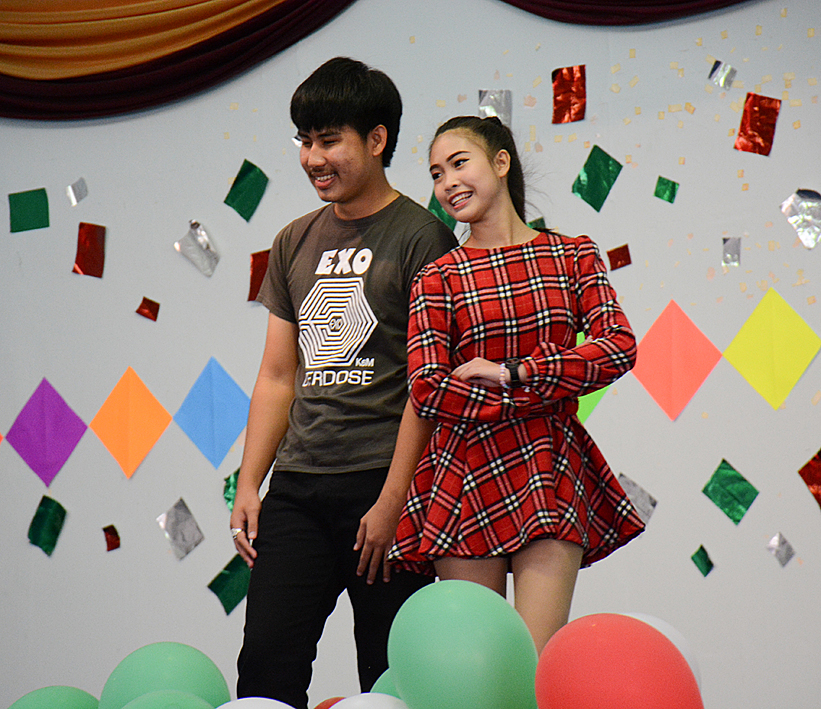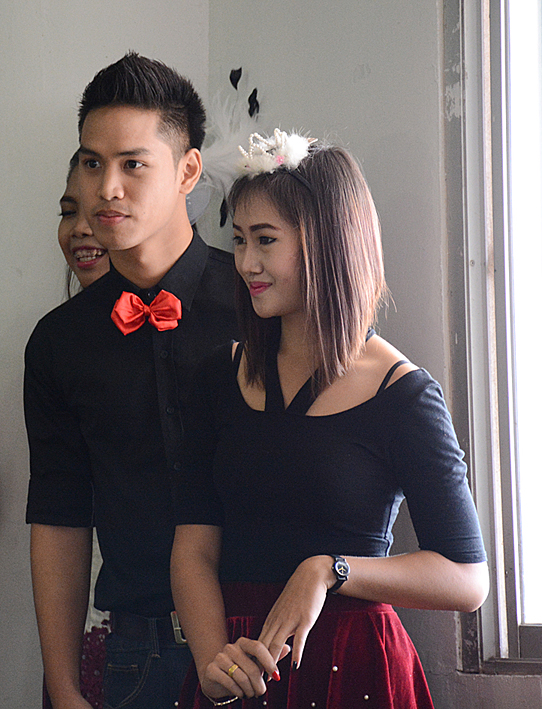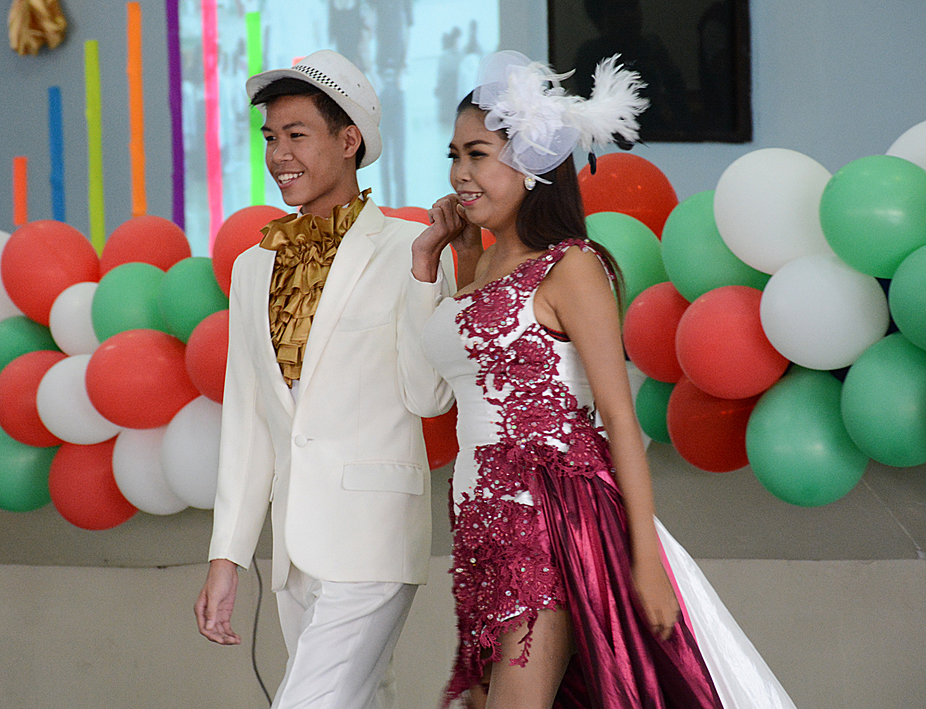 The show finished with a lottery and Santa, Totoro and the 'Virgin Mary' giving out candies to everyone.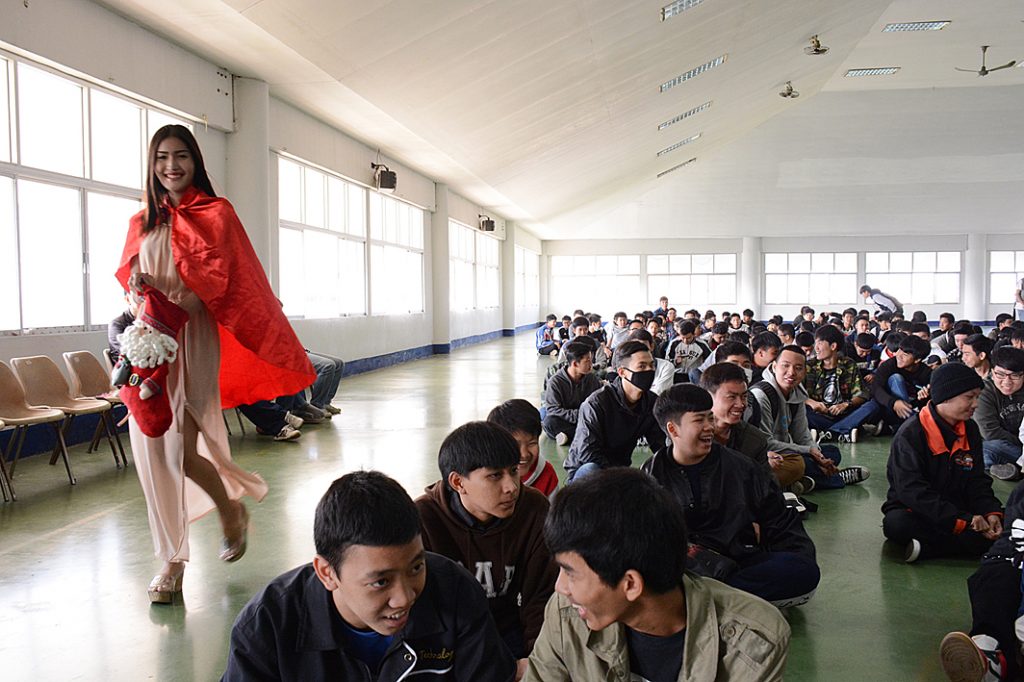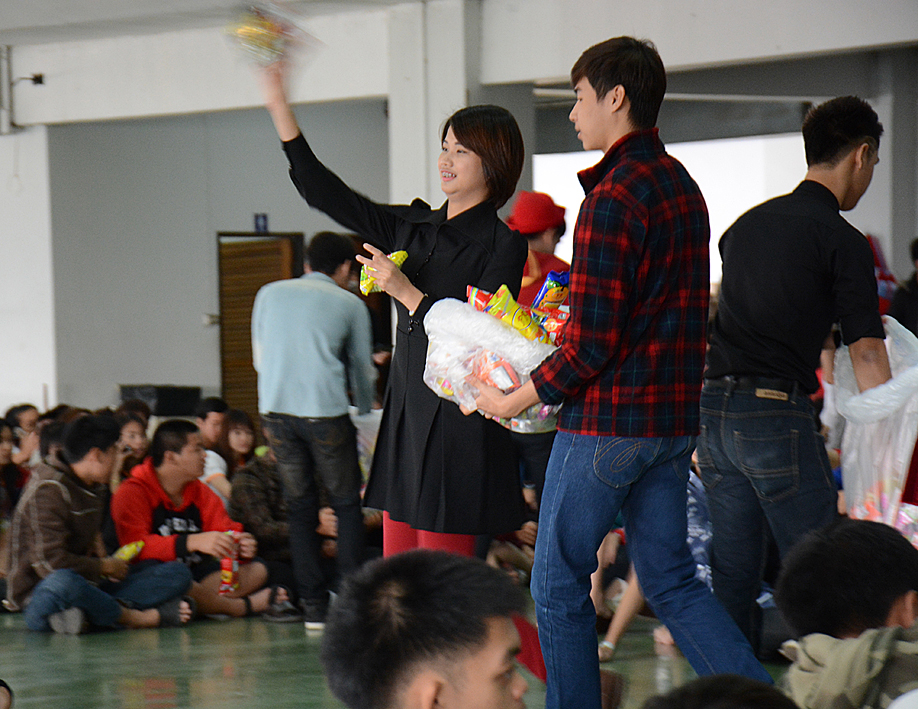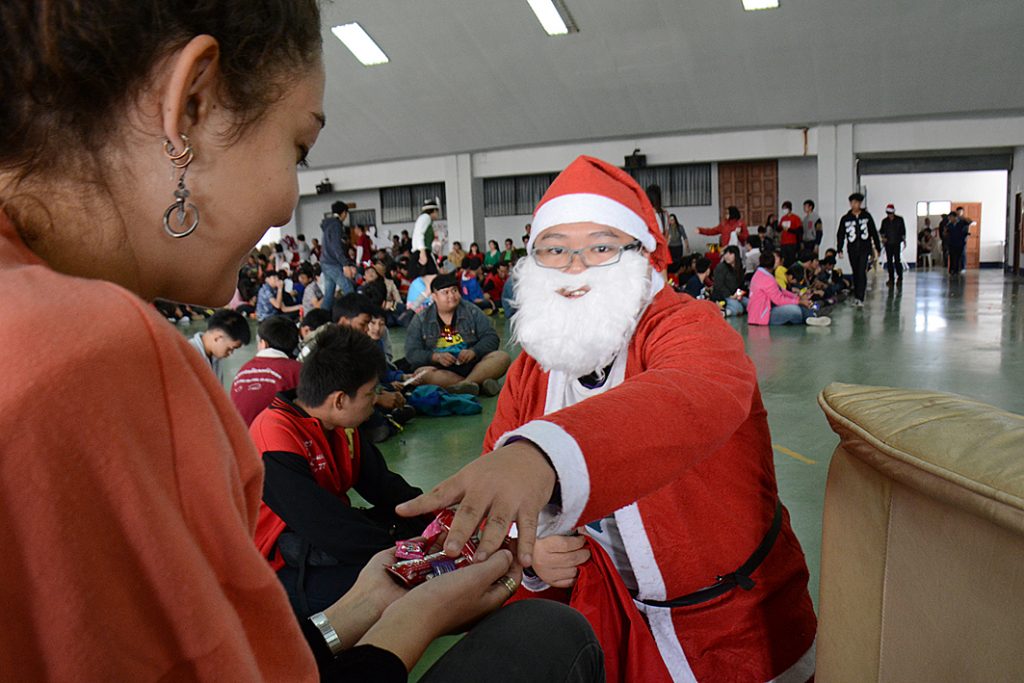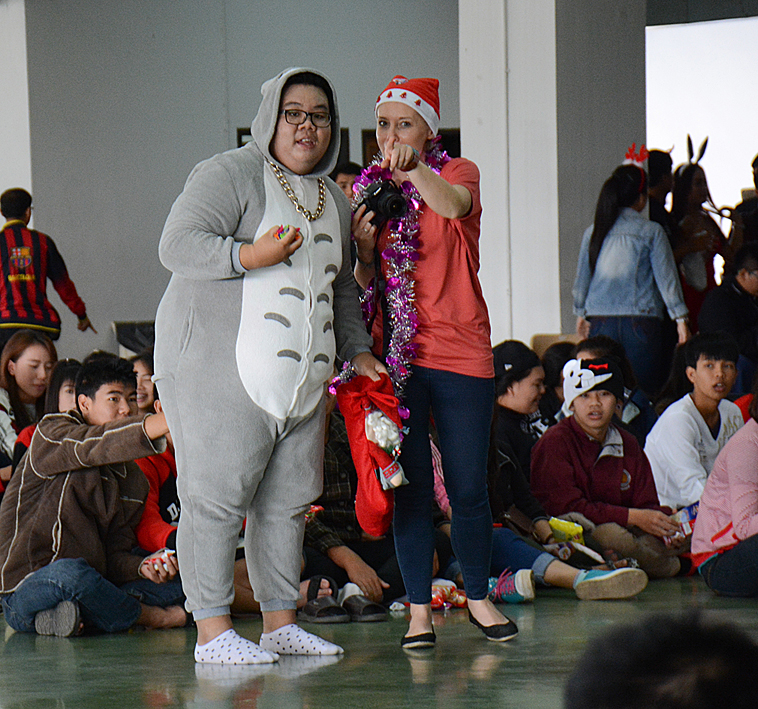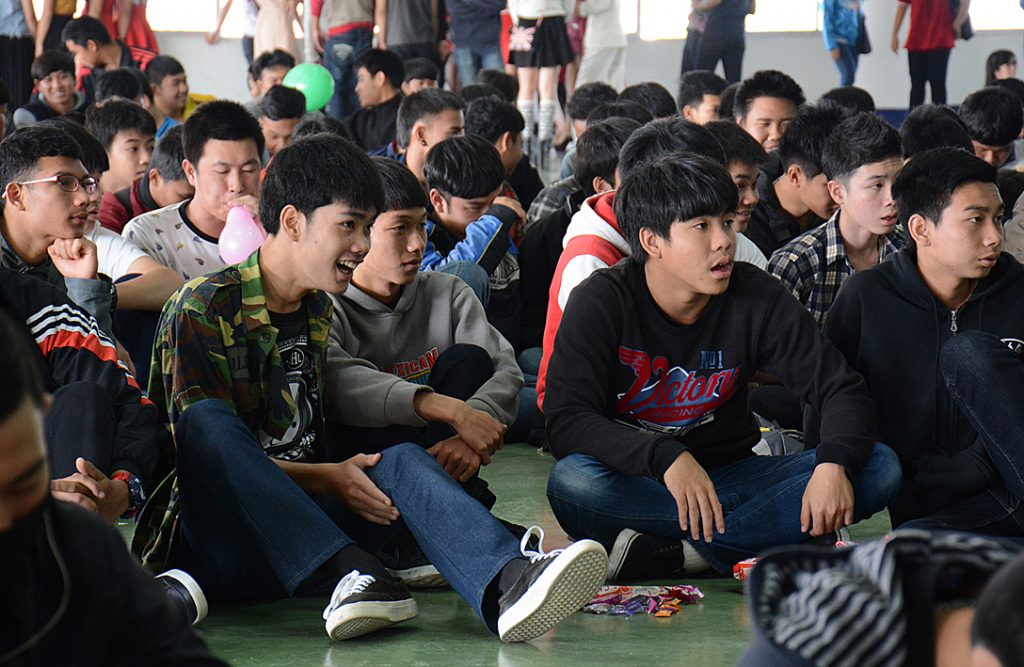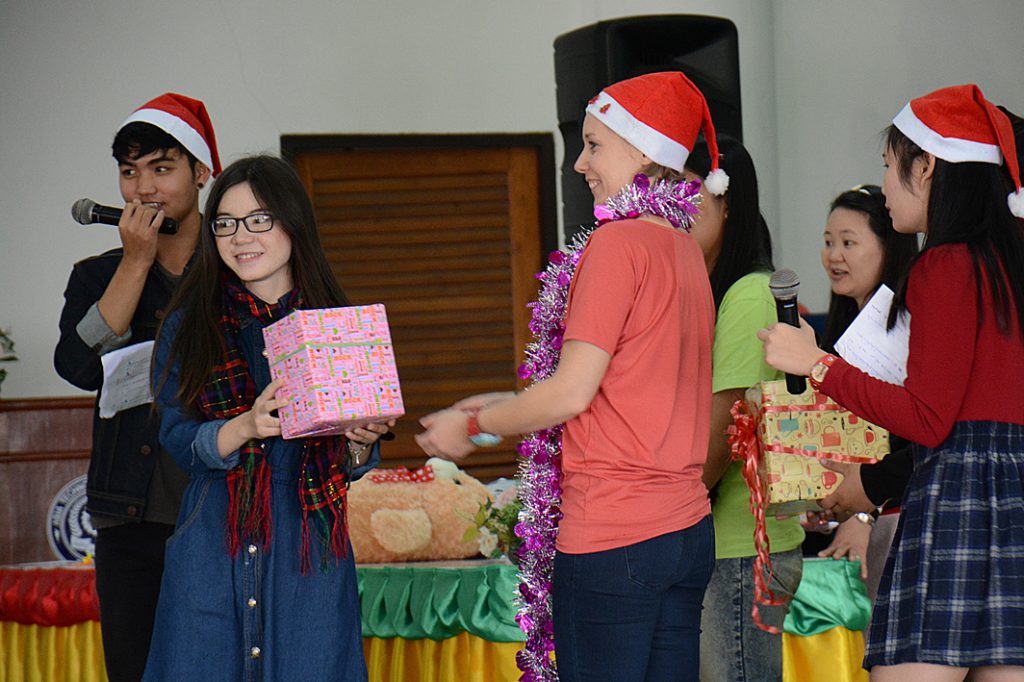 The show took almost 3 hours and during the whole time I was laughing like crazy. It was fun, hilarious, controversial and absolutely charming. What else do you need to have fun at school?
'Now, you stay for a barbecue' said my boss after the show 'we eat and drink and be happy'. We didn't have a choice, but to go and it turned out to be a great event. The boys prepared food and drinks. Mostly there was only pork, but it was made in so many ways and with so many sauces that every dish tasted differently. The Hong Tong, Thai whiskey, was also flowing freely and my boss was getting drunker and drunker. He called one of the students and said to me 'you ask him 3 questions. He answer I give him money for a beer'. Sounded fun, so I asked the first question 'how are you?' I said. The student looked up and down and then at me and smiled 'I am 19 years old' he said proudly. Luckily he was not one of my students. My boss burst out laughing. 'Ask him more' he said. This time I made it easy 'What's your name?' He knew that one. 'How old are you?' Surprisingly, he knew how to answer that, too. He even didn't hesitate to answer 'where are you from?' My boss took out a bunch of money and handed 80 Baht to our victim. The student smiled, ran up to his friends and two more boys turned out to answer my questions and earn some money for a beer.
At 2 pm I was so tired and half drunk from all the Hong Tong my boss was pouring into me, that I could hardly keep my eyes open. I would have stayed, especially that they started to play loud Thai pop songs and some students were keen to dance and sing, but I had enough. Great day overall. I hadn't laughed that much and for that long in a while.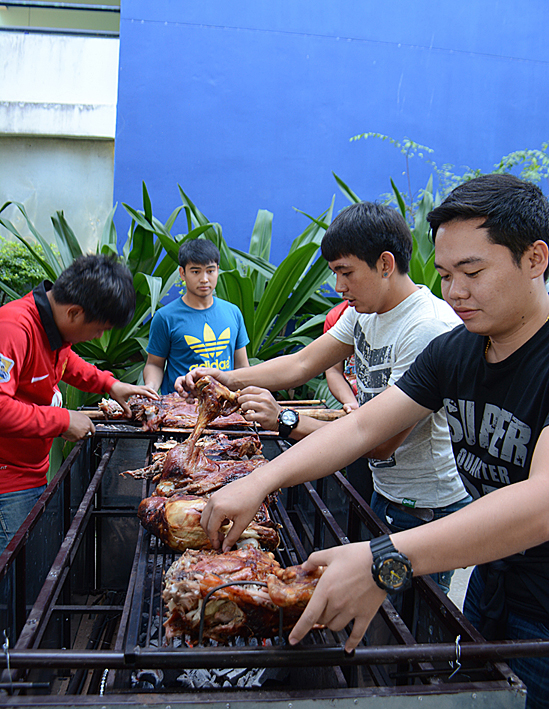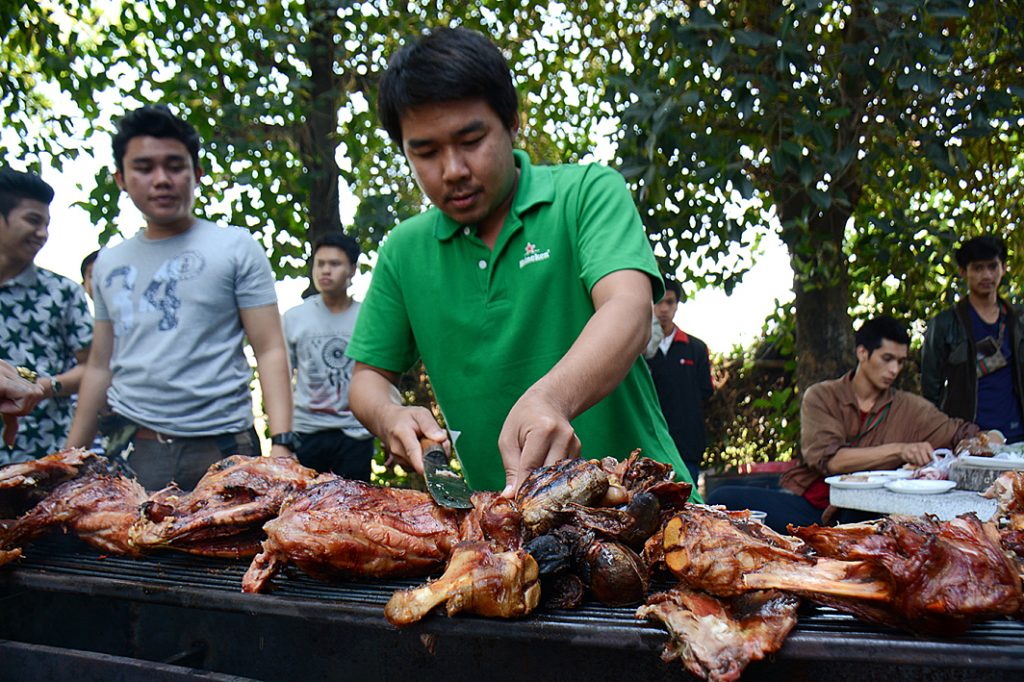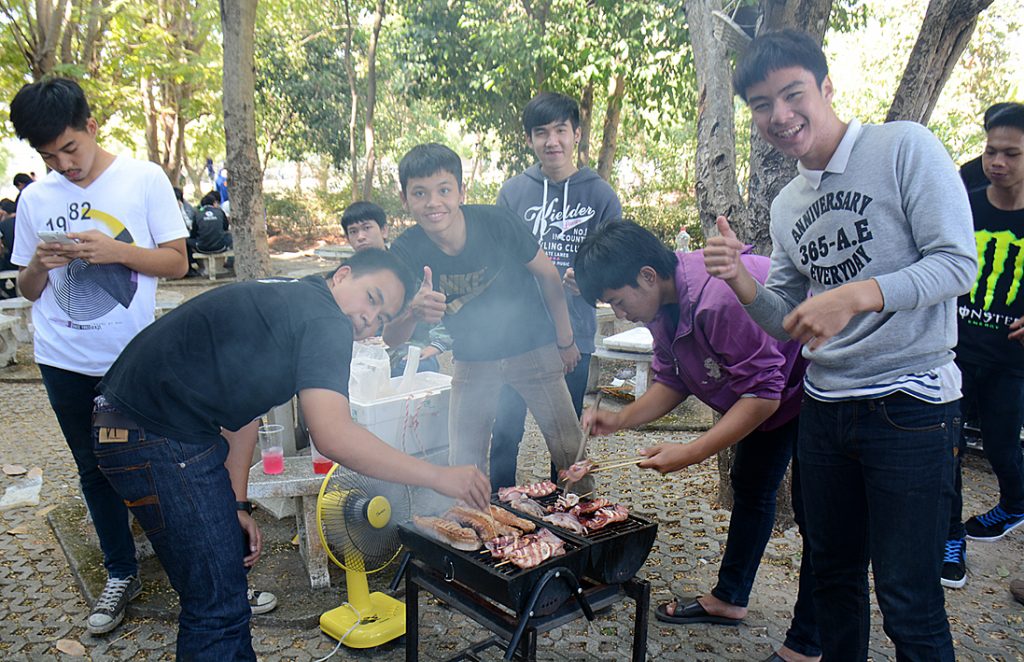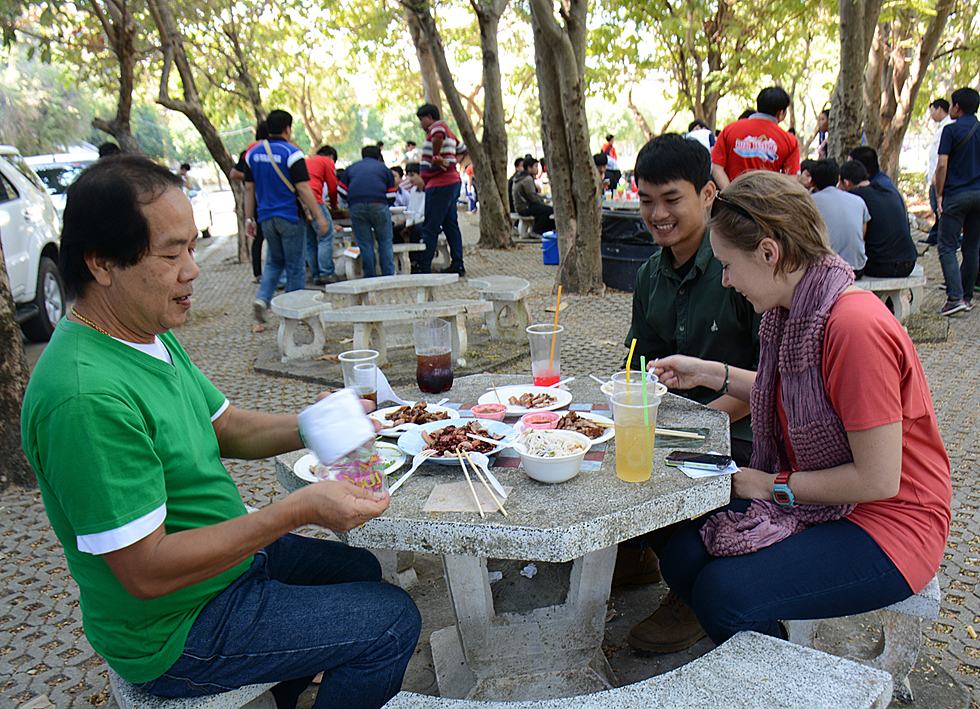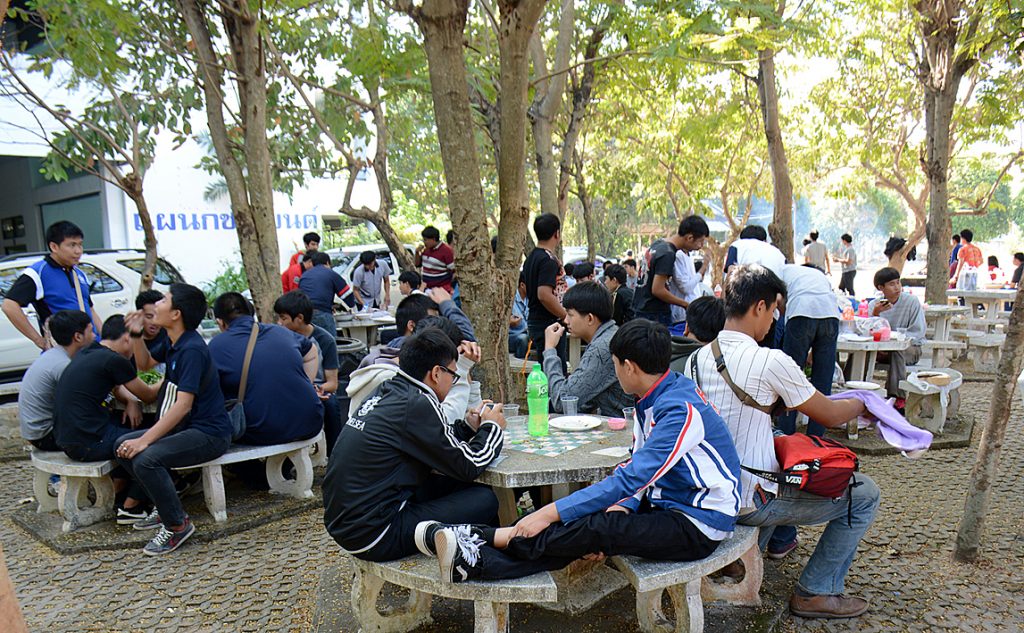 Some more photos from the day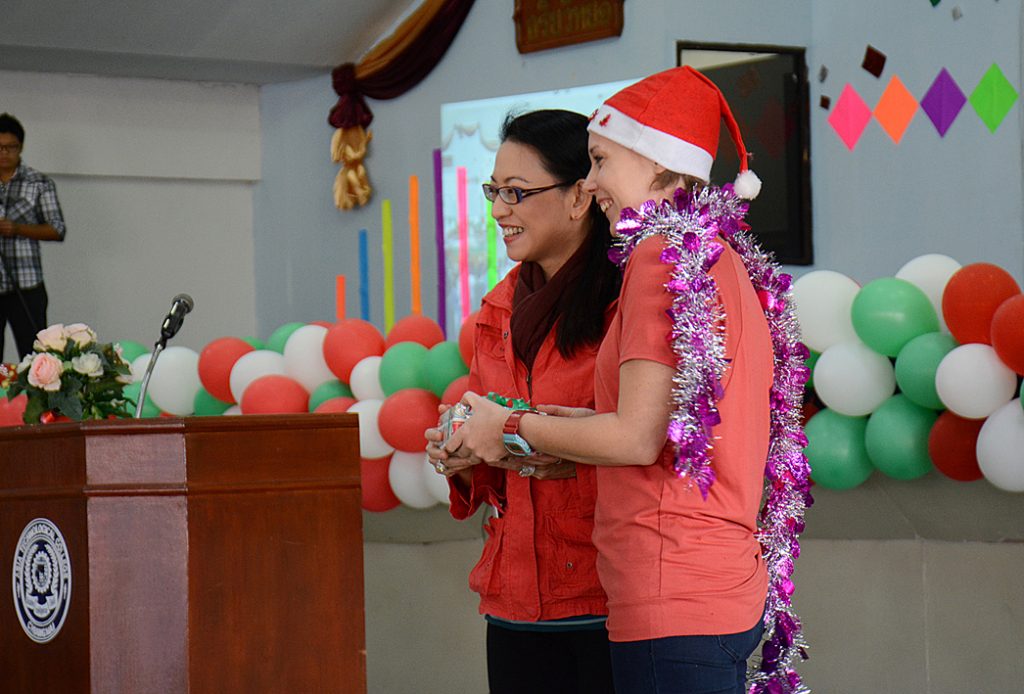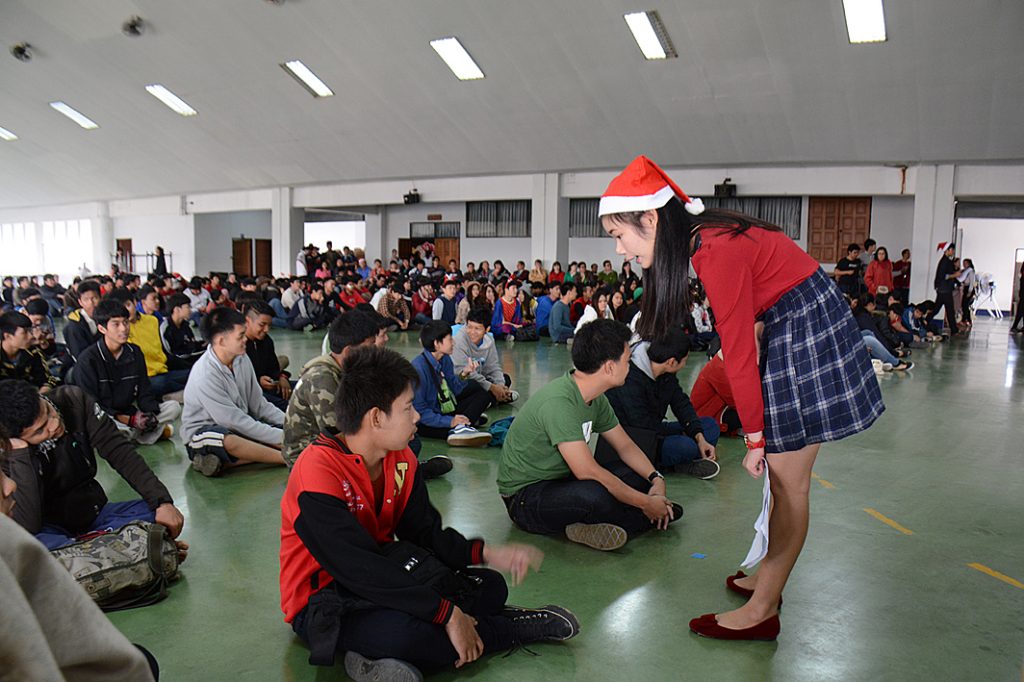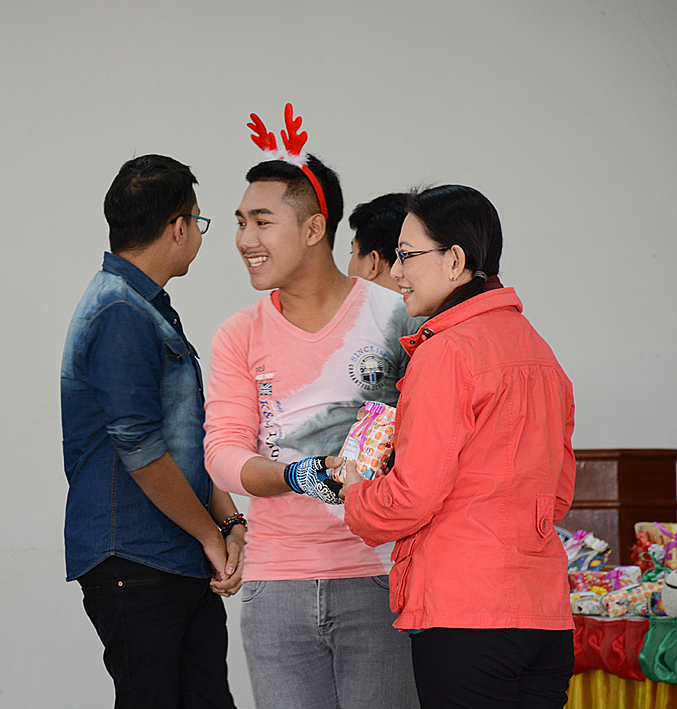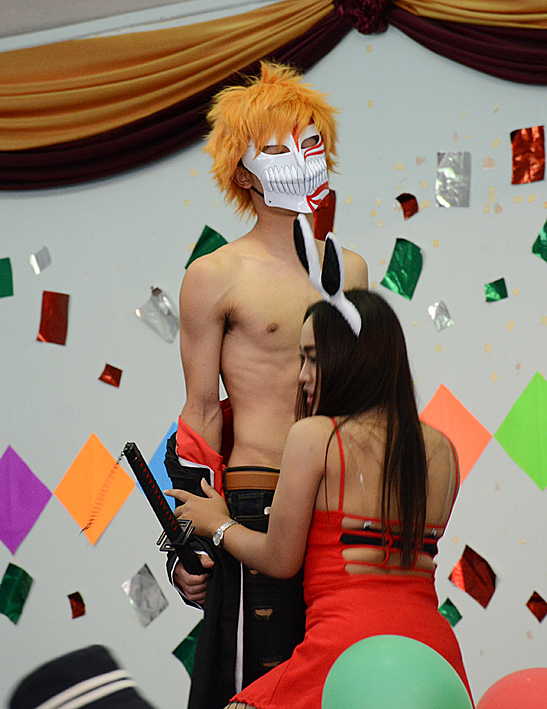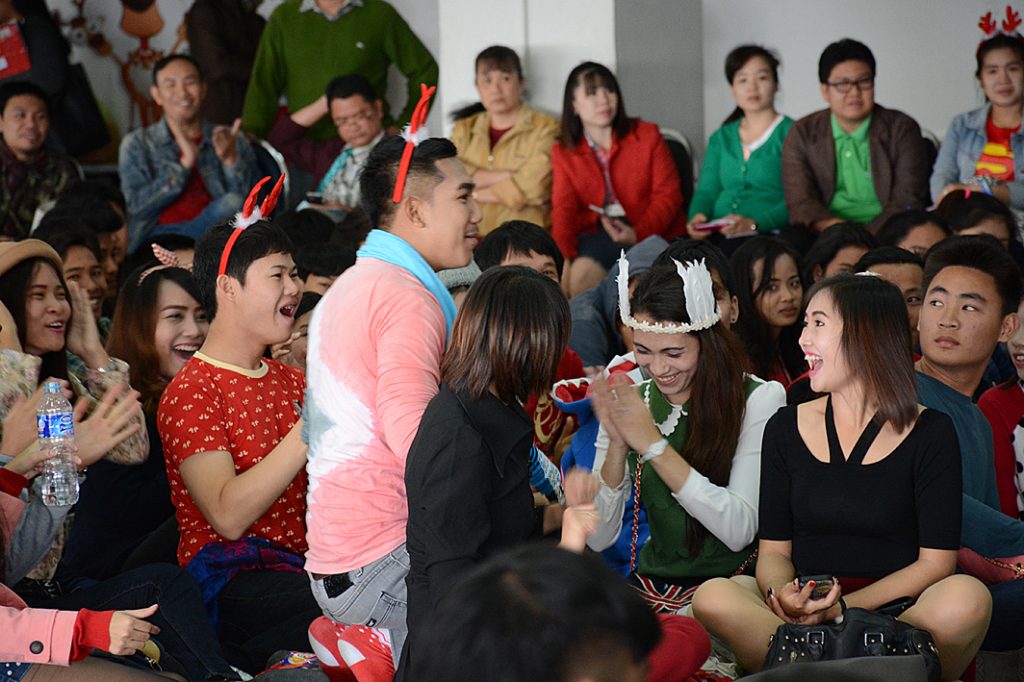 Special thanks go to Cel Lisboa, my friend, who provided photos for this post. You can follow Cel on Instagram for more wonderful shots. 
Have you ever spent Christmas in a foreign country, where it is not a part of the local culture? Don't be shy! Share the story here!