If you are reading this post, it means that you're either moving to Thailand, or you would like to move. I am sure that you've searched the Internet and you're still confused which visa to choose. Long-term visas to Thailand is not an easy subject. You need a lot of patience and have quite a bit of money to survive Thai bureaucracy. Good news is that there are a lot of expats in Thailand, who use long-term visas, so it is possible to stay in the Land of Smiles longer legally.
In this post, I will try to explain long-term visas to Thailand in detail to make your move easier. If you have any questions or doubts, the best thing will be to contact your nearest Thai embassy.
Long – term visas to Thailand
Long-term visas to Thailand, otherwise called non-immigrant visas, need to be obtained by those, who move to the Kingdom for reasons different than tourism. Most of the time these are teachers, entrepreneurs, students, and journalists, or those who want to stay in Thailand for a bit while on their way to a different country.
In order to stay in the Kingdom of Thailand longer, you need one of the below visas.
Thailand Elite Visa
This visa requires a little bit of money as it's not cheap. However, if you can't afford it, then there's nothing there to stop you from applying. If you have this visa, you can stay in Thailand for 5, 10 or 20 years.
There are a few options to choose from. You can read more about Thailand Elite Visa here.
If you are interested, you can message me and I will help you with your application. I work with Henley&Partners, the global leader in residency by investment and together we help people like you going through the application process.
Business visa – Non-immigrant visa B
This visa is for those, who want to conduct business in Thailand. So, if you going there to work, open your own company or invest money in properties, then you need it. This visa is valid for 3 months and you can only enter Thailand once. There is also a possibility to apply for an annual visa, but in this case, you need to go to an immigration office near you every 90 days to inform them that you still live there.
To receive it you need to get a non-immigrant visa for 90 days in the country of your residence. During these 3 months, you can apply for a permission to stay in Thailand. After getting a job, you can apply for an annual visa. You can re-new this visa every year in Thailand.
You can find more information and the application process for non-immigrant visa B here.
Required documents:
A completed application form.
A passport valid for 6 months (if applying for an annual visa, your passport needs to be valid for the next 18 months).
A copy of your passport.
1 passport photo from the last 6 months.
A copy of your return ticket to Thailand.
A letter from the organization inviting you to work for them and confirming your work and stay with them.
Any other documents required by the embassy. The best thing is to contact them first before you apply.
Cost: Depends on the country, but usually this type of visa costs around 100 Euros.
Education visa – Non-Immigrant ED
The non-immigrant ED visa is an education visa. You can apply for it if you want to study in Thailand. This type of visa is granted to people, who want to learn Thai or study at a university. If you would like to attend a language course in the Kingdom, your course provider should help you with your application.
You can find more about non-immigrant ED visa from this post.
Required documents:
A completed application form.
A passport valid for 6 months.
A copy of your passport.
1 valid passport photo from the last 6 months.
A copy of your return flight to Thailand.
Any additional documents. It's best to contact your embassy first before applying.
Marriage Visa
This visa is also known as 'one-year extension of stay based on marriage'. In order to receive it you must be in a relationship with a Thai person. Visa allows you to stay in the Kingdom without having to leave the country on a regular basis and it can be extended every year. It also allows you to open your own business in Thailand.
Required documents:
Sometimes an embassy asks for a document called Affirmation of Freedom to Marry, which you can get in an embassy of your country in Thailand.
A proof of having 400,000 Baht on a Thai account and the money must be transferred in the last 2 months before the application. The applicant must show their passbook from a Thai bank and a letter from the bank confirming the transfer of funds in the time required.
A proof of earnings of at least 40,000 Baht a month. You can get a confirmation letter from your embassy in Thailand.
A clear criminal record.
A health certificate.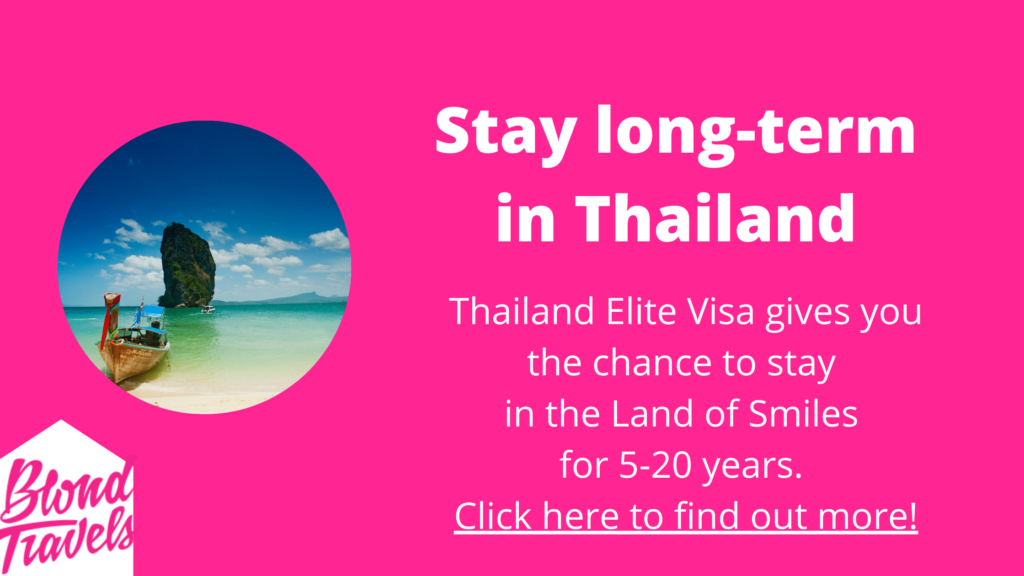 Retirement Visa
Foreign retirees in Thailand have a good life. However, to receive a long-term visa to Thailand you need to be over 50 and have quite a bit of money. The retirement visa is not for everyone.
Required documents:
Confirmation of one of the following: 800,000 Baht in a Thai account, which was transferred 2 months before the application; monthly retirement of 65,000 Baht; combined funds in a Thai account and a foreign account of at least 800,000 Baht.
A passbook from your Thai bank account.
A letter from your bank abroad confirming your funds.
Multiple entry visa
This visa is not a non-immigrant visa and you are still a tourist when having it. However, one visa can last you for around 9 months. After that you can apply for another one in your home country, which gives you 18 months in total.
I have more information about the multiple entry visa to Thailand in this post.
Required documents:
Passport – valid for at least another 6 months
A confirmation of your flight to Thailand. A return flight is a bonus, but it's not required.
A confirmation of your accommodation in Thailand (at least for the first few days, or weeks. It's great to have a confirmation for 60 days, but that's also not required).
A bank statement with at least 5,000 Euros on it. The bank statement should be from the last 3 months.
Your employment contract, or a proof of self-employment. If you are self-employed you should have a letter that states that you are self-employed.
If you don't have a return flight for the end of a 60-day period nor a confirmation of accommodation for the 60-day period, you should write a letter in English with an explanation of why you don't have these. At the end of the letter you should add 2 sentences, that state that you won't seek employment in Thailand.