More and more people choose to move to Lisbon. Some stay for only a couple of months, some stay forever. It's very easy to fall in love with the city. If you have ever been on a holiday in Lisbon, an idea might have popped into your head – maybe that's the place for me? Whether you're considering moving to Lisbon, or you have already made the decision, this post will help you with settling down here.
At the time of writing this post, I have been in Lisbon for a year. The beginnings weren't great. I was disappointed with the cost of living and the constantly changing weather. I had imagined it being completely different. But then I started going out more, I changed the apartment, I had an amazing time during the summer and suddenly I find myself in love with my surroundings. It took me a while to get used to everything, but I am in a good place right now and I would love to share my experience and some advice with you.
You might wonder if living in Lisbon is for you, whether that's a good decision to live here. Maybe you are afraid that you won't find a job, you'll have problems with finding an apartment, or that you will struggle and hate your life here. I think that preparation is the key. That's why I created this post, to help you prepare for the change. I hope that after reading this post the transition will be much more pleasant.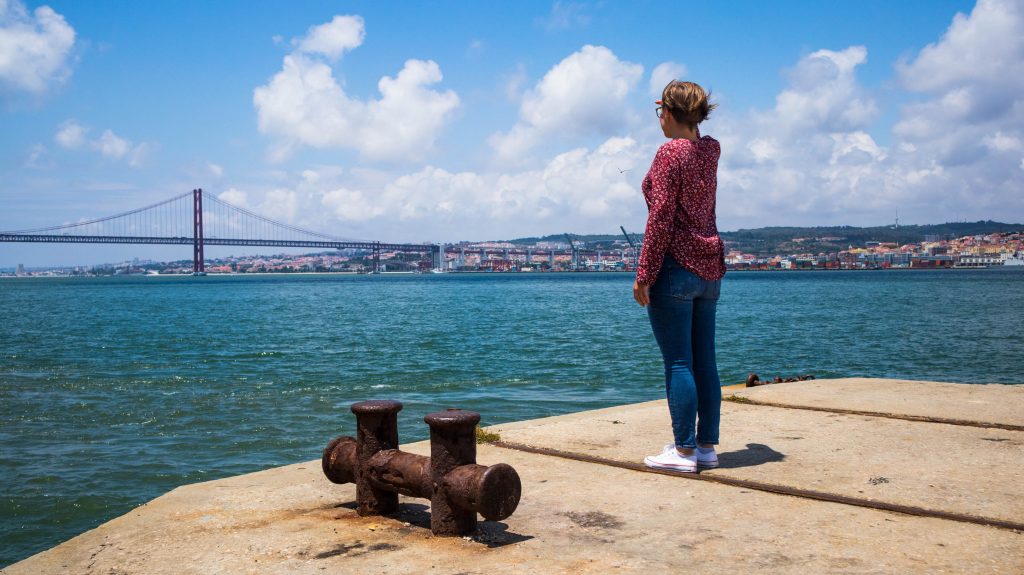 Why Lisbon?
Lisbon is up and coming location in Europe. It's a cool, vibrant, colorful city. Sometimes living here seems to me like living in a magical place, where I can be inspired every day. It sparks my creativity and thanks to it I am even more productive. It's a great place if you're a freelancer or an artist.
If you're not a creative type, life here can be very pleasant as well. It's not a huge city, like London or Paris. It's much smaller and thanks to that it takes less time and money to move around it. No more wasted time on the underground.
Portuguese people like to hang out outside, sit in cafes and take things slowly. Life is all about food and wine, which I really love here. It seems that despite the weak economy people are more laid back and that affects you as soon as you settle down here.
I also like the fact that Portugal is so small and you can travel to some really nice places from Lisbon. Algarve is only 3 hours away, Peniche is one hour away and the wineries are all around the city.
Is Lisbon for you?
Moving to Lisbon is not for everyone. Salaries are low, prices are high, finding a good place to live is a problem, the relaxed attitude towards life of the locals might get a little annoying with time. In some cases, the Portuguese remind me of Polish people sometimes. In the offices you are met with cold stares from the clerks and inability, or rather complete lack of willingness, to speak English. Sometimes you feel like an outsider and that you are not really welcomed here.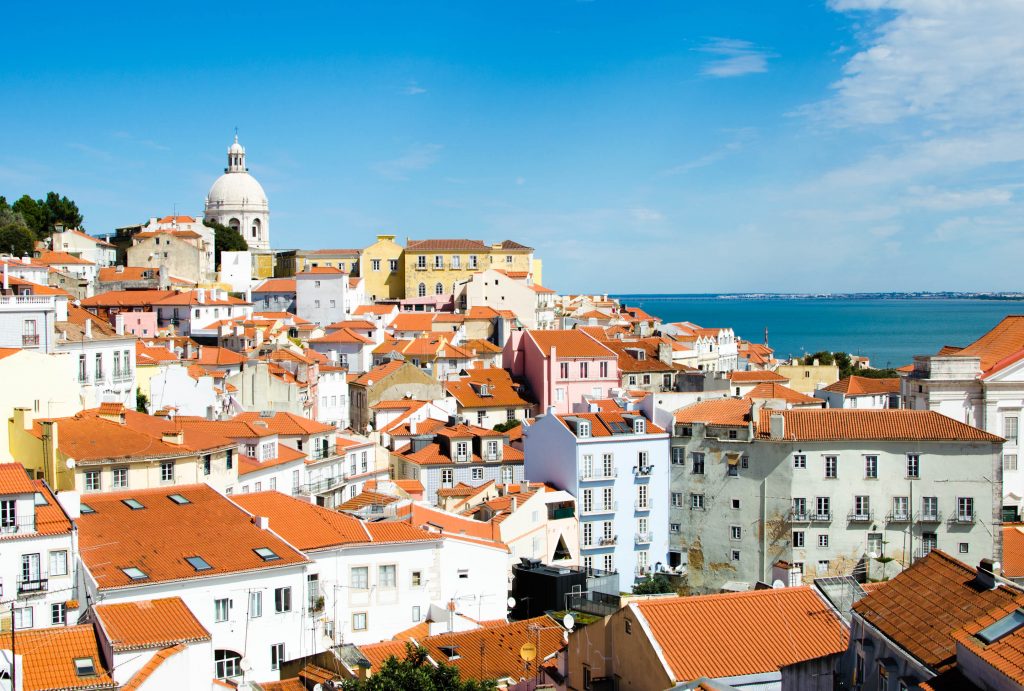 Lisbon has a lot of advantages and once you go through the initial culture shock, it becomes apparent that the city has a lot to offer and is a nice place to live.
Some people I've met go back home after just a few months, claiming that Lisbon is nice for a short holiday, but not for living. However, the majority of people I know, who moved here for many reasons, love Lisbon and they want to stay here forever.
So, I think that you need to have a certain amount of patience to be able to settle down here successfully. If you don't like dealing with some rules that don't make much sense, with endless bureaucracy and you are looking for a place to live to earn good money and make a career, then Lisbon is not for you. Otherwise, you will have a great time here.
Know before you come
Before you pack your bags and move to Lisbon, it's important that you know the basics. I've prepared the most important information to help you with your decision.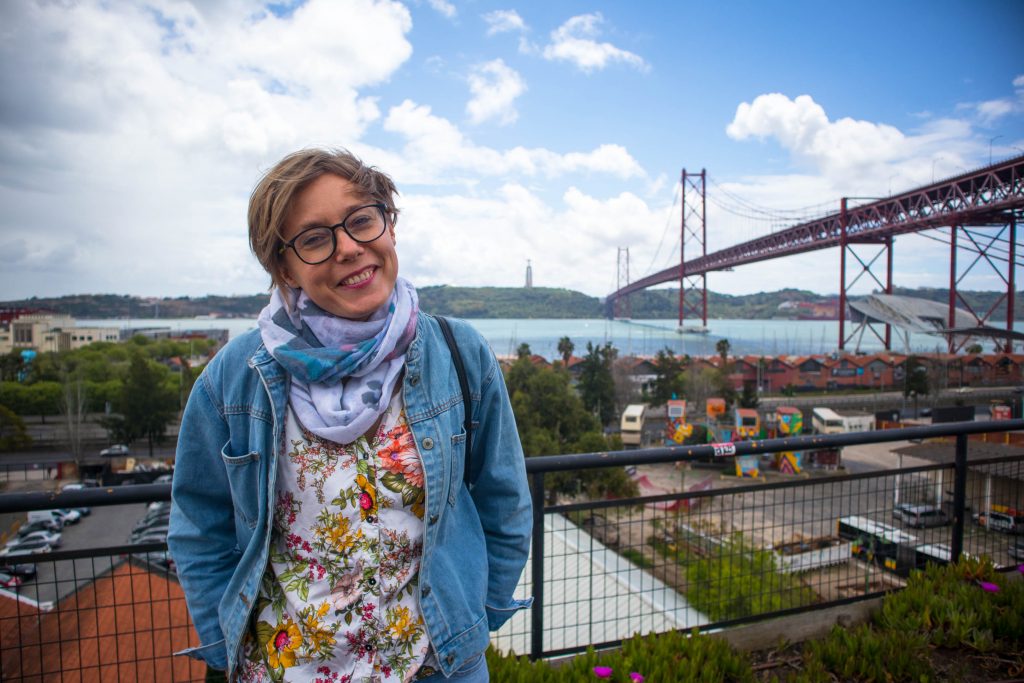 Location and geography
Lisbon lies on the Iberian Peninsula, on the Atlantic Ocean and the River Tagus. It is the largest city in Portugal and 11th largest city in the European Union. The population of Lisbon is only over 500,000, but the urban area extends over the city limits with a population of almost 3 million. A lot of people live on the other side of the river, where you can easily get by car, or by public transportation.
The city measures 100,5 km2. Its western part consists of the Monsanto Park, the largest urban park in Europe. The area of the city extends to the city of Setubal and includes other cities, such as: Amadora, Queluz, Agualva-Cacém, Odivelas, Loures, Sacavém, Almada, Barreiro, Seixal and Oeiras. You will find that some companies have their headquarters not in Lisbon itself, but in some of the above-mentioned towns and municipalities.
Language
Portuguese is the Western Romance language. Because of the colonisations, it is spoken not only here, but in many other countries, like Brasil, Angola, Cape Verde, Mozambique, East Timor, and many others. To me, it sounds more like an Eastern European language than something similar to Italian, or Spanish. In fact, at the beginning, I always thought I was hearing Polish.
It is not difficult to learn Portuguese. You can easily get your head around it in a couple of months. If you have contact with it every day, you will be able to communicate very quickly. It's good to learn some basic Portuguese phrases even before you come.
Locals speak really good English. They will sometimes apologize to you, saying their English is very bad, but in fact, their level is so much better than in any other country I've ever lived in. In the center, you will not have any problems with communicating. In the suburbs, it's a different story and quite often you will need your Google Translate and your body language to get what you want to say across to the other person. When you go to any government institutions you will need to be prepared because the staff there doesn't, or doesn't want to, speak English. Most of the time some basic Portuguese and a little patience will do the trick, but if you're worried that you won't be able to understand anything, take a Portuguese friend with you.
Currency and the economy
The currency of Portugal is Euro. You can check the exchange rate here. The economy has been steady and expanding continuously. According to Wikipedia, the budget deficit has been reduced from 11% to only 4% in the last couple of years. The unemployment rate is now 11 %, which is down from 13% in 2014.
These are the statistics and how does it look like in real life? From my observation, Portugal is much poorer than Poland. There are lots of homeless people on the streets and the Portuguese live quite modestly. Many complain that their salaries don't match the actual state of the economy and that it's hard to find a job in Lisbon. It's good to be aware of this before moving to Lisbon and it's a good idea to look for employment first.
Weather
The weather in Lisbon is mild. The summers are long and the winters are short. This is what any holiday portal will tell you. My experience here has been different. The last winter (2017-2018) was extremely long. It started in November and finished in April. Then came the spring and that went on until early July. The summer was…Well, there was no summer. Locals say that it was an exception and normally, the weather is much better. Hopefully, they are right.
One thing that you need to be ready for is that the houses here don't have good isolation and no heating. The older buildings have single glazed windows. The winters might be mild comparing to other countries in Europe. The temperatures don't fall below 5 degrees, but inside it is usually colder than outside. Buying an electric heater is a good idea, but that won't help you with your budget. Be ready to suffer, especially if you like warm temperatures.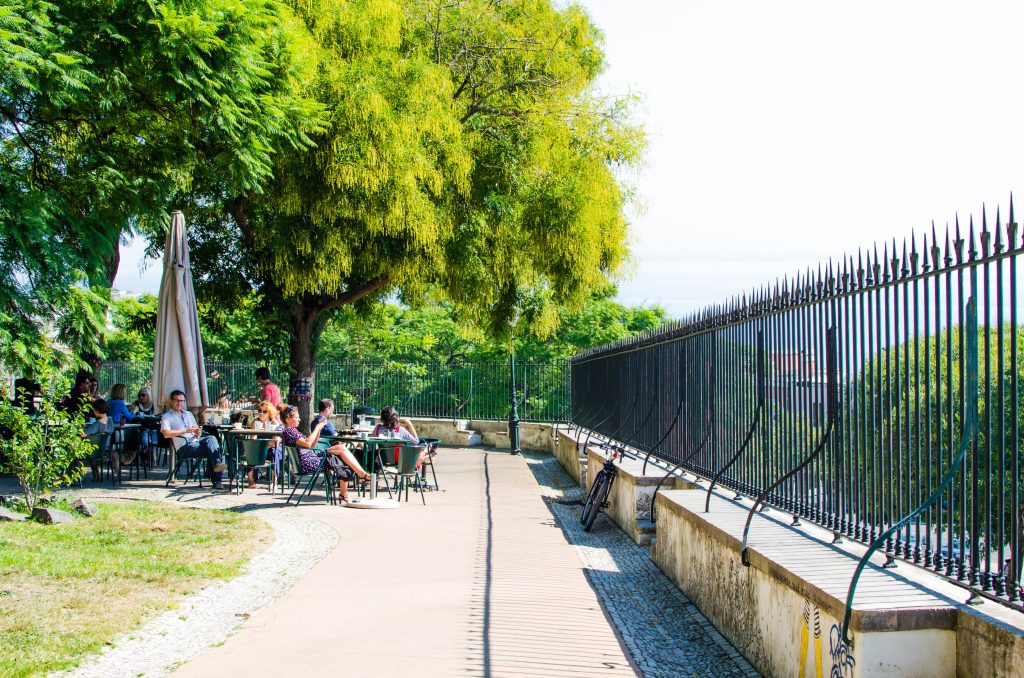 Food
I have a strange relationship with food in Portugal. The locals here eat a lot of fish and seafood. Their national dish is bacalhau – codfish. It is usually served with potatoes or/and fries. Cod is served in many ways. Except grilled, you can also find pastel de bacalhau – small pastries made out of cod paté.
Other dishes consist of meat: pork and chicken are the most popular. Different cuts of the animal are called differently. These are served with potatoes and fries. Normal price for such dish is about 6 Euros.
Portugal is famous for its pastries and there's no lack of it in Lisbon. There are bakeries everywhere and there are so many baked goods to try out and it's a never-ending tasting party. Don't forget to order coffee with your sweet bun!
Vegan and vegetarian restaurants are not that common. You can find them here, but you will pay much more than for traditional food. It's much better and much more affordable to cook at home. You can do your shopping in frutaria – small grocery shops, where the array of fresh produce is really huge.
Average earnings
Lisbon is the capital of Portugal, so the earnings here are higher than in other parts of the country. However, they are not very high. It is said that the average salary in 2017 was 860 Euros! That's really little if you compare that to other major cities in Europe. If you are lucky and get a good job, this will be higher, but you cannot expect too much.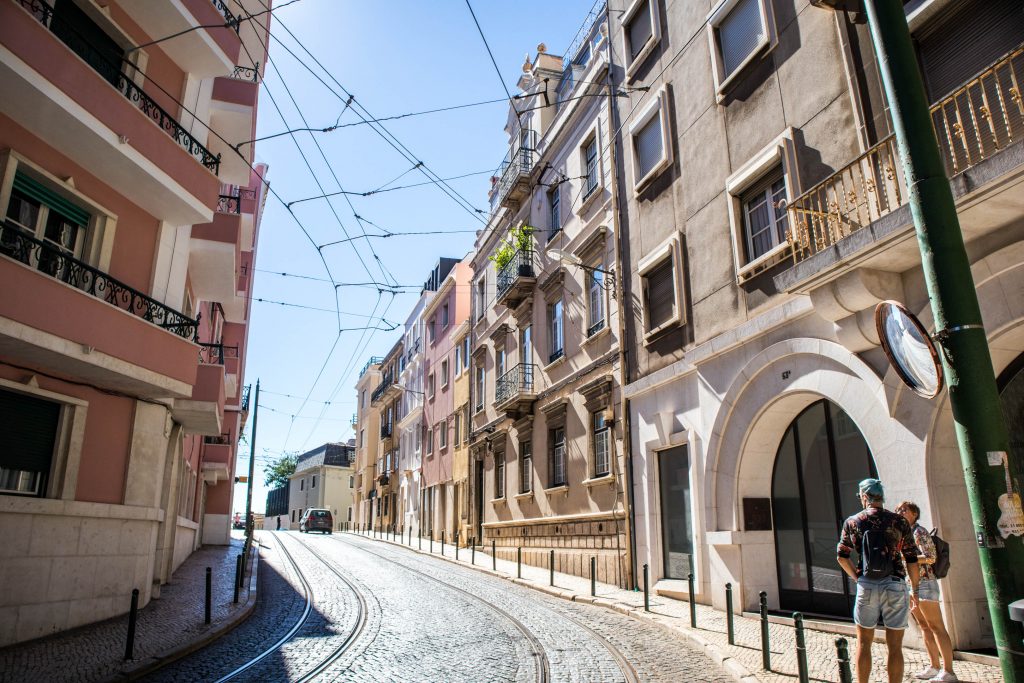 The average cost of living
On average a single person spends around 600 Euro in Lisbon. This includes only the basics: food, accommodation, and transportation. If you like to go out, your costs will be much higher than that.
From my experience costs of living in Lisbon are high and I spend around 1,000 Euros per month, sometimes even more than that.
Accommodation
One of the most problematic things in Lisbon is finding accommodation. There's a lack of good housing for a good price. Most of the flats are taken over by Airbnb and those that are left are either poorly maintained or the prices are so high that when you earn an average salary you won't be able to afford the rent. I have written more about finding accommodation in Lisbon and I recommend it if you are planning to come here soon.
Visas and regulations
If you are from the European Union, you don't need a visa for Portugal. You are free to live here and work. Just remember that you need to register as a resident if you are here longer than 150 days. If you want to work here legally, you need to register for taxes and insurance. If you sort it out, you're free to live here permanently.
If you are from the outside of the European Union, you need to check the regulations before you come here.
If you are from the UK, you can still come and register as a resident before March 2019. If you manage to do so, you can stay in Portugal. At the time of writing this post, it was said that all the UK passport holders that are residents in Lisbon will be allowed to stay in Portugal indefinitely without any major changes and difficulties.
Healthcare
Healthcare in Portugal is almost free of charge. For some of the services, you need to pay extra even if you pay your insurance here. These are not great amounts and the level of care is really good. They even have house visits if you can't be bothered to go to the GP (it normally costs 15 Euros).
However, in order to use the health system, you need to register for taxes and national insurance. If you don't have these, you can buy a private insurance from a provider from your home country.
You can also buy private medical insurance. I have been using Cigna for quite some time now and am very happy with what they provide. They cover me for Portugal and Poland (my country of birth) and the policy includes outpatient and inpatient care as well as an annual check up.
Visit Cigna now and check what they can do for you.
I thought that moving to Lisbon will be as easy as moving and living in Thailand. As it turned out, it was a much more difficult. It took me several months to get used to life here. I think the legal side of things are trickier and require even more patience than in Thailand. I would say that if you come here to make money, then there are better countries in Europe to do just that. If you come here for the food, the fun and the atmosphere, then this is a great place to be!
Did I miss something? Do you have questions? Let me know if the comments.