My Son Heritage Site is located in a narrow valley, surrounded by springs, mountains and green, dense jungle. It consists of several temple – towers constructed between 7th and 13th century AD.
After centuries of wars and numerous natural changes there are still about 70 monuments remaining, representing six styles of ancient Champa art. It contains evidence of cultural interactions between Champa Kingdom and other South East Asian civilisations, such as India and China.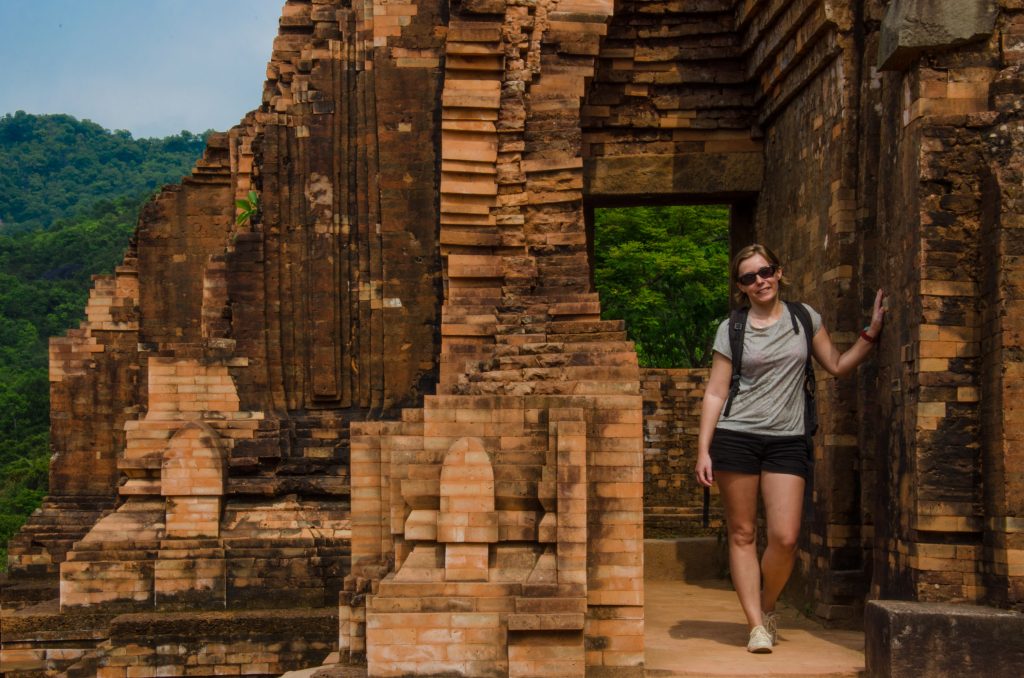 My Son Holy Land is located about an hour from Da Nang and Hoi An, and 3 hours from Hue. Tourists offices sell whole day and half day trips to My Son, or you can just simply drive there on your own. We chose the latter of course and after driving a bit we knew that it was not going to be an easy route. The traffic in the cities of Vietnam is terrible, but it is even worse when you drive out a little. Busses and trucks overtake on narrow lanes, people don't pay attention to what goes on around them, people cross the roads, children ride their bicycles and neither of them looks when they want to make a turn…It is chaos. Most of the road to My Son from Da Nang was busy and dusty and not interesting. Only after we reached a point where we only had 10 km left, the surroundings changed a little and led through a countryside, rice fields and nice views of the mountains.
If you decide to drive to My Son, make sure you have your helmet on and a good travel insurance.
The entrance fee to the Holy Land is 150,000 VND and the parking for a scooter costs 10,000 VND.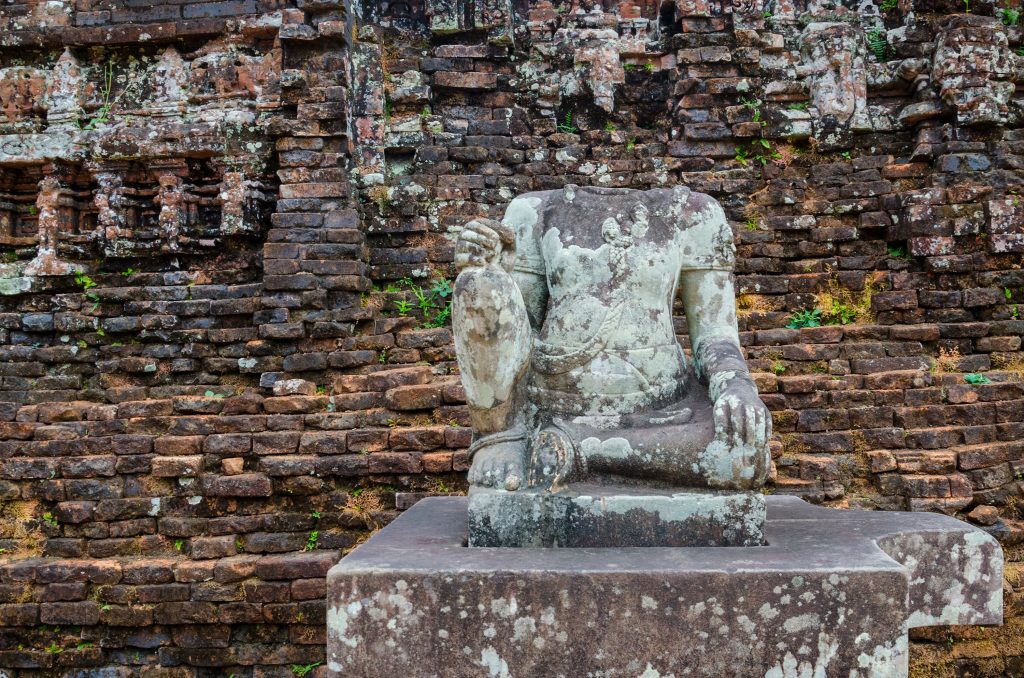 Straight after the ticket check point you will find a small museum, where you can read some interesting facts about the discovery of My Son and its preservation, and look at a few artefacts. I was very glad to see Kazimierz Kwiatkowski on one of the photos. He was a Polish architect, who worked really hard on saving Hoi An's ancient houses from being demolished and helped with excavating My Son's ruins. He even has his own memorial in Hoi An.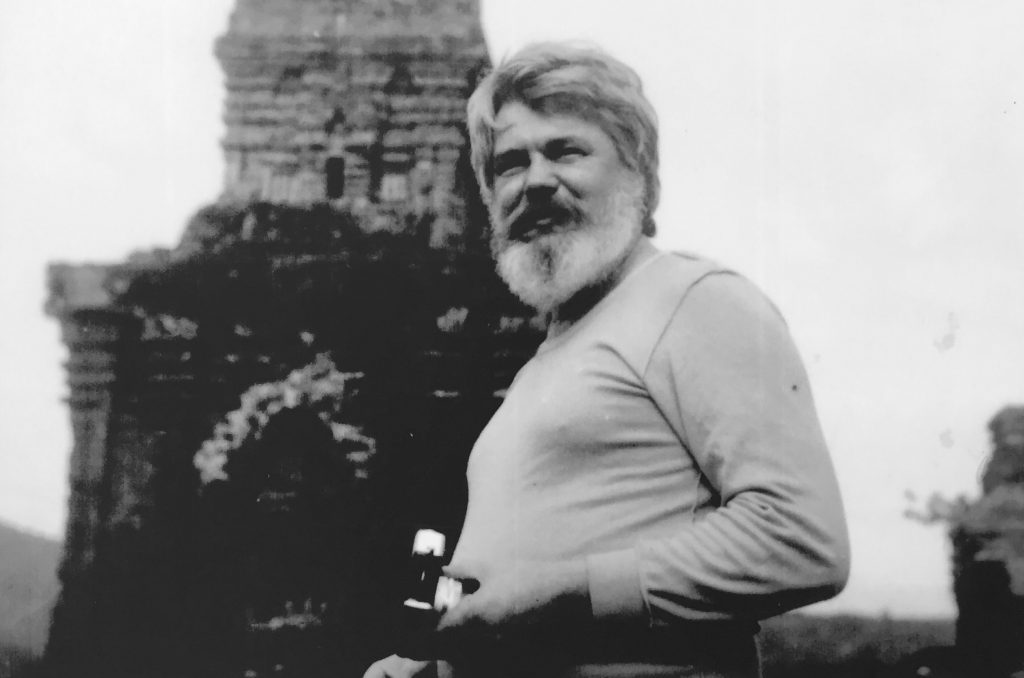 My Son is hidden away, far in the forest and you need to take a small electric car to get there. The cars pick visitors up from a small shop, just after the entrance gate and the museum.
The area here is not large and it is very easy to navigate. There are only a couple of places where part of the ruins still remain intact. They are marked with letters and numbers, reflecting each style of Champa art, for example My Son E1 style marks the dawn of Champa arts and A1 is for the golden age of Champa arts.
The ruins of My Son are not as grand and impressive as those of Angkor Wat in Cambodia, but thanks to its location and a small number of visitors they create an atmosphere of mystery.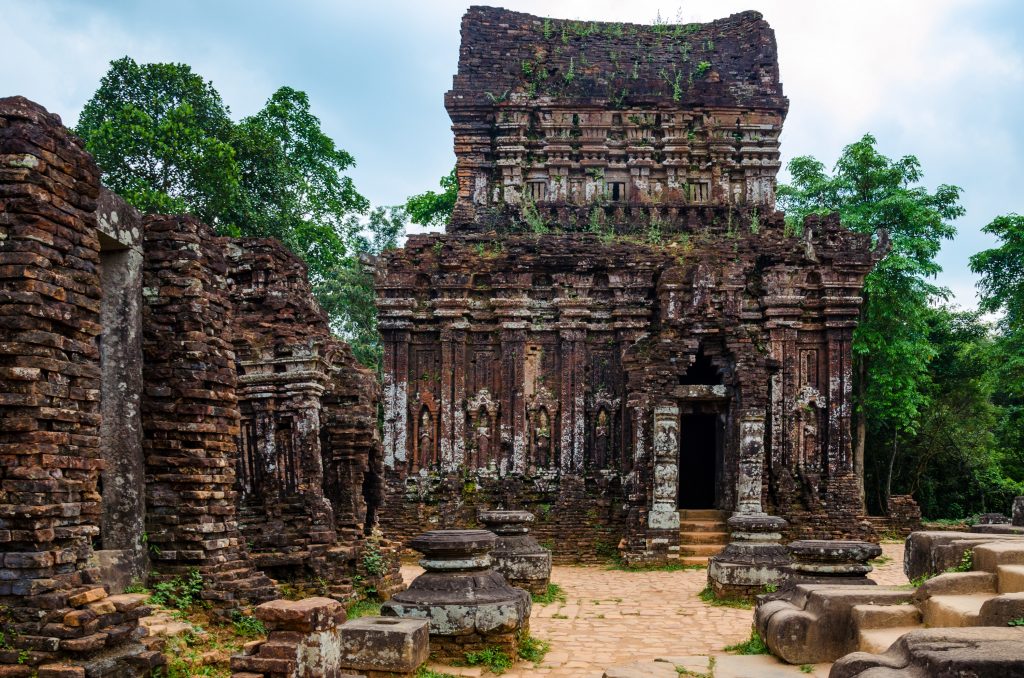 I really enjoyed wandering around the ruins and being so close to the beautiful jungle. The only thing that bothered me a bit was the heat. It seemed like the air stood still and the sun was burning a hole in my head. The advantage of arriving there at noon was the fact that most of the time we were there completely alone, which gave us a great opportunity for photos. Most of the visitors arrive at My Son at 3, or a little later, to avoid the heat.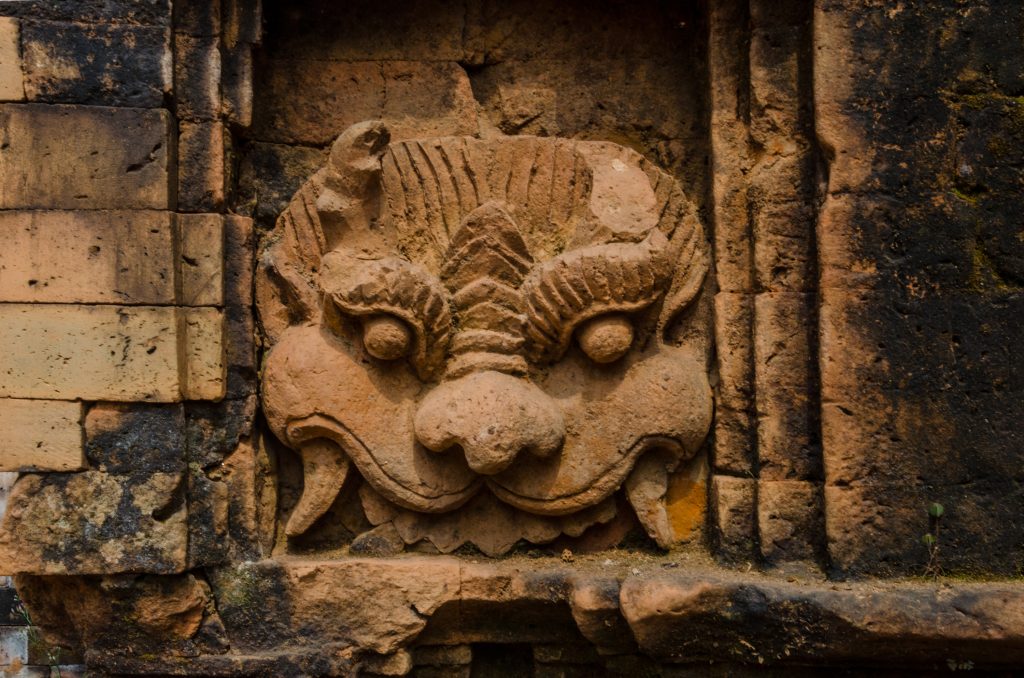 We finished our tour with a traditional dance show, which takes place in a small performance hall 3 times a day: at 09:30, 10:30 and 2:30. I was mesmerised watching the beautiful dancers moving to the beat of the rhythmic music.
My Son Holy Land is a great place to visit, if you are in the area. I liked it much more than the overcrowded and busy Angkor Wat. There was something mysterious about the ruins of once grand temples. The surrounding jungle with singing birds and cicadas  added even more to the experience.