After spending a couple of weeks in Da Nang and visiting Marble Mountains and Son Tra Linh Ung Pagoda, we decided to take a train to Hue. We left on Friday afternoon and were spending only one full day there, coming back on Sunday morning. I had made a long list of places I wanted to see and was really excited of the upcoming short break. We actually didn't manage to see it all (due to a long sleep-in on Saturday), but made the most of few hours we had for sightseeing.
If you also have limited time and want to know what to see and do in Hue, here is all the information you will need.
Why visit Hue?
Hue used to be the capital of Vietnam until 1945. From here the emperors ruled the whole country. History hides in every corner of the city. In 1993 the Forbidden City, where the emperors used to live, was made a UNESCO site.
Today's Hue is a mixture of modern downtown with neon – lit restaurants and hotels, lively nightlife and a wide variety of shops, and historical buildings, temples and pagodas. As soon as you travel out of the city centre you will be able not only see the traditional way that people in Vietnam live, but also admire even more historical sites.
Hue should be one of the places to see when you're visiting Vietnam.
The sites
Imperial City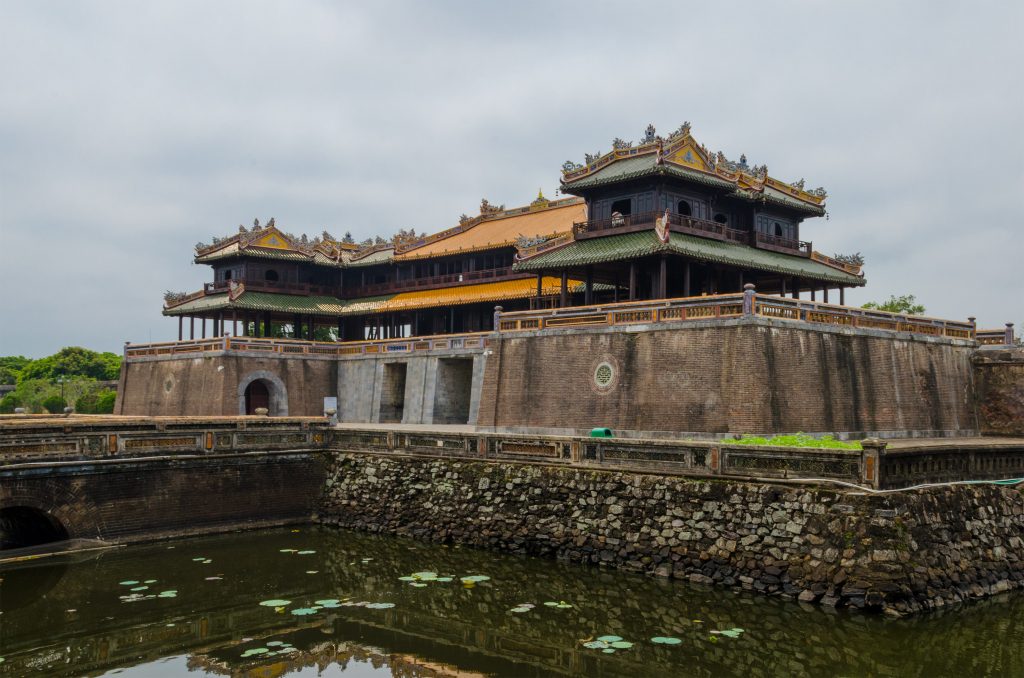 The most important site in Hue. Once known as the Forbidden Purple City it was home to emperors, who once ruled Vietnam. Many wars destroyed the complex and the site is slowly being reconstructed.
The area is surrounded by a moat and measures 2 kilometers by 2 kilometers. It consists of many ancient buildings, featuring historical photographs of the emperors and miniatures of the city itself. You can spend here a whole day, wandering around, going from one building to another. However, there is an evident lack of informative exhibits and if you want to know more about the Forbidden City it is better to hire a guide for 150,000 VND.
Opening hours: every day 7 am – 5:30 pm
Entrance fee: 150,000 VND per person
Parking: 4,000 VND
Thien Mu Pagoda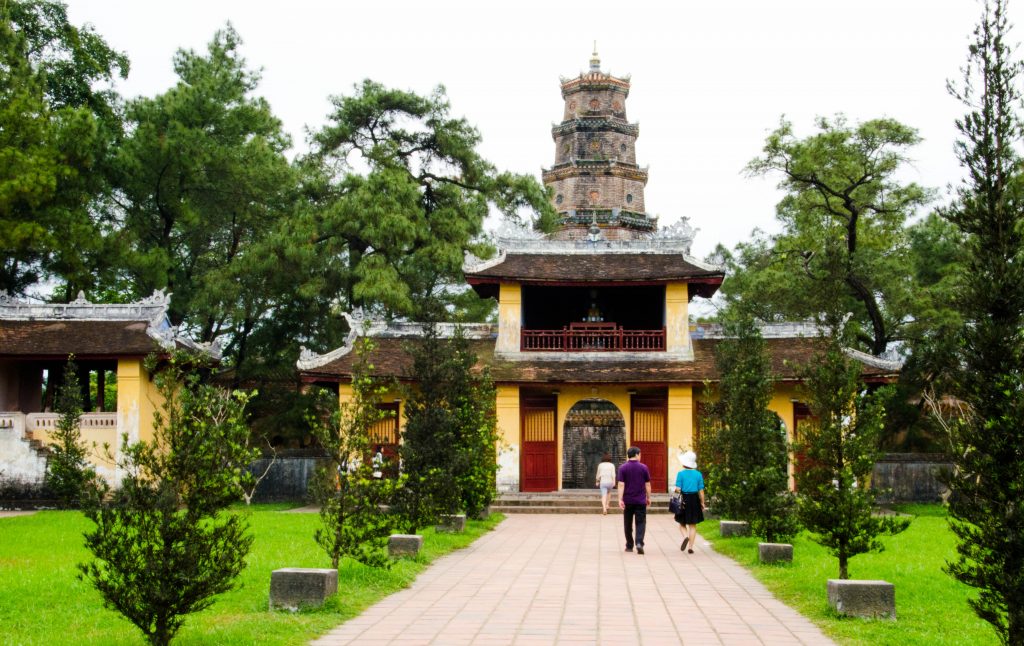 Thien Mu Pagoda is the tallest religious building in Vietnam. Located a little bit outside of the city centre, at the banks of the Perfume River it makes for a great sightseeing spot. The site consists of several tires, including monastic buildings, a cemetery and small gardens.
One of the things that made an impression on me was an old car in which monk Thich Quang Duc rode from his temple from Saigon in 1963. At one of the intersections in Hue he got out of the car and set himself on fire in the protest of regime's violations of religious freedom.
Opening hours: every day from 7:30 am – 5:30 pm
Entrance: free
Parking: 2000 VND
Temple of Literature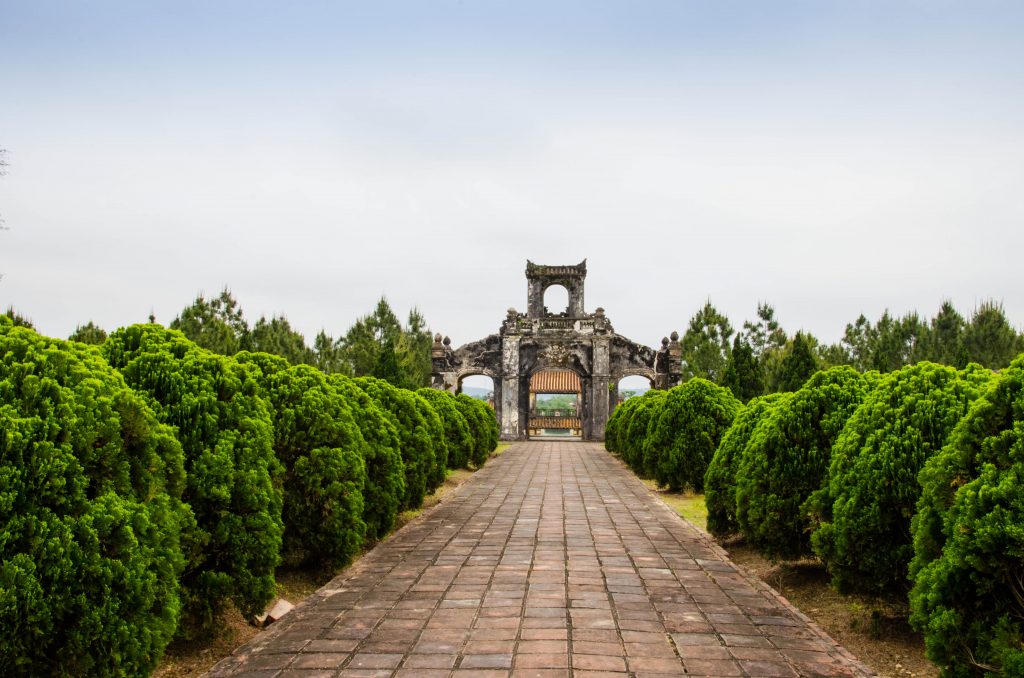 It's not as grand as the previous sites I have mentioned, but it's worth visiting nevertheless. Drive down the road from the Thien Mu Pagoda and you will find the Temple of Literature on your right hand side.
We were there completely alone and enjoyed the quiet time we had at the site. There are a couple of houses around the temple and the traffic is slow, so you can enjoy this part of Hue even more.
Opening hours: every day from 7 am – 5 pm
Entrance fee: free
Parking: free
Tu Duc Tomb
Despite my tiredness and overwhelming heat that day I must say that it was my favourite spot during the trip. If you are planning your visit to Hue you must not omit Tu Duc Tomb.
It was constructed between 1864 and 1867 and served as the second imperial city, where the emperor came to rest and relax. The tomb complex is divided into two areas: the ritual and the burial. It is a beautiful site and due to its size can take up quite a bit of your time to see it all.
Opening hours: every day 7:30 am – 5:30 pm
Entrance: 100,000 VND
Parking: 3,000 VND
Quoc Hoc Hue School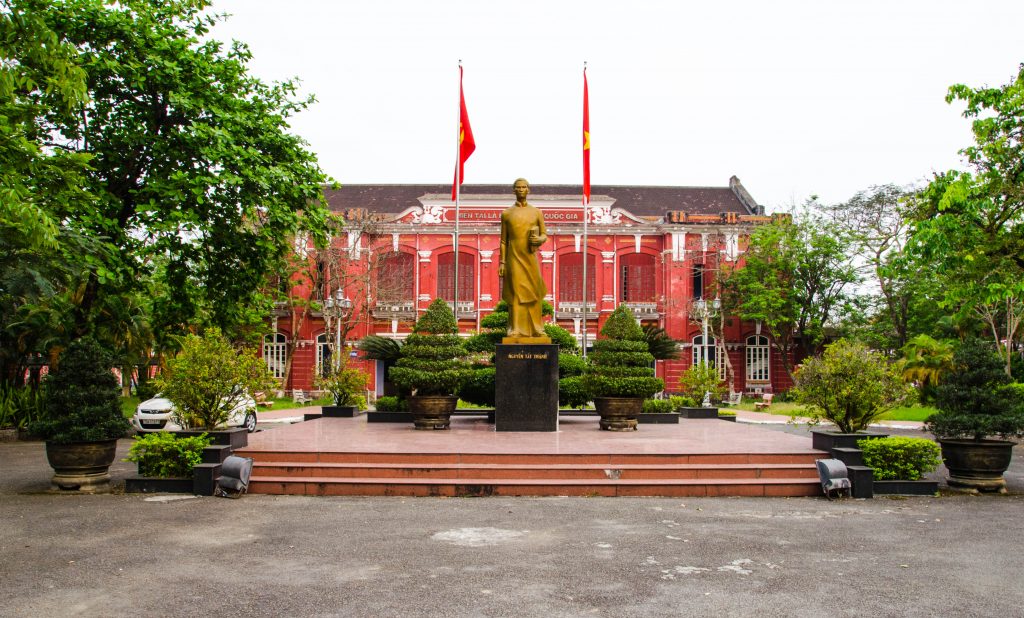 This is the second oldest high school in Vietnam. We weren't sure if we were allowed to enter, but we did anyway. The school's yard is really pretty and it's a great place for a stroll. The kids just finished the school during our visit and they didn't mind us walking around. It seemed like tourists were a common sight there, despite the fact that we were the only foreigners around at that time.
On the other side of the street you will find a large park with a pond. Go for a walk there and observe the locals relaxing and playing sports.
Opening hours: from 7 am – 5 pm
Entrance: free
Parking: free
Visiting the ancient city of Hue – useful information
How to get to Hue?
A bus from Da Nang to Hue costs 70,000 VND and takes 3 hours, alternatively take the train for between 46,000 VND – 109 VND.
How to get around?
Hue seemed a little busier than Da Nang and the traffic was more notorious. We rented a scooter for 150,000 VND a day. It was a great option for us as we like to be completely independent. Driving was a little scary and our scooter was so old that it was almost falling apart, but we survived.
For around 50,000 VND you can rent a bicycle. I would recommend doing it only if you are fit enough to cycle long distances in heat and humidity. Main attractions in Hue are scattered around the city and it will take ages if you want to see some other sites except the ancient town.
You can rent a cyclo or a taxi for a day and ask the driver to take you to the sites you want to visit. This might cost you around $40 or more, depending where you want to go. I heard a lot of bad stories about cyclos in Hue. The drivers usually charge $6-$7 per hour, but they sometimes prolong the trip on purpose, so they can earn more. It is better to set a price and the timing first.
Where to stay?
The central tourist area in Hue is located on the south bank of the Perfume River. It is full of small hostels and hotels. The accommodation base in Hue is rich and the prices are really affordable. However, be careful! We read some reviews on Booking.com and it turned out that many places that looked nice didn't have good service and many people were disappointed.
We chose Minh Thai Hotel, which turned out to be lovely. The room was small, but comfortable and the staff were really friendly and helpful.
Where to eat?
For breakfast I would recommend La Boulangerie Française. The food was fresh and delicious, and I even managed to have a decent cup of coffee there.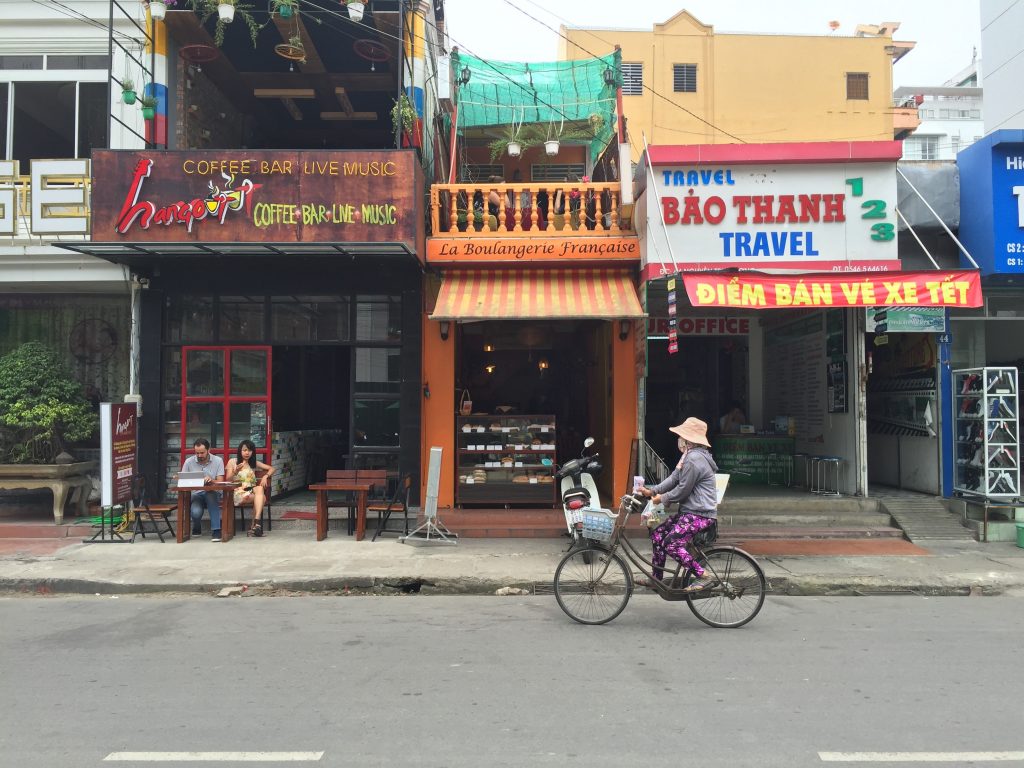 If you are starving after a whole day of sightseeing head to Hanh Restaurant. Order the set for 100,000 VND. You will get so much food that it will be hard to eat it all. The staff there will instruct you how to eat the food properly and you will have an unforgettable experience.
Where to party?
If you are up for some drinks then you won't have to look far. There are plenty of bars and pubs in Hue that run special promotions and happy hours throughout the evening. If you want to party until the early morning hours then visit Brown Eyes – it's a small bar/club, which has a great party atmosphere.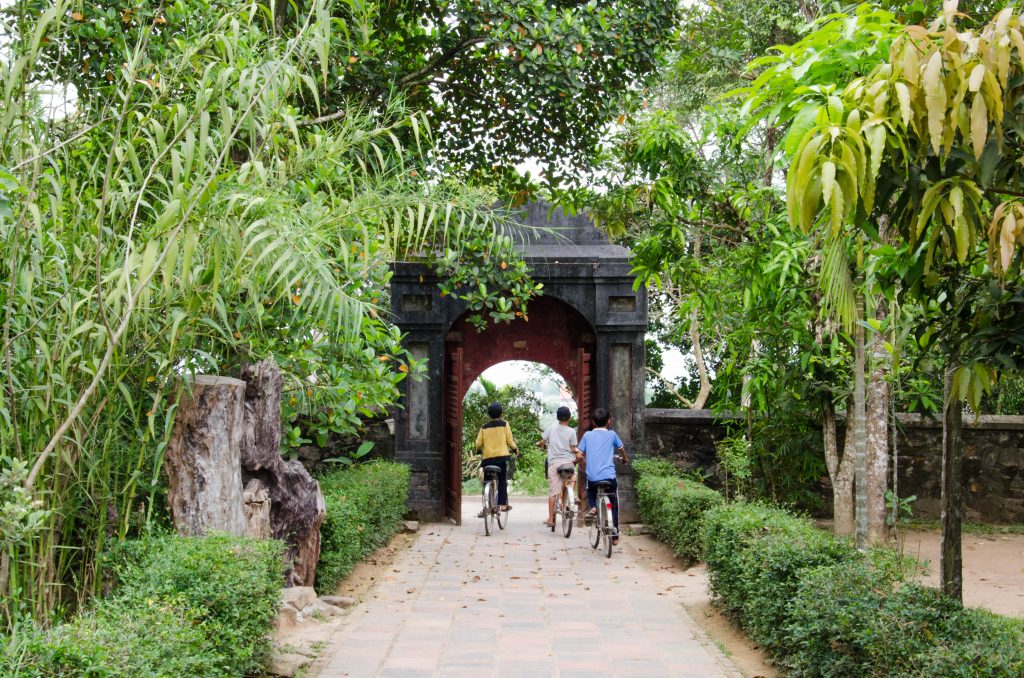 Hue is an interesting city. It is more of a place for backpackers to hang out thanks to its parties and bars, but the historical sites make it a great destination for those, who love to discover new cultures and are interested in gaining some knowledge about the country.
In Hue you will find great restaurants, bars, shopping, but the history and traditions are woven into the city. Traditional homes and pagodas stand next to mobile shops and motorbike rentals, but they all go together with a surprising harmony.