Pong Kwao Hot Springs is a a hidden gem in the area of Chiang Mai. It's hard to find and one must have quite a bit of time on their hands to navigate through the mountain roads to find it. But, once you get there, it will be hard for you to leave.
Chris and I discovered this place during our recent excursion to Mon Cham. We love the area and wanted to explore it a bit more. There is no better way of spending a sunny Sunday than riding in the mountains and discovering new places.
We started our day with a brunch at Baa Baa Black Cafe. We had heard about it from a friend of ours and couldn't wait to try out some of their signature dishes. This quiet, lovely place is located on the way to Mae Sa Valley, just next to the Mae Rim Lagoon Hotel. From the outside it looks small, but wander a little further and you will find a beautiful, big garden with sofas, rattan chairs and stylish tables. There is even a big bed for you to lay down!
We ordered their Salmon Bomb, which in fact was THE BOMB. The fish was succulent and it went incredibly well with baked potatoes with rosemary and sour cream. Heaven on earth!
Chris had mashed potatoes with bacon and cheese. I tried a little bit and it was delicious. I loved the baked cheese and the slightly salty potatoes.
If you're a coffee lover, you won't be disappointed either. Their coffee is strong and rich, served in a cup to last you a bit longer. For an appetiser, or dessert, try salty bread, which is a small croissant, served with butter and jam. Yum!
After our bellies got full to the rim, we rode on to Mon Cham. Here you can go to Nong Hoi Project and spend an hour, or two, admiring the views. We had been there a couple of times already and decided to skip it.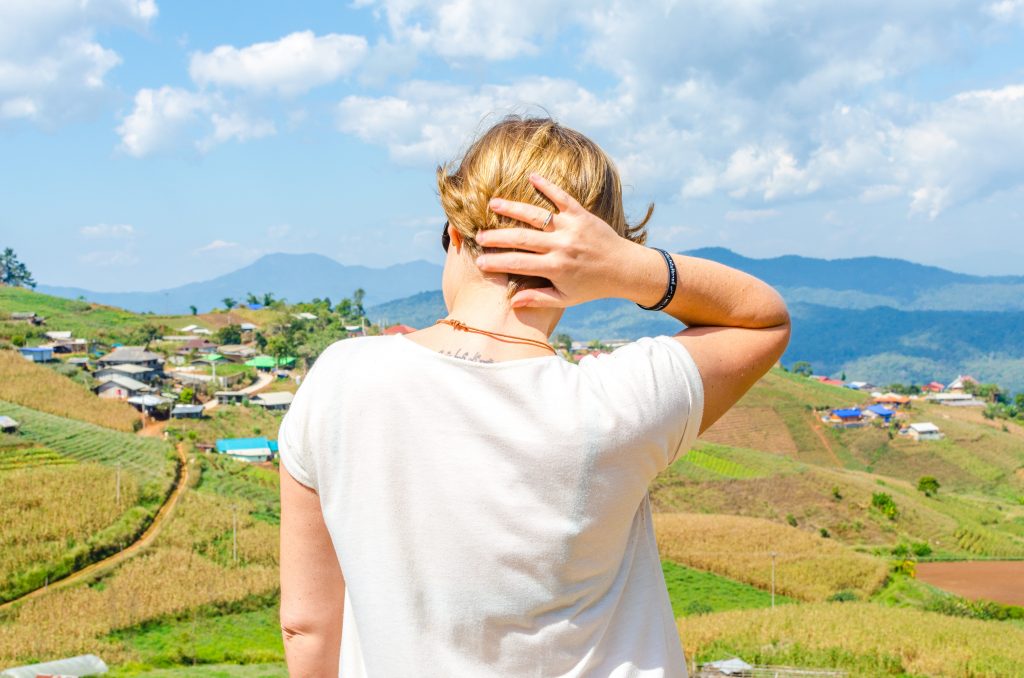 At the intersection leading to Mon Cham, we went left and continued straight, following the road to Samoeng. After Mon Cham we usually go back to Chiang Mai, but because we had a whole day to explore, we decided to check out the other direction. A narrow, two lane road, leading to Samoeng and Pai, took us through some stunning countryside. There were no cars around and we only passed a couple of villages. People were greeting us with smiles everywhere with a warm 'sawadee ka/krup'. It was lovely to spend some time enjoying the wind and the sun.
On our way we saw very old and worn out signs to the Samoeng Hot Springs. A few times the name changed to Pong Kwao Hot Springs as if someone couldn't decide how to call it. We decided to check it out. At one point the asphalt road turned into a dirt road with no buildings in sight. Finally, we got to the end of the route where we found some fancy looking bungalows and the entrance to the Pong Kwao Hot Springs.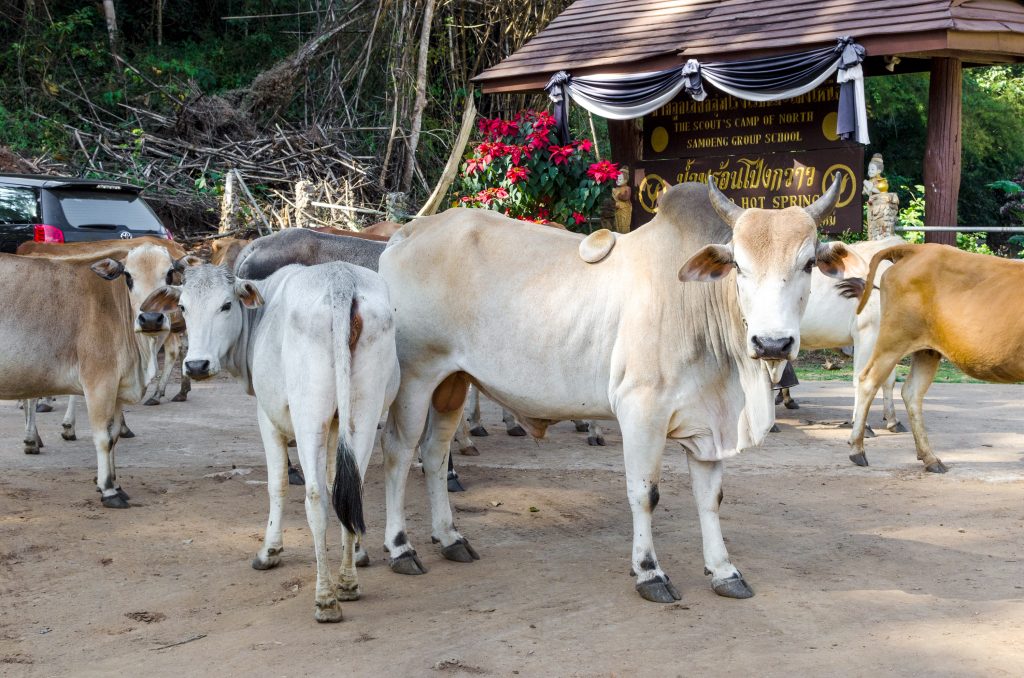 We were a little shocked seeing that one ticket cost 150 Baht. We had been to the San Kamphaeng Hot Springs before and thought that it would be the same here: just a park with some hot water stream, where the biggest attraction was boiling eggs. This time, however, it was different and we were handed towels and outfits: bermuda shorts for Chris and a jumpsuit for me.
We entered the main area with a nice, little garden, fountains and a small swimming pool. Wooden bungalows lined the paved path. We peaked in one of them. There was a group of Thai men soaking in crystal blue water. We stood outside thinking if we should go in and what should we do with our clothes. A few meters further I saw a caucasian man standing outside of one of the bungalows and I decided to ask him. As it turned out, for 150 Baht you could have your own private hut, where you could spend as much time as you wished.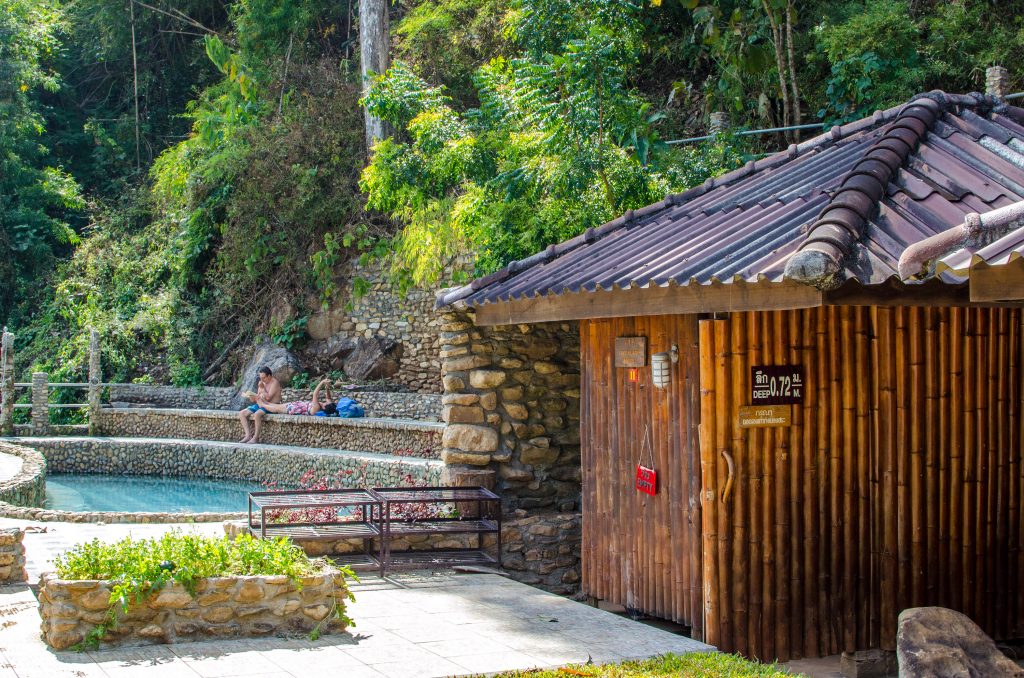 We picked one with a sign 'empty' on its door and went it. We were tempted to just go into the water naked, but there was a big gap between the ground and the wall through which people from the nearby bungalows could see us, so we changed into the clothes we had been given.
The inside of the hut was simple, but clean. There were a couple of hangers and baskets for your items. There was also a small shower cabin with cold water.
I walked into the small pool and… got out of it as soon as I could. The water was boiling! It was so hot that I couldn't keep my feet in it for longer than a minute. It took me quite some time to get used to it. Once my body adjusted I stayed in the water for a few minutes. It worked a little like sauna. I started sweating and my heart was beating faster. I took a quick cold shower and went in again. I enjoyed it despite the high temperature. Chris wasn't so enthusiastic and he decided to sit on a bench and wait for me.
We didn't stay much longer at the Pong Kwao Hot Springs. The heat of the water, combined with the outside temperature was a little too much. But, once we got out we felt light, refreshed and relaxed, just like a session in a sauna. I don't think we will go back, but it was a great experience and one that I can recommend to anyone.
Pang Kwao Hot Springs – Useful Information
You can get to Pang Kwao Hot Springs by a scooter or a car. You could rent a taxi, but it might be a bit costly. If you drive a scooter, apply some sun screen as the sun in the mountains is strong.
You don't need to take towels and your bathing suit. Everything is provided there.
Apparently you can also get a massage at the hot springs, but we couldn't see any signs.
There are lockers available where you can leave your valuables.
Food and drinks are sold at the site, but you cannot bring anything inside the huts. Prices are reasonable.