A few months ago, I visited SEE TEFL in Chiang Mai to take a look at their brand-new school building in Chiang Mai. SEE TEFL is of course the TEFL school I attended when I arrived in Thailand around four years ago to get trained to become an English teacher.
During my visit I had the chance to talk to some of the new students and many of their stories reminded me of myself, when I started my training. Recently, I decided to meet up with some of them again to talk about why they decided to become English teachers in Thailand, their experiences with the SEE TEFL course and – most importantly – I wanted to find out if they enjoyed their new jobs as teachers, or if they decided to go on a different path.
In this interview I talk to Mandy from Mexico. Her story can be a great inspiration and empowerment for women who want to live an independent lifestyle and travel the world on their own. I hope you will enjoy this short interview and if you speak Spanish, make sure to also follow Mandy's blog over at Unaviondepapel.
Hi Mandy, please tell me a bit about yourself.
My name is Maria Andrea, I am a 25 year old Mexican girl with a degree in Business Management. After I graduated two years ago I wanted to travel as much as I could, and to safe some money I started working in a logistics company.
Why did you decide to come to Thailand and become a teacher?
As I mentioned before, I wanted to travel as much as I could, but I had no idea where or how to start. After some googling I noticed how teaching English had opened the door to so many people… and I could be one of them! I decided to do my TEFL course in Thailand out of convenience for its location in South East Asia, but little did I know I would fall in love with this country!
What were your plans when you first moved to Thailand?
I had (and still have) absolutely no plans. For me that was the beauty of my whole journey.
What do you like about living in Chiang Mai? What don't you like about it?
I wouldn't say that I live in Chiang Mai. I have been here for 3 months in total with a lot of travels in between, so it is not a place I still can call home, but that doesn't mean I don't know the city and its beautiful places. What I like the most about Chiang Mai (Thailand in general) is the people and the atmosphere. When I first came here my mom was so worried about me going to dangerous countries (kind of a funny thought given that I live in Mexico, a "dangerous" country for most people). But Thailand is far from dangerous, there is a beauty in every corner, from its temples to its waterfalls and of course, the beautiful people you meet here.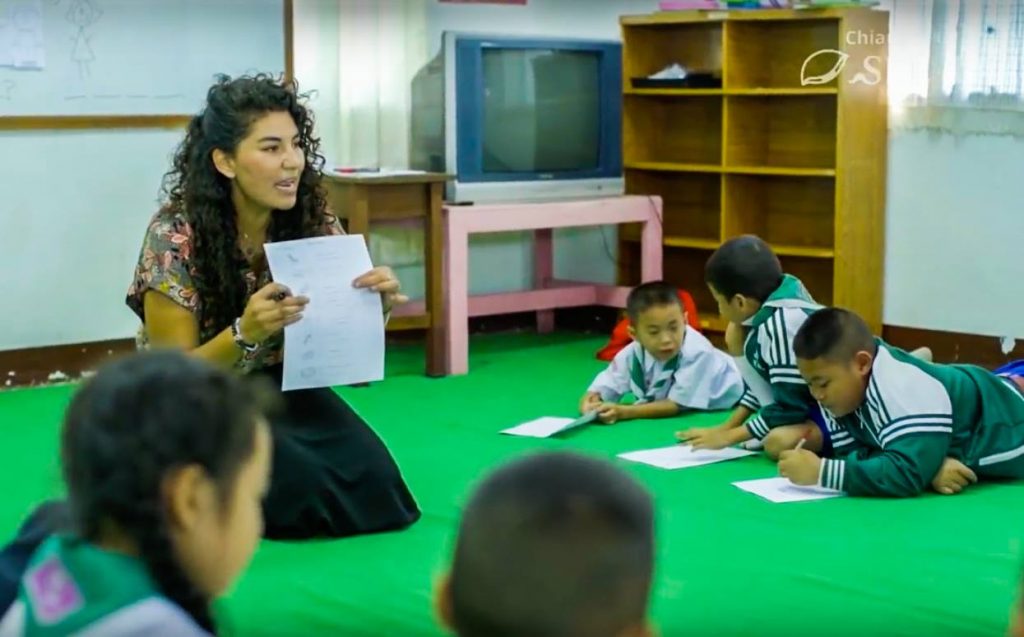 Was it hard for you to adjust to living in Thailand?
Since the day I arrived in Thailand I could see a lot of similarities between my culture and Thai culture (even the crazy driving reminds me of home!), so it wasn't hard to understand how society here works and adjust to it.
How did you find out about SEE TEFL?
Google is always my best friend, I just stumbled upon their webpage and it just felt like the place for me. That and a couple of emails with John (the owner of SEE TEFL) made me make the decision.
Tell me about the course, what you found useful, what not, what do you think about the course now, after you finished it? Was it worth doing a TEFL course in Thailand?
I think the course was great! What I found most useful was the fact that we actually got to prepare and give English lessons, that gave everyone in the course an idea of what it is to be a teacher and the skills that are needed.
The only thing I had a hard time wrapping my head around was the PPP methodology that you are expected to implement for every class as a language teacher. I think nowadays teachers need to seek new ways of teaching rather than the popular you-sit-I-teach technique and TEFL courses should embrace a mixture of their methodology with more creative kinds of teaching that makes a student excited about going to a class. After finishing the course I taught English to the staff in the hostel I was working for in Vietnam and I actually ended up using a mixture of the TEFL course knowledge as well as some personal touch to the classes to make it more interesting and different. It worked out great!
After you finished the TEFL course in Chiang Mai you decided to travel around. Where have you been and what has been your greatest and most fond memory?
When I first left Chiang Mai I thought I would be back in one month ready to look for a job, but 5 months into it and it still hasn't happened. After the TEFL course I volunteered for a month in an Elephant Sanctuary. After that intense month my Thai visa was expiring, so I thought I would go to Vietnam on a visa run and while I was there I would just travel for a month. After my intended month in Vietnam finished I got offered a job in a hostel up north and I took it. Cambodia was my final destination before returning to Chiang Mai for Songkran! Now I am in a plane to Surat Thani for a 10 day Vipassana meditation retreat and after that I booked a flight to Berlin because I have an addiction to this city and I felt I needed some Berlin summer vibes.
Do you think you will ever search for a job in a Thai school?
I usually don't have a plan but I am definitely not closed to the idea. This whole experience has made me realize how easy it is to survive outside of my comfort zone and to accept things and plans as they come. So maybe I come back to teach English in Thailand or maybe I end up giving yoga classes in Africa. Who knows??!
What are your plans for the future?
I am going to Berlin, Amsterdam and London for 2 or 3 months and after that I have a lot of personal plans I want to get working on, so I am going to go back to Mexico to start with them. Exciting times are coming for me!