Sukothai is a small city, which is located in the middle between Bangkok and Chiang Mai. It was the first capital of Thailand and you can still find ancient ruins there, which were once the pearl of the country. If you're going to the north of Thailand, please stop in Sukothai. In this post you'll find a few things you can see and do in the city.
Sukothai is a well-known city, but is not so frequented by tourists. It's always easier to go to Ayutthaya, which is easily accessible from Bangkok. I was planning to go to Sukothai for a long time, but because of transportation and it being a bit out of the way, I was always putting it aside. Finally, I managed to get there.
If you're going to Sukothai, then I hope this post will be useful to plan your trip. Check what you can see and do in the oldest city of Thailand.
Sukothai – Orientation
Sukothai is divided into two parts – new and old. The Old Sukothai and the New Sukothai are 30km away from each other.
Most people stop in the new part because the hotels there are cheaper. I recommend staying in the old one because it's prettier and has more character.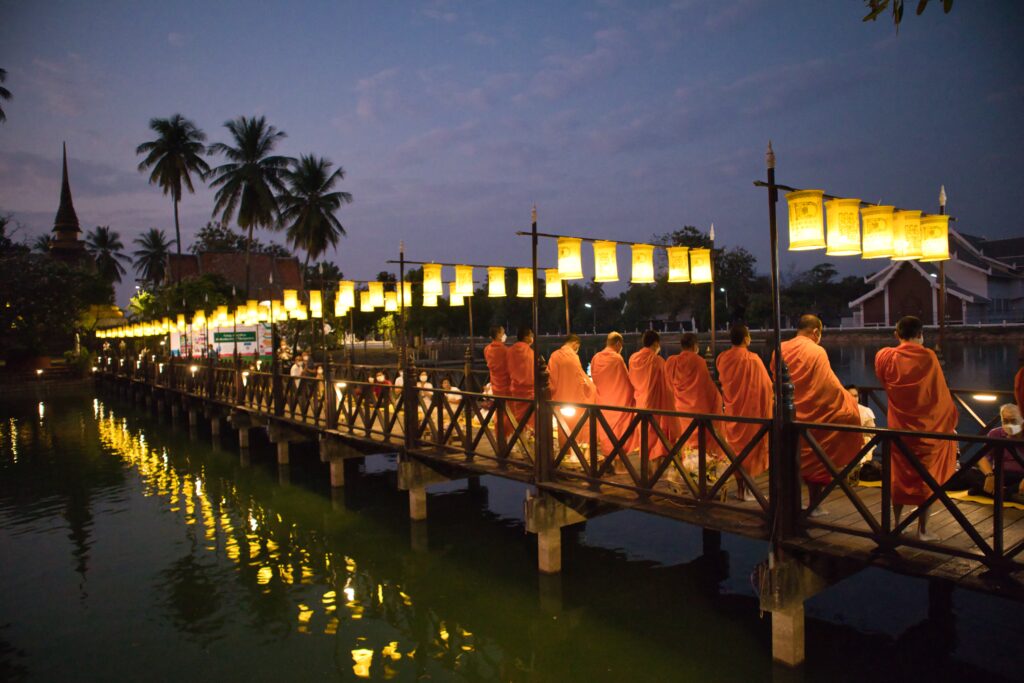 Why it is worth going to Sukothai?
Sukothai must be one of my favourite places. I wasn't so taken by the New Sukothai, which is not that interesting and doesn't have many places to visit. The Old Sukothai, on the other hand, has the ancient ruins and there is a lovely town centre with restaurants and bars. Except that, there is something about Sukothai that you instantly like.
Maybe it's about the wooden houses, maybe it's about the lovely local people, sunrises and sunsets. I don't know….All I know is that if you have a few days, it's worth going there for a bit and see it for yourself.
What to see and do in Sukothai – The biggest attractions
Sukothai doesn't have so many attractions, but here are those few that are worth visitng.
Sukothai Historical Park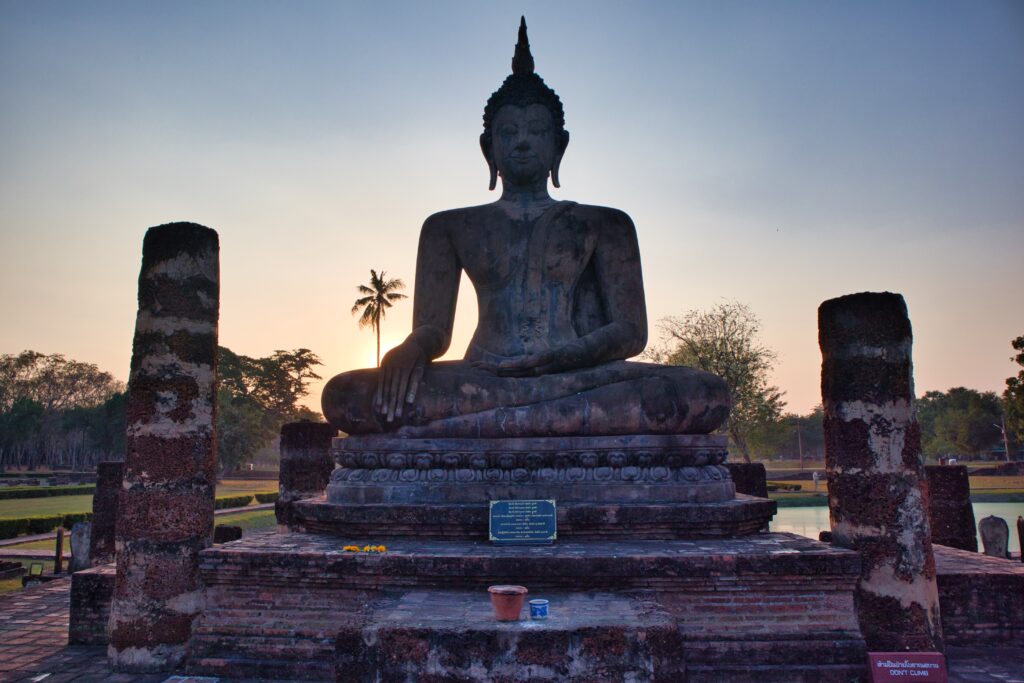 The ruins of the ancient city in Sukothai are probably the most beautiful ones I've seen.
Sukothai was once the capital of Siam and today what's left of it is 700 years old! The whole park is the UNESCO World Heritage Site.
The park is quite small. It's not Angkor Wat in Cambodia, but thanks to its modest size it seems a bit more friendly.
The best way of visiting it is renting a bike, which you can hire near the entrance gates. The cost is 20-30 Baht. Go there around 4pm. This way you will avoid the heat. Stay until sunset. The light at that time is really great. Choose a quiet place and see the sun setting over the horizon.
The park is situated at the end of the main road in the Old Sukothai. You can visit it in 2-3 hours – if you're in a rush or you don't like places like that. Others can take their time and spend a whole evening here.
The cost is 100 Baht. There is a fee for a bike – 10 Baht.
Opening hours are from 6:30 am to 7:30 pm.
Map
I really recommend hiring a guide for this part. TakeMeTour has a lot of tours, which can also be customised.
Become a farmer
Turn into a local farmer. Spend one day outside of the city, learn how to plant rice, play with the kids and eat lunch with the people there.
Here you can find more information.
Witness morning alms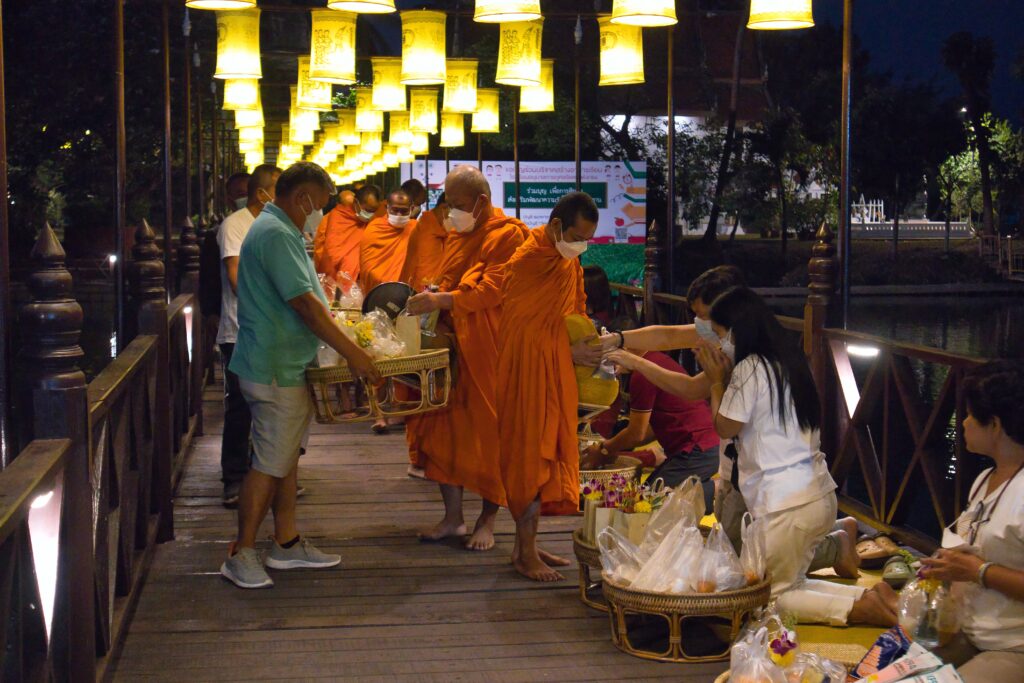 Perhaps you heard of Luang Prabang. The main attraction there is to see monks receiving morning alms. In South East Asia it always happens in the mornings and it's a really beautiful ceremony.
Sukothai is an alternative to Luang Prabang. Every day, from the main temple, Wat Traphang Ngoen, in the Old Sukothai, monks go out on the street and walk through a lovely wooden bridge, which connects the street with the temple.
Thai people kneel down and offer gifts to the monks. It's really a beautiful scene.
Make sure that you come here around 6am or at least 30 minutes before the sunrise to take a good place.
Eat delicious noodles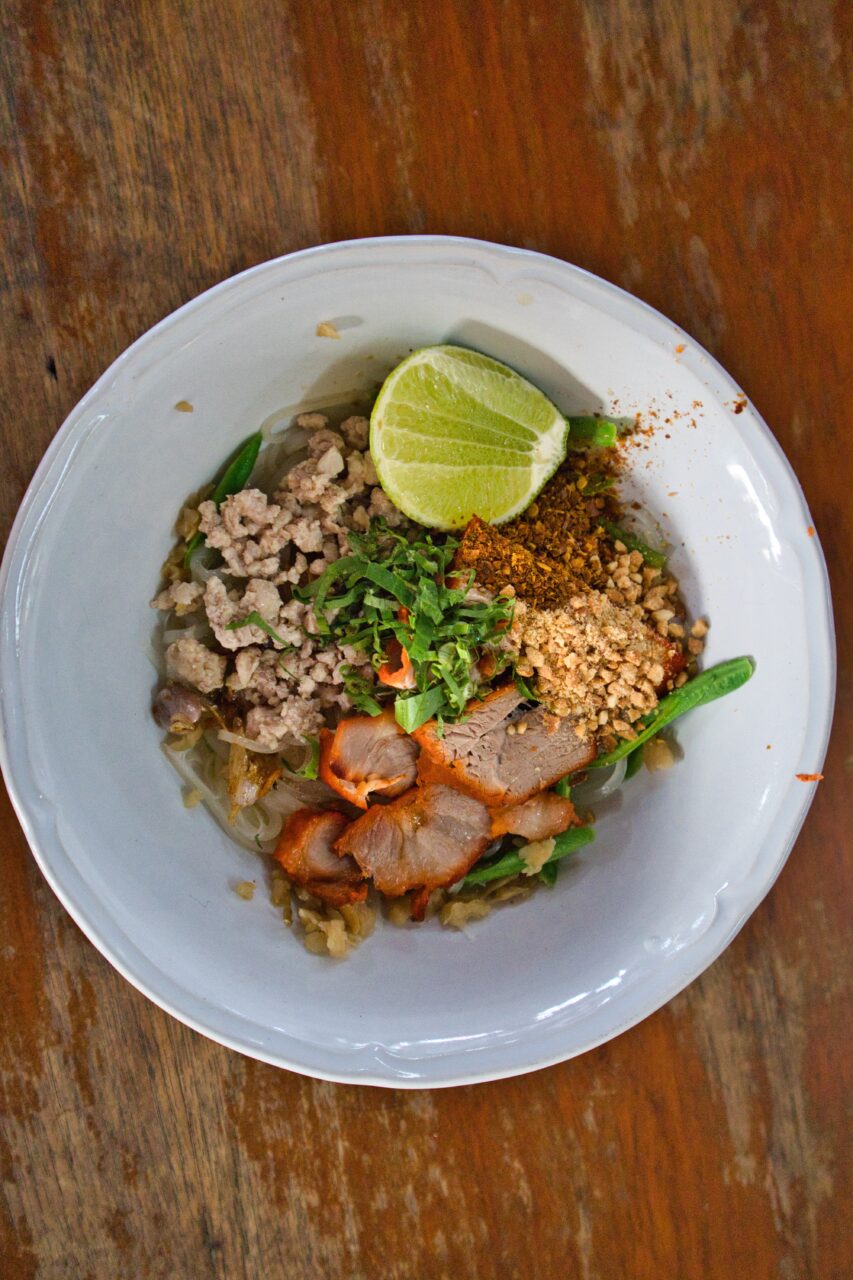 Sukothai noodles is a very popular dish in Thailand. They are aromatic, served with different meat and/or with delicious broth.
The best noodles I had in Sukothai were from Ta Puy Noodle, which is around 30 km away from the Old Sukothai.
Visit the night market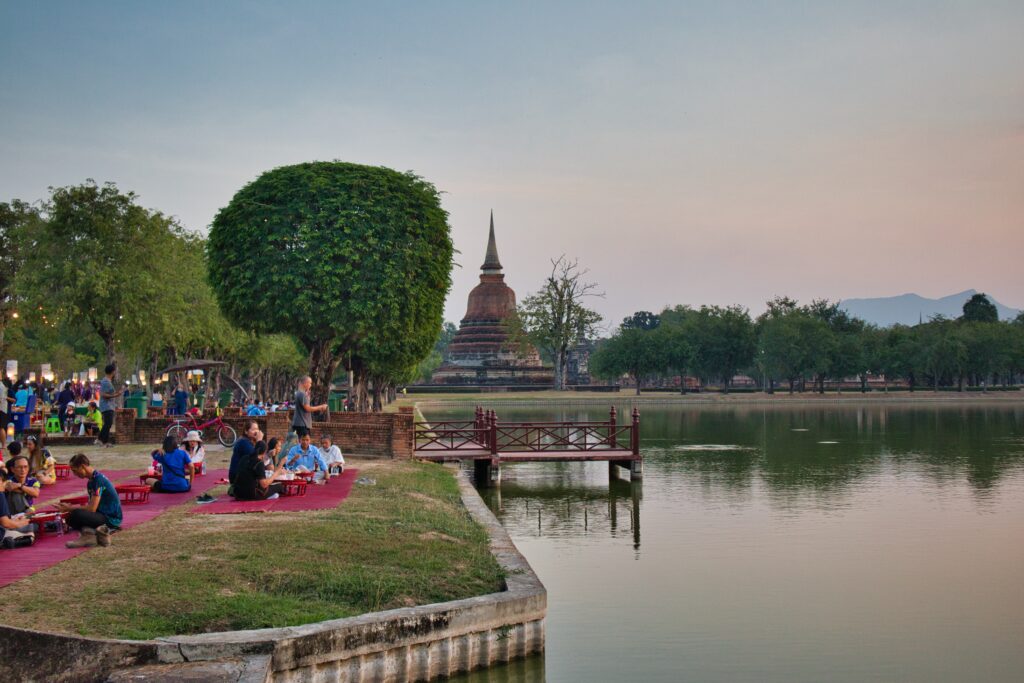 On the weekend, from around 6pm, people gather to eat and drink at the night market, near the Historic Park. It's a very special location. You can buy some food and drinks first and then sit down at a pond and admire the sun setting over one of the temples. It's really amazing.
Before the pandemic Sukothai had so called a walking street, a street which was closed to traffic and then street sellers were putting up their stalls. This has been cancelled and I'm not sure if they are planning to reintroduce it. During my stay I had an opportunity to go to the weekend market in the Historic Park and that was a great experience.
Sukothai – Practical Information
Additional information you might need during your stay.
How to get to Sukothai?
I went to Sukothai from Bangkok by train. You can also go by bus or you can fly to the nearby airport.
There are connections from Chiang Mai, too.
I recommend checking out 12GoAsia, which I always use when I'm in Thailand.
Where to stay in Sukothai?
During my last stay I chose Legendha Resort – a beautiful hotel with amazing bungalows. They have a wonderful garden, with colourful flowers and a pool. You will see, you won't want to leave the place.
The disadvantage of it is the location. It is around 15-20 minute walk from the Old Sukothai. I don't recommend walking there during the day because of the heat. At night the road is quite dangerous due to traffic and angry dogs. That's why it's best to rent a scooter or ask the hotel to arrange a tuk tuk for you.
Where to drink and eat?
Sukothai has many places to eat and drink for a good price. In the Old Sukothai go to Sureerat Restaurant.
Closer to the Historic Park you'll find quite a lot of bars.
Don't count on any night life. The town is quite and calm and many places close after 10pm.