Teaching English in Thailand is one of the most popular (and one of a very few jobs) you can do here legally. Every year thousands of foreigners come to this exotic paradise in hope for an adventure and earning a little bit of money.
If you research the internet you will find a lot of stories about how it really is to teach English here. Some are good and encouraging, some are bad and terrifying. Luckily my story is the one where everything seems to be perfect, but this is mainly because I am trying to keep my positive attitude up and follow the advice I was given during the TEFL course.  I have also met a few people here, whose experiences with teaching English in Thailand are not so great. During the last couple of months of being a teacher I have gathered a lot of information. So, if you are already here and finishing your course, or just started thinking of leaving your home country and coming to Thailand, this post is for you.
1. Teaching English in Thailand – the good
Students
They call Thailand the Land of Smiles not without a reason. The people here in general are the nicest I have ever come across in my life. The students with their broad smiles, dressed in uniforms, wai-ing you with respect whenever they see you – that's something you will get used to very quickly. They will carry your books when they see that you are carrying too many of them, they will help you out with your motorbike if it breaks outside of school, they will want you to try the snacks they bring to the lessons, and if you smile every time you see them, and praise them for their work, they will love you.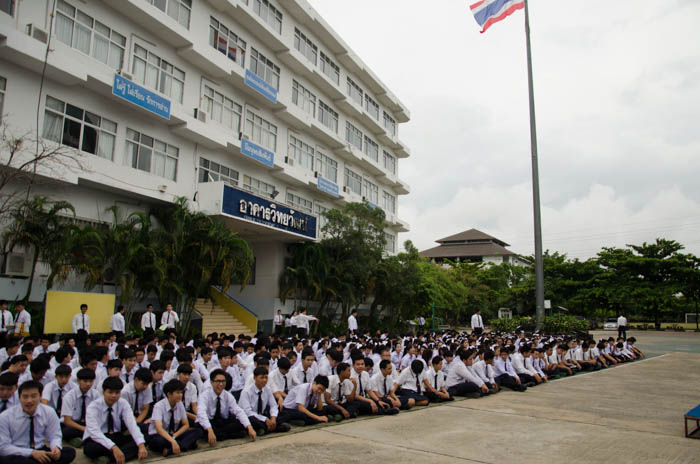 Sabai Sabai
Sabai means 'relax' in Thai and it's not only a word, it's a way of life. Everything slows down here and the school life seems to be the same. I was shocked at first when I saw the teachers sleeping in the office, with heads on their desks. This was something I would never do in the west, but here it is totally normal. I love sleeping, so sometimes I also put my head on the desk and take a few minutes nap.
Deadlines for submitting exams and lesson plans are extended, the lessons finish earlier, or start later, sometimes you are not even required to follow a curriculum as long as you teach the students some basic, conversational English. Many teachers use that to watch films and play silly games with students whole year round.
Sanook
Last Friday the school organised a sports day. Only students, who were fit and had good grades participated in competitions. The rest drank wine behind the scenes with teachers pouring the drinks in their small, plastic cups (just to be clear, my students are over 18). I don't think this would be something that could take place in a school in Europe, but in Thailand it is accepted and even encouraged.
Thais love to have fun and you will only see how much during one of many ceremonies you will have to attend.
And my favourite part is – the number of holidays and long weekends you get. Since I started we've already had: mother's and father's days, Loi Kratong, semester break, we have over a week off just after Christmas and there are many more short breaks coming up before the end of the semester in April. Imagine how many places you can see and what you can do during your time off.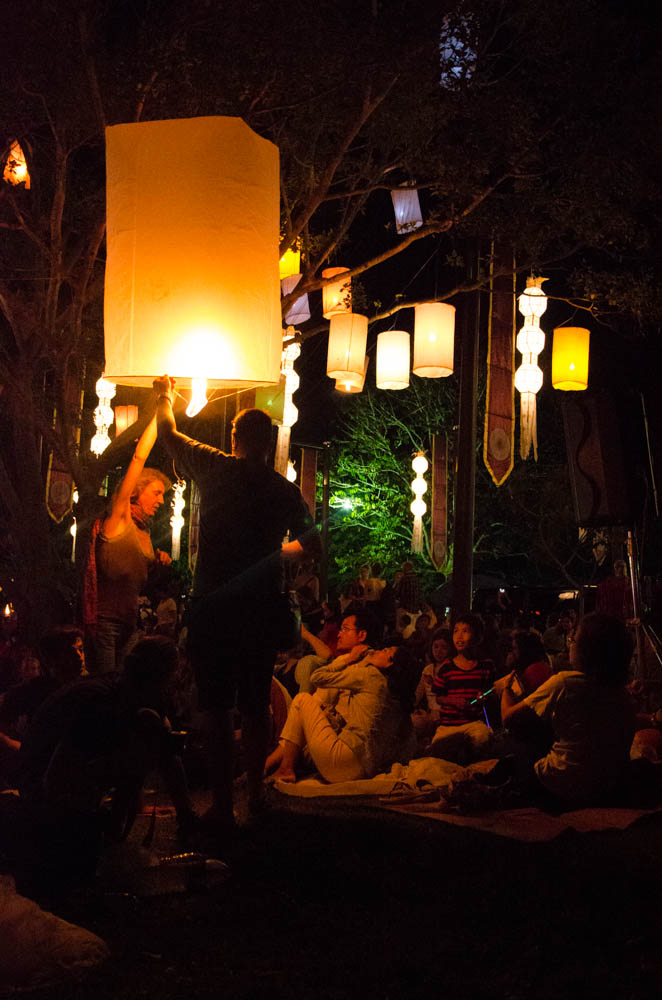 It's an interesting job…
…because you will see and experience things a normal tourist never will. You will be invited to dinners, lunches, weddings and ceremonies. You will learn that it is rude to do certain things that are normal in your own country. You will see, hear and taste something new every day.
And because the Thai culture is so different you will never get bored with your surroundings.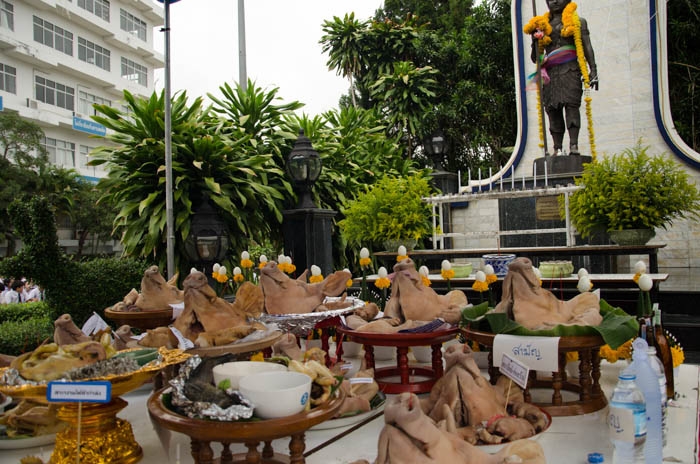 Other things are of course: weather, delicious food and low cost of living.
2. Teaching English in Thailand – the bad
Discipline
My students are lovely. Sometimes, during class, I look at them and feel so much kindness and love towards them that all I want to do is to give each of them a hug. However, it's not always like that.
My beginnings were difficult. I come from Poland, where I was taught to sit quietly during a lesson and do not speak unless someone asked me a question. Thais don't really know that. Yes, they have a great respect for their teachers, but they are very talkative and love to gossip. So, I tried to quiet them down by raising my voice and kicking students out for talking and not paying attention. The more I tried, the more I got frustrated and the more I got frustrated the more kids didn't listen to me. Then, one day I showed up to a lesson with a smile and I just started joking with them. Did it work? Well….kind of. They still talk and are loud and I still need to speak louder than them, but our relationship is better. There is a good energy in the classroom and that is a great thing.
When you start teaching, just remember that Thais don't get our version of discipline. They are much more relaxed and getting them to respect you and listen to you might take some time.
Attention span
Thai students can't focus much for a longer period of time. My students find it hard and I can only imagine what goes on in a classroom full of 8 year olds. Be prepared that you will need to repeat yourself many times and still half of your class might not listen.
Thai education system is not the greatest, deal with it!
The system has many flaws, like most of the books have mistakes, or a too difficult for the students' level of English, but the school still wants you to follow them, or you can't fail any student, even if they don't study at all.
I can give my students the lower grade, but if they come to my classes then I have no choice, but to give them a pass. I have students, who sit at the back of the class and don't even bring pens with them. To make them do something I sometimes sit next to them, give them a piece of paper and a pen and watch them doing grammar exercises. They are good kids, but they are just lazy, so I make them work.
Many times I hear from the teachers here how bad the Thai education is. Quite a lot of them are stressed and frustrated because it seems like they are trying to teach the students something without any results. If they complain to Thai teachers they are usually dismissed and told to do whatever they can. So, they grow even more frustrated. I tried the same and almost resigned. The thing is that you can't really win with the system and if you come here and think that you will change something then you are in the wrong country. I am not saying that you shouldn't try to teach your students something, but don't fight the system and don't expect high results. Just take it easy and enjoy living in this beautiful country.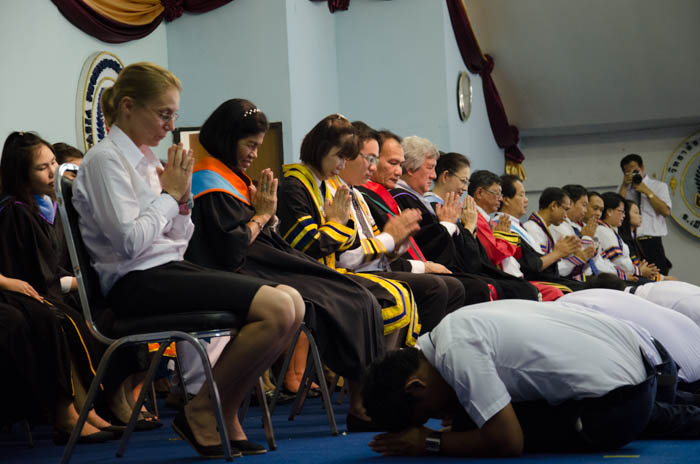 Administration
From what I gathered from my friends, who teach at different schools, there are quite a lot of problems with Thai school administration. If they sort out your visa and work permit then be prepared that everything will be done at the last minute. They lose documents and forget about certain, crucial things.
My school is not that bad. Although, at the end of the semester I had to calculate the grades, which turned out to be a painful task. It took me two weeks to do it. When I finally submitted them I was told that everything was fine only to be called back to school in the middle of my holiday, because one of the grades was wrong and they only just noticed that. Luckily, I was in Chiang Mai.
3. Teaching English in Thailand – the ugly
You might see some inappropriate stuff
A couple of months ago I caught one of the ladyboys looking at vaginas on her mobile phone. She later explained, without a trace of embarrassment, that she was choosing which one she wanted.
At the recent sports day the students took part in a cheerleading competition, during which they twerked, shook their boobs and two boys simulated oral sex. The more inappropriate things they did, the more teachers cheered.
These are things you really need to get used to.
Teaching in Thailand is not an easy job and it might take you a while to find your feet, especially if you have never taught before. My advice is: take it easy, chill out and take a deep breath when you start getting frustrated and think that you might have made a mistake. Give yourself a few months, because there are a lot of advantages to teaching in Thailand.
If you're thinking of teaching English in Thailand, check out my other articles about how to become a teacher in Thailand and how to choose a TEFL course.
I did my TEFL course with SEE TEFL, which is the best TEFL provider in Thailand. They were extremely professional and helpful. The course took 1 month during which I had a chance to learn how to deal with discipline in the classroom, Thai methodology of teaching and useful things about local culture and customs. The course also consisted of 2 weeks teaching practices, during which I had a chance to teach students at all age levels. The course was a great help.
I am a member of the SEE TEFL affiliate programme, but my opinions are objective. If you're planning to do your course with SEE TEFL please mention the name of my blog during the booking, or book your course through this site.