Almada and Cacilhas are two towns on the opposite bank of the Tagus River from Lisbon. Almada is known primarily from the monument of Christo Rei – Jesus the King. Cacilhas is a great place for a real Portuguese meal. Both places, however, have more to offer. What exactly? Read on to learn more.
During my first months in Lisbon, it did not seem to me to go to the other side of the river. At the beginning I focused on visiting Alfama, Bairro Alto and other lesser-known corners of Lisbon. It was only when I visited everything that was to visit that I decided it was time for something new. One day I went to Cacilhas, then to Almada and on foot to Christo Rei. That's how I fell head over heels with these less known corners of the capital.
I know that you might not have time to go to the other side of the river. Very often tourists leave visiting Cacilhas and Almada as an additional attraction, which they include in those days when they have no ideas on what to do next in the city. In my opinion, these areas are not for everyone. They will be appreciated by those who really want to see the lesser known corners of Lisbon and get away from the tourist spots and the hustle and bustle of the city.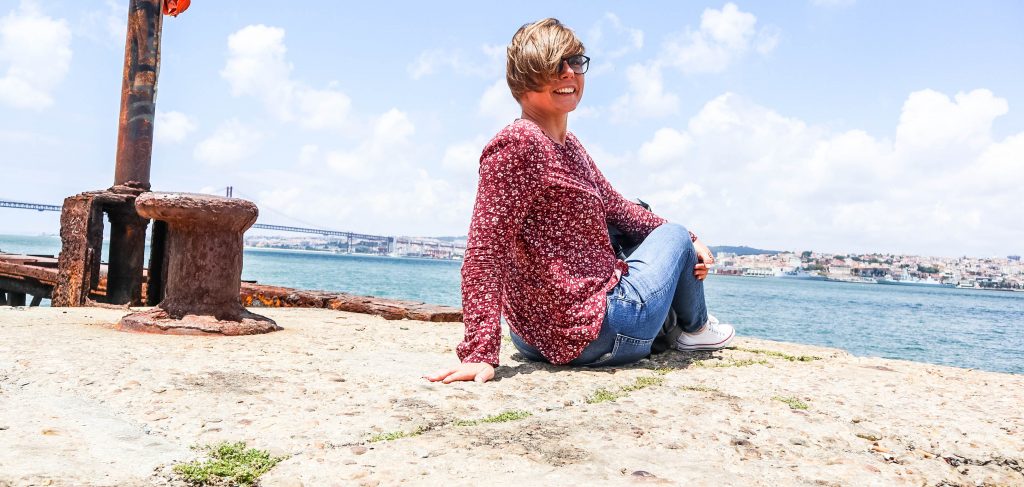 Almada and Cacilhas – Where is this exactly?
Cacilhas is a small town on the southern bank of the Tagus River. Here, ferries arrive from Cais do Sodre and here you will come first if you choose this form of transport.
Cacilhas is famous for fresh fish that are grilled in almost every bar and restaurant located by the ferry.
Almada is a bit further from the ferry stop, but you can get there very easily on foot. It is connected with Lisbon by the famous 25th of April Bridge. The town became popular primarily because of the monument to Christ the King, but it is worth visiting it if you want to see something more than just the main attractions of Lisbon.
A trip around Cacilhas and Almada
I visit Cacilhas very often. I travel to Almada less often due to the fact that it is located a bit further. However, I always start my journey with a ferry ride from Cais to Sodre. It lasts only 10 minutes, but from the deck there is a beautiful view of Lisbon. For the view itself, it's worth visiting Cacilhas.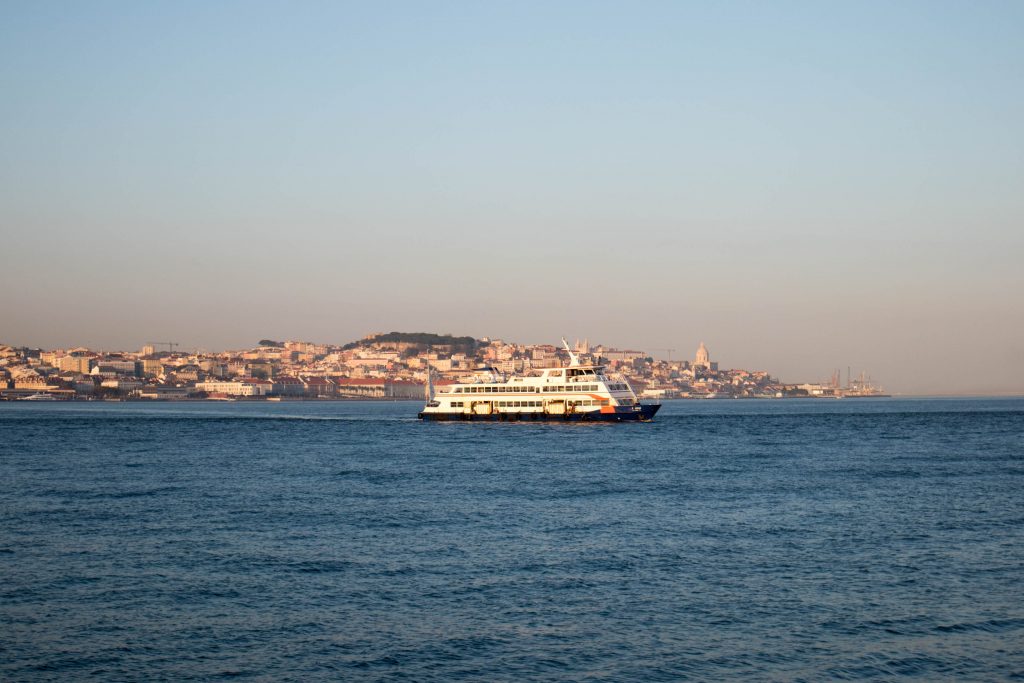 Cacilhas – Here you'll find the best fish
From the ferry, just go to the left to find the beautiful Rua Cândido dos Reis – a street with traditional Portuguese pubs. From afar you can smell the grilled fish that Cacilhas is famous for. In every restaurant, the food is fresh and at a very good price. Do not forget to order a small beer that fits the fish perfectly. The best time to visit this street is just before lunchtime.
If you would like to know more about Lisbon and visiting the capital, check out my ebook Lisbon Guide, which will show you the most well known corners of the city.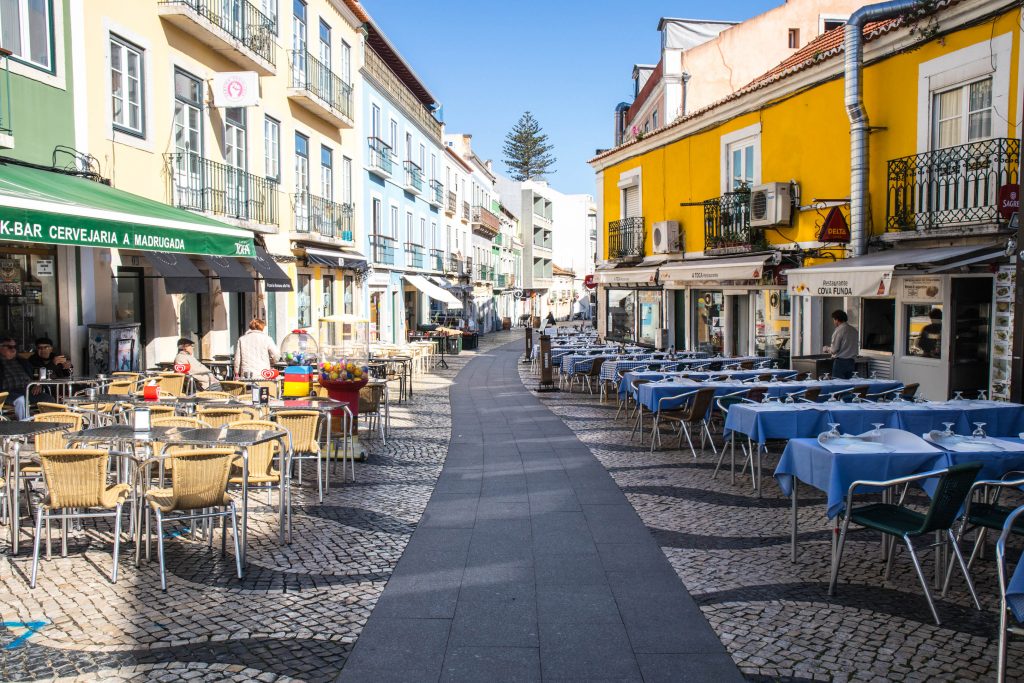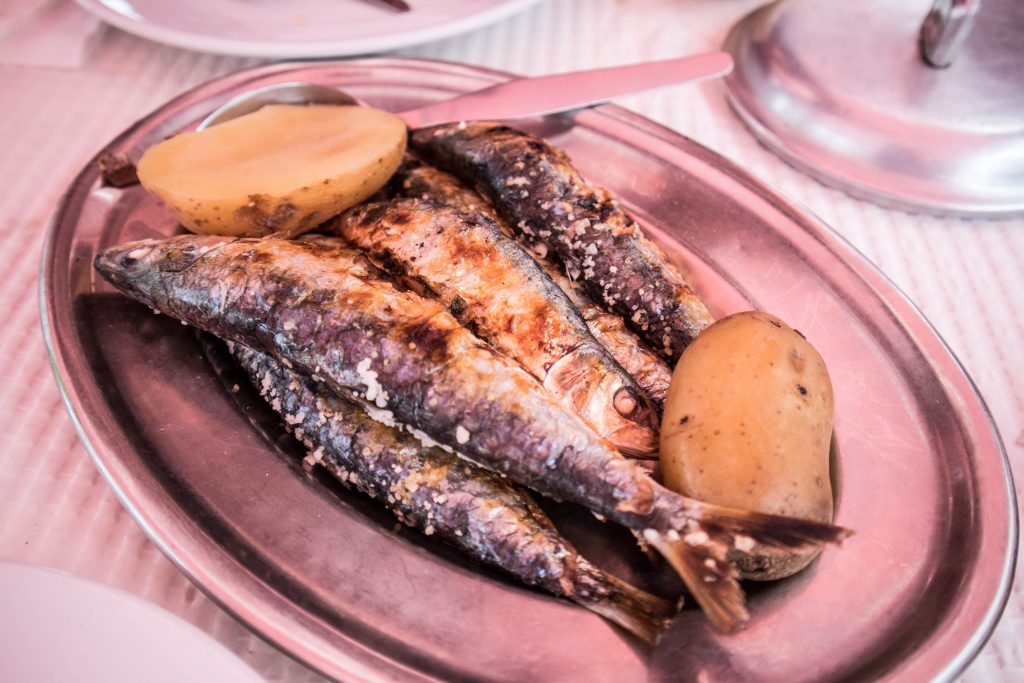 A church in Cacilhas – Something for the heart and soul
After a full meal, it's time to take a walk. First, visit the Igreja de Nossa Senhora do Bom Sucesso church, which is on the same street. It certainly catches your attention because of the light blue facade. In the middle of this church is a real gem. The altar itself is extremely richly decorated, but it is for azulejos – blue, traditional tiles – it's worth stopping here. They cover entire walls and depict scenes from the Bible. They are really beautiful.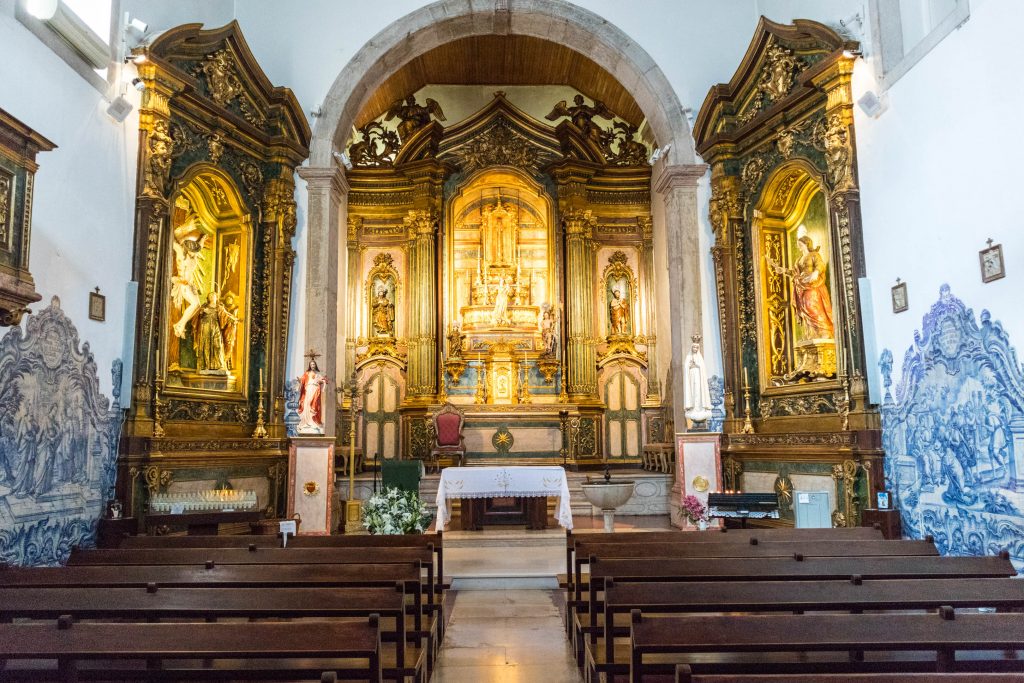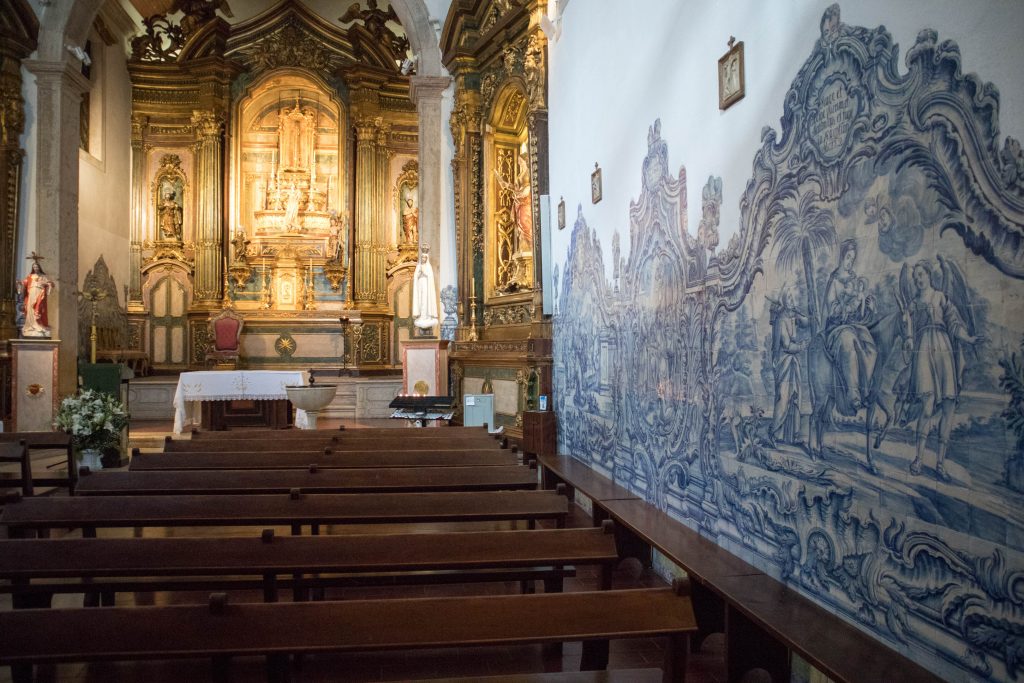 Fernando II Gloria – The history of the Portuguese navy
After visiting the church, return to the marina. Fernando II Gloria – the frigate of the Portuguese Navy – proudly stands on the shore. It was built in 1843. She made her first voyage in 1845. It was the last ship that was built for military purposes in the country and the last ship that took the route between Portugal and the Indian colonies.
Today, the ship can be visited. For only 4 Euro you can board the frigate and learn more about the history of Portugal, as well as see what life was like on such a ship. And if you are not interested in such things, it is definitely worth a closer look at the frigate from the outside.
A walk along the river
From Fernando II Gloria, head right and go straight all the time. Here you really you can soak up the views. Lisbon on this side looks amazing. You also have a very good opportunity to admire the 25th of April Bridge in all its glory.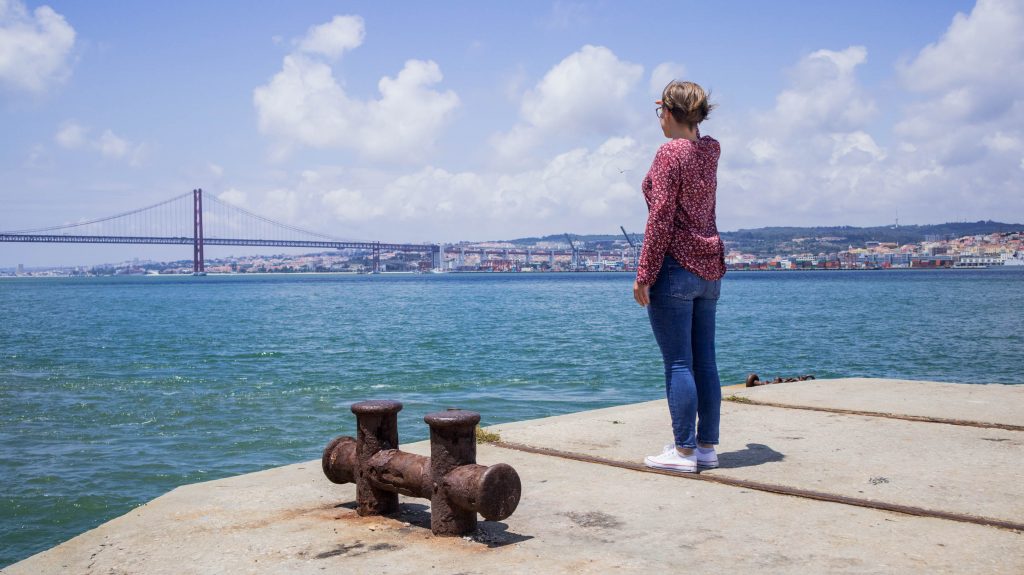 Yes, I know, the houses that stand next to the water do not look impressive. In short, they are falling apart. For me, however, this place is very charming. It seems to me that it is perfect for taking interesting photos. Look into open gates and through empty windows. You will definitely see something interesting. Just be careful, never go inside. These buildings are literally falling apart.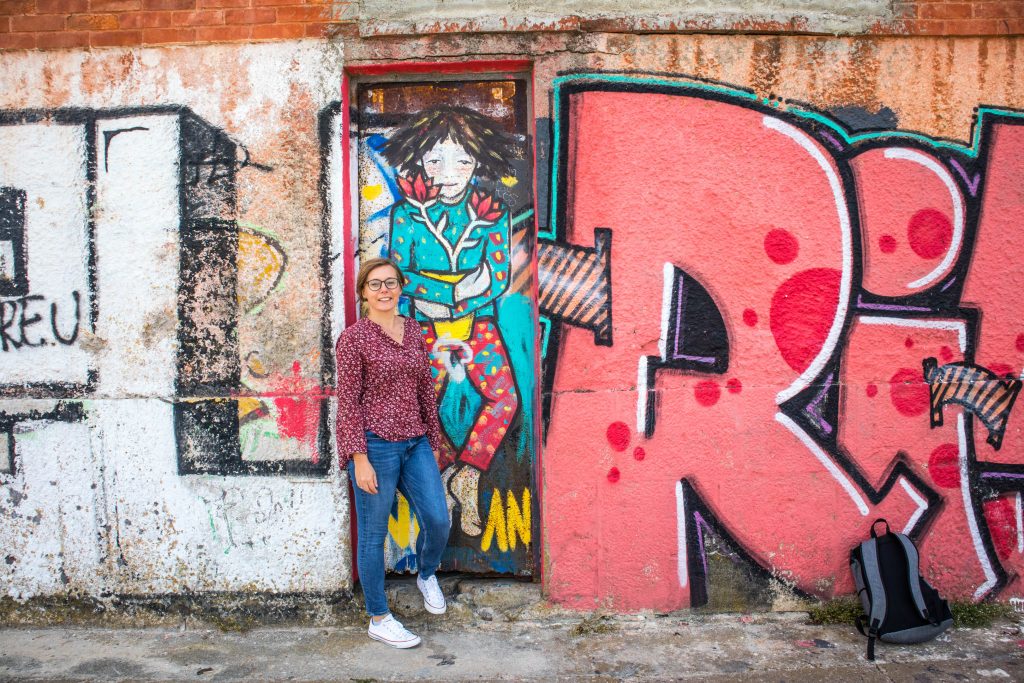 A coffee with a view
At the end of this makeshift promenade, you will see two restaurants. The first one is Atira -te ao rio, and right after it, you will find the famous Ponto Final. Both places are great for coffee. Of course, both restaurants specialize in fish, but in my opinion, the dishes are too pricey. That's why it's best to have lunch in Cacilhas.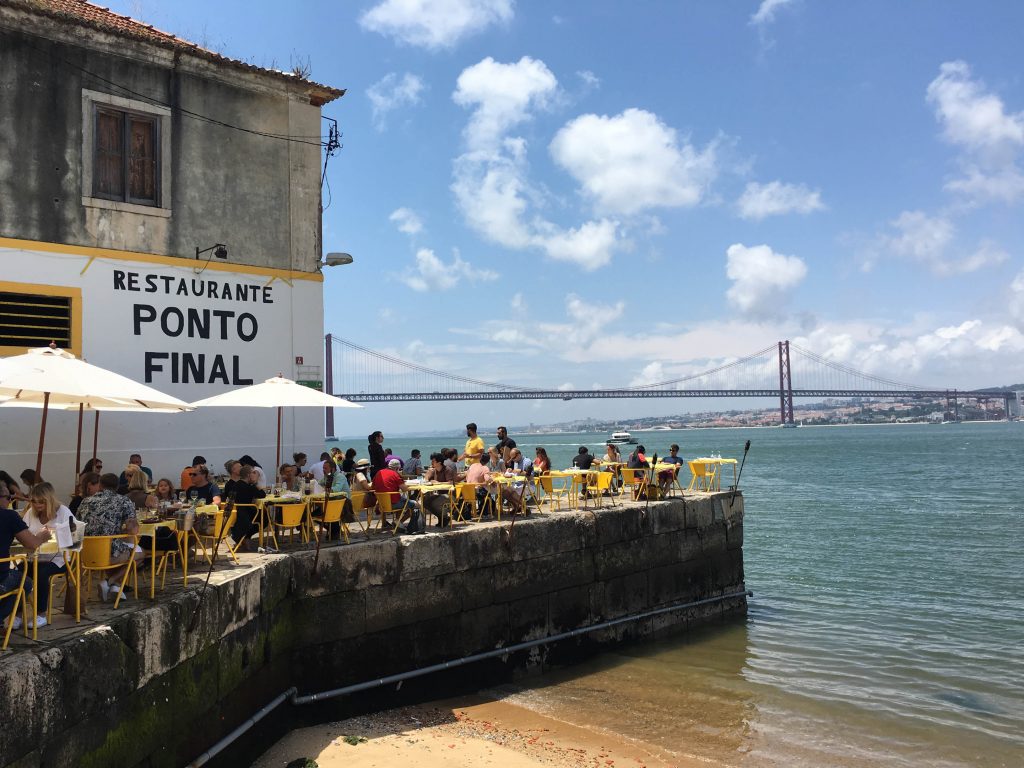 Atira-te ao rio is perfect for coffee on a sunny day. During the summer and spring, they have special sofas and soft armchairs, which are designed for those who just want to drink something. They are arranged so that you can also admire Lisbon and the bridge while sipping coffee.
In Almada everything goes up
Right at the entrance to the Ponto Final, on your right, you will find a staircase. Take them and go up the hill. If you do not feel like climbing, I recommend passing Ponto Final and use the free lift.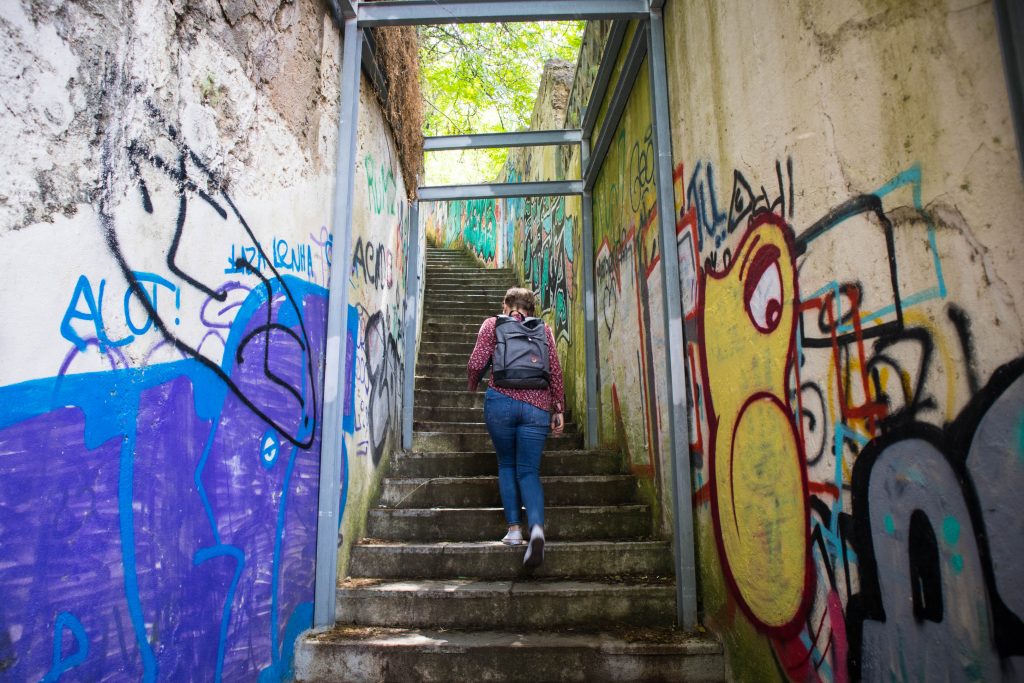 At the very top you will find another cafe with a beautiful view, as well as an observation deck from which you can see the shore of Lisbon.
Casa de Cerca – Elegance and good cake
This is not the end of climbing! Oh no! Right next to the café, go up and take a slight turn right, then left and right until you see a wall with a big mural. This way you will get to Casa da Cerca. It is a very elegant building where you will find a modern art gallery as well as a Coisadegostar Café. I recommend it especially because of the beautiful view of Lisbon, but also for delicious fresh pastries, which are worth a try.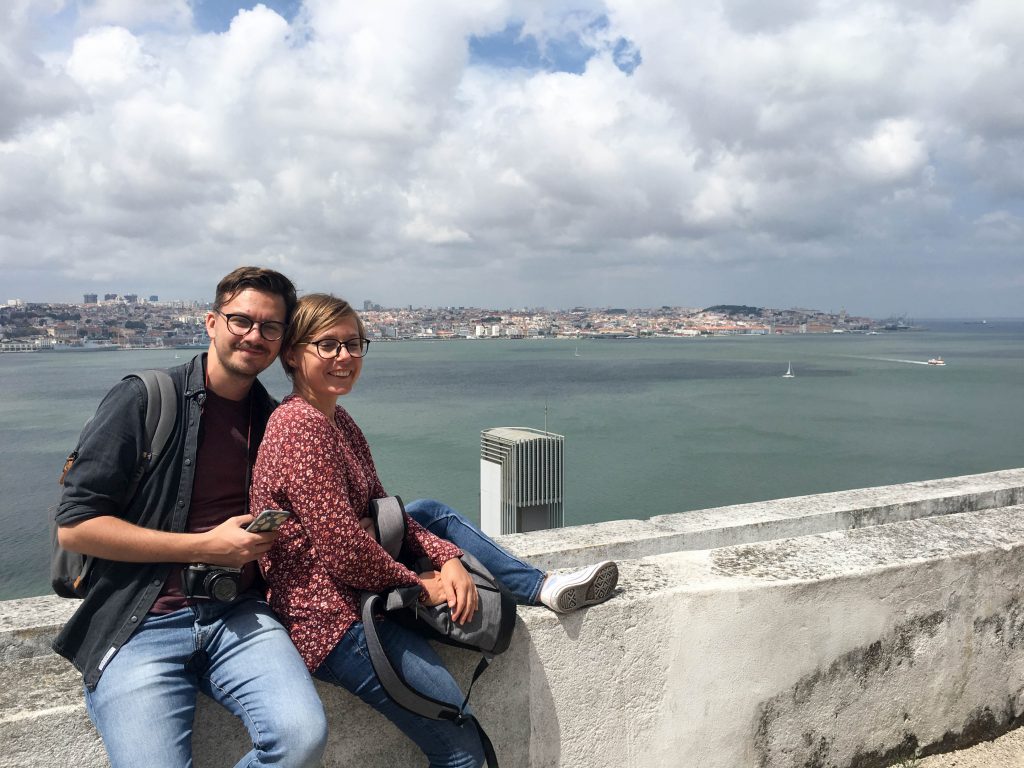 Get some rest in a garden
Just next to Casa da Cerca there is a beautiful, small botanical garden – Jardim Botânico O Chāo das Artes. Here you can spend some time walking between the alleys, flower beds and fruit trees. Colorful fish swim in the pond, and if you are lucky, you will even see turtles basking on the stones.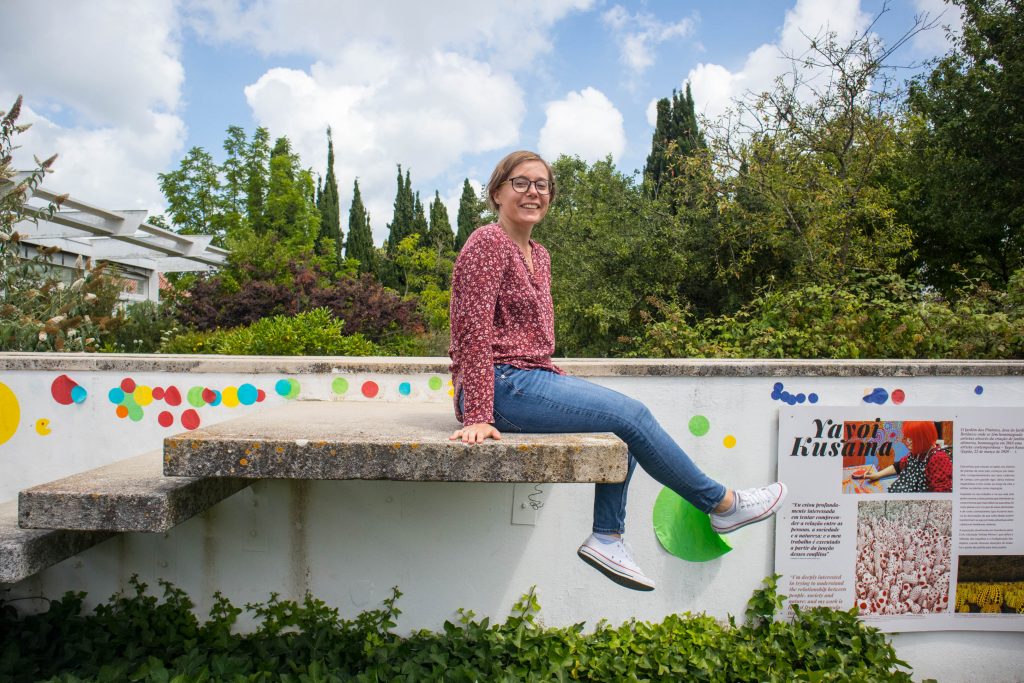 There is also a small museum in the garden, where there is a bit more information about the various plants that you can find in the area.
Almada – See the real life in Portugal
From Casa da Cerca you can go to the center of Almada with narrow streets. Here you will not find any tourist attractions, but you may like the atmosphere of this small town. By visiting places like Almada you have an amazing opportunity to see how people really live in Portugal.
Visit Jesus the King monument in Almada
From the center of Almada, it is only a 30-minute walk to Christo Rei – the monument to Christ the King. It's worth visiting for views. If you want to know more, I wrote about a walking trip to Christo Rei in the previous post.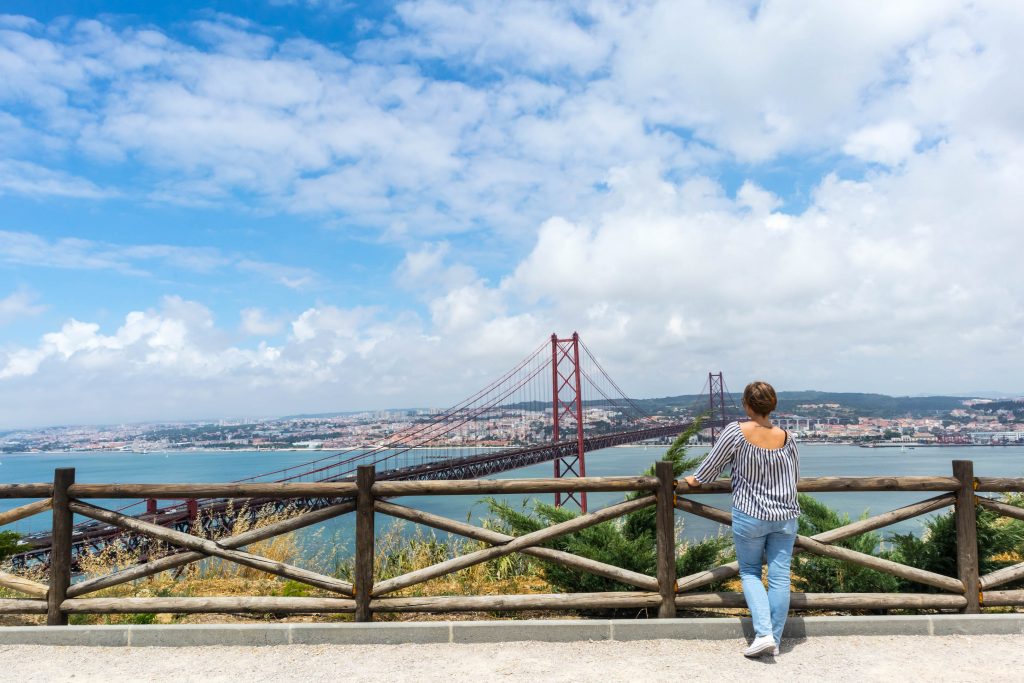 Stay for the sunset
I know you are tired, but in Almada it is really worth staying until the evening. Do not go back yet. Return to the Boca do Vento viewpoint and take the elevator down. There you will find the charming Jardim Boca doVento park. Sunsets are beautiful here. Really, it's hard to find a spot in Lisbon where that time of the day looks so impressive.
At the end of the day you can eat another meal at Ponto Final or Cacilhas, then return by the evening ferry to Lisbon.
Cacilhas and Almada – Practical information
Did you like this plan for visiting Cacilhas and Almada? Want to know more about them? Here are the most important information.
Cacilhas and Almada – Your sightseeing plan
I have created a map for you that shows in a detailed way the whole trip to Cacilhas and Almada. The map is available here.
Cacilhas and Almada – How to get there?
Especially for the purpose of this trip, I recommend the ferry from Cais to Sodre do Cacilhas. The ticket costs only 1.50 Euro. You must pay extra 0.50 Cent for the card.
Another way to get to Cacilhas and Alamada is to drive. You can rent a car cheaply from one of the rental places in the capital. Check Rentalcars for the best quotes.
If you're travelling around Portugal, it's also worth using Omio, which is the price comparison site for transportation in Europe.
I am also referring you to my previous post if you want to know more about transport in Lisbon.
Cacilhas and Almada – Where to stay?
During your short holidays in Lisbon, stay near the river, or in the centre. From there you will have an excellent starting point to Cacilhas and Almada.
Yes Lisbon Hostel – in the very center of Lisbon.
LX Factory Apartment – Located near Almada. It provides privacy and relaxation during your stay. The staff speaks English, Spanish and French.
Pombalino Apartment – very close to the ferry, with amazing rustic decor. It has one of the best locations. Perfect for those who want a luxury for a good price.
If these options, don't suit you, check out some more options on Booking.com below.
What to bring with you on the trip?
Cash – some places do not accept cards. Take enough time for lunch and coffee. In Almada and on the main street in Cacilhas you will find ATMs.
Comfortable shoes – the essential when it comes to visiting Lisbon. Forget about high heels and shoes that rub your feet. Choose comfortable sandals or sports shoes.
Sunscreen – protect your skin from the sun!
Water – always have a bottle of water with you, especially if you visit Lisbon in the summer.
Don't forget that the new Lisbon Guide ebook is available on sale. It will help you to plan your few days in the capital of Portugal.
Do you have any questions? Would you like to share your experiences or your point of view? Don't be shy! Leave a comment!