Update February 2016: The Indian Consulate in Chiang Mai and the embassy in Bangkok don't accept applications from those with tourist visas in Thailand. The only option to apply for it in this case is to do it through an online application. You do not need to go to the consulate. You can only apply for a 30 day visa.
If you have a work permit, a retirement or any other non-immigrant visa in Thailand you can apply in person at the consulate. In this case you can apply for a visa for up to 6 months. However, from what I have found out, you need to have a valid reason to apply for it. Tourism might not be good enough and you are taking a risk of your application being denied. In this case you need to follow the instructions below. The processing time is 6 working days.
April 2015:
The time has come to go through all the bureaucracy nonsense and apply for the visa to India. I always dread these kind of things. It's not only the money, but the time you waste queueing up at consulates and embassies. I always think that the best thing a country can do to attract more tourists is to make the visa application easier and stop behaving like they do you a big favour in allowing you to enter their country.
Anyway, I prepared my documents yesterday. I am not very good at planning things, you see, and I always do everything at the last moment. I referred to the Indian consulate website and prepared all the required documents and photos.
This morning I jumped on my scooter and arrived at the consulate way in advance. It was still closed. There was a notice on the gate saying all visa applicants had to fill in a form online. The previously mentioned website doesn't say that at all. I had an hour before the consulate opened, so I drove to my work agency, which is located closer to the consulate than my apartment, and quickly filled in the form. In the middle of the process I was in doubt if I was filling in the correct document. It asked not only for my father and mother's birth places, but about my religion, education and previous addresses. I was going for a holiday, not to live there for goodness sake!
After submitting the form it gave me some options for the appointments and none of them was today. I did need the visa before the end of next week to be able to apply for a re-entry permit at the Thai immigration office (that's another story completely).  I decided to try and see if they could see me today. I drove back to the consulate.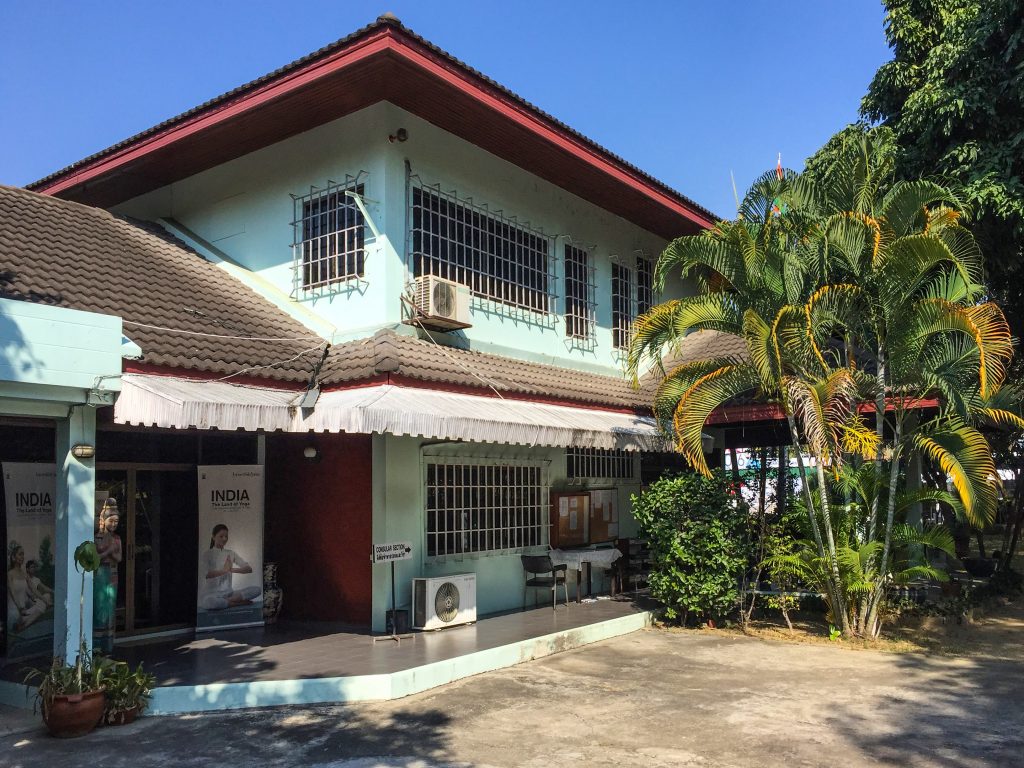 The consulate is a little house, in a small Soi, surrounded by palm trees. Outside of it a very nice, smartly dressed gentleman sits at a table and greets visitors with a slightly sad face. He told me to sit down and wait for my turn. 'Excuse me, sir?' I asked 'my appointment is next week, but is it possible for someone to process my documents today?' He looked at me grimly, called me to his desk and started checking my documents. 'Ok, no problem' he mumbled 'you sit and wait'. So, I sat and waited. After a couple of minutes I and the grim gentleman were having a nice conversation about my private life. We touched on crucial subjects like my martial status, my date of birth, my life in Chiang Mai and him living by himself. Luckily I am used to all these questions I get from Asian people, otherwise I would have thought he wanted to marry me.
When my turn came to see the consul, I entered a small, dark room, where another not so smiley gentleman was sitting on a big wooden bench. The decor was very casual. Except the bench, there was a coffee table in the middle, surrounded by matching chairs and  a mirror in the corner. The walls were decorated with pictures of Ghandi, and some Indian politicians. I sat in one of the chairs, opposite the man, who asked me for my documents. He flicked through them. 'No' he said 'You have your flight itinerary, but no e-ticket. You need to bring that instead. Also the confirmation of your accommodation does not have the address. Ask the hotel owners to add that. Once you have all that, come back.'
So, I went back to my agency and printed the e-ticket. On the accommodation invoice I added the address myself. I went back.
The man went through my papers again. It turned out I didn't have a correct copy of my Thai visa, so I had to go and find a place where I could copy it. There was no internet cafe, nor any other place I could have done that, so I asked a very nice lady from a co-working space (a place, where they rent desks to freelancers) to make one copy for me, for which she charged me a shocking 20 Baht.
After I finally had all the correct papers, I was asked to fill in one more form, pay 4750 Baht (it is a 'special' price for UK citizens. For other nationals it is half as much) and I was sent on my way. I need to go back there next Wednesday to pick up my passport. I still don't know if I get the visa. Fingers crossed!
Useful information:
The consulate's address is 33/1 Thung Hotel Road. Find the map here.
On the official website the information regarding the required documents is incorrect. You need to:
Apply for the visa here.  Please note that you will be asked all sorts of useless questions, including details of a reference in India. I don't know anyone there, so I put my hostel's owner's name.
Print out the completed form. At the end of the process you will be given a date and time for your visa application appointment. However, as you have just read, you might be able to be seen earlier than that.
Other things you will need: 2 recent photographs (2 inches x 2 inches, white background, smartly dressed), 1 copy of your passport, 1 copy of your Thai visa, 1 copy of your arrival slip (the one you fill in at the airport, after arriving in Thailand), a copy of your return ticket (this is e-ticket, not itinerary, and it clearly needs to state the departure date and your ticket number), a copy of confirmation of your accommodation (this one is tricky for us, travellers. Quite a lot of us don't know where they will be staying during their holidays. You can book a hotel online for the entire time you are planning to be in India and then after your visa is secure, simply cancel the booking. I was naughty and actually created the confirmation in word. I only have one booking for a few days in Kochi, as I have no idea yet where I will go after). Do not forget to sign every copy at the bottom of the page.
After your application is approved by the consul, you will be given another form to fill in. This one is very short.
You will submit the documents at the 'visa collection' window, along with the fee. Again, the fees listed on the official website are wrong. Check it first with the 'grim gentleman' at the front desk. For UK citizens the fee is 4750 Baht. I think for the rest of the countries it is 2700 Baht, but I am not sure.
You will receive a receipt, which you need to keep in order to collect your passport.
It takes 3 working days to process the visa.
Good luck!