You have been thinking of living in Thailand for a long time now. You read forums, reviews, take part in discussions on Facebook groups, calculate the costs of living and wonder how to live in Thailand permanently. This type of decisions is not easy. Among of all other things, you need to make a decision where to move and which part of the country will be most suitable for you. Thailand is a huge country. Should you live in a big city, like Bangkok, or choose a more laid back place, like Chiang Mai, or maybe a beach town will be a better option?
My decision regarding the best place to live in Thailand was quite easy because I knew what I wanted. My TEFL school was located in Chiang Mai and I wanted to move there. After a couple of months, I was totally in love with the city and I still consider it to be my home.
However, I know that to many choosing a good location to stay permanently isn't that easy. That's why I created a list of the best places to live in Thailand, which might help you to make a decision.
A city, or a countryside?
Where to live in Thailand is the most common question on internet forums. I often get emails asking me if it's better to live in a city, or in a countryside. Many visitors imagine that settling down in a small town will give them an opportunity to meet the locals and get to know the 'real Thailand'. The truth is that many of them after a few months quit the quiet life and move to the city. The life in the countryside is not for everyone.
Small, Thai cities are very charming, but they don't offer many attractions. Very often you will find some cheap restaurants and a 7-11 there. If you're lucky, you might have a gym and a park, where you can go for a run in the evening. Maybe there will be a school in the area that employs foreigners and a bar, where these foreigners go after work and where you can socialize. Thai people don't speak English very well, especially in the countryside and learning Thai takes a long time. That's why the locals won't be too keen on talking to you unless they drink a lot of Sangsom first.
Thai food is very delicious, but after a few weeks of eating rice, I guarantee you that you will be dying for some western food. Chances are that the nearest pizzeria will be miles away from your place of living.
If you don't ride a scooter then you will get stuck in the town during the weekends because you don't get too many transport options in the Thai countryside.
To me, as you can probably tell, living in the Thai countryside is not an option, but that doesn't mean that it doesn't have its advantages. Those who like peace and quiet will find it very appealing. Can you live without entertainment? You don't need much to live comfortably? Thai countryside might be just for you.
You need to be very open and tolerant towards Thai people and put a lot of energy into learning Thai. After a while, the locals will get used to you and you will make new friends. And if you have your own kitchen and local markets, then you will be able to make some western food yourself.
The best places to live in Bangkok
The below places are very popular among expats. Thailand is, of course, a big country and it's hard to mention every single place, which is worth considering, but I tried to give you as much choice as possible.
Bangkok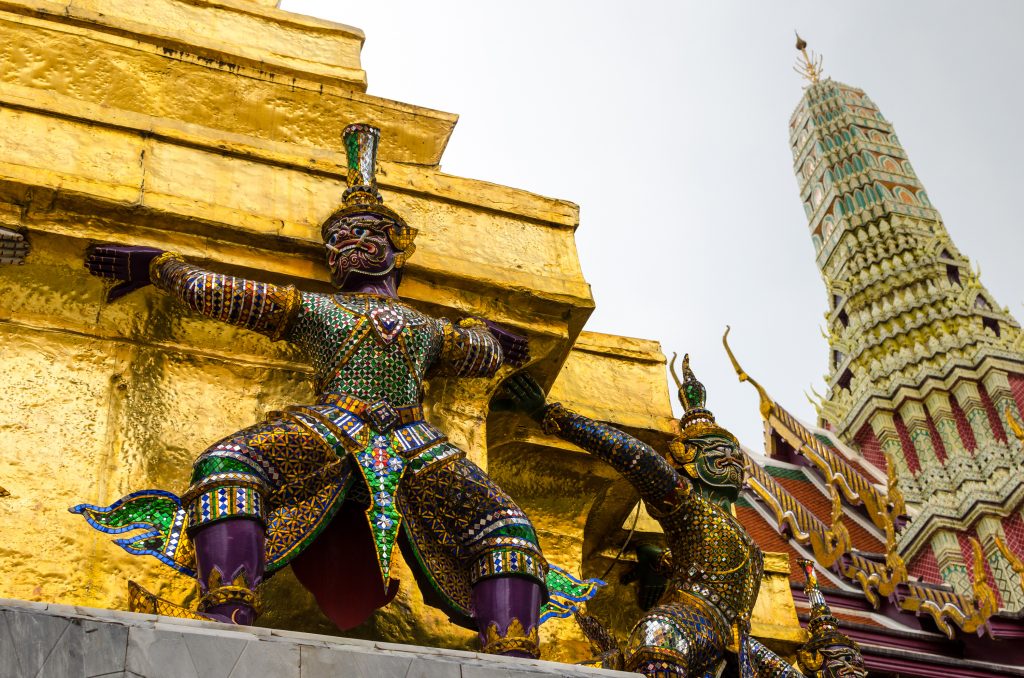 The capital of Thailand is a huge metropolis, which is inhabited by over 14 million people. Some love it, others hate it. There are those, who come here and want to stay forever and those, who can't wait to get out of it after just a couple of hours.
Bangkok became popular among western expats because of the low cost of living and many conveniences for foreign expats. There are big shopping malls, where you can find almost every high street brand, cinemas, galleries, libraries, bars, restaurants. Hospitals in Bangkok are as good as those in the west. Transport is modern and from the 2 available airports, you can get almost anywhere.
Bangkok might seem like a paradise on earth, but life in the City of Angels has its disadvantages. I am always put off by the temperature. It is never cold in the capital of Thailand and it can be as hot as 40 degrees. This combined with high humidity can really bother those not used to the tropical climate. Constant traffic, smog, and overcrowding are very annoying if you are a person, who likes peace and quiet.
The north of Thailand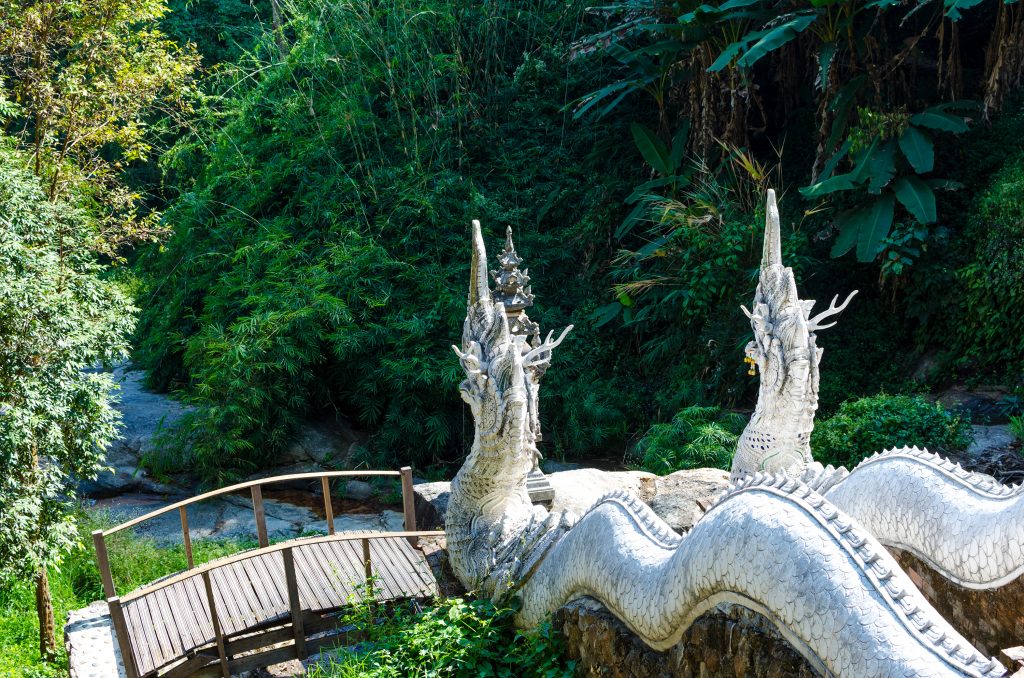 In the north, time slows down. Even in the bigger cities, like Chiang Mai, or Chiang Rai, you can feel like in a countryside. If you settle down here, you will be able to experience the local culture, go for weekend trips whenever you like and enjoy amazing views of the mountains.
Chiang Mai
If you ask expats where is the best place to live in Thailand, you will probably hear 'Chiang Mai' as the most common answer. It also became my home.
Check out how much money you need to move to Chiang Mai.
Chiang Mai is the second largest city in Thailand, but despite its size, it is very friendly and charming. It offers everything you need, from big shopping malls to hospitals and an airport, and it is small enough, so you can jump on a scooter and be in the mountains in half an hour. It is impossible to be bored here.
It is relatively easy to find a job in Chiang Mai, especially if you want to teach. The city is full of schools and kindergartens. Most of the future teachers do their TEFL course here and then look for a placement in a local school.
The city is also popular among digital nomads. Coffee shops with super fast internet are being built so are new apartment buildings. In the Rose of the North, you can find short-term accommodation without any problems and settle down here for only a couple of months.
In my opinion, Chiang Mai is the best place to live in Thailand, but it also has its disadvantages. Smog and pollution, which are the worst from March to May are the biggest concern for many. During these months the city is a bit quieter as a lot of people leave for the cleaner and cooler south.
Find out how to find an apartment in Chiang Mai.
Transport can also be a problem if you don't ride a scooter. In this case, you need to rely on scooters, or Uber, which takes a lot of time and money. You also cannot go outside of the city that often and don't have that many options to explore the area. Not many taxi drivers will take you to places such as Mon Cham or Pong Kwao.
Chiang Rai
Chiang Rai is another popular place among expats. It became famous because of the White Temple and is now developing slowly, attracting more and more foreigners, who like to be a bit further away from tourist spots.
Chiang Rai is a perfect place to live in Thailand if you like motorcycle trips, mountains, and nature. It's easy to organize a quick excursion and spend a couple of days in the middle of nowhere. There are plenty of waterfalls, beautiful views and quiet villages around. Chiang Mai is also not that far away and if you're bored and want some entertainment, you can take a bus and be in Chiang Mai in 3 hours.
As with any other place in Thailand, there is no shortage of bars and restaurants in Chiang Rai. There is even a supermarket, which sells western products.
A disadvantage of living in Chiang Rai is its distance from the sea. To get to one of the paradise beaches, you need to go to Chiang Mai, or Bangkok, and then take a flight to the south. Air Asia operates flights from Chiang Rai to Hua Hin.
Living in Chiang Rai is not for everyone. Those who like nightlife, going out to the movies or shopping will be disappointed. I would recommend this city to people that enjoy nature and trips to the mountains.
The south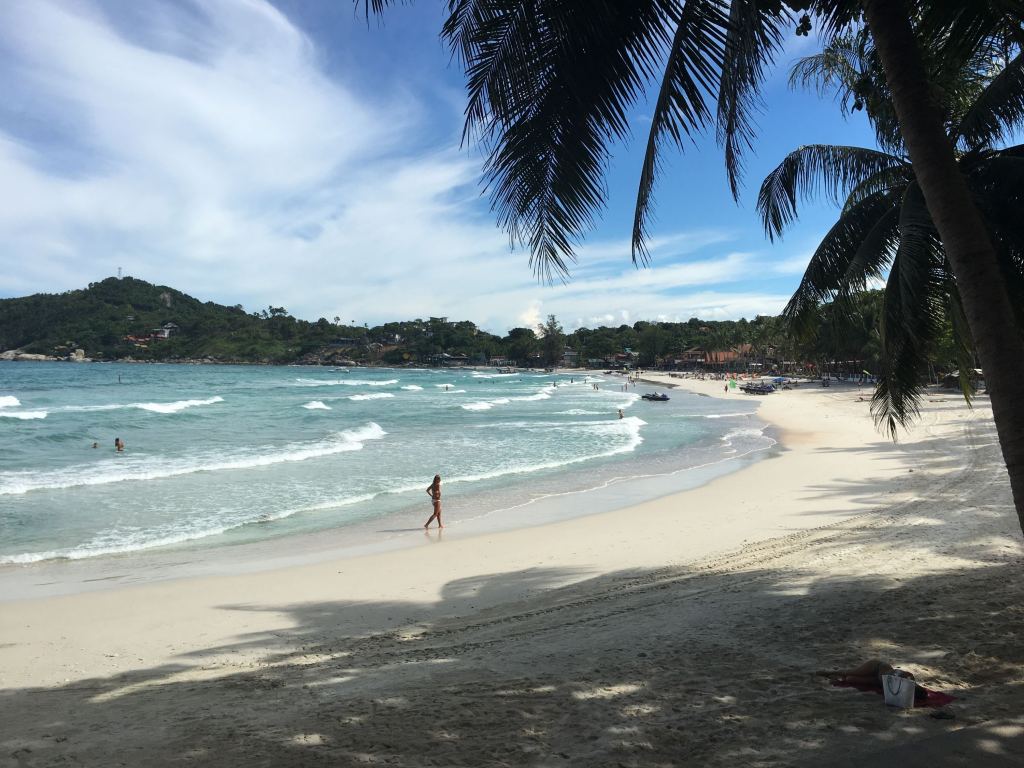 When we think of where to live in Thailand one of the first things that come to mind are beautiful beaches with white sand and palm trees. They are the reasons why people come here for holidays. Many stay here forever. No wonder. Who wouldn't like to live on a paradise island and spend their weekends on a beach, drinking cocktails? The south of the country is a perfect area for living in Thailand.
Krabi Town and Krabi Province
If it's your first time in Krabi then the town might not amaze you. Yes, it's famous for its beaches, rocks, and hills, but that is only limited to a very small area. Krabi town for an average tourist is nothing special. However, the province is quite big and you can find a lot of beautiful places here. Most expats choose this place because of its infrastructure.
One of the advantages of living in Krabi Town is its location – you can easily get to Koh Phi Phi, or Lanta from here. There are lots of places to explore and you can be sure that you won't be bored during the weekends.
If you go further away from Krabi and travel inland you will discover nearly empty roads with amazing views over the area. There are rice fields and rocky mountains, which makes this area one of the most incredible in the whole of Thailand. In the nearby Pha Nga province, mountains and rocks create dramatic landscapes with caves and waterfalls waiting to be discovered.
The area near Krabi Town is not as developed like Phuket, or Pattaya, so it's a little quieter and more peaceful here. It's easy to find a spot to unwind and relax. Many of the surrounding islands are under protection and have been included in national parks, which keeps the tourists at bay.
Krabi Town doesn't have infrastructure as developed as Chiang Mai, but you can find almost anything here. There are shops, restaurants, and bars. Thai food is of high quality and if you're bored with it, you can always eat a good pizza or a burger.
Krabi Town is also conveniently located and has a good connection with other cities in Thailand. Tickets to Bangkok are cheap and flights depart on a regular basis.
I think that living in this part of Thailand might have its disadvantages. One of them is that the area is not as developed. It seems that Krabi Town is a very sleepy place where nothing much goes on and the province during the high season is very crowded. It's easy to find a quiet spot for yourself, but looking for it might take you a long time. Krabi Town and Krabi Province are great to live if you like the sea and relaxing on a beach and if you're not looking for places with big shopping malls and conveniences that you usually get in large cities.
Phuket
Phuket might be the best place to live in Thailand because you can easily find accommodation here and it's a modern, well-developed island. There are shopping centers, bars, restaurants and the nightlife is great. During the day you can also relax on one of the beautiful beaches. You can also visit the neighboring islands, or take a trip to a different part of Thailand.
Unfortunately, Phuket is quite pricey. Food and accommodation cost twice as much as in other places in the country. Of course, there it is still cheaper than Europe, but if you have lived in Chiang Mia, you might be a bit disappointed.
Transport is a problem on Phuket. Taxis are expensive and drivers often try to cheat the passengers as much as they can. You can drive a scooter, but the roads here are quite dangerous as there are a lot of drunk tourists cruising around on their mopeds.
Phuket is overcrowded not only because its popularity among those coming to Thailand for holiday. There are many expats that decided to settle here. Luckily, despite many resorts, there are still some beautiful beaches around.
Koh Samui
If I had to choose a place to live in Thailand (except Chiang Mai, of course) I would choose Koh Samui. Why? Mostly because the island has a great connection with Bangkok and from there you can go nearly everywhere. It is also an island, which is small, but it still has that countryside feel to it. It is not as touristy as other places in the south. Expats, who live here
A well-developed infrastructure is another advantage of living here. There are Tesco and a big shopping mall as well as hospitals, pharmacies and doctor surgeries. There are plenty of bars, where you can eat almost any dish in the world, from Japanese to Russian pierogi.
You won't be bored on Koh Samui because there is no lack of caves and waterfalls, which are waiting to be discovered. Nearby you will find Koh Tao and Koh Phangan, where you can go for a weekend.
There are not that many disadvantages of living in Koh Samui. The biggest one are the prices. Koh Samui is as expensive as Phuket. Accommodation prices are higher than those in Chiang Mai, but you can still find something reasonable here.
Transport is another problem. Drunk tourists and speeding locals are the biggest threat. The island has only one main road, which is the main cause of big traffic jams.
Hua Hin
Many expats claim that Hua Hin is the best place to live in Thailand. It is a fairly big city with a wide beach and an easy access to Bangkok. There is also an airport, which offers domestic and international flights.
Hua Hin is well developed. The infrastructure is suitable for expats. There are bars, shops, restaurants, hospitals and good Internet. Accommodation prices are not as high as those on the islands and a large apartment costs only 8,000 Baht per month. There are also a lot of tuk-tuks and taxis, which will take you anywhere you want in the city.
Entertainment is pretty good in Hua Hin. Although this is Thailand, so you will be limited to nightlife and good food. During the day you can relax on the beach, go snorkeling or diving, or try one of water sports.
One of the disadvantages of living in Hua Hin is its close proximity from the main road that leads all the way to Bangkok. This causes quite a bit of noise and is also a source of pollution.
The beach in Hua Hin is clean, but it's very popular among horse riders and, as you an imagine, horses leave waste behind, which is not cleaned after.
Expats that come here are often disappointed with the general atmosphere of the city. You can't really tell that the beach is nearby. Hua Hin develops very dynamically and there are more and more concrete and glass buildings being built, which gives the place a feeling of a huge and busy city. However, I think that Hua Hin nicely combines the characteristics of a metropolis and a small, seaside resort.
I hope that I helped you a little and answered your question about the best places to live in Thailand. I know that the choice isn't easy. If you have some time and money I think the best solution is to come to Thailand first, see the places and then make a decision. This way you will know for sure which location is ideal for you.