Thailand is not only popular because of its weather, food and smiling people, but also because of relatively low prices. You can live here comfortably on around $500 a month. It all depends on which part of the country you want to live in and what kind of lifestyle you prefer.
Expats, who have been living in the Land of Smiles for some time, spend a little more than those who take their first steps here. I think it's because of the fact that after a while Thai food can be a bit boring and western food costs twice as much. Expats also like to create a bubble in which they live and enjoy western entertainment. They like going to the cinema, to a gym, or to good bars and restaurants. However, it still costs them less than it would in Europe.
In this article I will show you the basic costs of living in Thailand.
Costs of living and location
Costs of living vary depending on localization. At the moment the north of Thailand is the cheapest. In Chiang Mai an average cost of living is around 20,000 – 30,000 Baht. Some spend more, but if you like saving money and are not interested in dining in Sizzler, or drinking beer every weekend, then you can live on less than 20,000.
Bangkok is slightly more expensive. Expats here like to indulge in shopping and dining out. The capital of Thailand offers huge shopping malls, exclusive restaurants, galleries and theatres. There are plenty of places to spend your money at. I think you need to spend at least 40,000 – 60,000 Bhat to have a good lifestyle. If you are frugal then of course it's possible to spend less. Don't go out every weekend, eat only in local bars and don't spend on any unnecessary things and you'll be able to live on 30,000 Baht per month.
In the south life is a little calmer and more relaxing. There is not much to do here. However, before you choose a place to live in Thailand, check the prices first. Phuket seems to be the most expensive out of all the islands and it's also the most popular place to live for western expats. Koh Phangan is cheaper, but also a little calmer and doesn't offer as much as Phuket.
The food is more expensive in the islands. If you don't have a scooter and you live by a beach then you might be forced to eat at resorts, where a plate of fried rice costs from 60 to 150 Baht. In this case, it's better to look for accommodation in bigger towns, where you can shop at local markets and buy cheap street food. Rental prices are also quite low here. For a house on Koh Phangan or Koh Tao you will pay around 12,000 Baht – as much as for an apartment in Chiang Mai. On some of the islands, you can live comfortably on 20,000 – 30,000 Baht a month, if you don't splurge too much.
Visas
Visas are an important component of basic costs of living in Thailand. Of course, this subject is very complicated and I have written about visas before, but I would like to remind you that the cost of visa depends on your status and the type of visa you will choose.
Short term visas
If you want to stay only for a couple of months in the Land of Smiles, you are a nomad and want to work in Thailand for a bit, then the best option is to get 3 or 6-month visa. Non-immigrant visas are given to people, who work in Thailand or want to open their own business there. Of course, the easiest thing to do is to become a teacher and then you can stay in the Kingdom for a very long time. In other cases, you need to get a tourist visa.
At the moment the cost of the 3-month tourist visa is around $30. In order to apply for it, you need to have minimum $6,000 in your bank account. You can apply for it in Thai embassies and consulates outside of Thailand. This visa allows you to enter the country only once in 3 months.
The 6-month multiple entry visa is more expensive. You will pay almost $100 for the application. Here you also need to have minimum $6,000 on your account. Remember that you need to leave Thailand every 2 months, which is quite costly. You need to apply for this visa in your country of residence.
Non-immigrant visas
Non-immigrant visas are more expensive and filling out the forms is an endless task. On Thai embassy's website in your country, you will find whole lists of conditions and requirements you need to fulfill in order to receive one of the visas.
At the moment the visa for teachers costs $100 per year. 3-month visa for 3 months costs $50, mulituple entry visa for a year costs $100. If you choose the latter, remember that you need to leave Thailand every 3 months.
Accommodation
As anywhere in the world, costs of accommodation in Thailand vary depending on location. Cheaper flats can be found in the suburbs while more expensive are situated in the centre of the cities, or by beaches. Bangkok is probably the most expensive and the north of the country is the cheapest. The cost of renting a place in the south is different from one island to another. The most expensive place in the south is Phuket. Cheaper islands are Koh Phangan and Koh Tao.
Types of accommodation in Thailand
You can rent a flat in Thailand in a condominium. The cheapest are studios, which consist of one room with a bathroom and a balcony. They resemble hotel rooms more than an actual flat.
Renting one bedroom flat with a small living room isn't difficult. You just need to check the size of the flat as these apartments are often studios divided by a glass or plastic, so the owner can rent it out as a one bedroom flat.
Nomads and people who like to socialize very often rent properties with other foreigners. This reduces the cost of rent and allows to meet other people.
Renting a whole house is not difficult either. Long-term expats rent and buy properties in the suburbs of big cities, away from the smog and noise. Renting a house might be less expensive than renting a flat.
Internet in condominiums is often free, but you cannot really rely on it. That's why you should set up your own wi-fi, which costs about 500-700 Baht per month.
The utility bills are paid monthly on top of your rent. They usually cost about 500 – 2,000 Baht, depending on the size of the apartment and the amount of electricity you use.
Cost of rents, depending on the location
Bangkok
2 rooms, 2 bathrooms, 65 square meters, centre – 40,000 – 5000 Baht
1 room, 1 bathroom, 50 square meters, centre – 30,000 – 35,000 Baht
1 room, 1 bathroom, 45 square meters, outside of the city centre – 12,000 – 20,000 Baht
Studio, 30 square meters, centre – 13,000 – 16,000 Baht
Studio, 30 square meters, outside of the city centre – 8,000 – 9,000 Baht
House, 4 bedrooms, 2 bathrooms, outside of the city centre – 50,000 – 100,000 Baht
Chiang Mai
2 bedrooms, 2 bathrooms, 65 square metres, centre – 25,000 Baht
2 bedrooms, 2 bathrooms, 65 square meters, outside of the city centre – 18,000 – 20,000 Baht
1 bedroom, 1 bathroom, 50 square meters, centre – 15,000 Baht
1 bedroom, 1 bathroom, 50 squre meters, outside of the city centre – 13,000 Baht
Studio, 30 square meters, centre, – 10,000 Baht
Studio, 30 square meteres, outside of the city centre – 5,000 – 8,000 Baht
House, 4 bedrooms, 2 bathrooms, outside of the city centre – 15,000 – 25,000 Baht
Phuket
2 bedrooms, 2 bathrooms, 65 square meters, centre – 32,000 Baht
2 bedrooms, 2 bathrooms, 65 square meters, outside of the city centre – 16,000 Baht
Studio, 30 square meters, centre – 22,000 Baht
Studio, 30 square meteres, outside of the city centre – 13,000 Baht
If you're planning to move to Thailand and think of living in Chiang Mai then this article will be useful for you. It will tell you all about renting a flat in Chiang Mai.
Food
Thailand is the paradise for food lovers. Everyone will find something for themselves. Street food is everywhere and you can enjoy it for a really low price. However, dishes are usually fried or cooked in oil, so it's not an ideal solution for those wanting to look after their waste lines.
Thai people don't overeat, but they like to snack in-between meals. That's why you need to get used to small portions. Fortunately, snacks that are sold everywhere will get you through to the next meal.
Cooking in Thailand is not worth it. If you do your own shopping you will soon find out that it's much more expensive than eating out. That's why most of the apartments in Thailand don't have kitchens.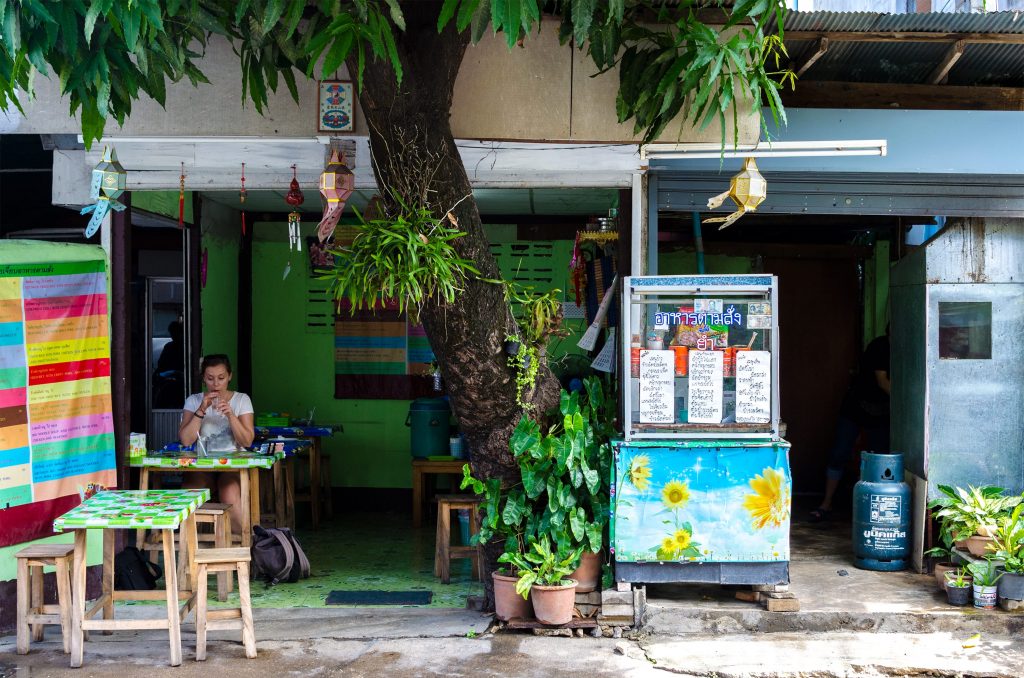 Prices of Thai food
Other popular dishes among foreigners are gree, red and yellow curries, which are served with meat, vegetables and rice. They are a little bit more expensive and cost about 40-50 Baht.
If you're still hungry then you might want to try some grilled meat, or mushroom. They cost 10 Baht per scewer.
The best for a dessert are fruits. A small bag of pineapple, or watermelon, costs 10-20 Baht.
Alcohol and drinks
Alcohol in Thailand is pretty expensive. If you like to go out on weekends then a whole night party might cost you a lot. One bottle of beer costs 100 Baht and that's the cheapest price. In clubs in Bangkok you will pay more.
Stronger alcohols are available, but foreign brands are expensive and can discourage some of the teachers from spending money on them.
If you don't want to spend so much, then go for a local brand. A bottle of Sangsom in 7-11 costs 250 Baht. It's not the best alcohol, but you will save some money.
Shakes are smoothies are very popular in Thailand. One large cup of this type of drink costs 30-50 Baht.
Don't forget to drink water! In 7-11 you will buy 5 liters of water for 30 Baht. In some buildings, you can purchase it from the landlord. For a crate, you will pay 100 Baht. You can also use a water dispenser and fill up your bottle for 5 Baht. It's good to remember that in some local bars drinking water is free.
Vegetarian dishes in Thailand
In Thailand there are a lot of vegetarian bars and vegetarian dishes. It's not a problem to find a bar serving cheap buffet. You can fill up your plate with some delicious things for only 20-30 Baht.
Many foreigners like to go to more expensive places, where MSG is not added and where dishes are more expensive – 70-120 Baht.
Western food
There is no lack of western food in Thailand. However, it's not always good and you might take some time to find something decent and at a good price. Thai people don't really know how to cook western food and except Italian and American restaurants there is not much of a choice. Comparing to Thai food western dishes are very expensive. For a pizza or a burger, you will pay around 150-250 Baht. A breakfast with a fried egg and a sausage costs 100 Baht.
Transport
Transport in Thailand, compared to Europe, is very cheap.
Types and cost of transportation in Bangkok
In Bangkok there are many options of transportation. So-calleded BTS, an overground train, is very fast and modern. Its lines don't go all over the city and to get to some places you need to take a taxi, or a bus. BTS has something that is very valuable in Thailand – air conditioning, so taking this type of transport is quite pleasant. An average cost of a ticket is 15-52 Baht.
Busses in Bangkok are not very reliable and taking one might turn out to be a huge task. If it's your first time in Bangkok then it will be very easy for you to get lost. One ticket costs around 7-8 Baht.
Bangkok is the only city in the world using boats as public transportation to such an extent. Stops are very easy to find and you can get almost anywhere. A big disadvantage is lack of air conditioning and overcrowding during rush hours. A ticket costs 15 Baht.
Another transportation option is motorbike taxis. For only 20 Baht you can whizz through the streets at the back of a scooter. Such taxi will take you everywhere and at any time.
Normal taxis have a bad reputation because of scams and not being very helpful to foreigners. Before you get in, make sure that the driver agrees to put the meter on. Rides start from 40-50 Baht.
Tuk tuks are the most expensive and it's an option for tourists. Expats and locals don't usually use them.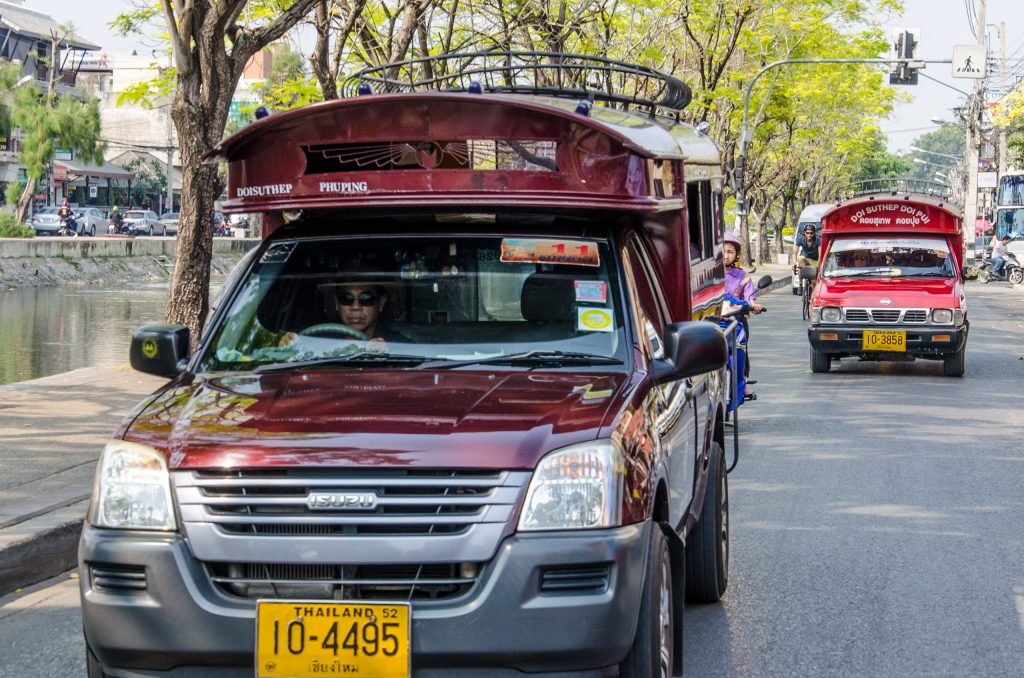 Types and cost of transport in Chiang Mai
Transportation in Chiang Mai is a bit less developed. The most popular option are songthaews, big pick up trucks, which cost 20 Baht for one ride.
Except that you can use tuk-tuks, which are a bit cheaper here. One ride costs about 100 Baht.
Types and cost of transportation in the south of Thailand
The south has quite a few transportation options. On some islands, you will find motorbike taxis. The prices vary depending on how you want to get somewhere. The most popular are songtheaws and one ride costs 50-70 Baht.
A car or a scooter? Costs of private transportation
Traffic in Thailand might be a bit scary at first. However, I'm a huge fan of having my own transport, which gives me a lot of freedom. I ride a scooter and think that it's a great way of seeing the city and its surroundings.
Many expats choose to have their own transport. Scooters are the most popular in Thailand. Buying a scooter is not very hard and a few year old ride costs 20,000 – 25,000 Baht. Renting depends on a model and engine, but an estimate is 150-250 Baht per day.
People who have their own business in Thailand, or who prefer to trave safer choose cars. Older models are available at the same prices as scooters. Renting a car is not that expensive and costs 1,000 – 2,000 Baht per day.
Insurance
One of the most important advice I give everywhere is: get a good medical insurance. The cost of healthcare in Thailand is low, but if you get sick, or have an accident, the bill for your treatment might be very high. It's better to invest some money and not to worry too much.
Types and cost of insurance
Medical insurance is one option. It's probably the best if you want to stay in Thailand for a long period of time. They will cover you for any emergencies, outpatient and inpatient services. These types of insurance are quite expensive, but if you want to save some money, you can apply with one of the Thai banks. They charge around 20,000 – 25,000 Baht per year.
You can also go for a cheaper option and get a travel insurance. Just be prepared that you will need to go home for any longer treatments. For digital nomads, I always recommend World Nomads, which is ideal for people travelling for a long period of time.
Costs of healthcare in Thailand
Hospitals in Thailand are very modern and offer complex healthcare. You can register in every one of them and see a specialist chosen by you. A one-off visit costs 500 Baht. Be prepared for additional costs because doctors in Thailand prescribe a lot of pills and medication, which you need to buy at a hospital pharmacy. You might also be sent for additional check ups and tests. So, at the end, your visit can cos you around 2,500 Baht.
Pharmacies in Thailand are well stocked. Antibiotics are sold like candies, so is contraception. In some shops you can find sleeping pills. Prices are quite low. Paracetamol costs 20 Baht and one small packet of antibiotics is 50-150 Baht.
Other costs of living in Thailand
Life in Thailand revolves also around other things than food and accommodation. As an expat or a nomad, you might want to spend your free time actively. In the Land of Smiles there are a lot of things you can do when you don't work.
Trips
In Asia traveling is cheap and easy. From Bangkok you can catch a flight to the south, or to neighboring countries and there are always some promotions and deals. For only 500 Baht you can get from the capital to the islands. For a little bit more you can go to Vietnam, or the Philipines.
Flights from Chiang Mai are a little more expensive. However, the city has an excellent network of transportation.
If the flights are too expensive for you, you can choose a bus or a train. A bus from Chiang Mai to Vientiane in Laos is 700 Baht. A bus to Bangkok costs around the same.
Entretainment
All major cities in Thailand offer bars and nightclubs. Alcohol costs the same as in Poland and a party will leave your wallet 1,000 – 2,000 (or more) Baht lighter.
In Bangkok and Chiang Mai cinemas are located in big shopping centers. They usually show big blockbusters. A ticket costs 150 Baht.
Water parks and swimming pools can be found in hotels. One time entry is 50-100 Baht. If you like sports then you might want to sign up for a gym membership. 6 months cost 5,000 – 8,000 Baht. Remember that you can also exercise for free. There are a lot of parks with walking and running paths and outdoor gyms.
How much do I spend?
According to my calculations, I spend 20,000 – 30,000 Baht per month, so around 700-800 Euro. That's my minimum. This includes weekend trips outside of town, dinners in the best restaurants in Chiang Mai, cinema, and massages.
My monthly cost of living in Chiang Mai:
| | | |
| --- | --- | --- |
| Accommodation | 6,000 Baht | 160 Euro |
| Bills | 500 Baht | 13 Euro |
| Wi-fi | 350 Baht | 9 Euro |
| Food and gas | 4,000 Baht | 100 Euro |
| Scooter rental | 1,150 Baht | 30 Euro |
| Insurance | 1,300 Baht | 34 Euro |
| Entertainment | 10,000 Baht | 263 Euro |
| Together | 23,300 Baht | 612 Euro |