I went to Koh Chang at the end of my stay in Thailand. It was a deserved rest after an intense trip to Nan and the north of the country. I was there during the pandemic, at the end of it, when Thailand was slowly opening up. My impressions about Koh Chang might be a bit different from others as the island was really quiet. I'm sure that outside of the pandemic it's totally different. On the other hand, I trust that Koh Chang is a place that can be enjoyable even if there are more people around.
Koh Chang – General Information
Before we get to the main part, let me tell you a few things about the island.
The location
Koh Chang is one of the largest Thai islands. It is located in Trat province, about 300 kilometres from Bangkok.
The name means the island of an elephant because when you look from above, you can see that Koh Chang looks like a lying elephant.
There are elephants on the island, but they are not in the wild.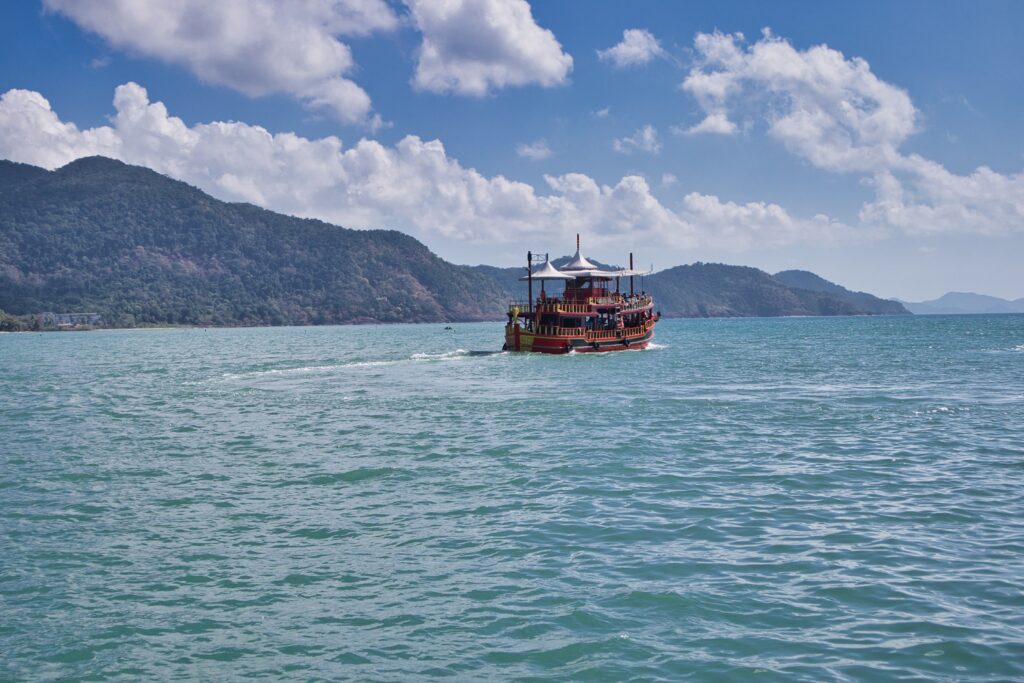 Climate
Koh Chang has a tropical climate. Temperatures are high throughout the year.
The rainy season is from May to October.
How to get to Koh Chang?
You can get to Koh Chang in a few ways. The fastest is a flight from Bangkok to Trat. There you can get a taxi, which will take you the ferry and then to your hotel on the island. The price is 700 Baht.
You can buy your ticket on 12GoAsia.
Another way is a bus from Ekamai station in Bangkok to Leam Ngop. From there you can catch a ferry and then a taxi to your hotel. This option is cheaper.
You can book your ticket here.
Find out more about how to get to Koh Chang from Bangkok and Chiang Mai.
Where to stay on Koh Chang?
Koh Chang offers many options of accommodation.
I stopped at Siam Bay Resort. It is located just by the national part and has two pools and a restaurant. The bungalows are huge and spacious. Maybe one of the disadvantages are monkeys, which invade the space in the mornings and afternoons and steal items from balconies, but except that it's a lovely place to stay. People looking for peace and quiet will be very happy.
Just bear in mind that it's not a place for backpackers. If you want parties and bars you might want to find a hotel in a different part of Koh Chang.
Find a place to stay on Koh Chang on Booking.com.
Orientation
Koh Chang is a big island. The forest and the national park is in the middle and the main roads go around them.
There are 8 villages on Koh Chang. The most amount of services for tourists are around Dewa Resort and The Splash Koh Chang.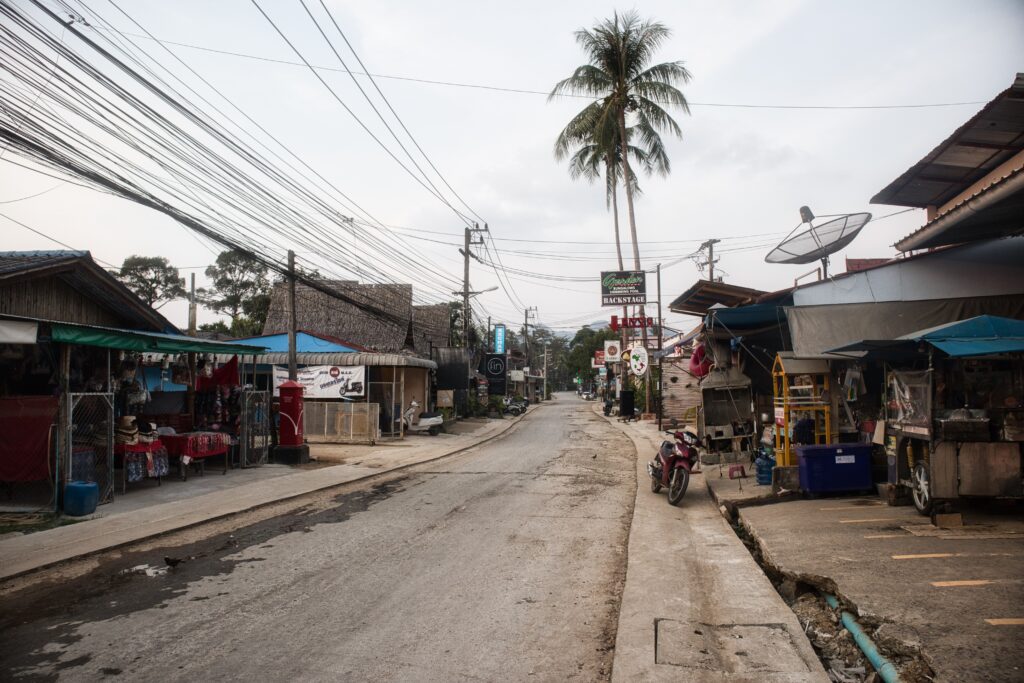 Seven days on Koh Chang – What to see and what to do?
If you want to spend a week on Koh Chang, try out these activities.
Chill on one of many beaches
I'm sure that beaches are the main reason why you want to go to Koh Chang. There are so many on the island! There are those that are crowded and those that are empty and quiet. You can spend your whole stay just going from one lovely beach to another.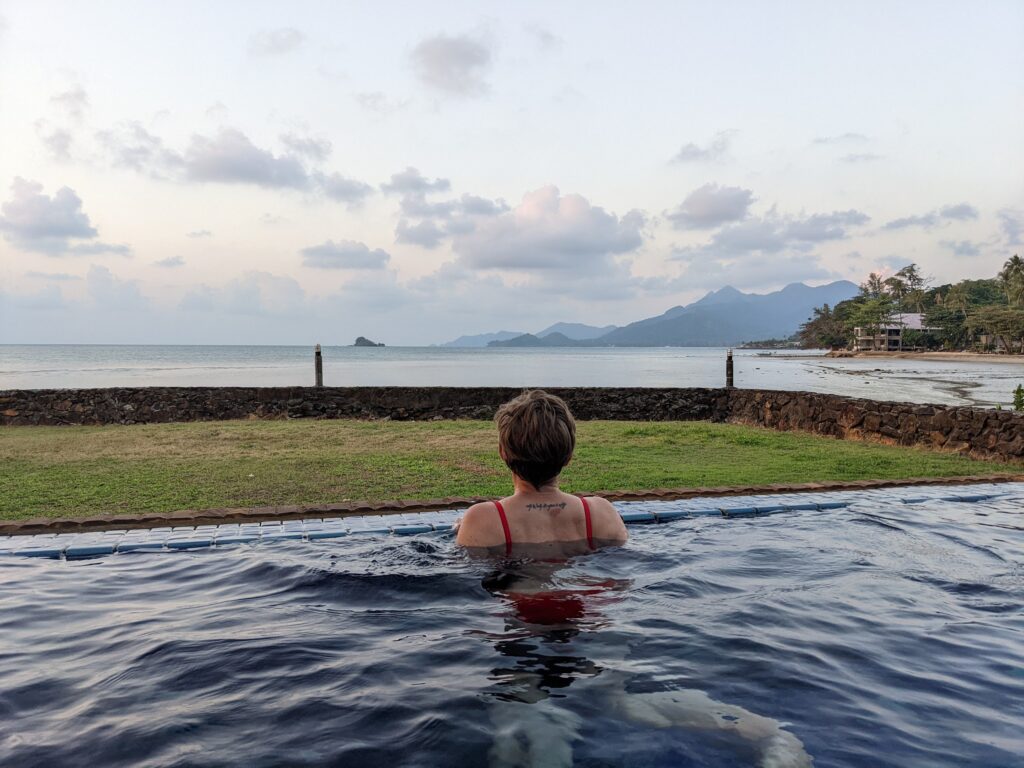 Rent a scooter and get lost on the road
Are you wondering about what to do on Koh Chang? Rent a scooter and set off on an adventure.
You can rent your two wheels from your hotel or at many rental places in the villages. The cost is around 200 Baht per day.
You can get to a lot of nice places on the island. Just remember that the roads here are steep, so drive slowly. Distances are also quite big. If you want to go to more remote spots, you will need a whole day.
Swim in a waterfall
There are many waterfalls on Koh Chang. I visited Klong Plu. To get to it, you need to trek through a forest. It's not very difficult and not too long, but humidity and temperature might bother you a little bit. Once you get to the waterfall, you will be able to swim in cool water and have a picnic on the rocks.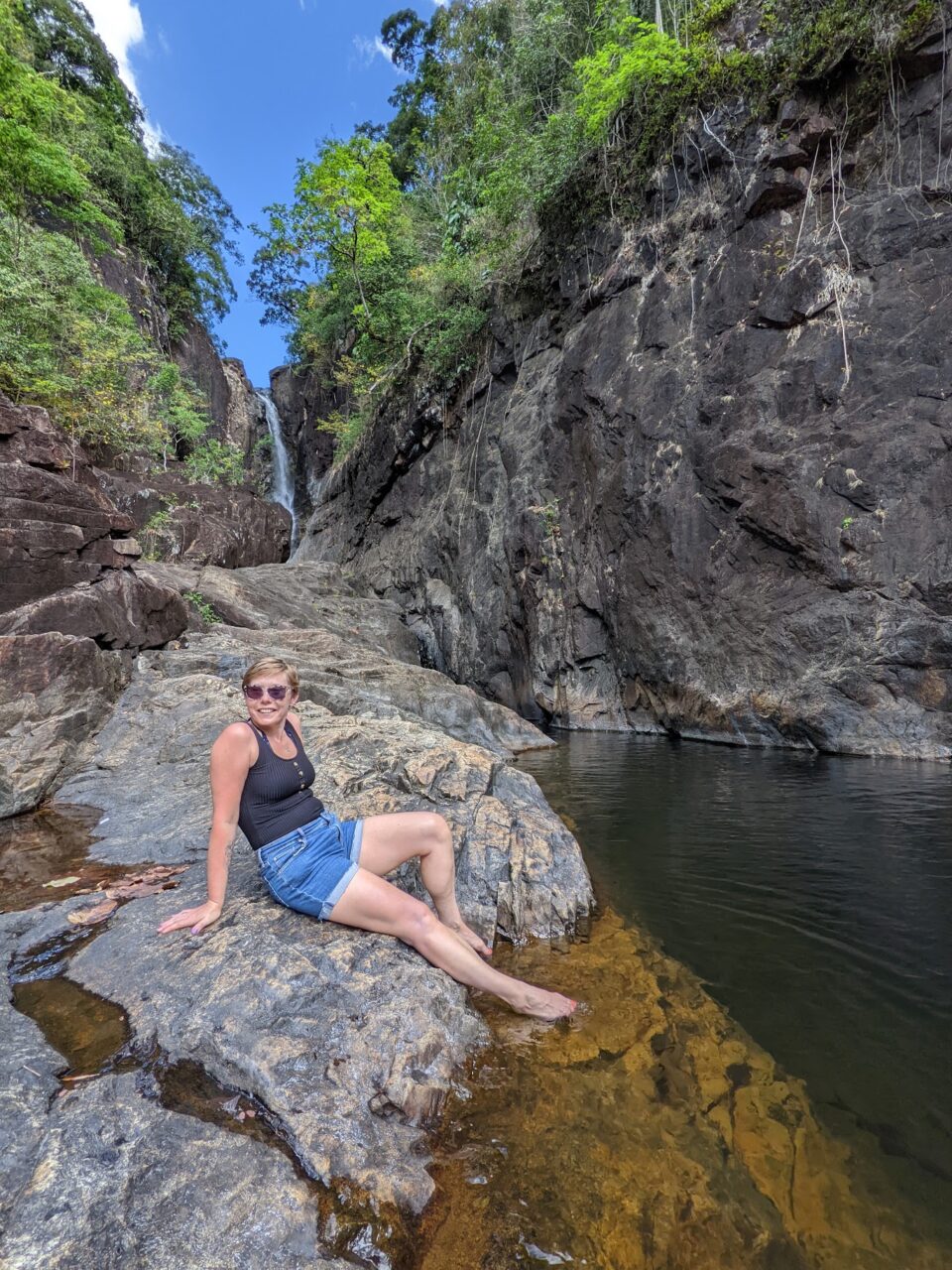 Go to a market and sail on a boat
In Bang Bao you'll find a market, located on the water. It's quite long and offers souvenirs, food and drinks. At the end of it, you can buy a cruise and sail for a bit in the nearby bay.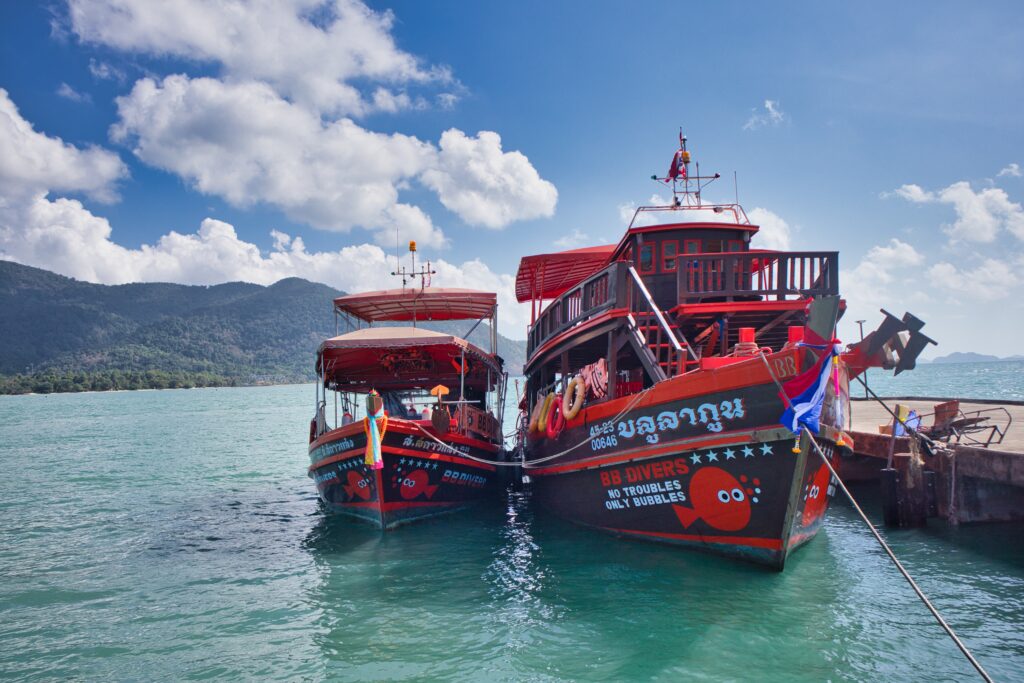 I recommend drinking a coffee at View Talay Cafe with lovely views and nice seats to rest.
Visit a mangrove forest
There are a few mangrove forests on Koh Chang. One of them is Salakphet Walkway. It's a path built among trees. It's a nice trip, especially if you're going by scooter as the road there is very pleasant.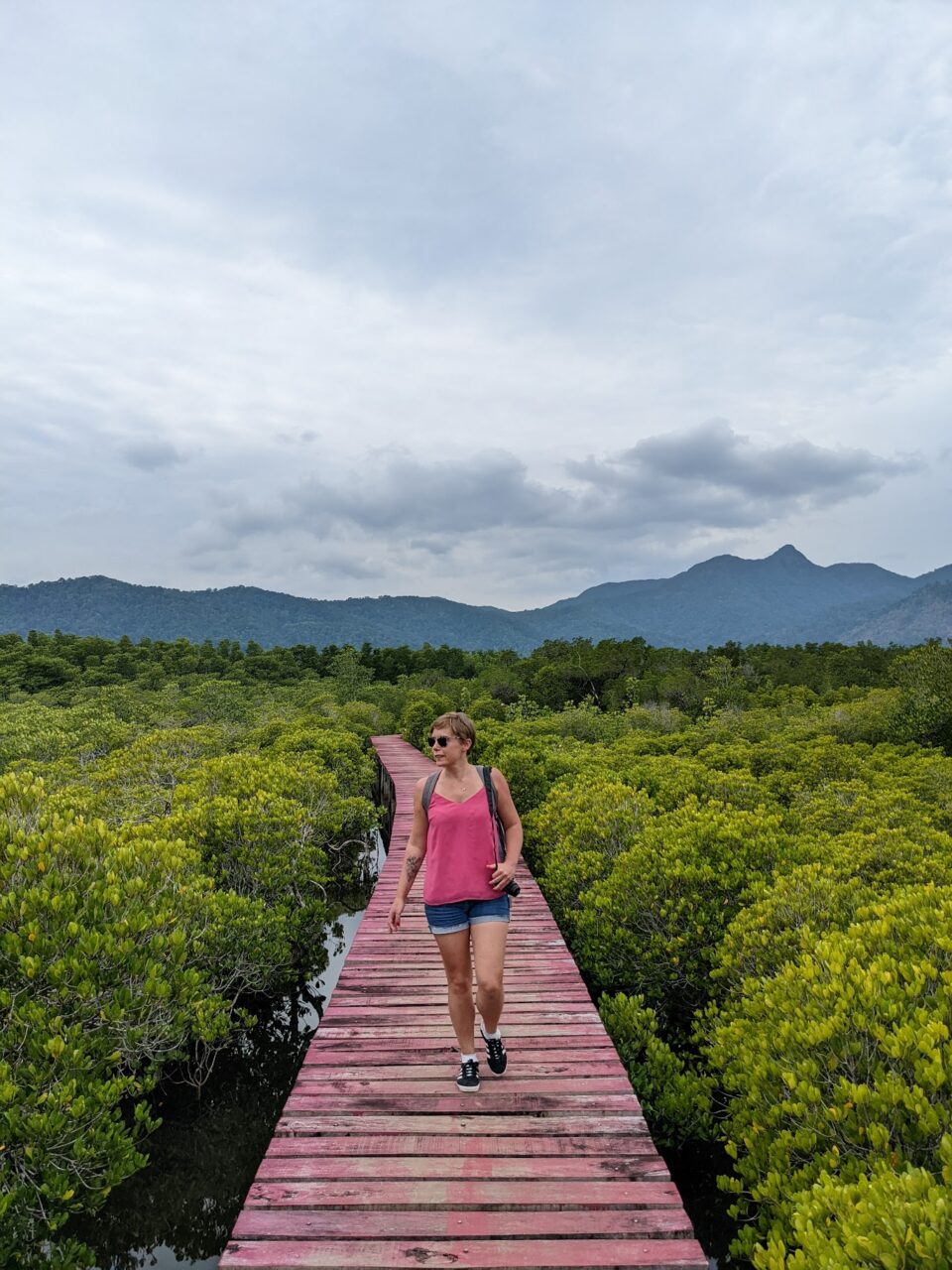 There is no entrance fee to get in, but if you come here by a scooter, the locals will charge you a parking fee. It's not really legal, but it's better to pay than argue.
Go kayaking
It's a very popular activity. If the weather is nice you can take a kayak and go to a nearby island.
Try other water sports
Many hotels offer SUP, snorkelling or diving.
Get a massage
There are so many massage salons on the island. Prices are very affordable and you can have a spa day for a good price.
Koh Chang – Other useful information
What other things are worth knowing if you are spending a few days on Koh Chang? Here's some useful information.
What and where to eat on Koh Chang?
There are plenty of restaurants on Koh Chang. I usually have a problem with eating on Thai islands. I really think that food is not that great and it's overpriced. But, I managed to find some good places to eat there, so here they are.
Hana Restaurant – is located on the main road. Ask about it someone local and they will point it out for you. It's not very luxurious and it's a typical Thai place, but the food is amazing.
Por Par Seaside Restaurant – for everyone who wants to try good fish and seafood.
Taste of India – a small family-run restaurant with great Indian food.
Magic Garden – it was a bit of a surprise. This place looks like it's expensive, but it was not. It had affordable prices and food is delicious.
Where to drink and party?
There are a lot of bars on Koh Chang. Beer and alcohol is widely available. I recommend:
Mimo Beach Bar
Beautiful Bar
Magic Garden
Safety on Koh Chang
Koh Chang is a safe island in general. It's very peaceful. I think it worth remembering that I went there during the pandemic, so I'm not sure if it's that quiet during other times. So, if it's more busy, there are more risks of being a victim of theft etc.
However, it's Thailand and that means that it's a safe place for travellers and also for solo female travellers.
There is police on the island, pharmacies and doctors' surgeries.
Remember about health insurance. Buy it before you go. I recommend SafetyWing, or World Nomads. If you live in Thailand, try out Cigna or Luma Health.
Internet on Koh Chang
Most places have wi-fi. It can be a bit weak in some spots, but overall you can use it without problems. In our resorts I worked and watched Netflix and it was pretty good.
I hope that I could help you out with planning your few days on Koh Chang. Wishing you a lovely stay on the island. If you have questions, please let me know in the comments.