This post has been created in collaboration with AirAsia and Find Folk who together created Journey D. The project aims to elevate local communities and bring them closer to visiting tourists.
On the other side of the river from Krabi Town you can see and witness a completely different world. The Koh Klang island is a haven for those who are looking for peace and quiet and don't want to follow the crowd. This is the place to go if you want to recharge and rest from the hustle and bustle of the tourist places in Thailand.
I think that when you are on holiday in the Land of Smiles, it's very easy to get lost in the offers of tours, trips and activities. Sometimes, even if you don't want to take part in the mass tourism, you end up doing just that. Normally, visitors don't know the local language and don't know where to look for information on places that are a little further from the most popular spots. So, they see the same things as everyone else does, try to rest on overcrowded beaches and, by the time they leave, they are discouraged and don't want to go back to Thailand anymore.
Of course, that's an extreme. Many people keep coming back and they are happy with what they get. However, if you really want to see tranquil places, make friends with the locals and learn something invaluable, look no further than Koh Klang. This is the place to be for those that are keen to see Thailand off the beaten path.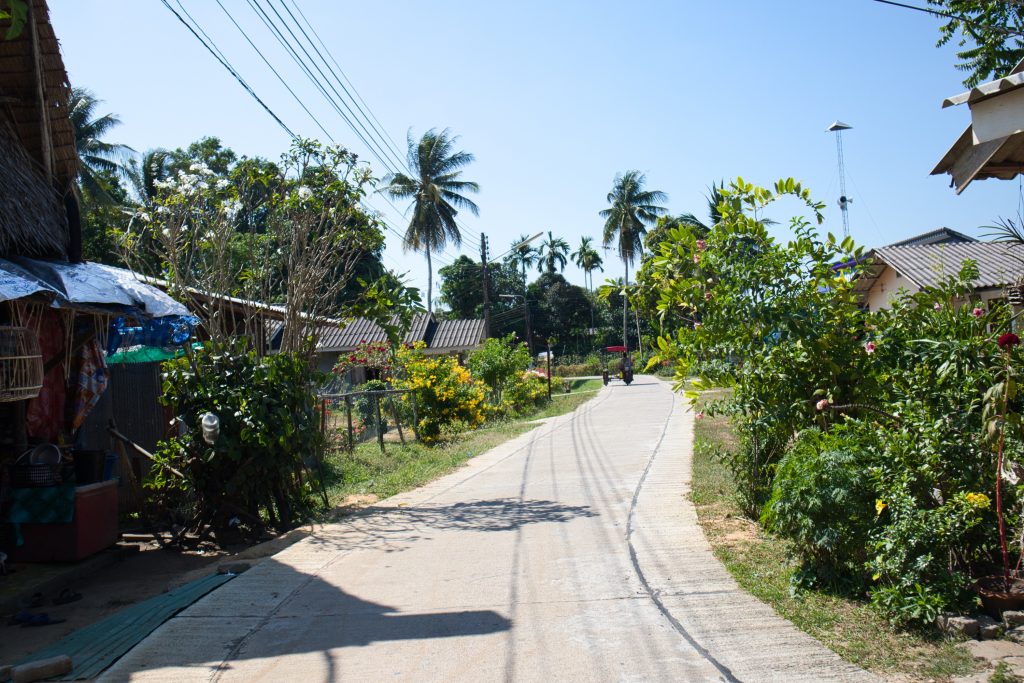 Community Based Tourism, Koh Klang and Journey D
Kho Klang is taking part in the Community Based Tourism project, or CBT, which aims to elevate local communities and bring them more business opportunities while, at the same time, promoting eco and sustainable tourism.
CBT is the main focus of Journey D, a project created by AirAsia and Find Folk, which together are trying to bring visitors to the less known parts of Thailand. Their trips and activities are targeted towards more conscious travellers, who would like to see the unknown and less frequented parts of Thailand.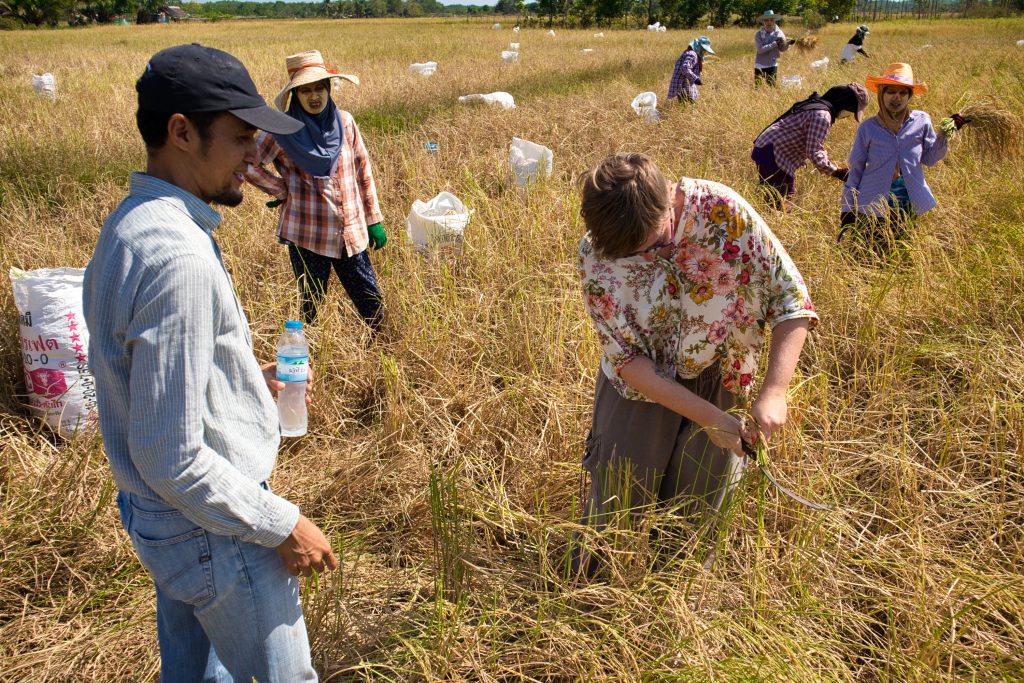 I was asked to try out two of the tours of Journey D – one with Promlok Community in Nakhon Si Thammarat, the other on Koh Klang, in Krabi Province.
I spent two amazing days there.
Koh Klang – Basic Information
Before I tell you all about my stay on the island, I would like to introduce you to the area.
Koh Klang is about 70 km long, so it's not that big. There are approximately 5,000 people living there. Mostly they are farmers and some of them produce handicrafts.
The island is located just opposite Krabi Town. If you are there, go to the pier and look to the other side. The huts you'll see belong to the inhabitants of Koh Klang.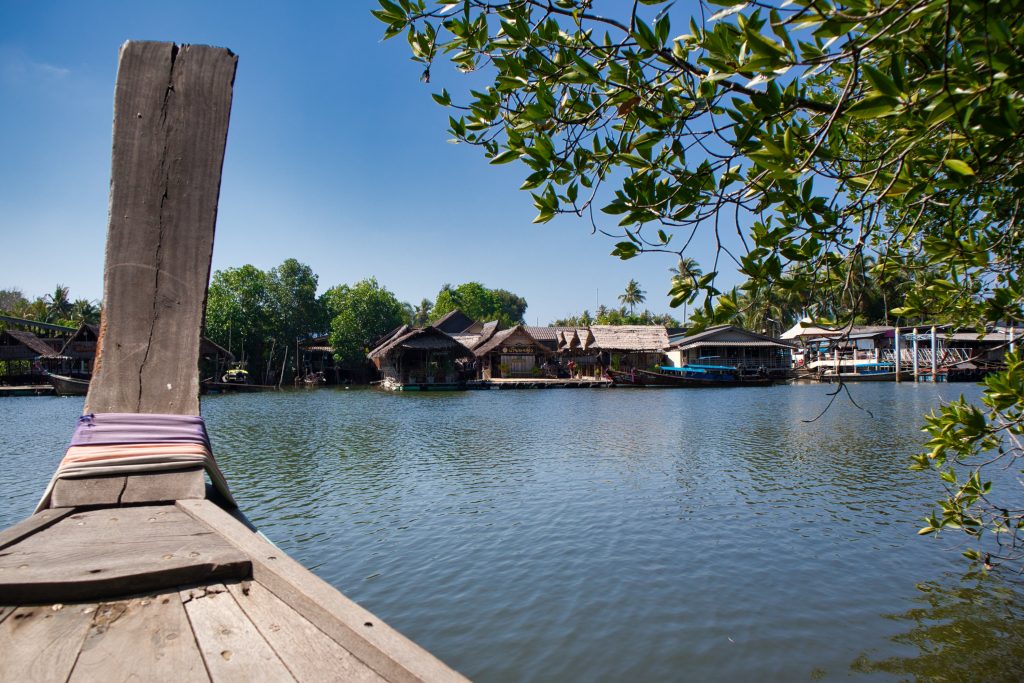 People living there are mostly Muslims, so the island is slightly different from other parts of the country. There are no Buddhist temples, but 7 mosques. Alcohol and pork products are not allowed on the island and visitors are asked to dress modestly.
The locals here are lovely though and they welcome tourists with open arms. It's worth spending here a couple of days to get to know the community and make some friends.
Day 1 on Koh Klang
I was picked up from Krabi Town by Mat – a local guide. We took a boat from one of the piers.
First, he took me to a cave, which is not that far from the main village of the island.
Khao Khanabnam is a well known cave among the locals. It is located in one of the rocks, visible from Krabi Town. This place used to be the gate to the port some years ago. Now, it's a quiet spot with a few tourist coming here to visit.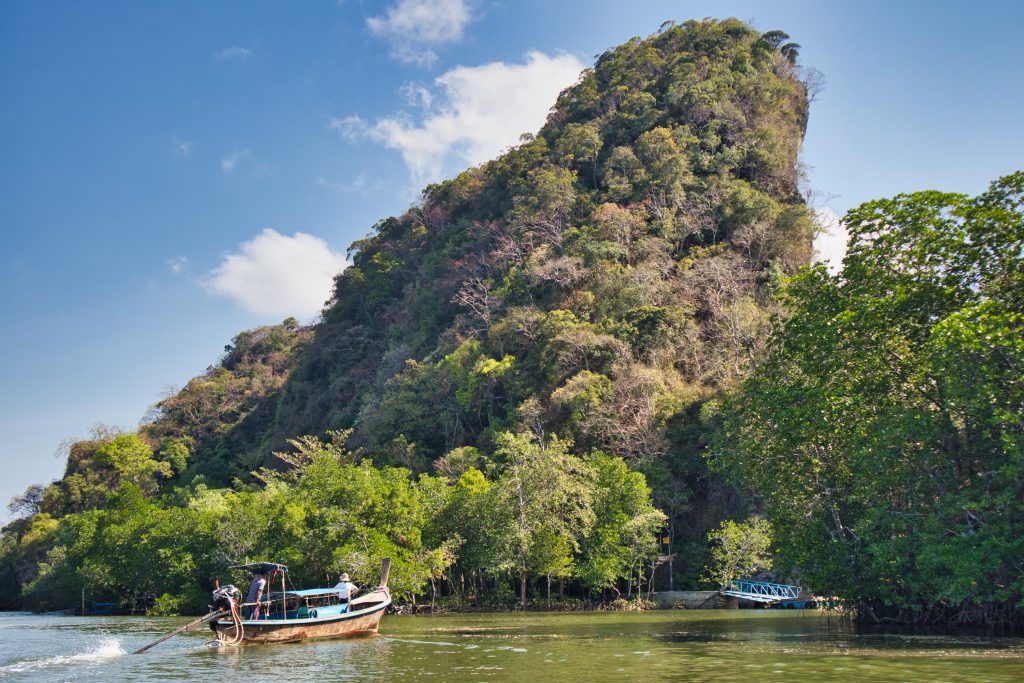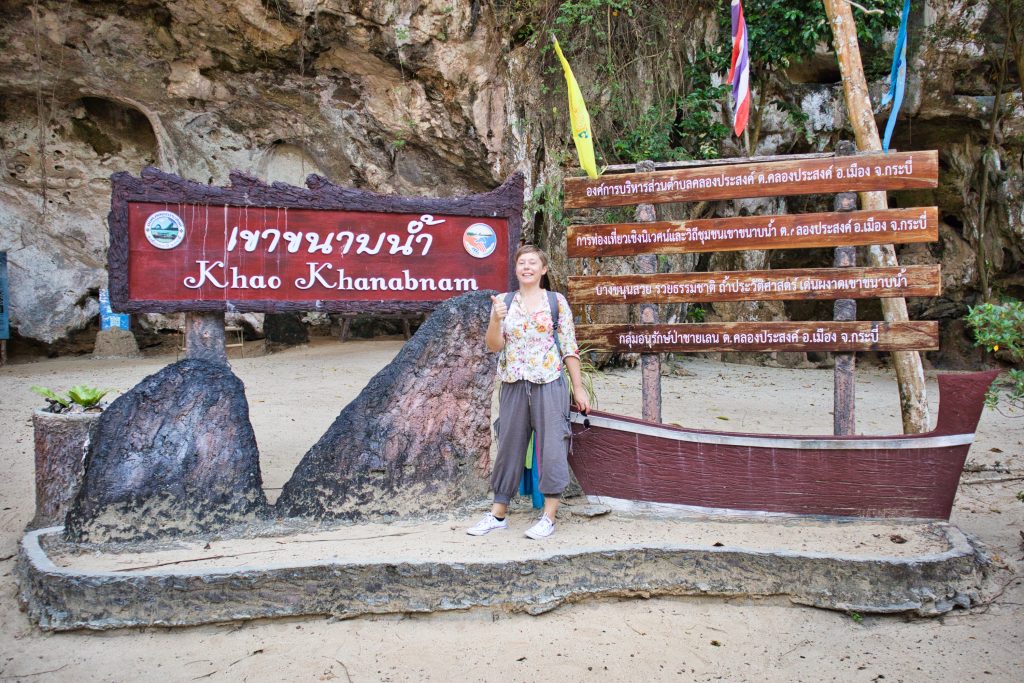 The cave is not that big, but it's a lovely attraction, one that I would recommend. The stairs leading to the cave are quite new, even though they look like they are hundreds of years old. Jackie Chan made a movie here once and built wooden stairs. After the film crew moved, the stairs stayed. After a couple of years they fell apart and the local government replaced them with something more sturdy. Now, the entrance is safe and the visitors are welcome to come.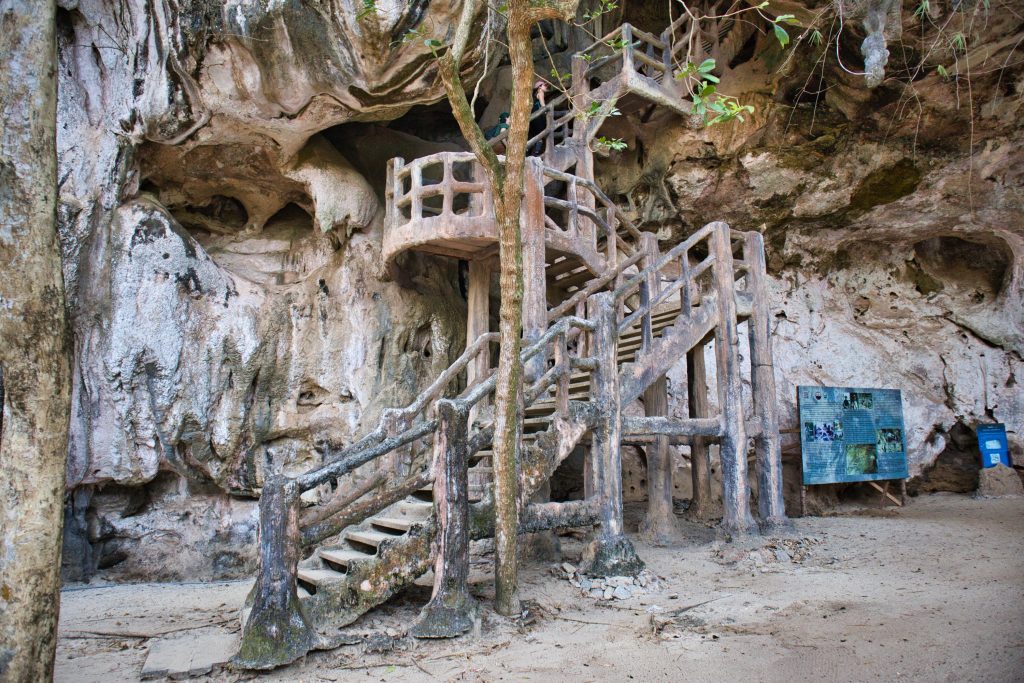 In the cave you can see displays of archeological artefacts that were once found in the area. Don't get too excited, though. They are all fake and they are there to illustrate what was once found.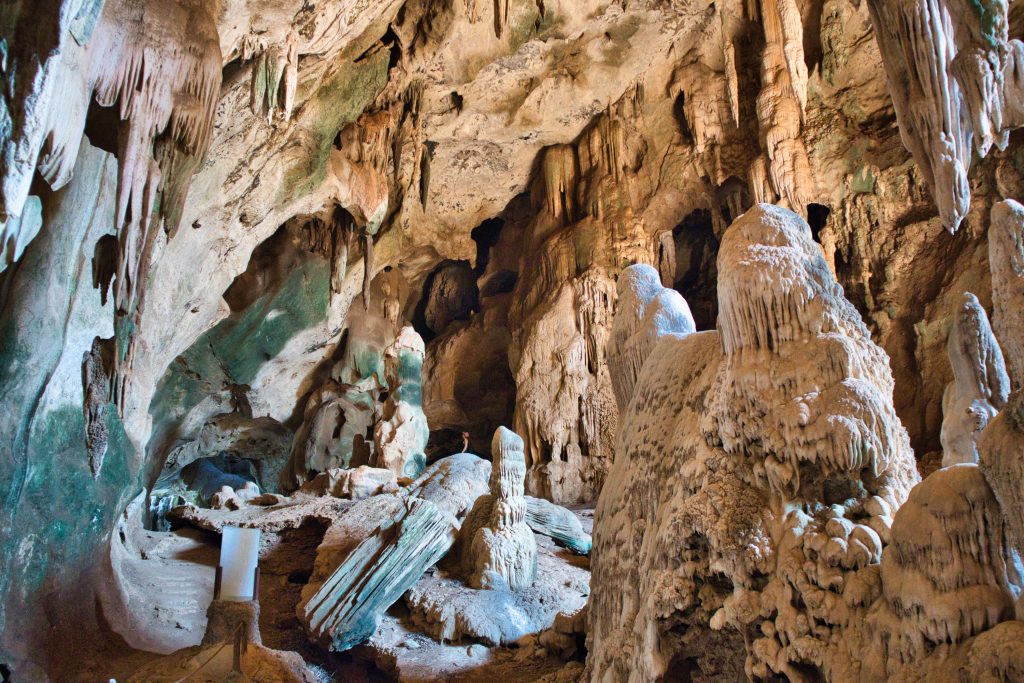 In one point you will see a giant skeleton. No, that's not a real human. These bones were placed there as a piece of art. They show the famous Thai legend of a giant fighting with a monster. When it was constructed there, the press published an article in a national newspaper claiming that it was real. Thai people got really excited and some were quite upset after finding out that it was all an art installation.
Outside the cave, watch out for the monkeys! They don't seem to be bothered by people, but if you start approaching them, you might get into trouble. They like to steal and if they get annoyed, they can bite you. Be careful. You don't want to end up in a hospital.
From there we sailed to the village. The more popular and more touristy entrance to the island leads through a mangrove forest. I really like these mysterious forests with light shining through the trees and reflecting in the water. I could sail like that for ages!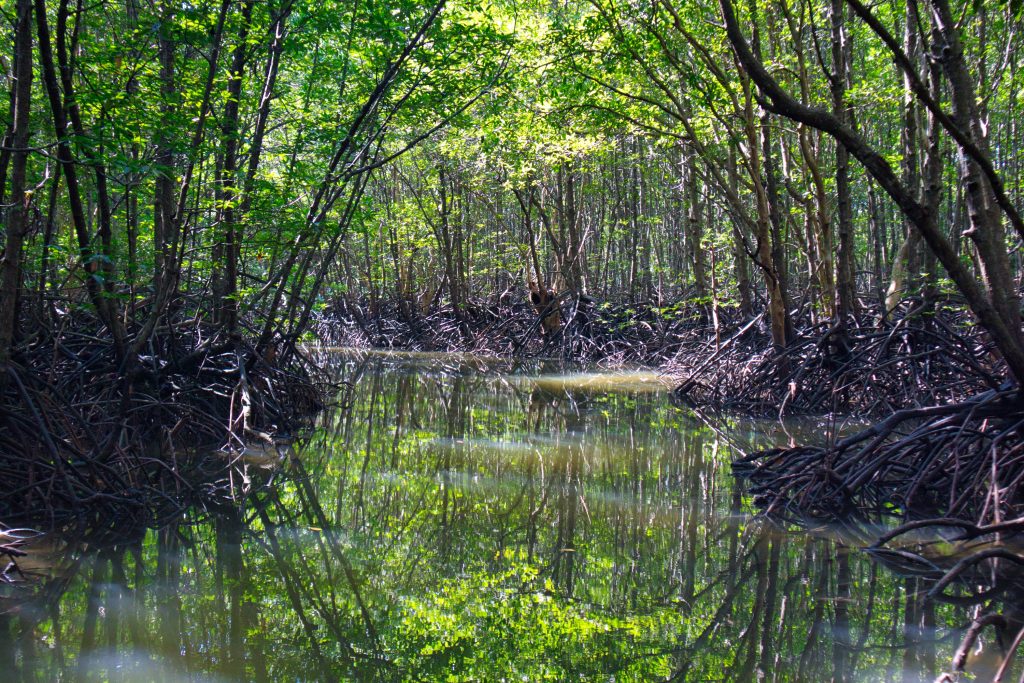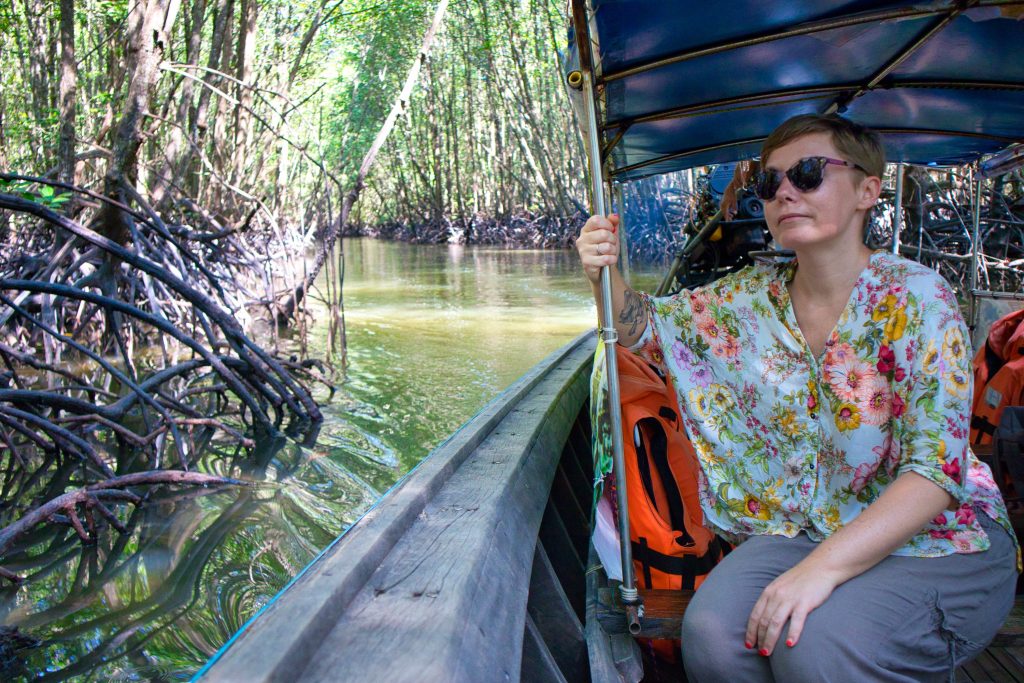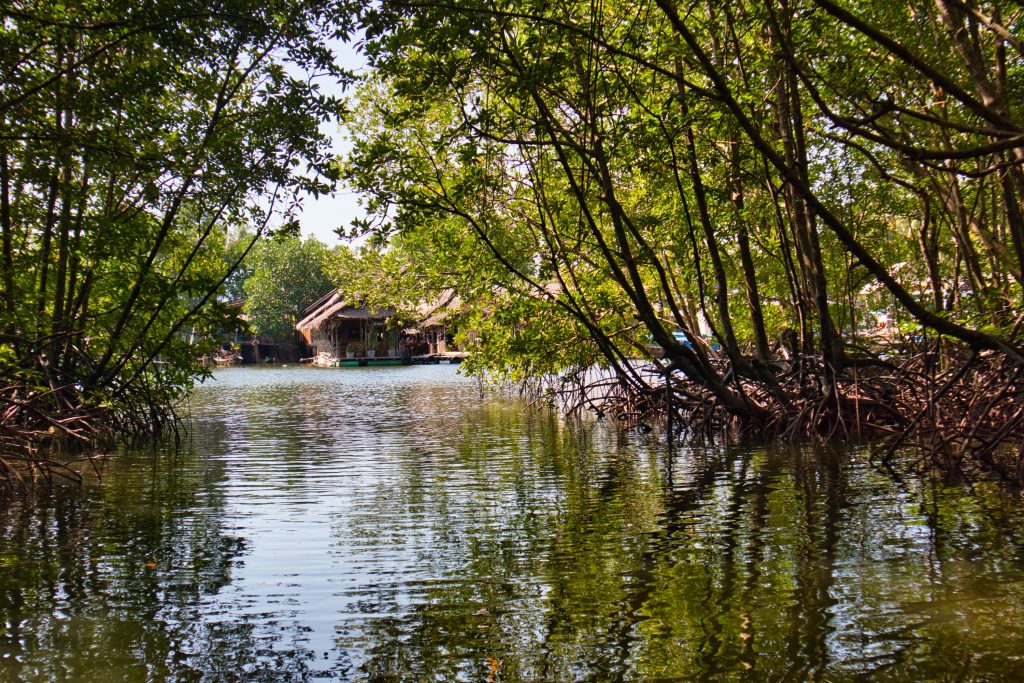 Apparently, the locals call the forest 'the time machine' as it leads from one world to another. It's true! You get from a very modern place, with lots of bars and tourists, to a quiet and tranquil village. Just at the shore there are some restaurants selling the freshest fish and seafood and further down you get to the streets of Koh Klang.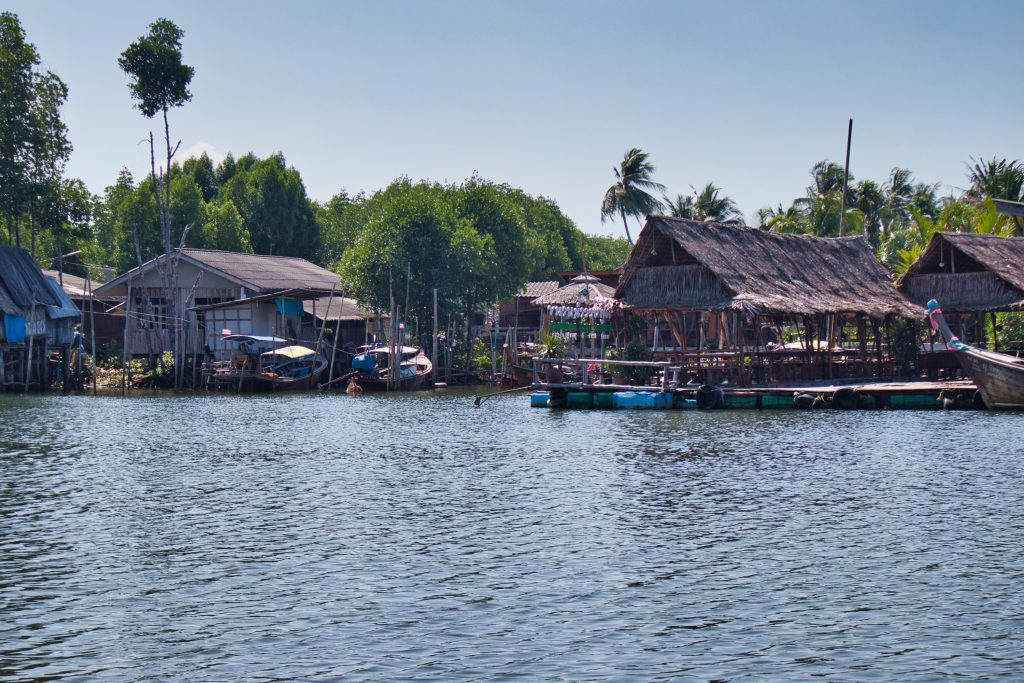 Mat put me in a taxi rickshaw and first we went to a homestay, where I was going to stay overnight. The owner, a very cheerful gentleman called Man, greeted me with a wide smile. He asked me to sit in his garden and we chatted for a while. We exchanged views on the local lifestyle and the island. He mentioned that later in the evening we would dinner together and he will prepare something really special for me. I couldn't wait!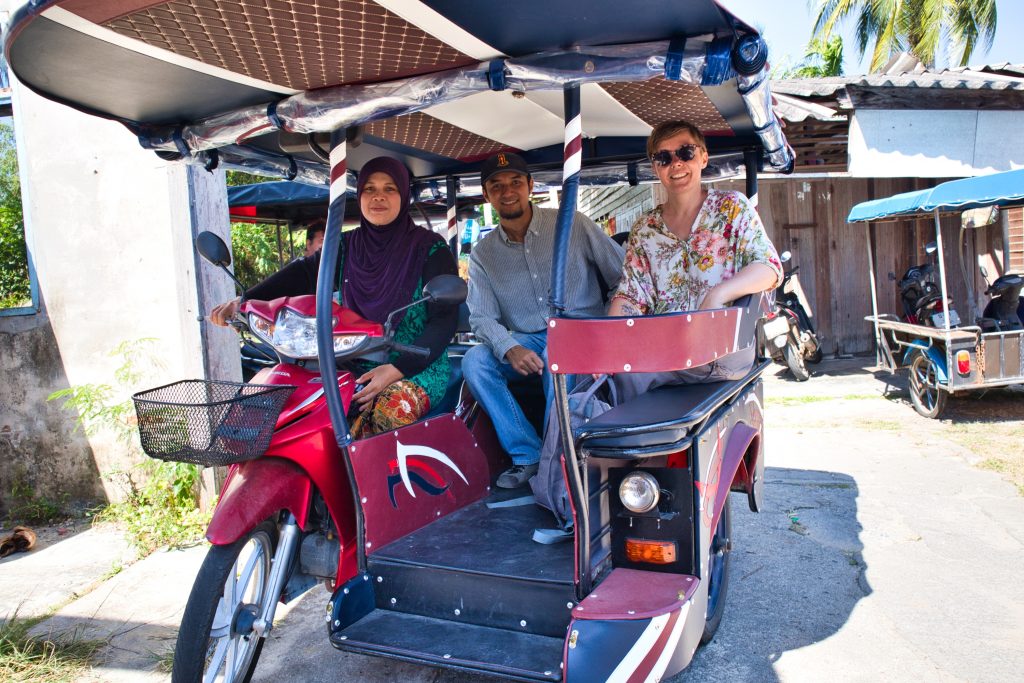 Man is an owner of the Nisarin Homestay on Koh Klang. It's extremely clean and the rooms are large and comfortable. There are no private bathrooms, but the shared ones are clean, too and of a good size. Man and his family organise lots of activities for their guests, including shopping at a local market and cooking dinner together. I highly recommend his place.
Before the excursion, we went for lunch to a local restaurant, located on the shores of the river. The main seating area is constructed so you actually float on the water. The menu was long, but the waiter spoke excellent English, so I could ask him for some recommendations. I fancied grilled fish, but it turned out that there was a 40 minute wait and as I didn't have enough time, I went for half fish cooked in garlic and the other half deep fried served with plum sauce.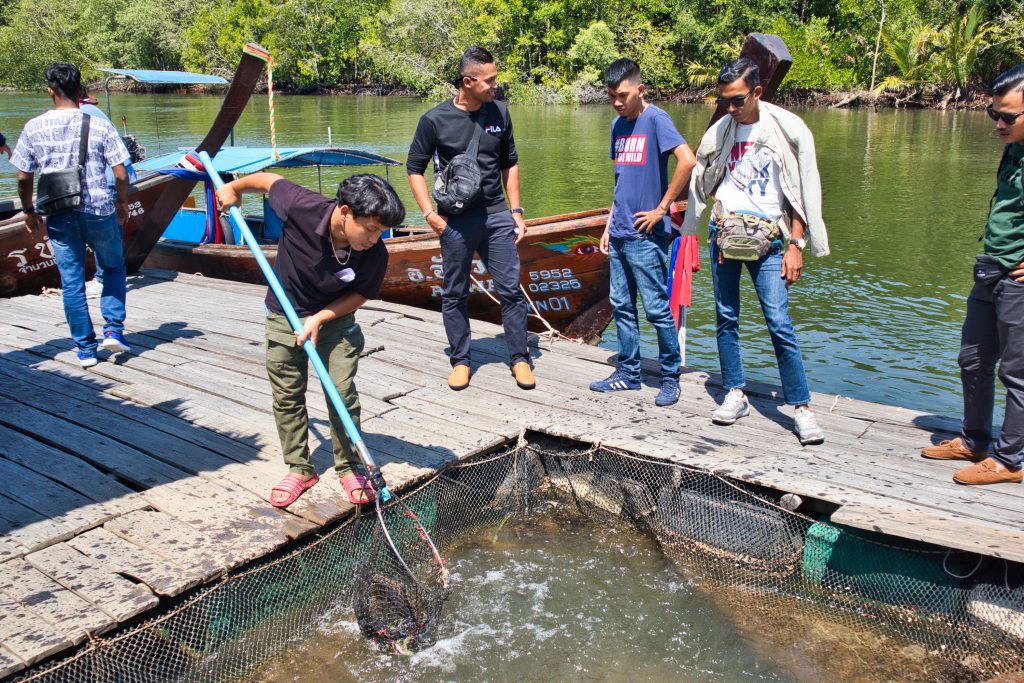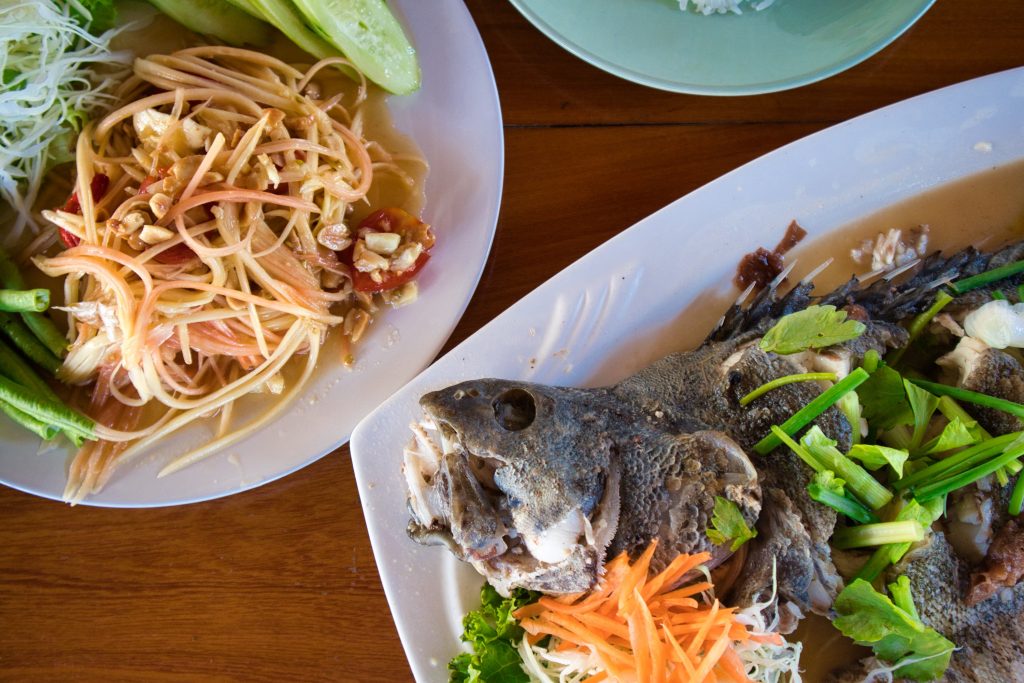 The fish comes from the restaurant's farm and it's fished out in front of you. For those that are more sensitive I wouldn't recommend this place. If you don't mind it, then I would say – visit one of the restaurants at the river. It doesn't matter which one. They all have the freshest produce and the food is excellent.
Once full, I went back to the rickshaw. First I was taken to the rice centre, where a family runs not only a rice farm, but also a workshop, where they fix boats. I could go into the sheds, see how they separate rice grains and what tools they use to fix boats.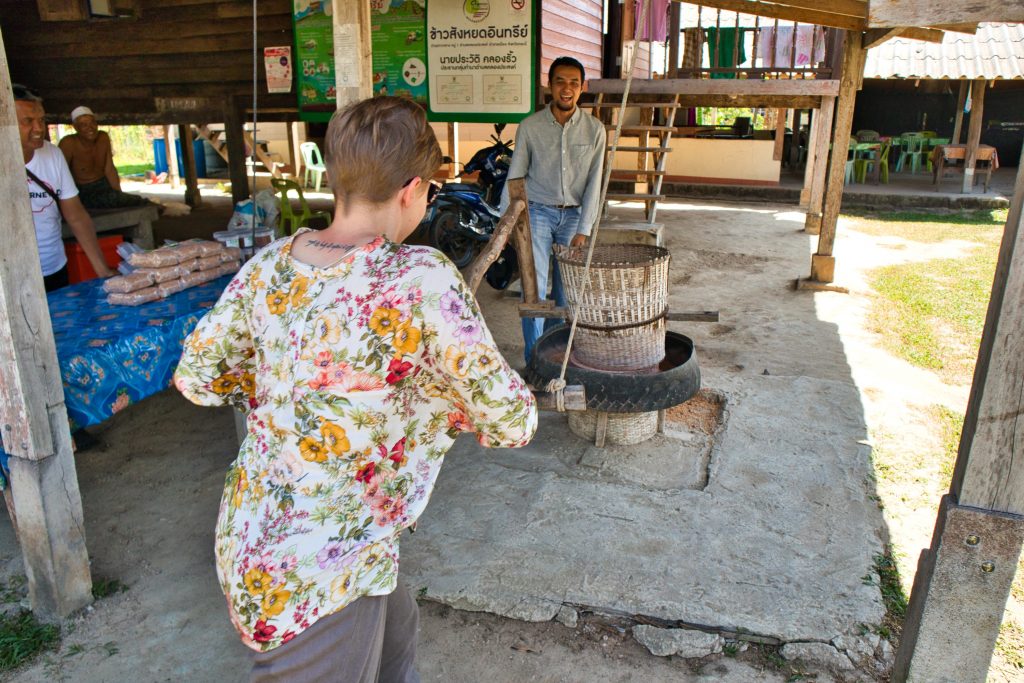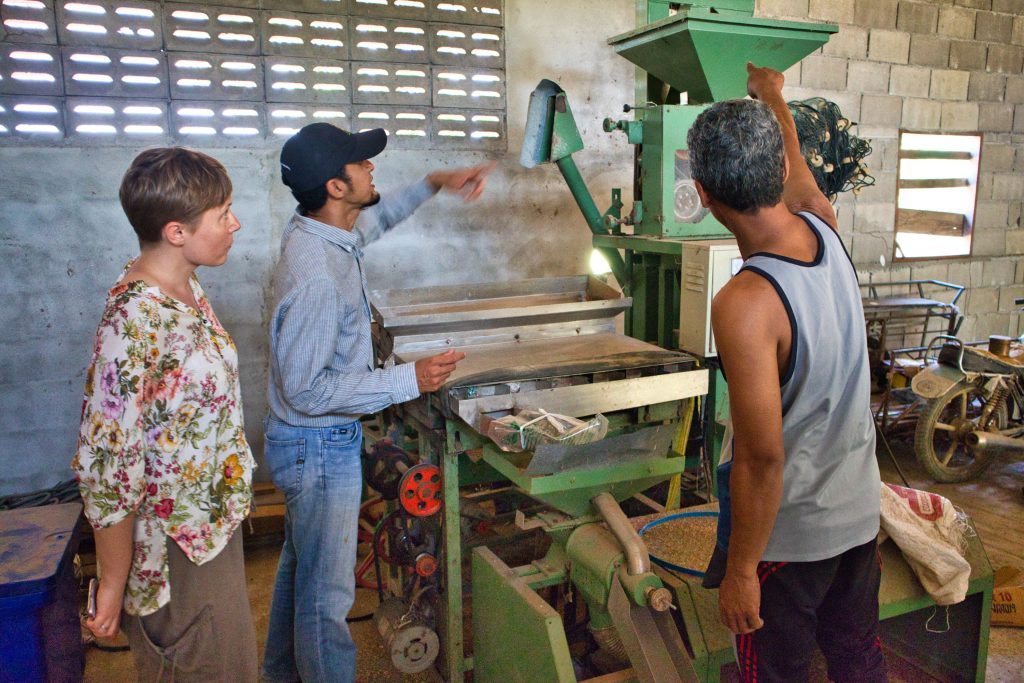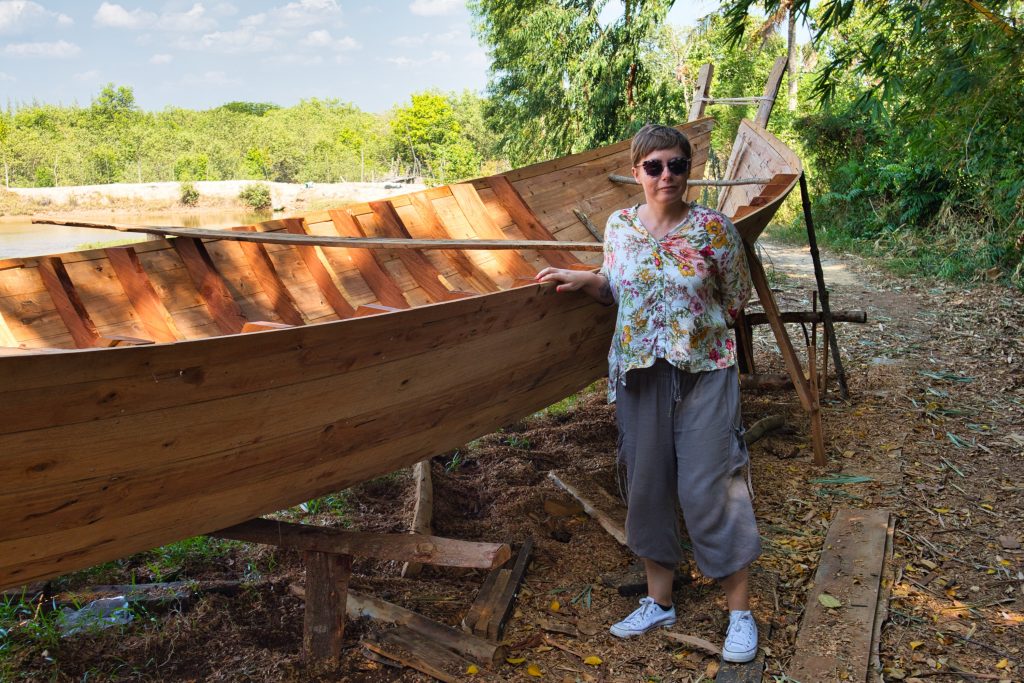 Just right next to the house we stopped to admire the green rice paddies. They look amazing in the sunny weather. However, a few things made me sad. One was that it hadn't rain for months, even during the rainy season, so the rice was slowly dying. The ladies there, who tried to save what was left of it, earned a bag of rice a day worth 300 Baht – and that was the second thing that was really depressing. The fact that they smiled and joked and even invited me to join them at work didn't change the uneasy feeling and an impression of unfairness. Throughout the trip I was thinking of them….I still am. We Europeans really don't appreciate what we have.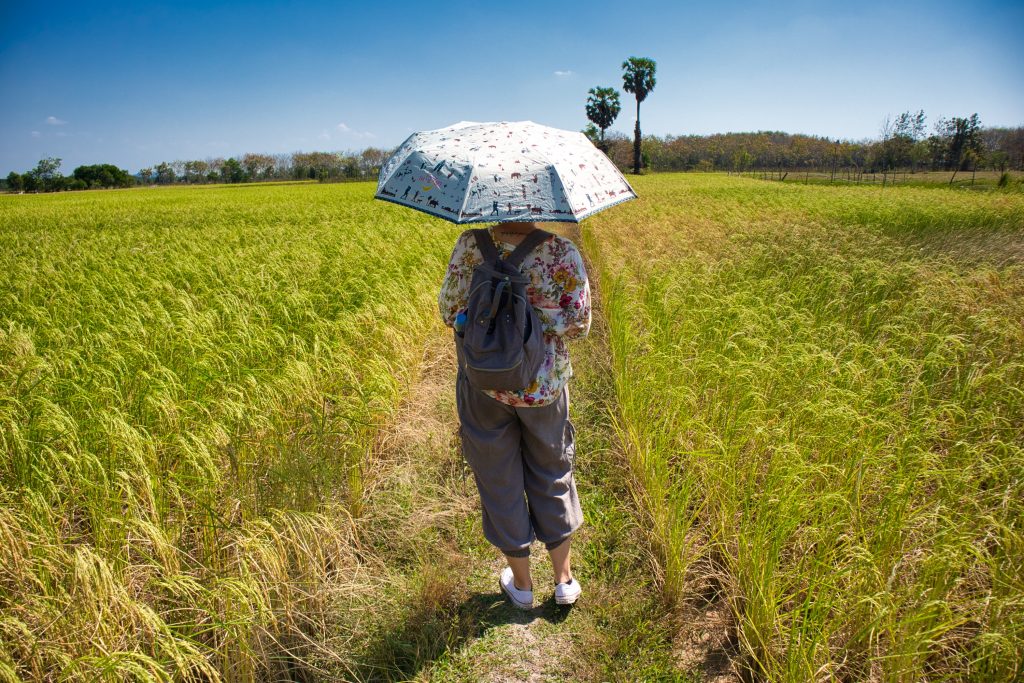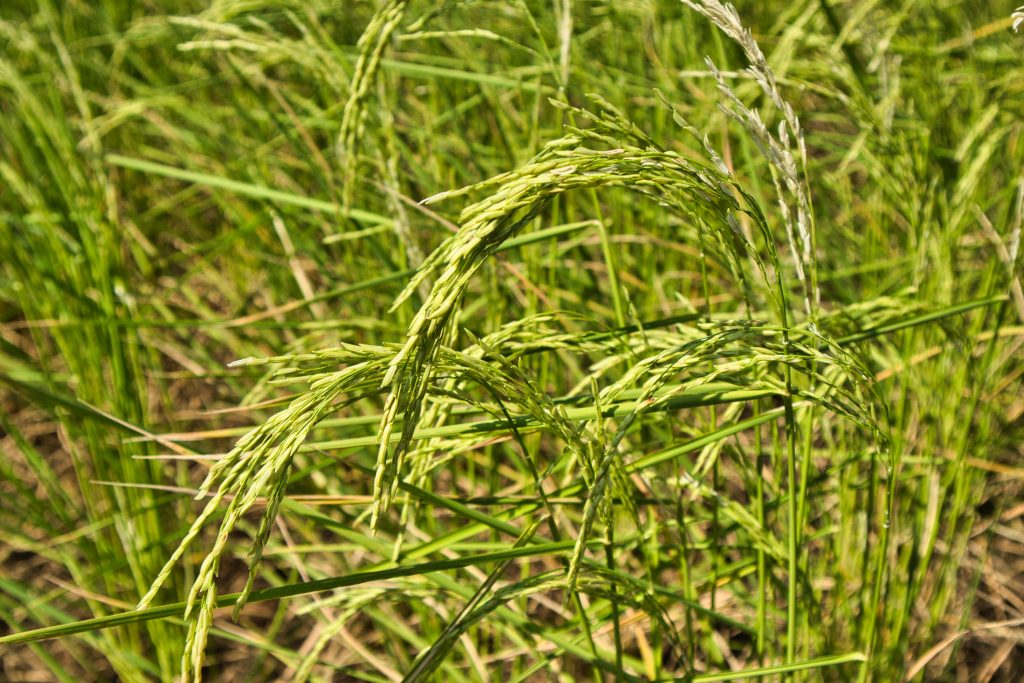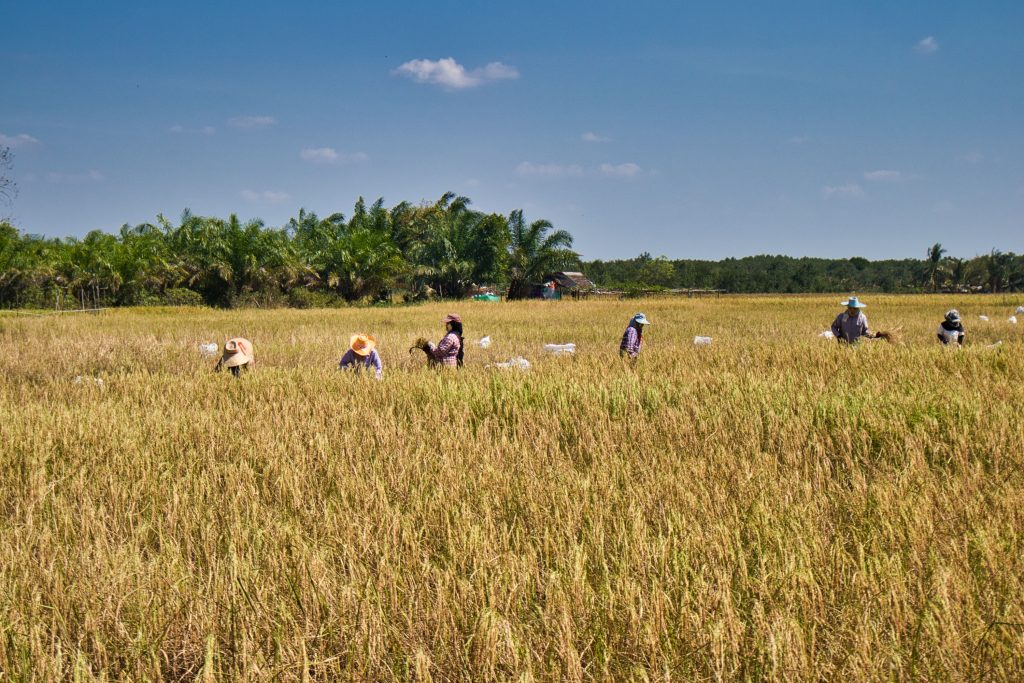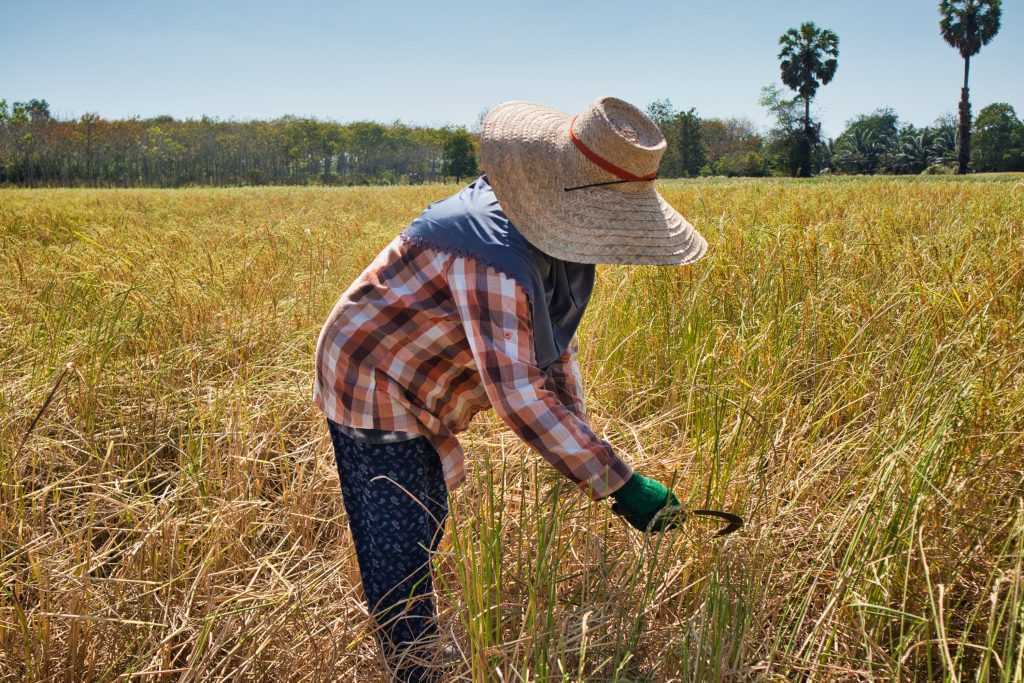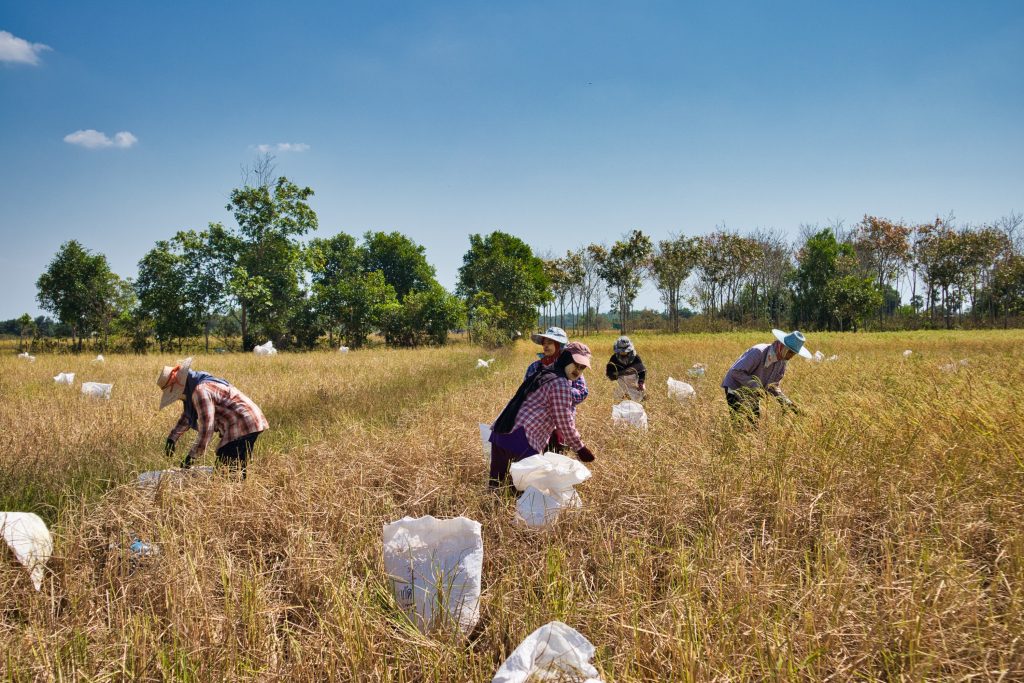 That day, similarly to the trip in Promlok, I was going to do something creative. Some of the people on the island make handicrafts and Thai dye is something it is famous for. Even AirAsia orders some merchandise from the locals here!
So, we went to one of the homes by the side of the road and the ladies there showed me how to make Thai dye clothes. I wasn't very good…In fact, I was rubbish and most of the things were made for me. I still had fun though and enjoyed interacting with the locals. You will also be pleased to know that all the dye there is made locally from plants and spices. Due to lack of chemicals, the colours usually fade a little, but it's still such a great souvenir for you, or someone at home.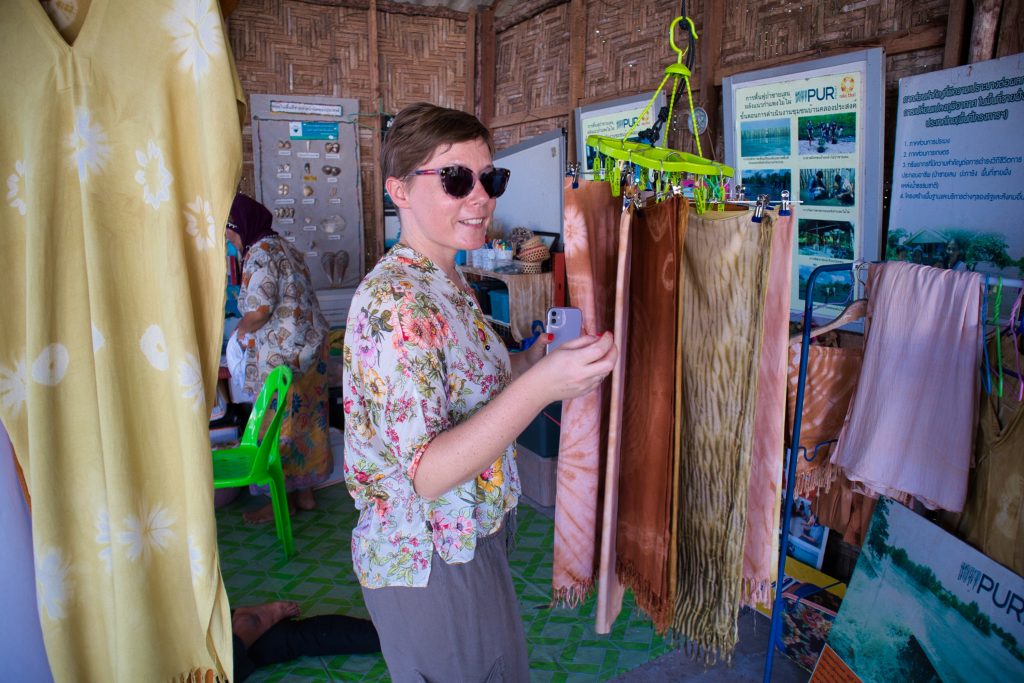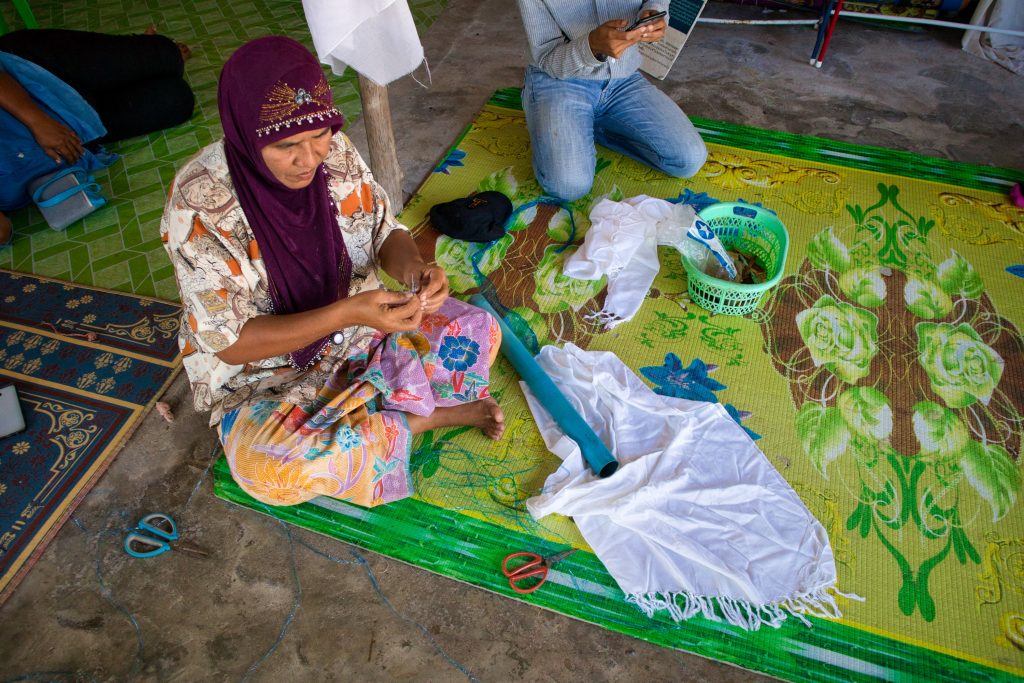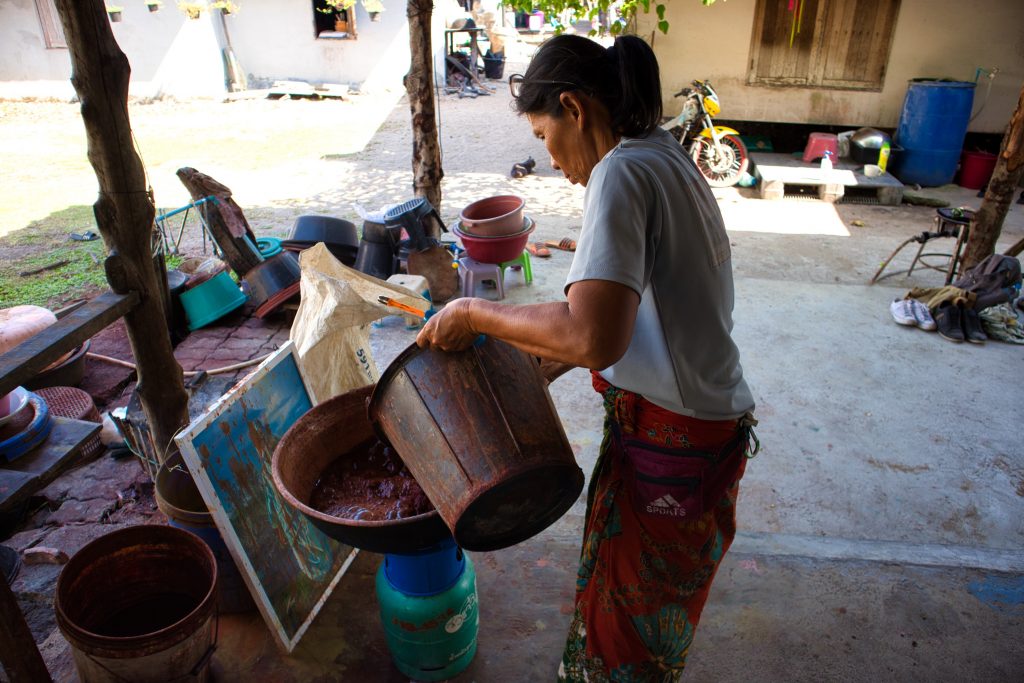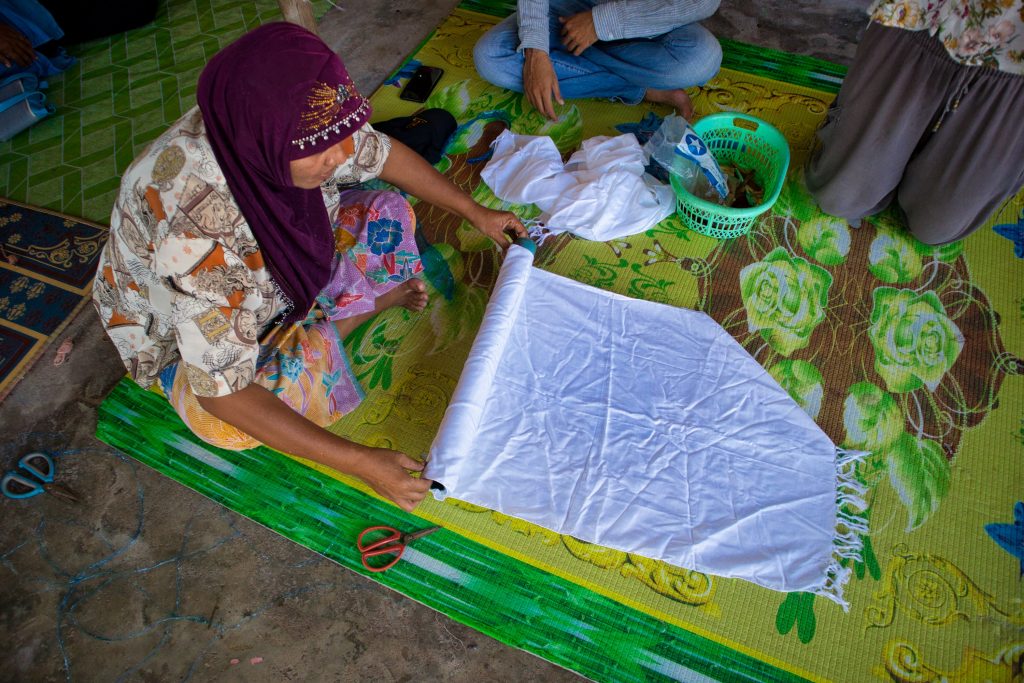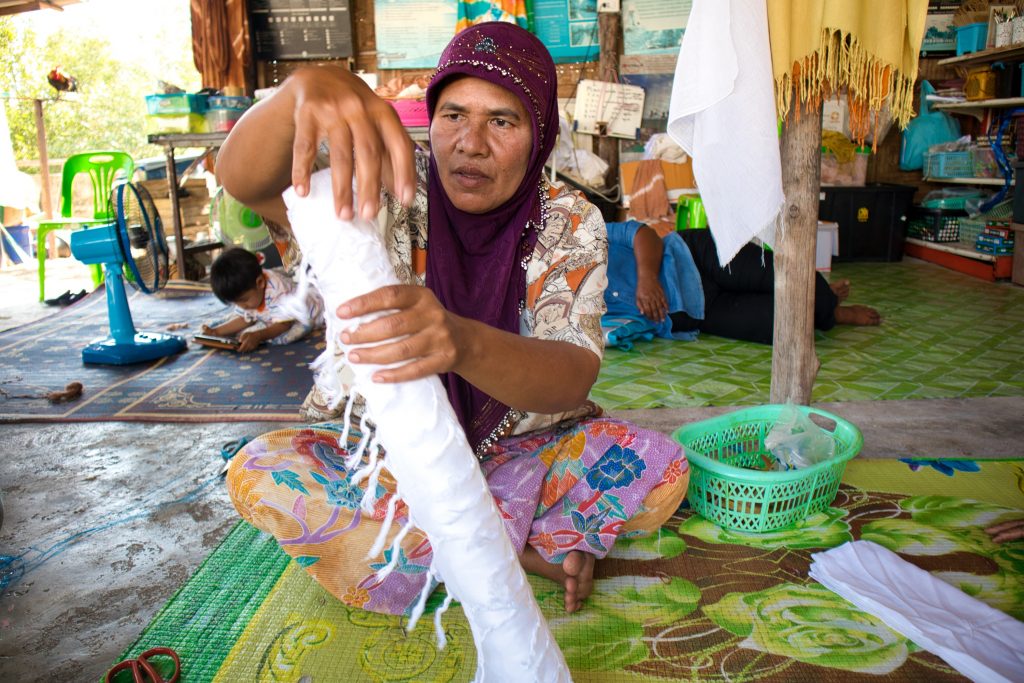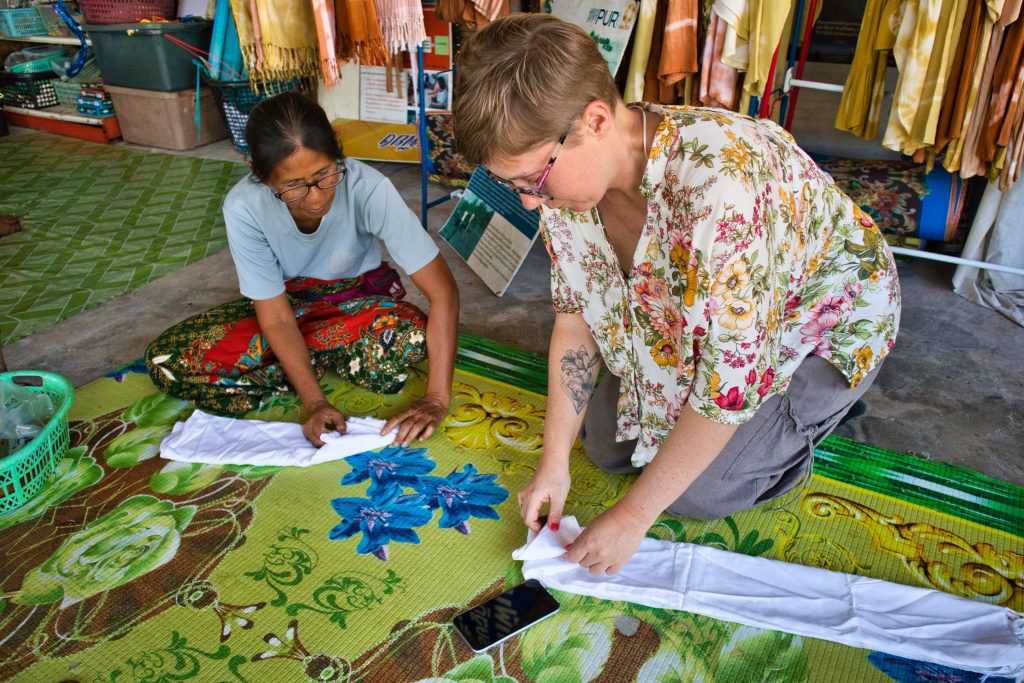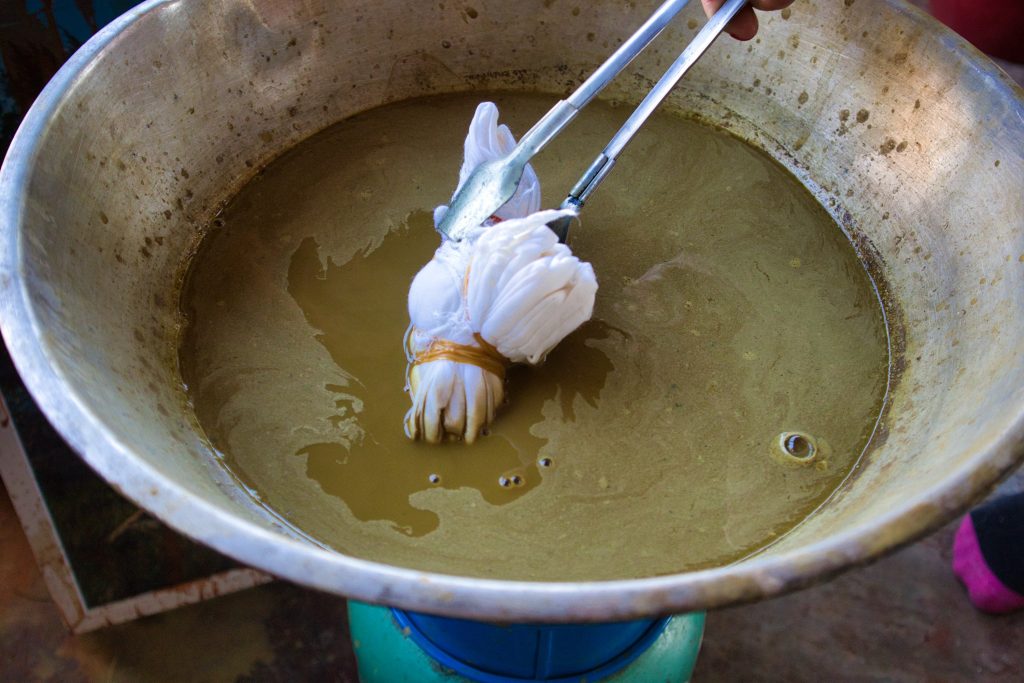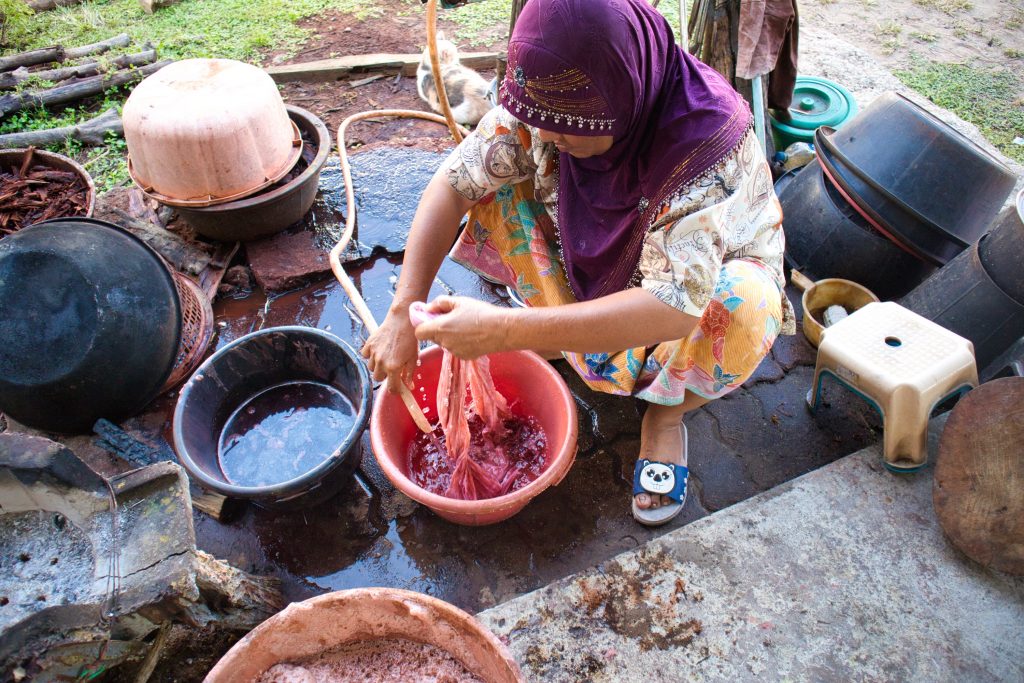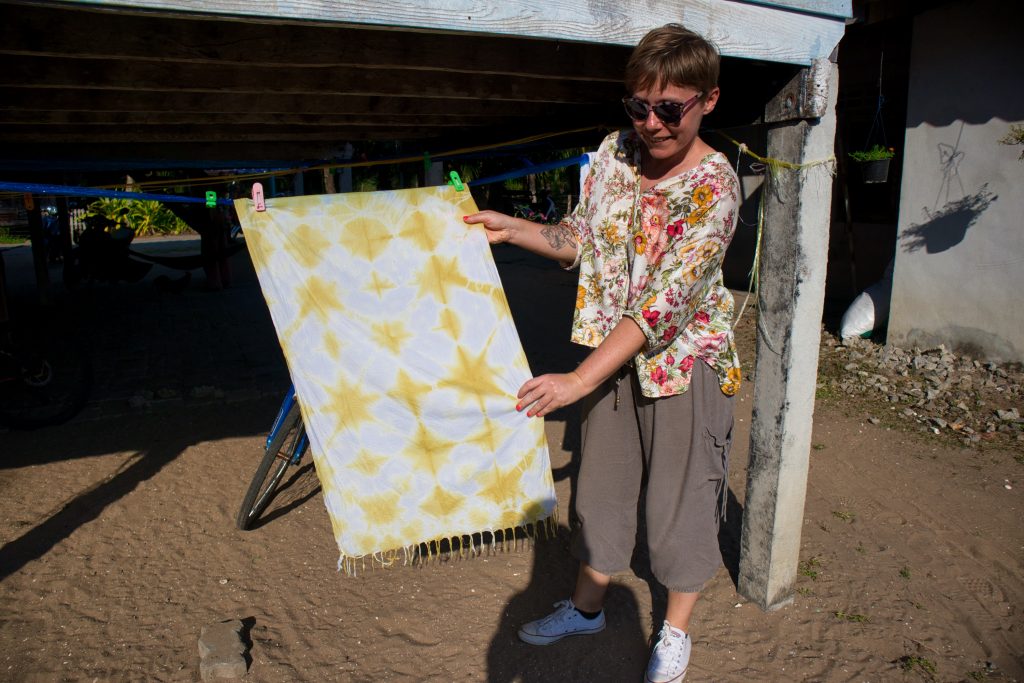 The rest of the day I spent riding around in the rickshaw, visiting farms, workshops and little shops. I wasn't forced or encouraged to buy something (although I did buy myself a pair of earrings made out of a coconut) and I never felt that I had to participate in some activities I didn't find interesting.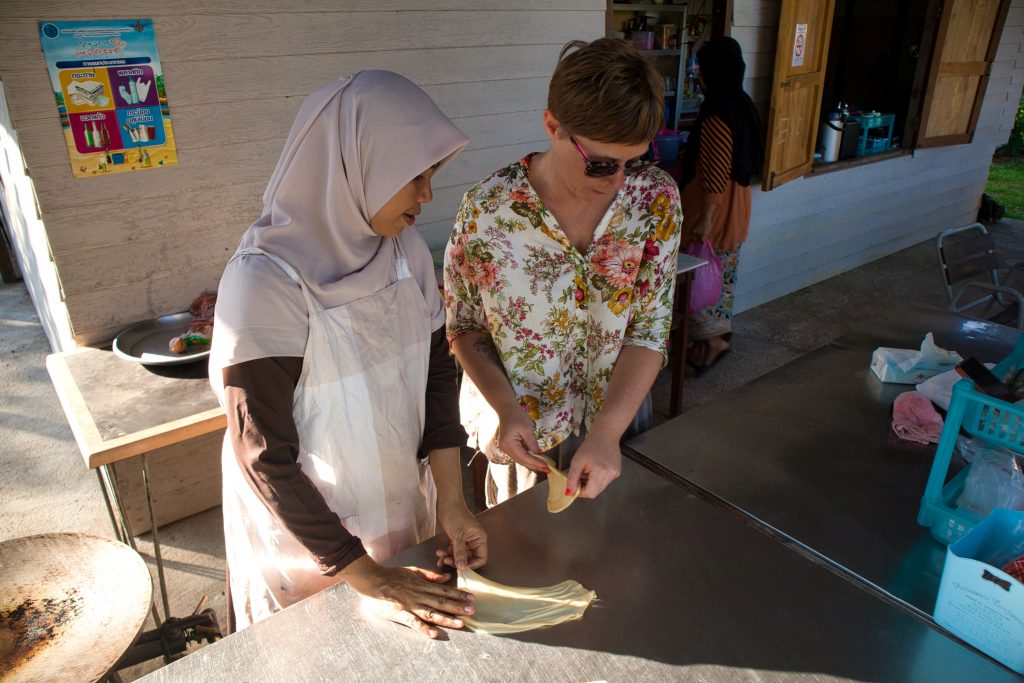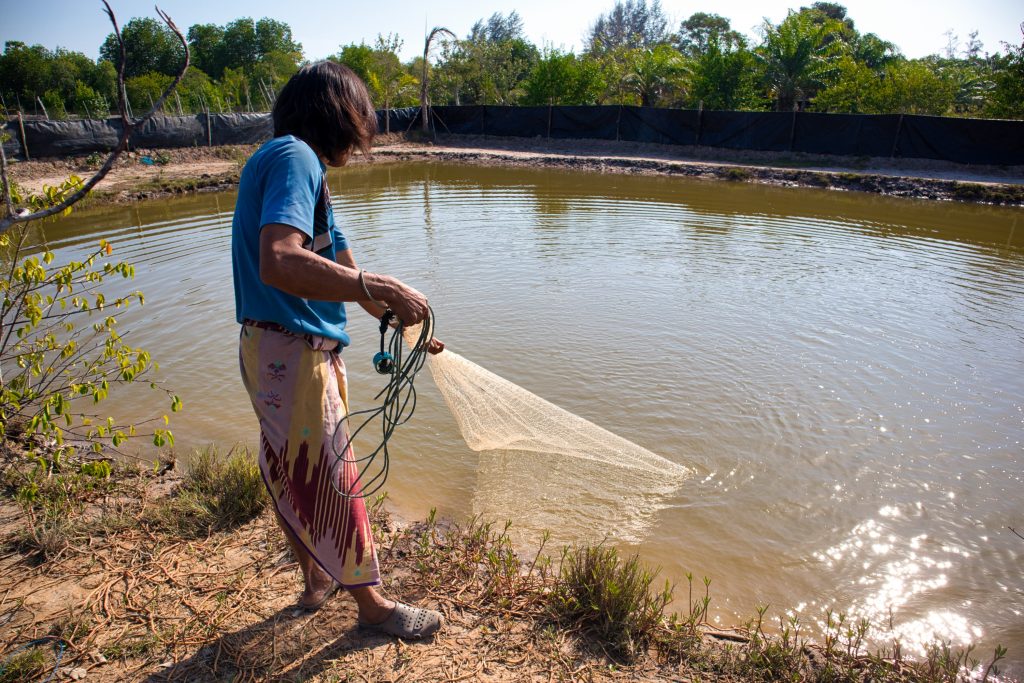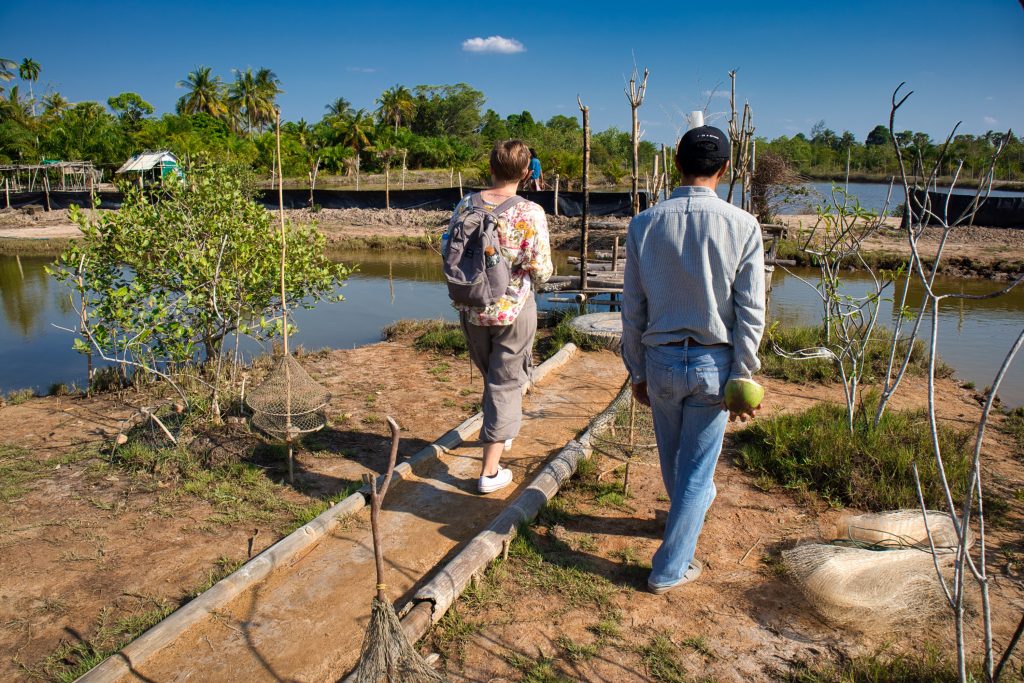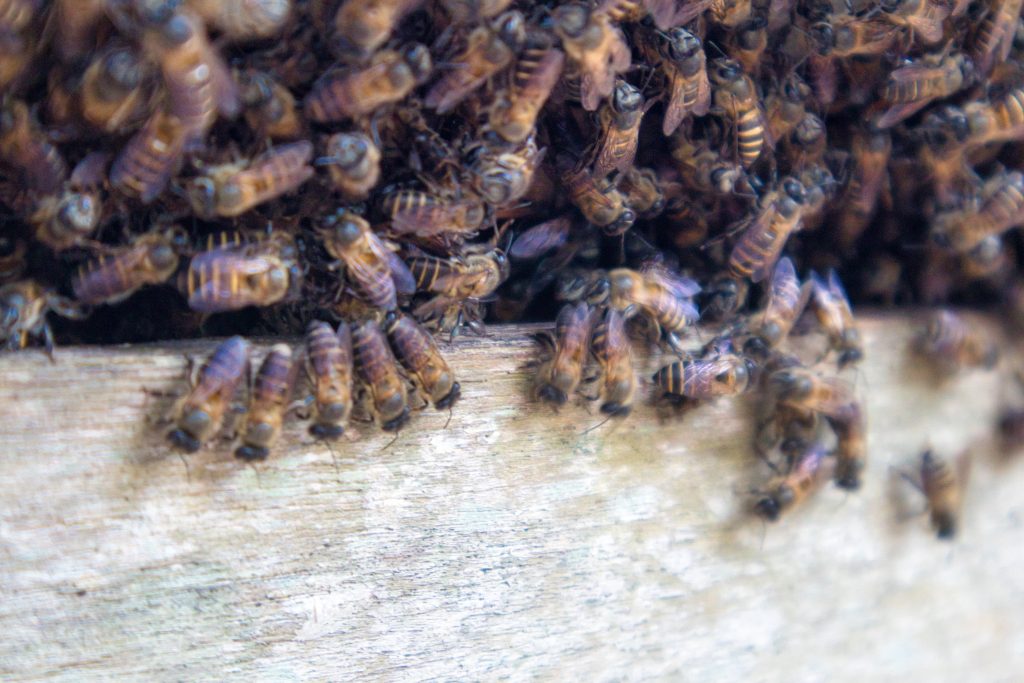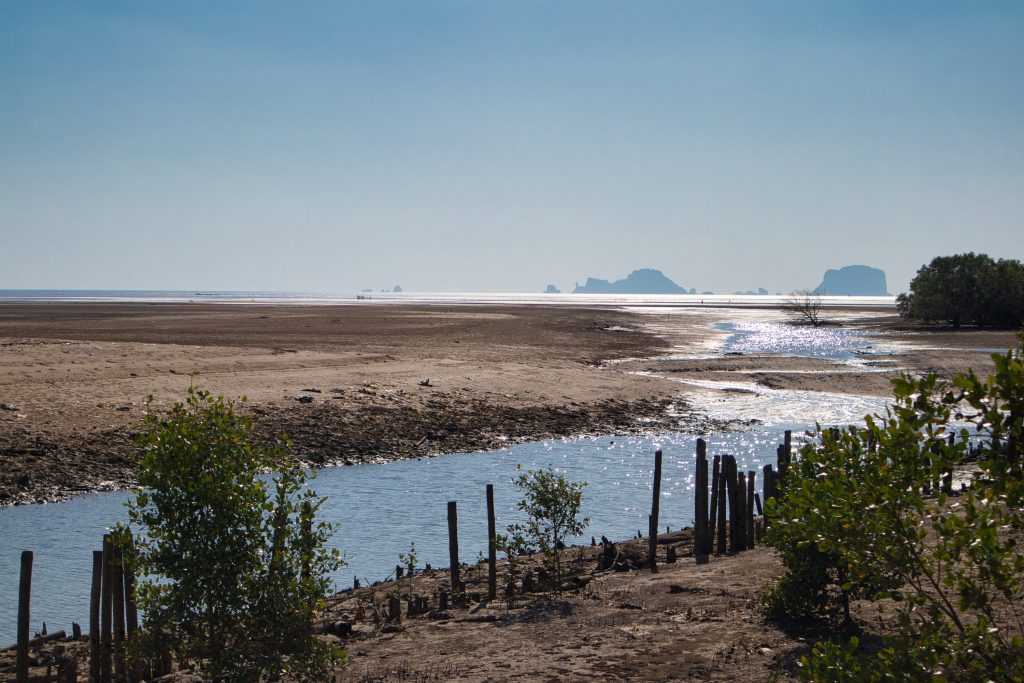 Mat was a very patient guide and he explained everything with his fluent English. We found out more about his heritage – he is Thai, but has Malaysian grandparents – and about his culture. He stressed all the time how important it was for the locals to preserve their way of life. They didn't want mass tourism on the island, nor loud bars and souvenir stalls. Everyone there wants what they've had so far and if they can earn extra money from the incoming tourist, then that's a bonus.
It's worth to mention here that Koh Klang is a community of people trying to keep their identity. Therefore, alcohol and pork products are prohibited as well as skimpy clothes revealing knees and arms – and that also refers to men!
When I came back to the homestay, I had an hour to rest and just before the sunset I was treated with a real Thai dinner. I ate with the other guests – a lovely French couple – and with the hosts. We sat on bamboo matts and shared lots of small dishes. None of them, however, were traditional. Mostly there were fish in all kinds of shape and form, seafood salads and lots of fresh vegetables. After that we had sweet bananas and tea made out of herbs grown in the Man's garden.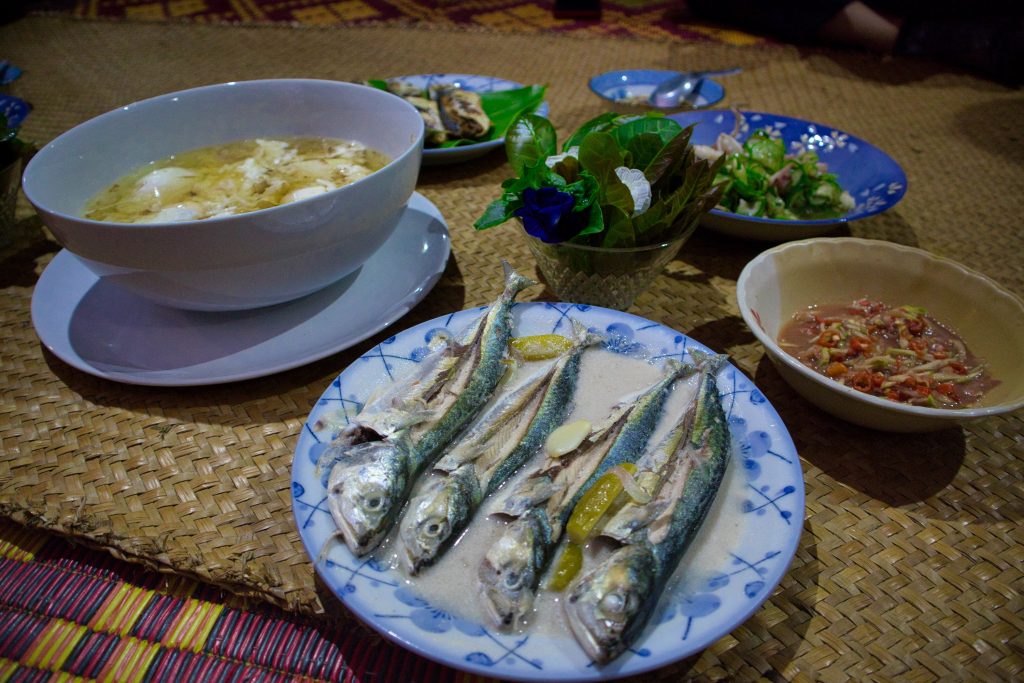 Day 2 on Koh Klang
The breakfast was also a beautiful affair. This time it waited for us on a table, in the back yard. Everything was so beautifully prepared and decorated, it was a shame to eat it!
Again, the snacks and dishes served weren't very traditional. They all looked and tasted completely different. I don't know any of their names, or how they were made, but I can tell you that they were all slightly sweet and very fulfilling.
After breakfast I was picked up by Matt and we set off to see some of the local houses. He took me to his favourite one – all made out of wood with bird cages hanging around the veranda and children observing us from the windows with interest. Mat said that it was na authentic Thai style house and he would love to paint it one day.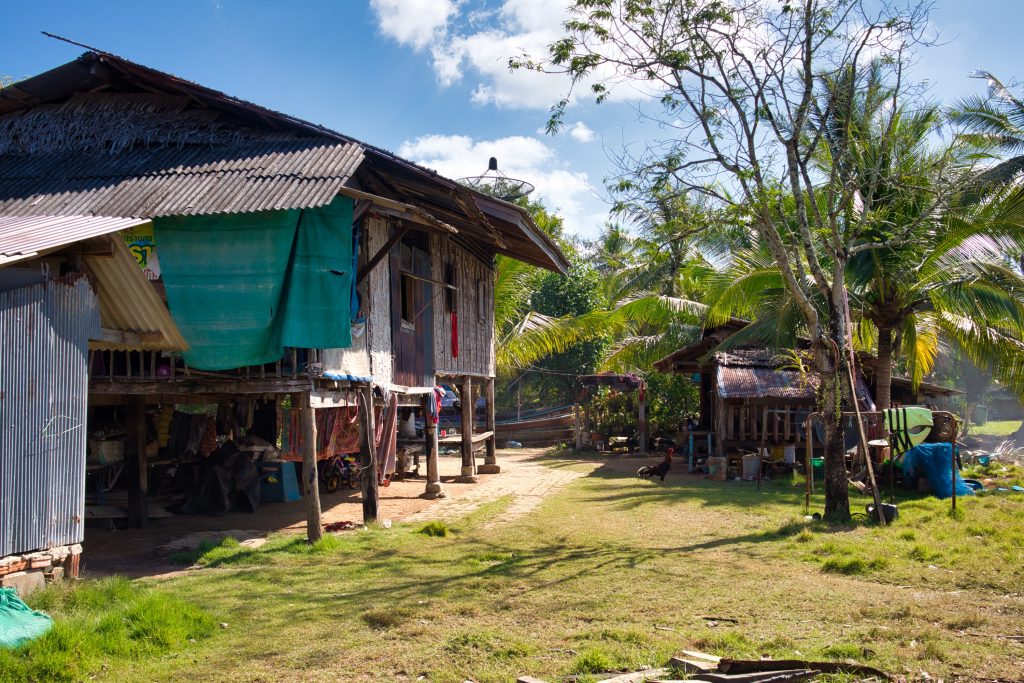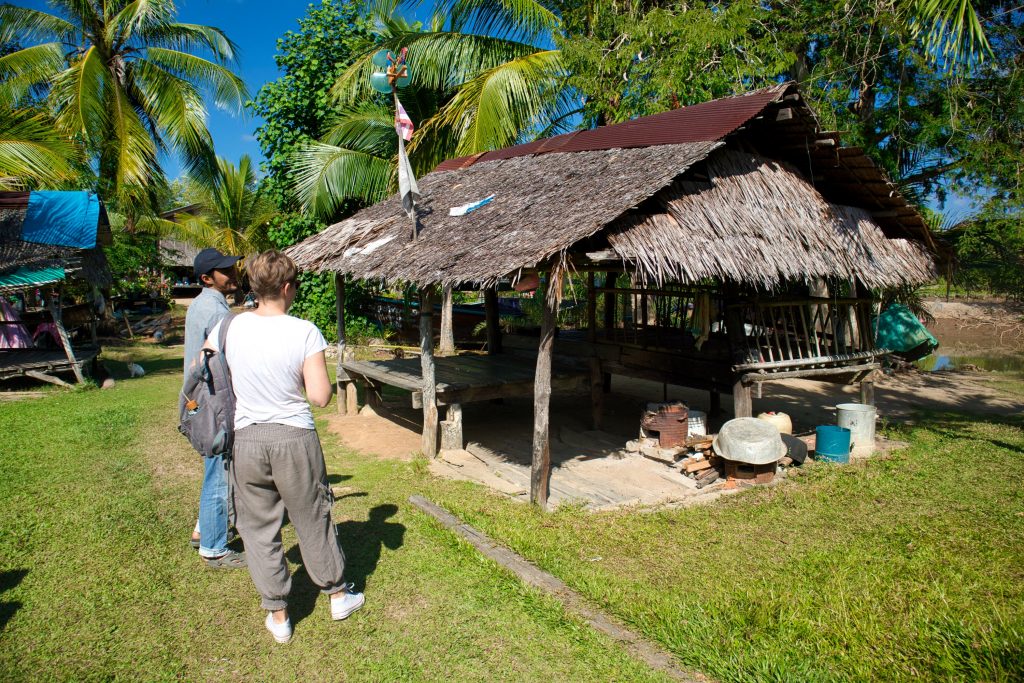 And speaking of painting – Mat is very talented. He had studied architecture and now he has his homestay on Koh Klang. Along with his lovely wife, Muna, he rents rooms to tourists and organises lots of activities for them. One of the things you can do at his home, except totally relaxing, is painting your own postcard with natural colours.
He collects flowers, spices and coffee beans to make beautiful paints. He also provides nice paper and with his help you can create your own postcard. I tried to paint a beach with a boat….Well, it turned out quite rubbish, but I thought the painting process was lovely.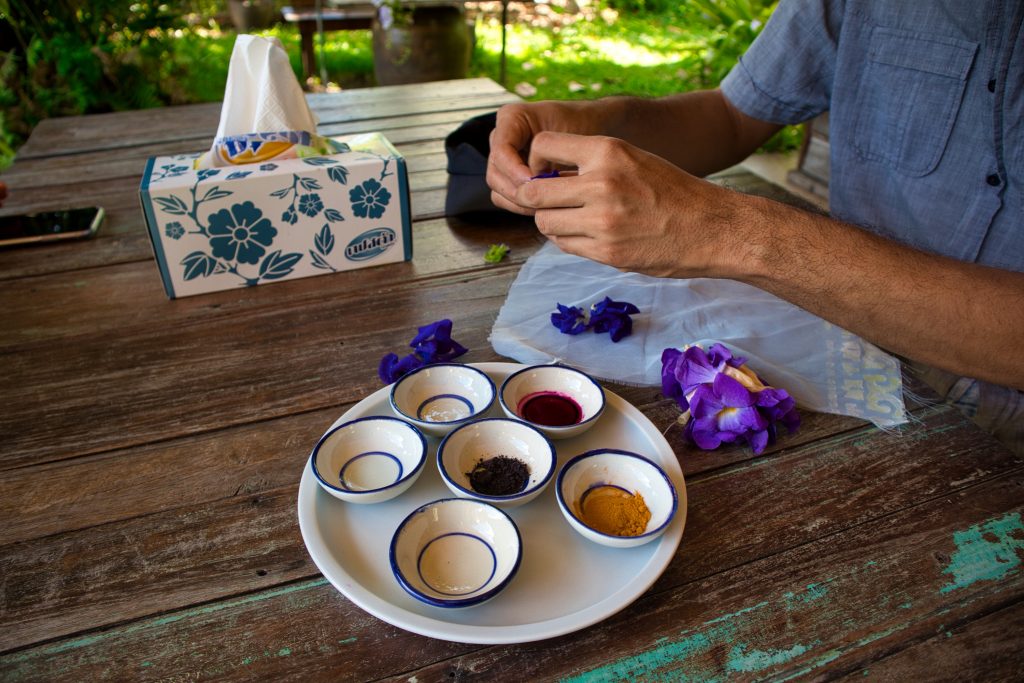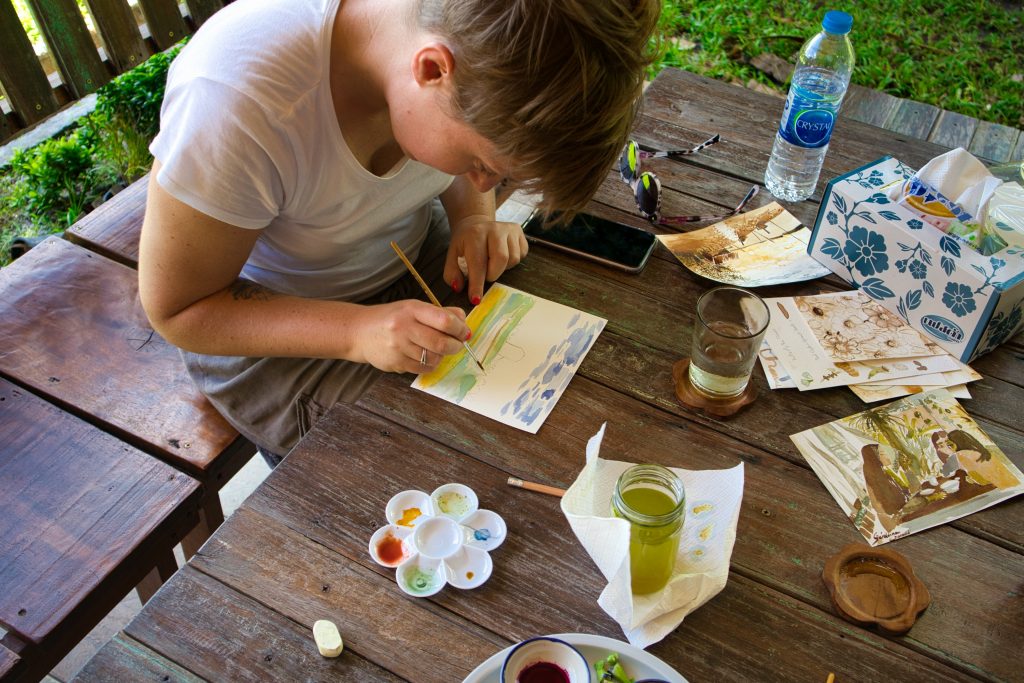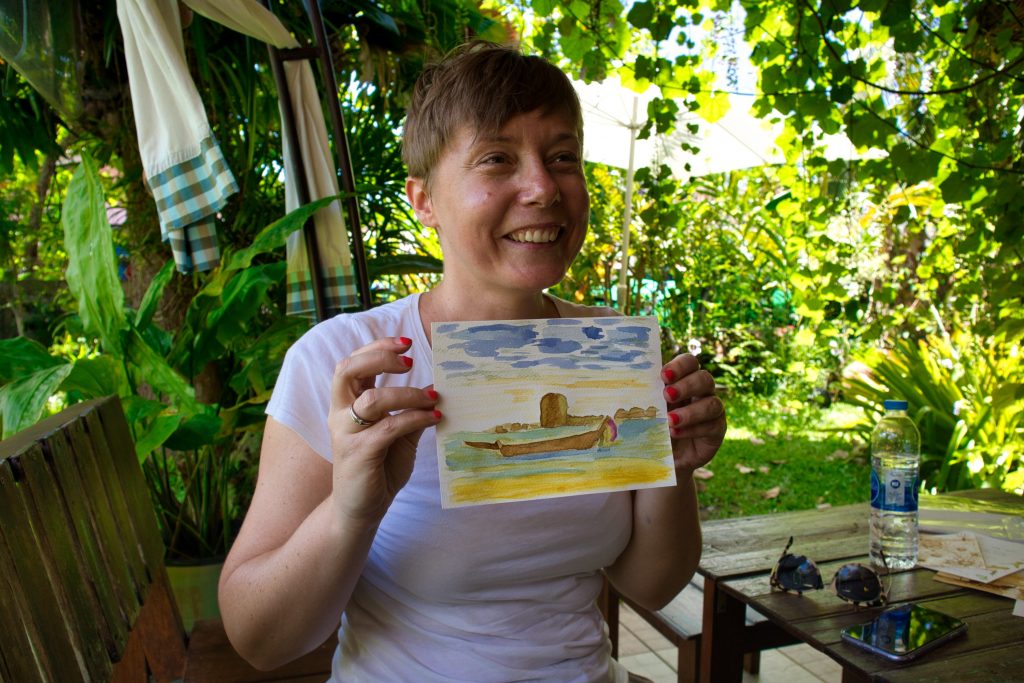 Mat's wife prepared an amazing lunch – kao soi and spaghetti with green curry. After that I was treated to a home made lemonade. Wow! I couldn't be more happy!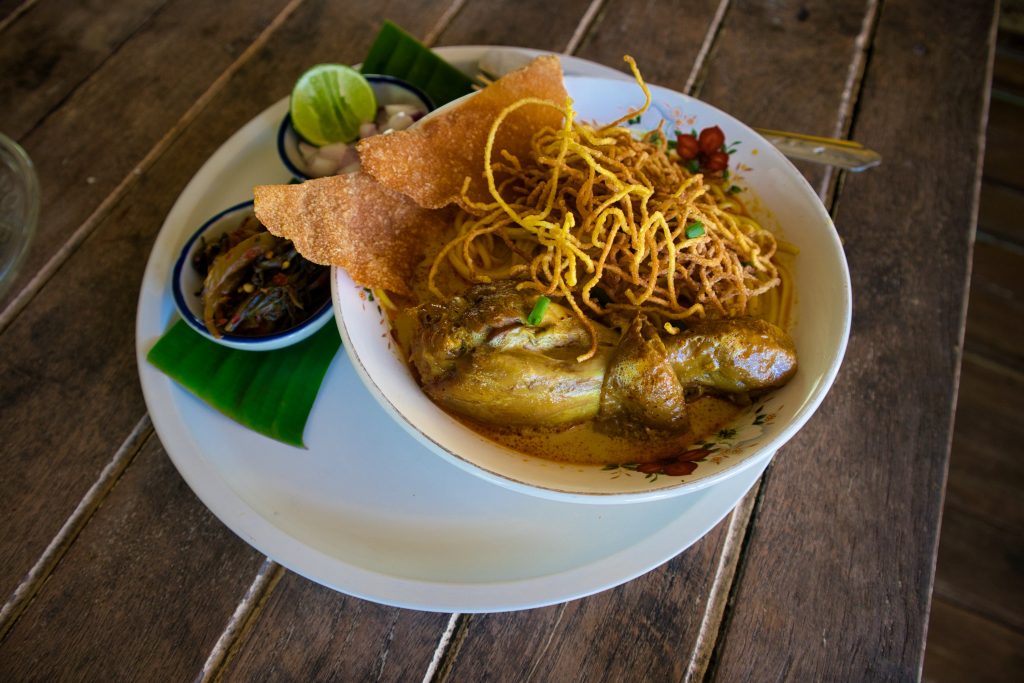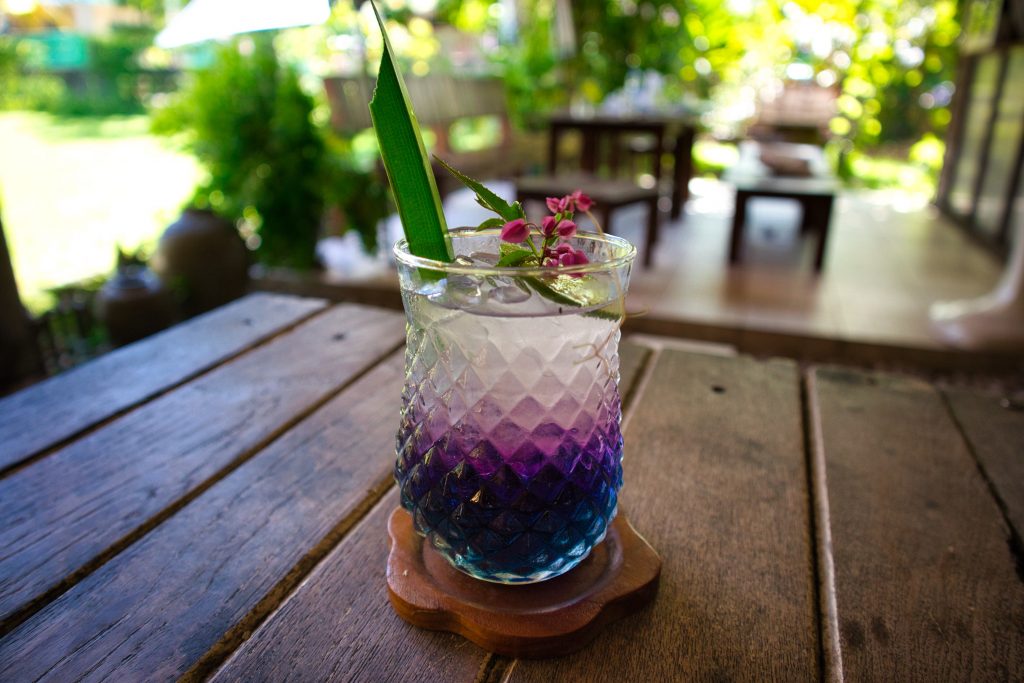 It was very sad to leave the island and Mat and Muna. I felt like it was an amazing experience, one that I will never forget. I really need to go back there some other time!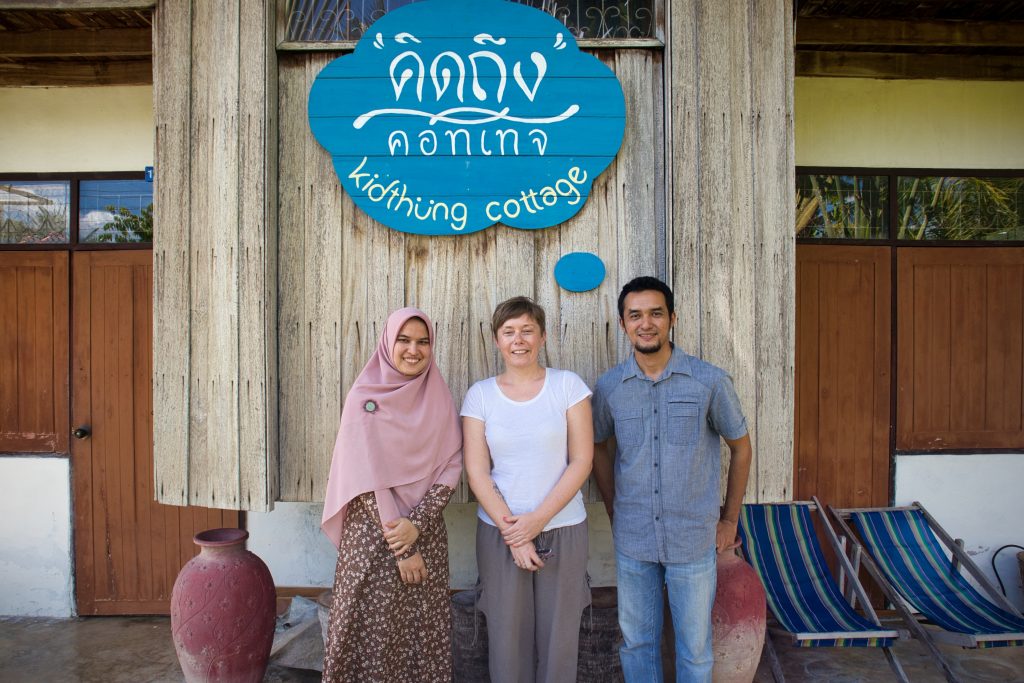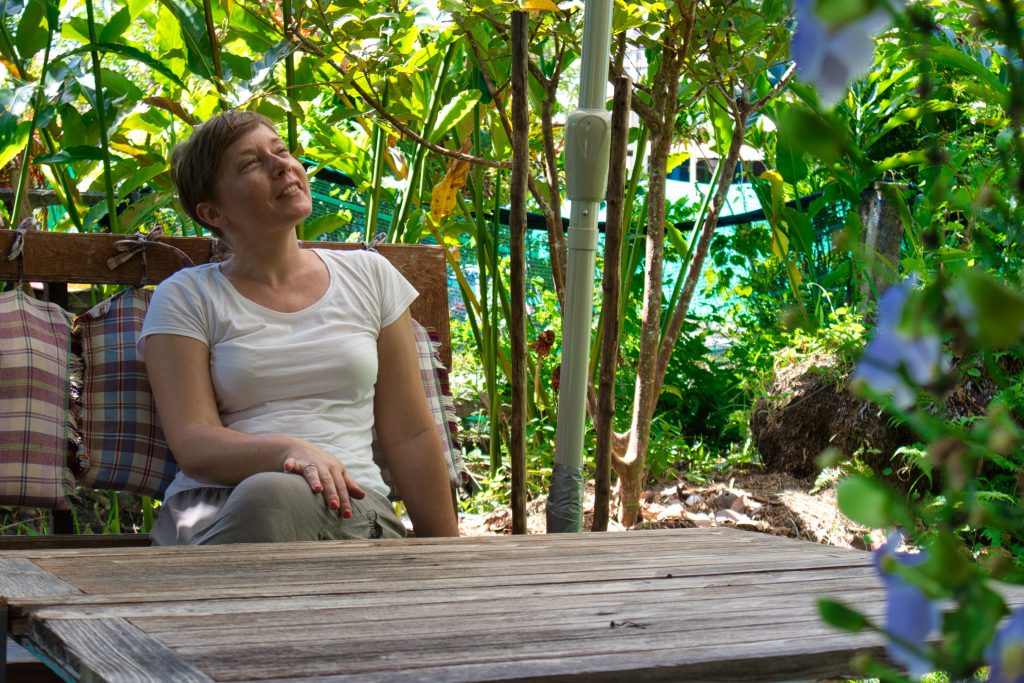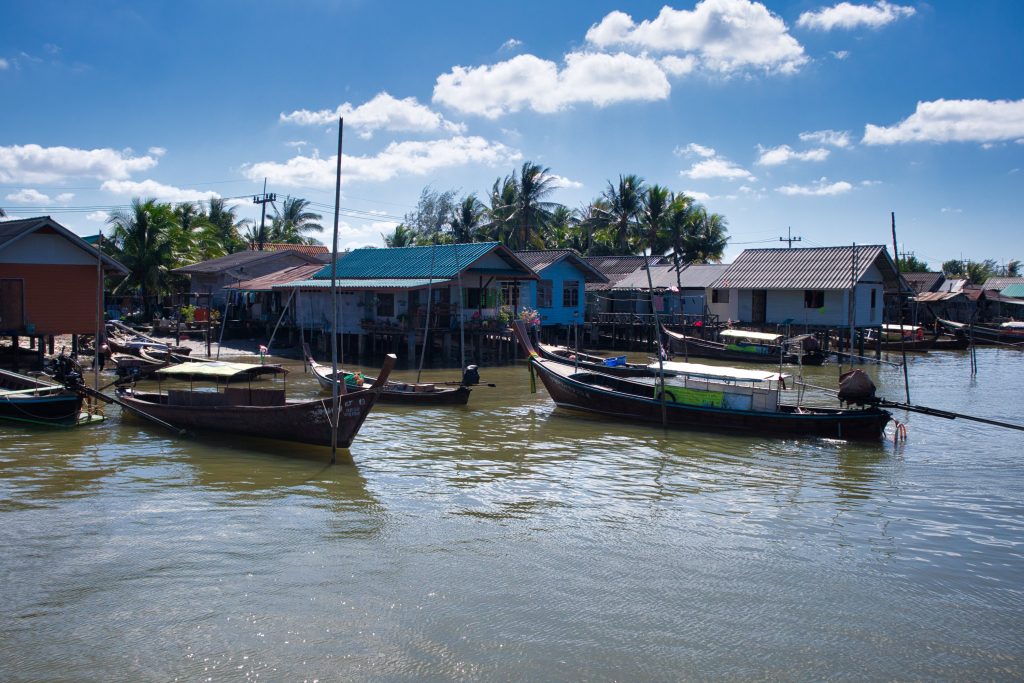 Stay on Koh Klang – Transport, food, accommodation
You can easily get from Krabi Town to Koh Klang. The transport is included in the Journey D trip. The guide will pick you up and then arrange a boat for you. If you want to do it yourself, the trip there costs 10 Baht.
There is a plenty of accommodation on the island. I recommend two homestays: Nisarin and Kid Thung. If you are going with Journey D, you will stay in one of them and the booking is arranged for you.
People on the island don't eat typical Thai dishes you might know from other places. They love fish and here, it's the freshest in the region. If you want to eat seafood and fish, go to the restaurant at the pier. Your homestay owners will also cook for you. If you're going with Journey D, you will have your food provided – lunch, dinner and breakfast the next day.
How to book your stay?
You can book your trip through Journey D site. There are additional things you can add to your trip or take them off. The tours can be costumed to your interests and needs.
Additional information
Remember that these trips are slightly different. You are someone's guest. Please be considerate. I would encourage you to ask questions, be friendly and treat your guide as a friend, be curious and opened to the new culture and you'll have the most amazing time!
Do you have any questions? Would you like to share your experiences or your point of view? Don't be shy! Leave a comment!