In November 2015 the Thai government introduced new, 6-month multiple entry visas to Thailand. For some it was great news, for others it was the end of a long-term stay in the Thailand. However, more and more people noticed that it was a great opportunity for a legal stay in the Land of Smiles. I have decided to describe the rules for you and help you to figure out if this visa is a good option for you.
Before we start, I'd like to emphasise that each embassy can have different requirements when it comes to documents they will want you to submit. In this post I will tell you about my experience with the embassy in Warsaw. If you live in a different country, please call your embassy first before going there and applying.
The advantages of the multiple entry visa to Thailand
The new multiple entry visa is valid for 6 months. During these 6 months you can come and go to Thailand whenever you want, without any litmits. It's a good option for those of you, who like to travel around. However, you need to remember about leaving the country every 60 days overland, or by a plane.
So, let's assume you come to Thailand on the 1st of February for 3 days, then you take a flight to the Philipines. You come back on the 20th of February and want to stay in the country for a few months. In this case, you need to remember to leave Thailand before the 60-day period, counting from the 20th fo February. You can then do a simple 'border run' and cross the border with another country and come back on the same day, or go for a short trip.
Another advantage of this visa is that you can use it to last you for around 9 months. Before your 6 months is due, you can leave Thailand, come back and get another permit at the border for another 2 months. Then, you can extend that for another 30 days in the immigration office in Thailand, which in result gives you 9 months in total.
Where can you get the multiple entry visa for Thailand?
To get a multiple entry visa for 6 months to Thailand, you need to apply at the embassy, in the country where you are a resident. If you have a German passport, but permanently live in the UK, you would need to apply in the UK. This is a general rule. Some embassies can make an exception if you are travelling and are away from home. However, you need some kind of a proof that you live in that country. Ask a friend to register you with an electricity company.
I applied for a visa in Poland with my boyfriend, who is German and didn't have a residency in Poland. We went to my home town and I registered him temporarily under my home address. We got a letter from the council and with that we could apply for a visa for him.
Please, contact the emebassy you want to apply with, if you have any doubts about your residency and if you can apply for the multiple entry visa to Thailand.
Required documents
Passport – valid for at least another 6 months
2 passport photographs
A confirmation of your flight to Thailand. A return flight is a bonus, but it's not required.
A confirmation of your accommodation in Thailand (at least for the first few days, or weeks. It's great to have a confirmation for 60 days, but that's also not required).
A bank statement with at least 5,000 Euros on it. The bank statement should be from the last 3 months.
Your employment contract, or a proof of self-employment. If you are self-employed you should have a letter that states that you are self-employed.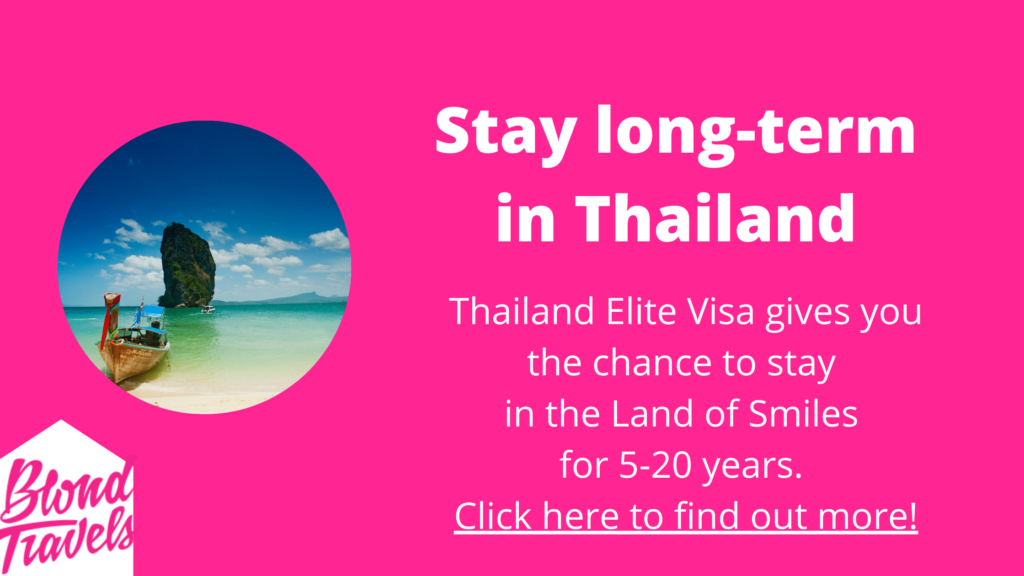 If you don't have a return flight for the end of a 60-day period nor a confirmation of accommodation for the 60-day period, you should write a letter in English with an explanation of why you don't have these. At the end of the letter you should add 2 sentences, that state that you won't seek employment in Thailand.
The cost of the multiple entry visa to Thailand
The cost is around 130 Euros.
What to do when your visa expires?
As I said before, you can extend your visa for up to 9 months. After that, you can go back to your country of residence and apply for a new visa.
Remember that you will probably get it twice, after the second time it might get tricky.
Many people often try to get another tourist visa, then an educational visa etc. This can last for a while, but again, eventually, the immigration will refuse your visa.
Others become teachers in Thailand, which is also a good option and you can really stay in Thailand for a long time thanks to your work permit.
If you'd like to stay in Thailand longer, think of applying for Thailand Elite Visa, which can give you 5, 10 or even 20 years stay without needing to worry about renewing it!
The application process is very simple and quick. You can apply from abroad, or from Thailand. At the moment it is the best option for those who would like to stay in Thailand long-term.
If you're interested in knowing more, read my post about Thailand Elite Visa and then message me. I will be happy to help you with any questions you may have.