One of the reasons why tourists visit Chiang Mai is shopping. The city is known mainly because of the Sunday and Saturday markets and the Night Bazaar, which spread across the main streets. These are usually very busy and crowded affairs.
It is worth going to one of them to see the great selection of handmade goods and seeing the local artists at play. Seeing the market during one of the days is great, but I am sure one can get fed up with it really quickly due to the enormous crowd and lack of walking space. Getting stuck in a human traffic is no fun.
There are a lot of other places in Chiang Mai, where you can shop more comfortably. Some of them offer a relaxed shopping experience with a more commercial environment, some have small stores, where you can find real gems. Let's have a look at the best shopping options in Chiang Mai.
Markets in Chiang Mai
Chiang Mai is popular for its many night markets. If you're looking for great deals on clothes, furniture or souvenirs you will definitely find what you're looking for. But even if you're not in a shopping mood, strolling through a market can be a great experience with live music, performances and excellent street food.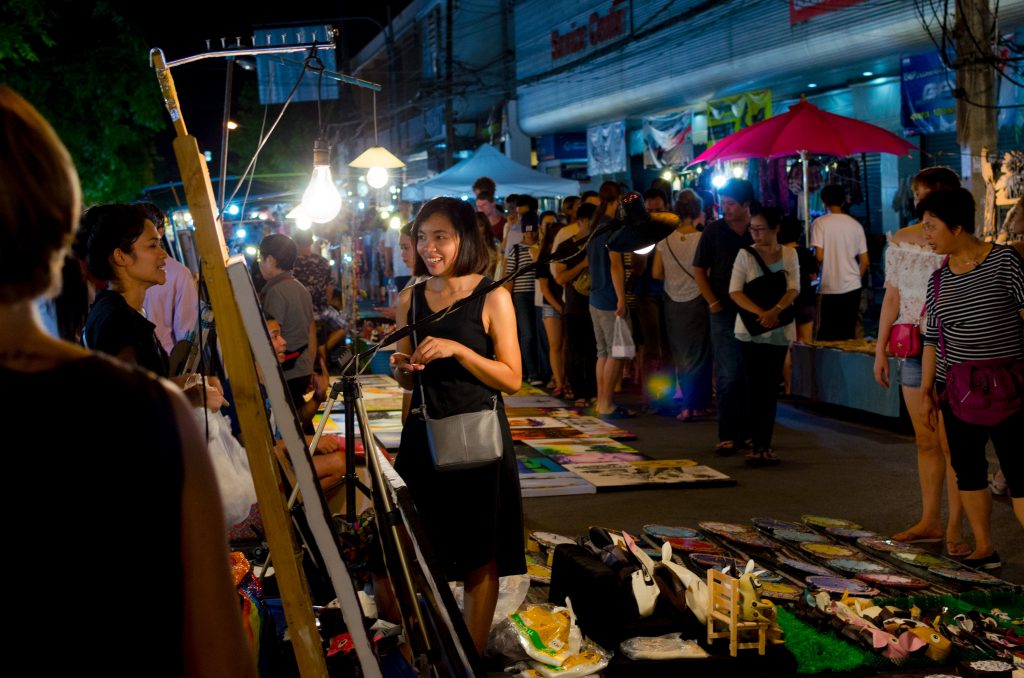 Chiang Mai Weekend Night Markets
The Saturday and Sunday Night Markets are two of the main attractions in Chiang Mai. Apart from the usual cheap clothing and souvenirs that can be found at almost every market across Thailand, these two also feature a lot of beautiful, handmade goods by artisanal vendors from the region. As a plus, street musicians and performers create a stunning atmosphere which makes the Chiang Mai weekend markets worth visiting, even if you're not looking to snatch some bargains.
Chiang Mai's Saturday night market is located on Wua Lai Road, just across the old city's south gate. This is also where one of the more popular food markets is located, so make sure to swing by for a delicious soup!
The Sunday Night Market is spread out through the eastern part of the Old City. It is best to start your spree at Thapae Gate (which can be easily reached with a songthaew). From there you can just follow the crowds and enjoy the best night market in Chiang Mai.
Address: Saturday Market, Wua Lai Road (Map)
Address: Sunday Market, Rachadamnoen Rd (Map)
Chiang Mai Night Bazaar
The Night Bazaar in Chiang Mai takes place every night and is probably the most popular of all the night markets in the city. Endless rows of beautifully lit stalls are lined up on the main road and in hidden backyards along the way. Most of the stalls sell cheap products like elephant pants, flip flops or knock-off sunglasses and watches but you will also find higher quality items like silk shawls, handmade clothing, or room decor.
While it's a great place for shopping, the Chiang Mai Night Bazaar is definitely not a must-see. If you stay over the weekend, you should rather see one of the weekend markets instead. However if you find yourself strolling through the streets of the bazaar, don't miss out on the great – but more expensive – food market near Thapae Rd. and check out the legendary Boy Blues Bar for live music in a great atmosphere.
Address: Chang Klan Rd. (Map)
Kad Na Mor Market (Malin Plaza Night Market)
Kad Na Mor Market (also known as CMU Market, Malin Plaza Night Market) is located just opposite the gates of Chiang Mai University on Huaykaew Rd. The market spans over two separate areas which can be reached from the main road. While it is one of the most popular night markets for locals, not many foreigners find their way here.
Vendors at the Kad Na Mor Night Market sell mostly clothing and accessories catered at young people but you will also find some cheap electronics as well as Thai brand cosmetics. You can also find some cheap and popular restaurants serving mostly Korean or Japanese cuisine at the dedicated food court.
Address: 128 Huaykaew Rd. (Map)
Kad Rin Kham Night Bazaar
Located just next to Maya Mall at the busy Rin Kham intersection is this little, hidden gem. Kad Rin Kham is mostly visited by Thais but is definitely worth a visit if you're looking for good deals or just want to get a glimpse of a real Thai night market.
Vendors at Kad Rin Kham are selling mostly vintage clothing and accessories but mixed in you will find tattoo parlors, cheap hairdresser salons and food stalls, selling grilled meat and vegetables. It's really a fun contrast to the fancy Maya Mall right next door.
Address: 8 Huaykaew Rd (Map)
Warorot Market
A great place if you want to get a hint of the local life. There are two buildings at Warorot Market, located at the opposite sides of a street. One of them houses food stalls, selling live fish, turtles and eels as well as freshly prepared meals. Don't come here if you're sensitive to smell, though. The mixture of scents can knock you out.
Warorot Market also offers household goods and cheap, traditional northern Thai clothing and fabrics. It's a great place if you want to take some photos and see how the local people do their everyday shopping.
Address: 90 Wichayanon Rd (Map)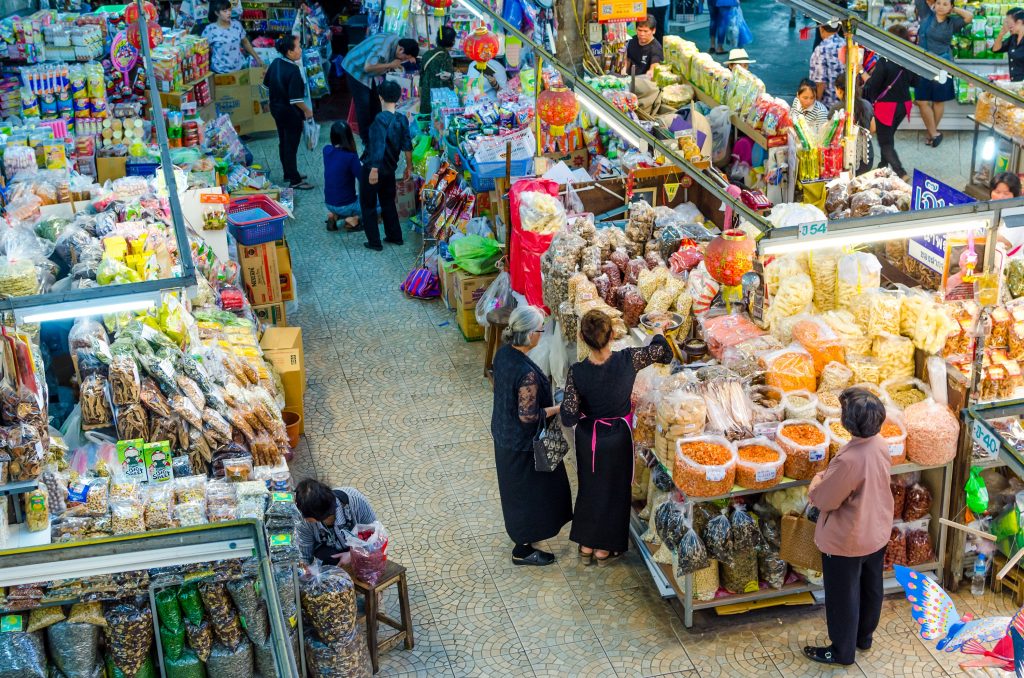 NightOut Market
You can visit this night market every Wednesday evening just outside Maya Mall. The products here are a little more expensive but usually of a high quality. There are also some designers and small manufacturers who sell their handmade goods, and some delicious food to try.
Make sure to also check out the night activities at Think Park on the other side of the intersection. Here you will find even more, beautiful clothing and accessories as well as more food stalls and restaurants.
Address: 55 Huay Kaew Rd. (Map)
Boutiques in Chiang Mai
Chiang Mai is the creative capital of Thailand and home to an ever growing number of small designer businesses that offer everything from household goods over furniture to unique clothing. While they're mostly visible during the annually Chiang Mai Design Week, you can also find their beautiful and exclusive products in small boutiques that are spread all around the city.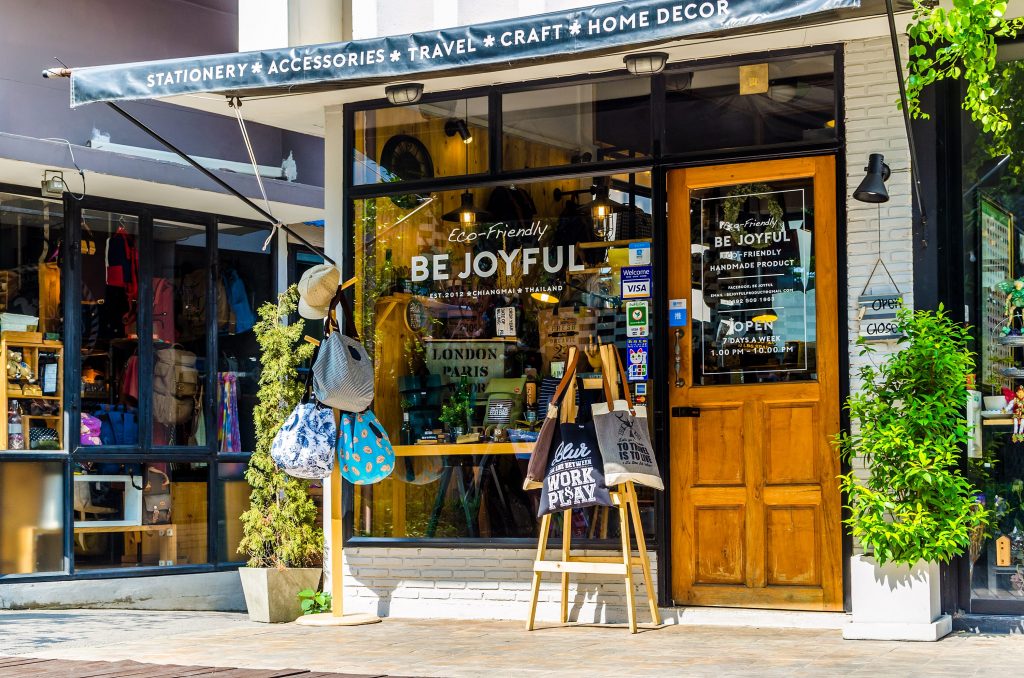 Think Park
Think Park might not be the biggest place for shopping in Chiang Mai, but it's a place, where you can find some nice designer products, often made by local artisans. I love shopping there for bags, cosmetics, or high quality souvenirs and accessories. There are also a couple of shops that sell really colourful clothes, which you can only find here in Chiang Mai.
Address: 165 Huay Kaew Road (Map)
Malls in Chiang Mai
Shopaholics beware! Chiang Mai malls offer almost everything you are used to from home – and more. If you are looking for a convenient shopping environment, without the crowds and chaos you'd find at a local market then look no further. Apart from many western brands, you will also find great restaurants and food courts, fun arcades and state of the art multiplex cinemas at the malls in Chiang Mai.
Central Festival
Central Festival is the best mall in Chiang Mai and my favourite location to shop for popular brands. This shopping mall is never too crowded and apart from a huge variety of shops there are also some nice places to eat (I love the salad bar at Sizzler!), a few spas to relax and even an ice skating rink!
Brands you will find at Central Festival in Chiang Mai: Uniqlo, Zara, Mango, H&M, Marks and Spencer, Converse, Lacoste, Muji, Daiso
Address: Moo 4, Super Highway Road, (Map)
Central Airport Plaza
Central Airport Plaza is the second biggest mall in Chiang Mai and – as the name implies – located close to Chiang Mai International Airport. Here you will also find a couple of western shops and a lot of Thai brands. If you're looking for a place where you can buy some better quality souvenirs then head to the basement of this mall – there are a lot of small shops that offer beautiful, locally-crafted items for a bargain.
Brands you will find at Central Airport Plaza in Chiang Mai: Uniqlo, Lacoste
Address: 2 Mahidol (Map)
Kad Suan Kaew
Kad Suan Kaew (KSK) is the oldest mall in Chiang Mai and has a bit of a creepy vibe to it. Personally, I almost only go there to visit my beautician for manicures and pedicures, but I know that many westerners shop here for shoes, cosmetics, and cheap electronics. In fact it's the place to go if you need to get your iPhone fixed in Chiang Mai.
Address: 21 Huaykaew Rd (Map)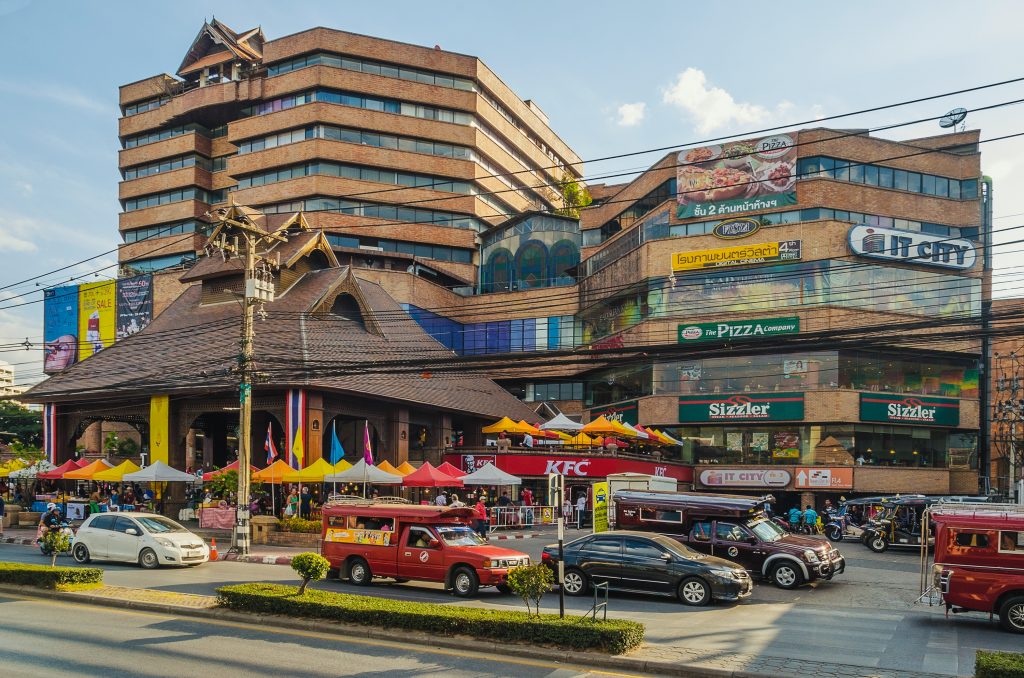 Maya Mall
Maya Mall is probably the most well-known mall in Chiang Mai due to its location in the popular Nimman area. It is also my least favourite of all the malls in the city, because of its limited variety of shops. I usually only go there to watch movies at the cinema, eat delicious vegetarian dishes at the food court, or to have a drink at one of the Maya Mall rooftop bars.
Brands you will find at Maya Mall in Chiang Mai: American Eagle, Sports World, Daiso, Moshi Moshi, Starbucks
Address: 55 Huay Kaew Rd. (Map)