Thai noodles – aromatic, delicious and fulfilling. This is what you should experience when you come to Thailand. And if you're looking for the best noodles in Thailand, ones that you would never forget, this post will point you in the right direction. Here are the best noodles in the Land of Smiles.
I really love Thai cuisine. I think it's the best in the world. I could eat only Thai food, which I actually did when I lived in Chiang Mai for a few years. Now, after I have been to the country many times, I always look for something that will surprise me. I go to different restaurants, bars, little street stalls to try new dishes. I also watch Mark Wiens a lot, which is how I came upon this place in Sukothai.
If you're a fan of Thai food and want to try the best noodles in Thailand, you really need to go to Sukothai and try Sukothai noodles. And there's only one place you should visit.
Thai noodles – How are they different and how to order them?
It's worth remarking here that Thai noodles are not the same noodles you will see in Chinese restaurants in Europe. First of all, when a Thai person thinks of noodles, they think of a soup with noodles, or noodles you put in that soup, but without the liquid part.
Normally it's soup that is made by boiling meat. It's made in a big, metal pot. The seller takes a bowl, puts noodles and some other things like sprouts, pieces of meat, dried onion, garlic and pepper and then pours soup over it all.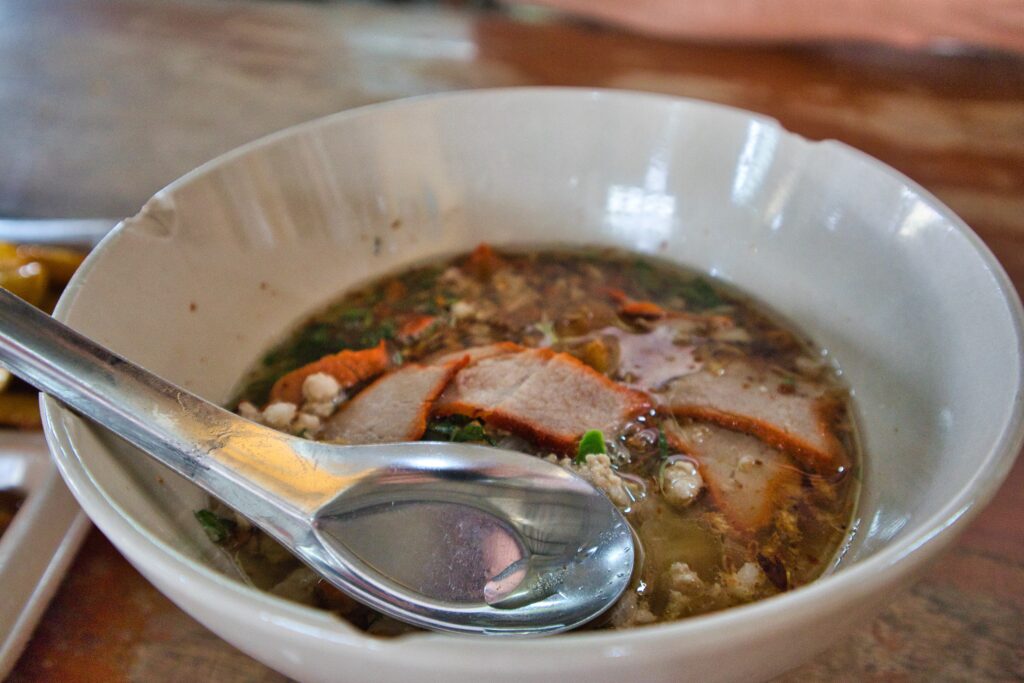 First you should choose your noodles type. At street stalls you will have a special glass cabinet with noodles. You can choose between egg noodles, very thin noodles, thicker ones and those that are normally added to pad thai. It's enough to point at what you want with your finger.
Noodles are put on a big ladle which is then put into to boiling broth for a few seconds. Then, they land on your plate with all the extra things. You can ask for the broth, too and finally, the seller will add some meat.
At typical street stalls there are no vegetarian versions of this. It's possible to ask for noodles without meat, but the soup will still be based on beef or pork.
A soup like this should be spiced up. On your table you'll find different spices. You can add sugar, vinegar, chilli, soy sauce and fish sauce. Sometimes there are also some crushed peanuts.
Add what you want and start eating.
Sukothai noddles – Special Thai noodles
Sukothai noodles are nearly identical to what I described above. The difference is that they are served with very thin noodles, which are called sen lek.
These noodles are served with pork, in broth, or without, with some extra additions like green beans, lime and beets.
According to the sources, Sukothai noodles were created thanks to Chinese influence, in the 17th century, at the time when Thailand traded with China.
The best noodles in Thailand – Ta Puy Noodle
In Thailand the least remarkable looking places have the best food. You pass them thinking that they probably don't have great stuff, or you don't even notice them.
My experience taught me to always look for those restaurants and stalls that are not so popular among tourists. They really can surprise you.
Not so far from Sukothai, on the road leading from the New Sukothai, you'll find Ta Puy Noodle. The restaurant is owned by a local family, who serves the best noodles I have ever eaten.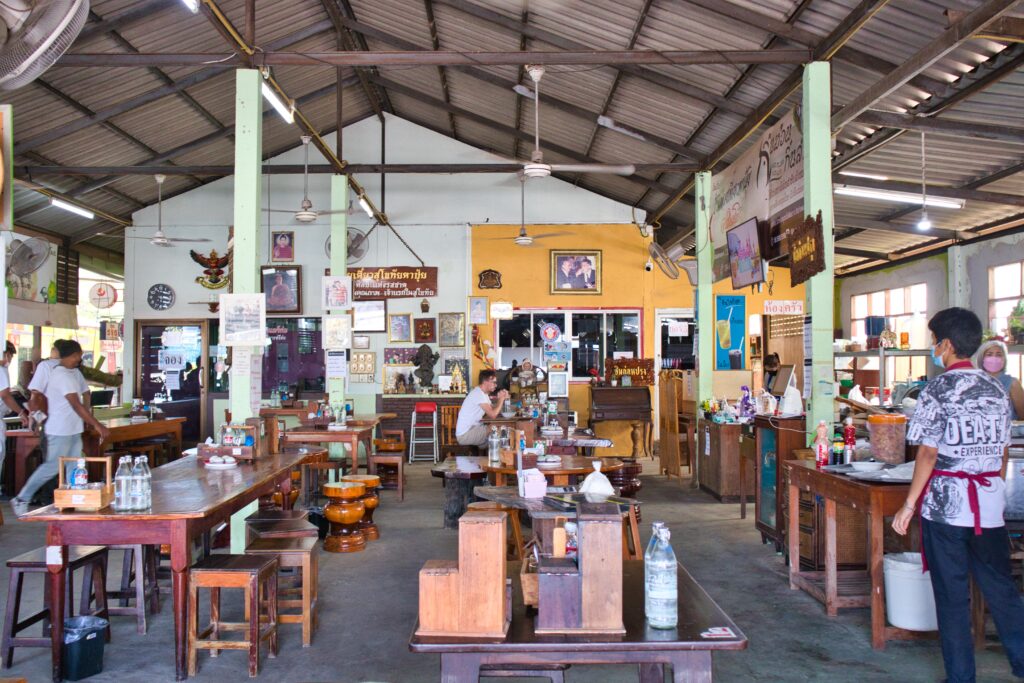 When you enter you'll be surprised by the interior decor. One part of it is a big room filled with tables and chairs. On the other side there is a small, wooden house with some antiques and a few places to sit and enjoy your drink after a good meal.
There are 2 types of noodles on offer – with broth (nam tok) or without. You can add pork and lots of extra things.
The restaurant has an English menu, but it's worth asking what the recommend (ne nam arai na? – The staff doesn't speak English very well).
I did exactly that and I got 2 plates – one with broth, the other only with noodles.
I added some chilli to both.
I will never forget the taste of these two dishes. I'm not a culinary blogger and it's hard to describe the flavours, but maybe it'll be enough if I say that after eating those two plates, I asked for 2 more.
The cost for 4 plates and 2 Cokes – 120 Baht.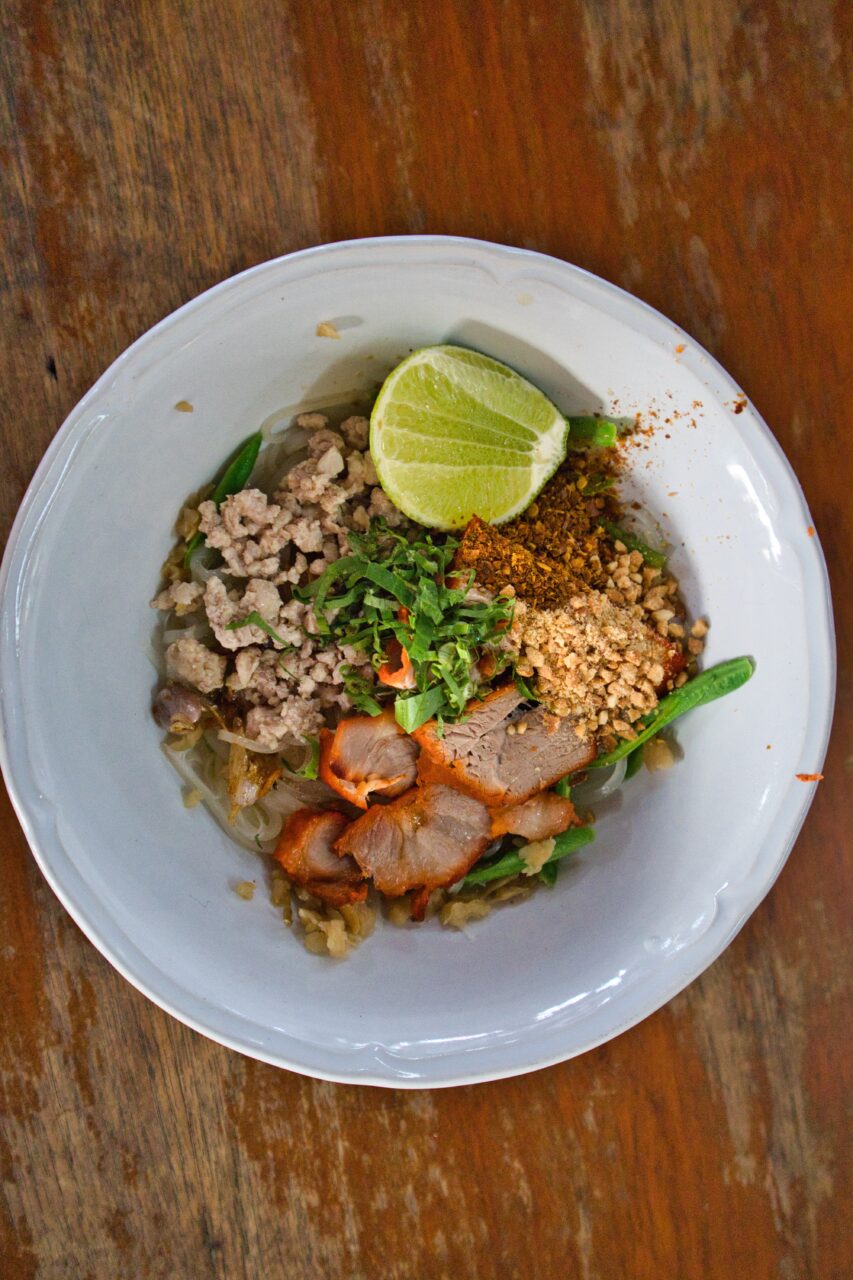 Were these the best noodles in Thailand?
The country is big, so there might be better ones somewhere else, but today I can safely say that yes, they were the best noodles I have ever had!
Ta Puy Noodles – address and location can be found here. You can get there by a scooter or by taxi.
You can also hire a guide in Sukothai and ask them to take you there. The best tour guides can be hired from TakeMeTour. You can book a private tour and customise it.
You'll find plenty of trips there and you'll be able to meet guides that have passion for showing you their country.
Extra information about Sukothai noodles:
Sukothai noodles are not spicy. You can add chilli later.
These type of dishes don't have that much spices. On the table you'll find a couple of them and it's OK to spice your noodles up just how you like it.
Streets stalls always offer meat versions. If you want to eat vegetarian noodles, you need to find a place that specialises in those type of dishes.
Soup is eaten with a special, small, metal spoon and chopsticks, which are used for noodles and meat.
First time in Thailand? Here's what you need to know about food
Eat in places where you see a lot of people. Thais normally eat in the evenings. During the day they snack or take food with them. So, if you want to find a good place to eat, go out in the evening and find a crowded place.
It's common to have an upset stomach in Thailand, especially when you're visiting for the first time. If you have really bad stomachache, you vomit and have a diarrhea, drink a lot of water and take some medication. If the symptoms don't go away for 3-4 days, you should see a doctor.
Sometimes you can get mild food poisoning or only diarrhea, which is normal and might go away after a day.
Don't forget about insurance. Travel insurance is great if you need to seek medical help. I recommend SafetyWing, which I always use when I travel.
Remember that Thailand has very well stocked pharmacies and you can buy some meds when you have an upset stomach.