The train from Chiang Mai to Bangkok (or the other way round) is one of the most well-known overland journeys in Thailand. Despite the fact that the ticket costs the same as a flight and the trip takes over 12 hours, many travelers take this route for the experience itself. It's one of a kind ride, during which you can experience the country from a very different angle.
I had always wanted to do it. I lived in Thailand for 3 years and never did I try it. I always chose comfort and the easiness of a flight rather than an overnight train. So many people had told me about it and recommended it to me and yet I was reluctant to buy a ticket. I finally had a chance during my last trip to Thailand. On my way back I decided to take a train from Chiang Mai to Bangkok and spend one night on a second class bunk bed.
If you have never been to Thailand and want to do some overnight travel, you might be wondering if it's worth it and most of all, if it's safe. I must assure you that traveling in the Land of Smiles is usually a pleasant experience and one that you will never forget. Read on to find out more about the train travel from Chiang Mai to Bangkok.
My experience with trains from Chiang Mai to Bangkok
This time I was prepared. I didn't make the same mistake as with the bus from Kanchanaburi and booked my ticket well in advance on 12GoAsia 48 hours before. The process was very straightforward and I had a confirmation of the ticket straight away. I had to pick it up from a tourist office near the station. Sometimes I am quite nervous about traveling, so instead of picking it up on the day of my journey, I went there a day before. It's better to be safe than sorry. I had to show my ID and the ticket was given to me in an envelope with seats and departure time clearly marked.
The next day I was dropped off by Grab at the station 45 minutes before the departure. The train was already waiting, so I jumped on eagerly.
The inside of the carriage was a little strange. Double seats faced each other on both ways. There were metal bars running alongside them. It reminded me a bit of a prison. There was no sight of bunk beds and I was wondering how do the seats unfold. Would I have to do it myself?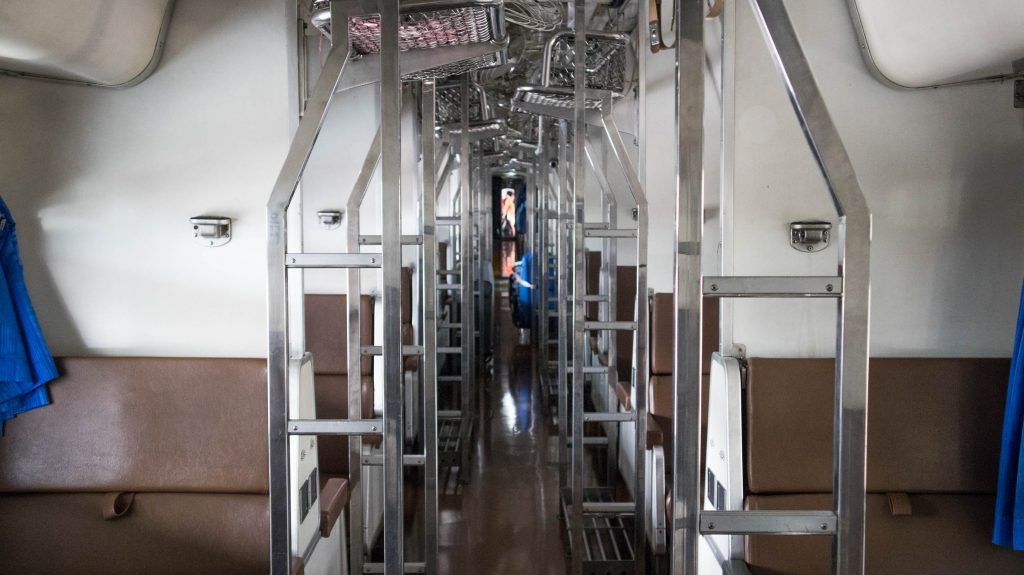 I left my luggage on my designated seat and went to take some photos. I had heard some rumours about the 1st class carriage, mostly that it was super fancy. I wanted to take some photos, but the door was closed, so I got off and snapped some shots of the train.
When the train started moving, I was very excited about the trip ahead. The seats next to me were half empty and it was very quiet – perfect for a nice train ride. After around 30 minutes we were rolling through hills and mountains. Incredible views surrounded us – just amazing. It didn't last too long though as it started getting dark very quickly. Just then a few members of staff appeared and started making the beds. They politely asked me to change the seat while they unfolded the seats and spread fresh sheets.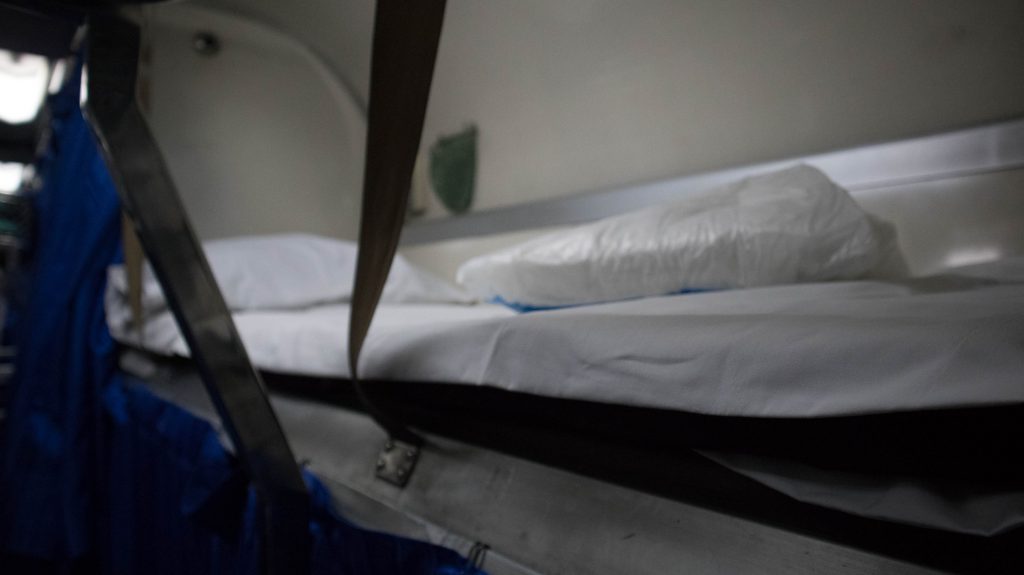 Once it was ready, I laid down, drew the curtain and made myself comfortable. It was just like camping! I fell asleep a few hours after that.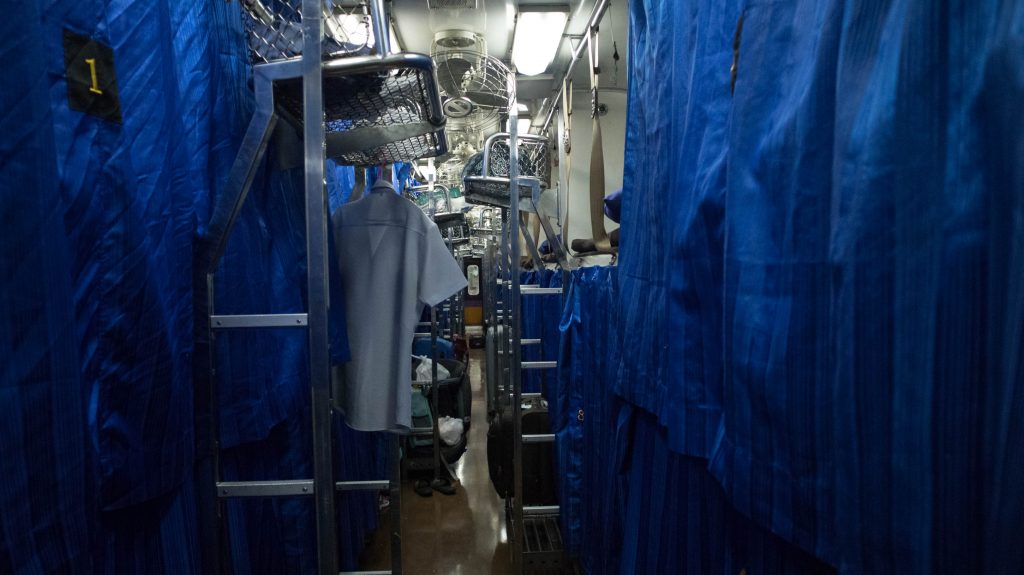 At 4 am I was woken up and asked to get up. The beds were folded back and the last hour of the trip I spent sitting, watching Bangkok unravel itself outside my window. I also tried not to freeze to death. The air con was up to its maximum and I was so cold I couldn't even think. However, overall I really loved the train from Chiang Mai to Bangkok and I would encourage you to try it at least once.
I had never been to the train station in Bangkok and was impressed by its size. I was too tired to take photos, but I do need to do it next time I'm there.
It seems like taxi drivers are not allowed to enter the station. Only when I got out of the building I was approached by at least 10 of them. Some were quite persistent and followed me for a few minutes before I turned around and told them to stop. My plan was to get Grab Taxi, which is usually cheaper and you don't need to bargain. I ordered a ride successfully and 10 minutes later I was in a car on my way to a hotel.
Train from Chiang Mai to Bangkok – Useful Information
I think overland transport in Thailand is very well organised and it's not difficult to organise it. However, if this is your first time in the Land of Smiles, it's worth preparing yourself properly. Here's what you need to know.
Buying your train ticket
You have a few options here.
You can buy it at the station in Chiang Mai. It's located quite a long way out of the city center. So, take a songthaew, order Grab, or drive a scooter. A second class ticket will cost 600 Baht. Don't forget your passport! You won't be able to book anything without it.
Some hostels and hotels offer train tickets. Just ask at the reception desk. Prices vary, but they are usually much more expensive than those bought at the station.
One of the easiest ways is booking your tickets online. Use 12GoAsia. It will cost you 650 Baht and you won't even need to go anywhere. It can be then picked up from a tourist office near the station. The address will be sent to you with the confirmation. You can go there on the day, or the day before.
Book a train ticket from Chiang Mai to Bangkok 
Book a train ticket from Bangkok to Chiang Mai 
Chiang Mai train station
The station in Chiang Mai is very small, with only a couple of platforms and 4 cashier desks. You can board your train an hour before departure. The platform is marked on small blackboards, which are actually very hard to miss.
There are toilets in the station and a few shops and bars around. However, there are no waiting rooms with air con. You can wait for your train inside the building, or outside on one of the benches. During hot days it's quite hard to escape the heat.
Taxis are located outside of the gates. The easiest and cheapest way of traveling to the city from there is to order Grab Taxi, which works very well in Chiang Mai.
Bangkok Hualampong train station
Hualampong is very big. There are travel agencies, left luggage office, mail desks, tourist police box, ATMs, toilets and even showers. If you have any trouble finding your way, head to the information desk, where staff will help you out.
The station is located very close to Chinatown, Silom, and Sukhumvit. If your hotel is situated there, you can save money on transportation.
When you get off your train, head straight to the main terminal. From there you can take any exit, where taxi drivers await passengers. Here you can bargain and get one to the city, or you can order Grab.
There is an MRT Station nearby and you can also walk to the Chao Praya River Taxi (Ratchawong Pier). The road there is a bit tricky though.
Hualampong Bangkok station – location 
What to expect from trains from Chiang Mai to Bangkok
There are 3 classes on the trains. The first class has private cabins and breakfast delivered straight to you. It has air con and in general, it seems like it's a very fancy experience. Cost: 1,453 Baht.
The second class, which I took, is a bit less flashy, but very comfortable. There is air con, but no breakfast and instead of cabins, you get a bunk bed with only a thin curtain to separate you from the other passengers. I think this is a good combination – it's comfortable and cheap. Cost:600-700 Baht.
The third class consists of hard benches and no air con. Some people like this kind of experience, but to me sitting in a very hot carriage on uncomfortable seats is a little too much. Cost: 300-500 Baht.
There is also one carriage, where you can buy food and drinks, but I didn't go there, so can't say much about it.
The trains are very safe and secure. Just have some common sense and don't leave your valuables unattended. When sleeping, keep your bag under your head, or under your arm. Take it with you to the toilet as well.
What to bring with you
If you travel in the second class, you need to bring:
Food: snacks and some sandwiches.
Water: Just enough to survive the night.
Some change: There are people selling snacks in the evening and in the morning, or you can buy food in the bar.
Toiletries and tissues: Toilets on the train are clean, but it's good to have your own soap in case there's none. Also, sometimes the toilet paper runs out.
Warm clothes: Air con is usually turned up very high and it's freezing, especially in the morning. Be ready for it. Take long pants, a hoodie, socks, and shoes.
Cost of Chiang Mai – Bangkok train journey
This is how much I spent:
Ticket: 700 Baht
A taxi ride from my accommodation in Chiang Mai to the station: 70 Baht.
Snacks and food: 100 Baht
A taxi from the station in Bangkok to my hotel (1 hour drive): 450 Baht
Total: 1320 Baht