Bare-feet monks, walking calmly through Thai streets in the morning, with baskets full of gifts – that's a very common sight. In every city, every village you can experience that. In some places these morning alms are a bit more beautiful than in the others. Sukothai is a place like this. I had an opportunity to witness morning alms there. I even took part and made some friends.
I went to Sukothai during my workation in Thailand in 2022. I always wanted to visit the town and I finally managed to do it.
The plan for seeing the attractions was quite short. I planned on seeing the ancient ruins and then take it easy and see a few other places. I really wasn't planning on witnessing the morning alms, but I was suffering from jet lag at the time. So, instead of sleeping, I got up at 4 am and went to the town centre in the Old Sukothai to see the ceremony.
That morning turned out to be very special for a few reasons.
Morning alms in Thailand – What is it about?
In Thailand, as well as in almost every other country in South-East Asia, it's a tradition to give gifts to monks in the morning.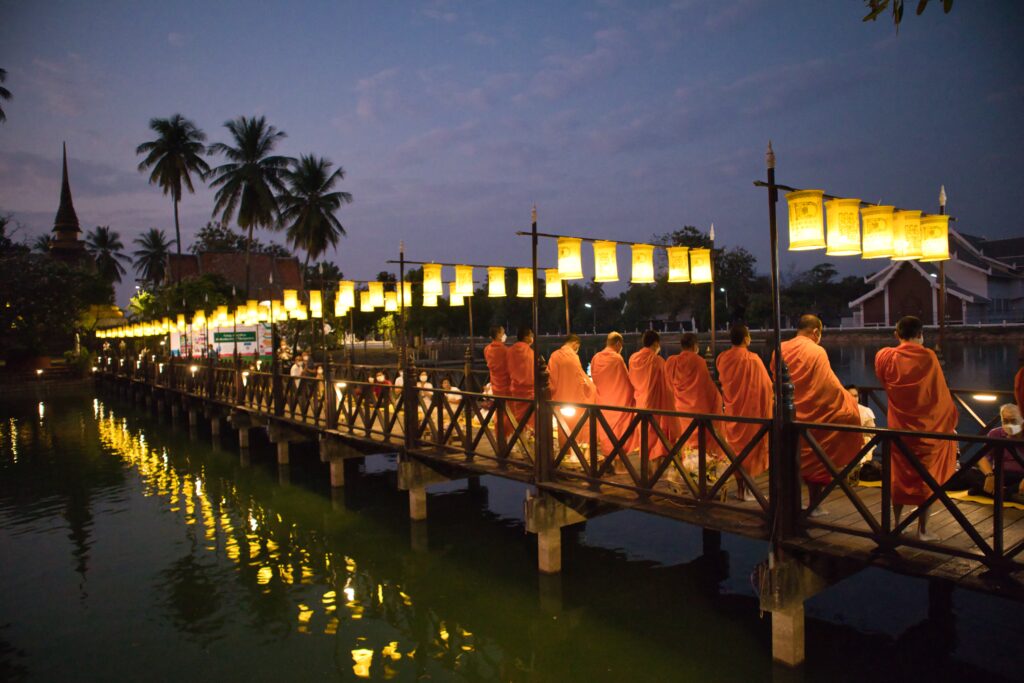 Monks, at dawn, without shoes, walk through the streets with baskets and special containers. Local people come out of their houses. When they see approaching monks, they kneel down. Monks stop for a short moment and bless the faithful ones, who then, in return, put rice, soy milk and flowers into the baskets.
Monasteries and temples don't earn money and they live off of what they get from the people. In temples you can donate money, just like it is in Christian churches.
In the morning monks get food, which they can eat after they come back. It's allowed to eat only what they receive and only until noon.
Morning alms in Thailand is a symbol of a new day.
The morning alms in Sukothai
There are places in Asia, which are very popular among tourists because of morning alms. The sun is rising, you can see beautiful sky and the streets are lined with monks. One such place is Luang Prabang in Laos.
I think that every town and village in Thailand is good to watch the ceremony. I wouldn't say that there is only one place to see it. So, if you're in, let's say, Chiang Mai and can't sleep, go out on the street and wait for the monks.
I heard that morning alms in Sukothai are especially pretty and that's it's one of the things you should do and see in Sukothai. I went to check it out and I really wasn't disappointed.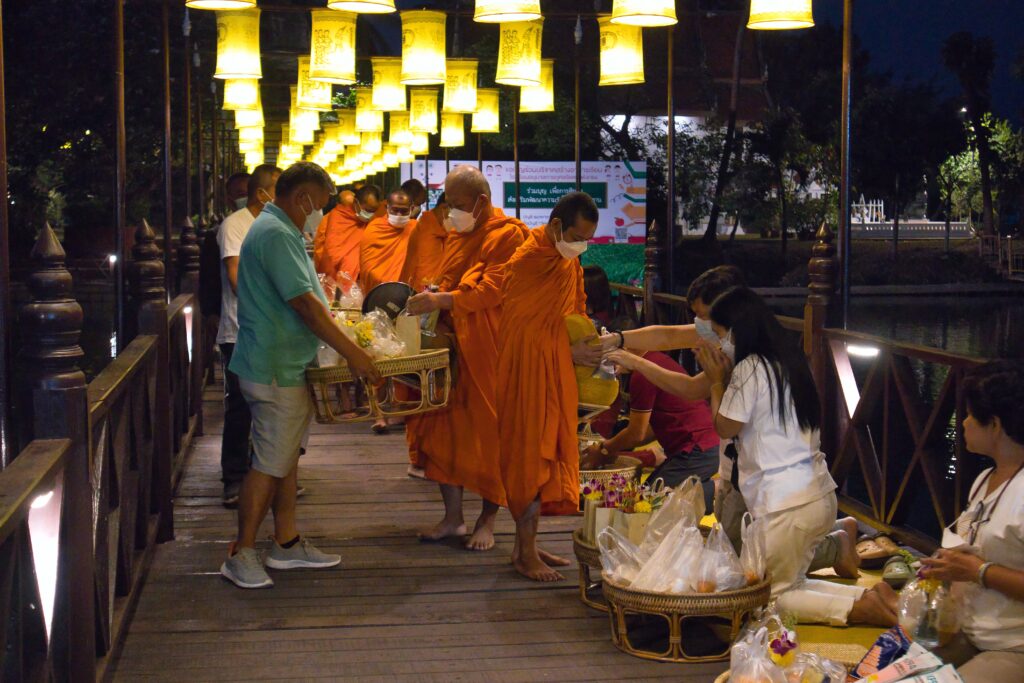 In the morning, just before the sunrise, monks walk out of the main temple, Wat Thrapang Ngoen. They walk slowly through a wooden bridge that connects the street with the temple.
The short walkaway is by then already full of Thai people waiting for monks with gifts of food and flowers.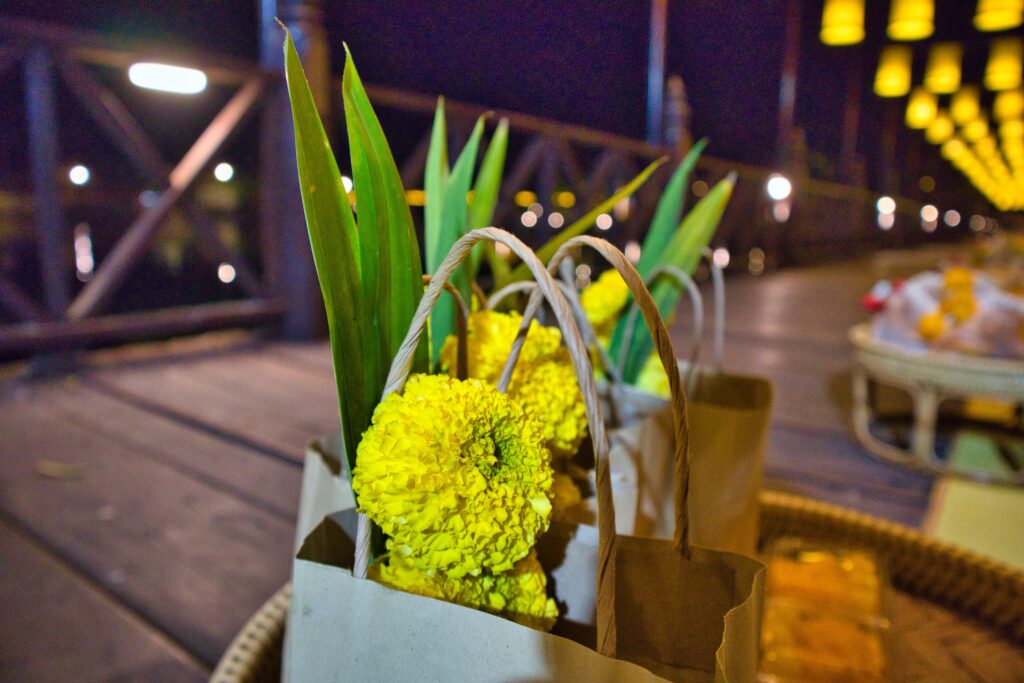 When I went to there, I met a small group of Thais, who were all dressed up. I stood a bit further and was thinking if I should chat them up.
I have been learning Thai for a few years and always try to talk to Thai people whenever I have a chance. In general, I don't really have a problem with that, but I'm often quite shy to start the conversation.
I finally decided to do it. I stopped a man from the group and asked if it was a special occasion and why they were so dressed up.
It turned out that the group were employees of a certain company in Bangkok and they came to Sukothai to visit a couple of temples and ask for a better future for their business.
This is a common practice in a workplace – Thai people gather in groups and they go to different temples. They spend a whole day praying, making merit and meditating, hoping that this will help them earn more money, have more customers and be a bit more lucky in their lives.
I was encouraged by the short conversation I had with the man.
After the chat I was invited to take part in the morning alms they were waiting for. One gentleman asked me to kneel next to him, he gave me a basked of flowers and food.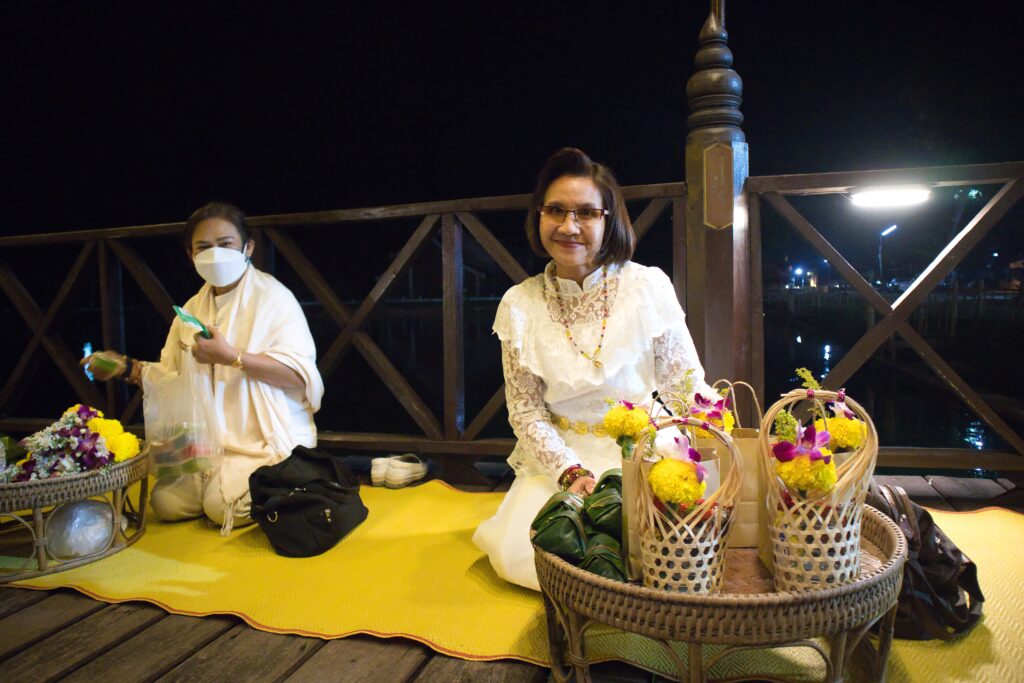 We had around 30 minutes to start the ceremony. I was sitting on the bridge with the whole group and we exchanged some opinions about life, history and culture of Thailand. We took photos and just before the ceremony started we exchanged contact details.
Despite the fact that I lived in Thailand for a few years, the invitation to the ceremony and taking part in the morning alms was really something special to me.
When the monks went out and the sun started rising, I felt that this was a morning I would never forget.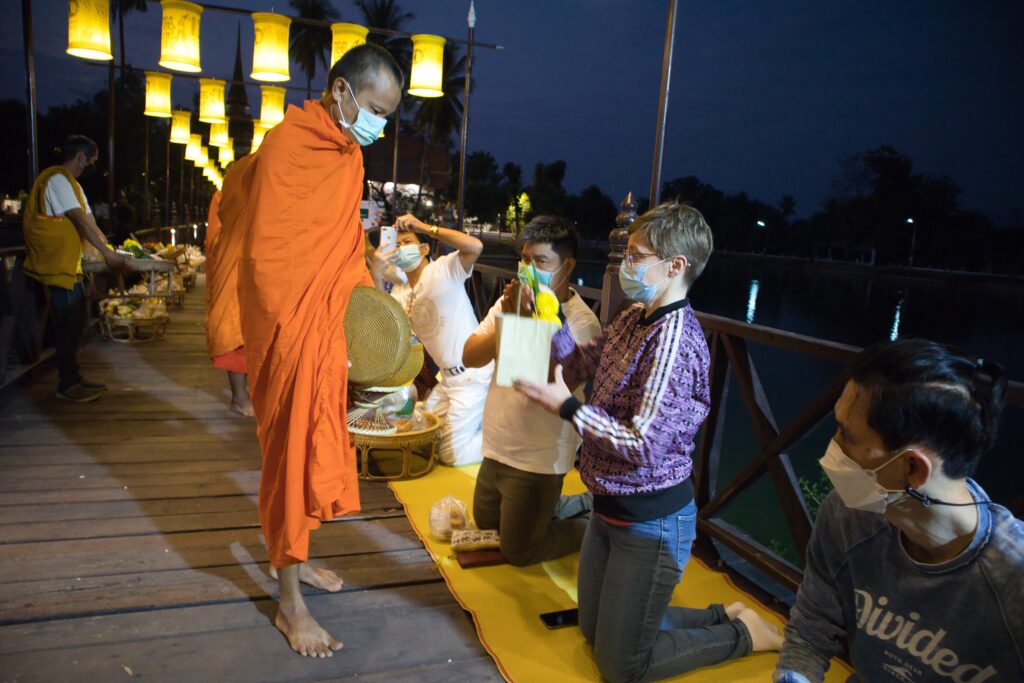 I helped my new friends to fill up the baskets of the monks, I received a blessing and we chatted a bit more.
After everything was over, we split up wishing each other all the best.
Sukothai will stay in my heart forever not only because of its amazing atmosphere, its delicious food and interesting history, but mostly because moments just like this one.
How can you take part in morning alms in Sukothai?
The best spot for this is the main temple in the Old Sukothai – Wat Thrapang Ngoen.
The ceremony starts at sunrise. To get a good spot, come early.
It's not a good idea to stand on the bridge. It's quite narrow and short and it's taken mainly by local people. If you want to take some photos, stand at the beginning of it, from the street side.
It's possible to take part in the ceremony if you're invited. It's not possible to buy gifts and do it by yourself. You need to have local people with you.
Morning alms – Practical information
Morning alms is a religious ceremony. Because of that try not to disturb. If you want to take photos, ask if you can do it first.
You can take part if you're invited or you know how to do it yourself.
Women shouldn't touch monks. Put your gifts directly into a basket. If you can't do it like that, then you should give it to the monk on a tissue in a way so he doesn't touch you.
When doing morning alms, you need to kneel down before monks.
Sukothai – Information
I recommend staying in Legenda Resort.
Try Sukothai noodles.
Don't forget about your insurance. I recommend SafetyWing, which is a great option for people who travel longer.