This post has been created in association with Henley & Partners – the global leader in residence and citizenship by investment.
Many people who go to Thailand expecting to stay there for a long time get disappointed. It quickly turns out that you can't live there indefinitely without a proper visa, which is hard to get. Thailand Elite Visa allows you to stay in the Land of Smiles for a couple of years without the need of sorting out the formalities at the immigration office.
Thai government makes it harder and harder for long-term immigrants to live in the country. You need to fill in a long list of documents and travel to Laos, or Malaysia to renew your visa every few months, or at least once a year. Then, there is the uncertainty of being refused another permission to stay. Many people move out of Thailand and start their lives somewhere else.
If you are one of the lucky ones and can spend a little bit of money to stay in Thailand longer, then you can apply for Thailand Elite Visa, which gives you the right to live in the Land of Smiles for 5 years.
What are the current rules for the long-term immigrants in Thailand?
I have written about long term visas to Thailand before. I recommend reading the post first. I will not repeat the same information. All you need to know is that there are very limited option for you to stay long-term in Thailand.
You can:
Do a TEFL course, become a teacher, get a work permit and work in schools. This is a potentially long-term possibility to stay in the country. However, the pay is low and the job is hard.
Buy a Thai course and learn the language. This gives you an opportunity to stay in Thailand from a year to three years. Every few months you need to renew the visa and there's no guarantee that it will be granted. You can also be asked some questions in Thai at the immigration office.
Open a business in Thailand. This is only possible for people who have some extra money and are able to employ at least 3 Thai employees.
Get married to a Thai citizen and get a marriage visa. This is a complicated and an expensive process.
Apply for a multientry tourist visa, which should last a year. After that you might not able to get another one. You must apply for it in your country of residence every time.
There are a couple other possiblities. Some organisations offer self-defense visa, or an opportunity to volunteer once a month. However, I have not explored these options and don't know much about them.
Thailand Elite Visa explained
I heard about Thailand Elite Visa a long time ago, when I still lived in Thailand. The idea of it sounded great, but I didn't (and still don't) want to spend so much money. However, there are some people who are willing to pay for the privilage to live in Thailand and below information is for them.
What is Thailand Elite Visa?
Thailand Elite Visa is a government programme for foreign visitors, who would like to stay in the country for longer. It provides VIP services as well as visas, which allows the member of the programme to stay in Thailand from 5 to 20 years.
Who is Thailand Elite Visa for?
It is for everyone who would like to live in Thailand for longer and doesn't want to worry about visas and all the formalities.
Check if this visa is for you. Read my previous post about it.
What benefits are included?
There are a number of benefits and privileges that are included in the membership from free massages, free entry to golf courses, private airport shuttles and special discounts for certain events and services around the country. There is even an annual medical check up included!
Have a look at the full list here.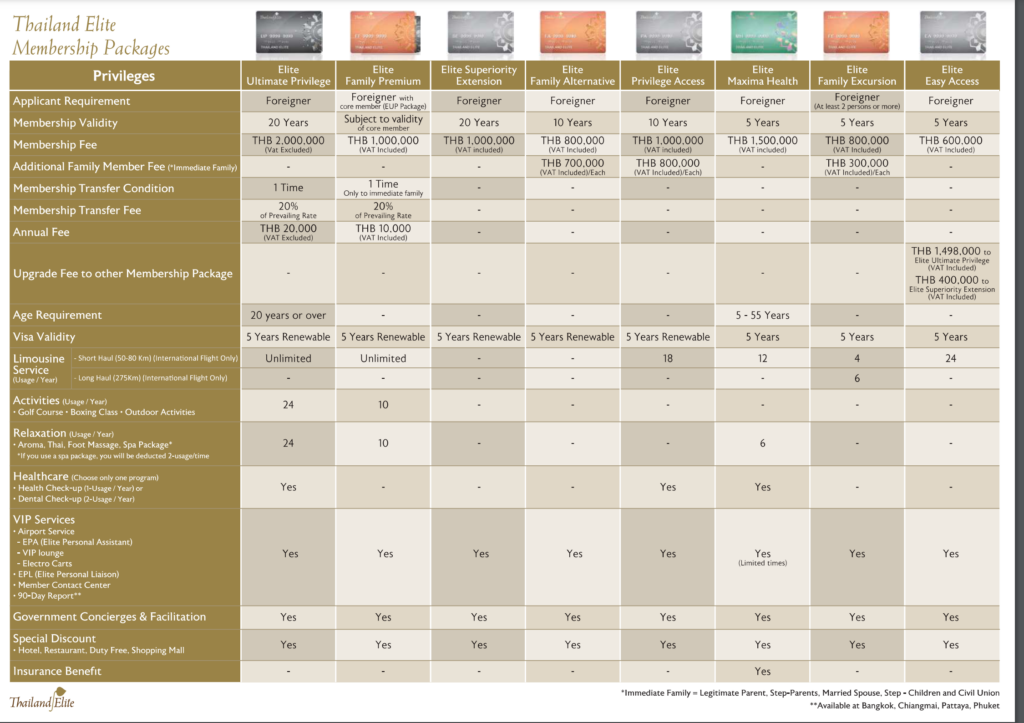 How much is it?
The name says it for itself – it's an elite offer, only for those that can afford it.
As you can see from the above table, the cheapest visa is 600,000 Baht, which is around 16,000 Euros. However, this is a one time fee, which gives you 3,200 Euros per year and over 250 Euros per month.
There are no installments available though.
Check the cost of the visas also in this post.
How to apply for Thailand Elite Visa?
If you have decided that this is an option for you, here are the steps you need to follow to apply for the visa.
If you have decided that this is an option for you, here are the steps you need to follow to apply for the visa.
Contact me to make it quicker and easier
If you're interested in applying, I can help you out. I'm working with Henley & Partners – a global firm, which helps people like you through the application process.
I will collect all of your documents and submit it for you. This way you can be sure that your application is straightforward and is approved without any problems.
Send me a message and let's get this process started!
Prepare your documents
You will need:
A scan of your passport with your photo and signature in jpeg.
A scan of your photograph (ideally a passport photo) in jpeg and in colour.
A scan of your current visa and entry stamp to Thailand.
A scan of the application form signed by you.
A scan of your marriage or birth certificate (only applicable when applying for a family program option).
Information about your current visa and its expiration date.
Confirmation that you have at least 3 empty pages in your passport.
Information if you have overstayed your visa. You can overstay your visa only once. If you have done it more than once, you won't get the Elite Visa.
Check what restrictions there are before you apply for the visa.
Apply
You can apply for the visa wherever you are, even if you are outside of Thailand. You can do it online. I will send you the form and will ask you to submit a few extra documents.
Send me a message and let's get this process started!
The processing of your application will take 1 to 3 months. When you get an approval letter, you have a maximum of 30 days to pay for your membership. You can pay it using an international or local bank transfer, or online using a credit card.
Find out more about the application process for Thailand Elite Visa.
The agency will then confirm receiving the transfer and it will take them a few days to register you in the system.
Getting the visa
When your membership is approved you have three choices of how you can get the visa in your passport:
Arriving at one of the airports on an international flight and receiving it at the immigration stand (only in Bangkok Suvarnabhumi, Phuket and Chiang Mai International Airports).

*The service at Phuket and Chiang Mai is currently suspended.

Going to the immigration office in Bangkok.
Going to a local Thai Embassy or Consulate
If you choose the first option, you can also ask one of the staff from the agency to assist you when you land. You can also order a shuttle from the airport to your accommodation.
Remember to have your membership certification letter with you after landing in Thailand. The process of getting the visa at the airport will last from 10 to 45 minutes. Double check if you got the right visa!
Important additional information
This visa is a tourist visa and doesn't allow you to work in Thailand.
You need to go to the immigration office every 90 days to fill out a form with your current address (90-day reporting).
If you want to leave the country, you don't need to renew the visa, but you need to report it using the TM30 form. If you have a property in Thailand, you can do it here, or through this app.
Every year you need to obtain a stay-extension even though the membership is valid for 5 – 20 years. The cost each time is 1,900 Baht.
If your passport expires during this time, you will get a stamp with the validity of the passport. Once you get a new one, you will get a new stamp with new dates.
Thailand Elite Visa is definitely worth applying for if you love Thailand and want to live there undisturbed. It gives you great benefits, too.
I hope you found this post useful and that it will help you with applying for the visa.
Please do not hesitate to contact me if you have any questions about the Visa, or if you'd like to go ahead and apply.
Cover photo provided by Depositphotos.