Are you a nature buff? Amazing! I have some great recommendations for you. Here is a list of places to visit in Thailand for nature lovers.
I love spending time in nature and whenever I'm in Thailand I seek out quiet and green places, where I can really unwind. Even though I think, trekking is a bit too much for me in those temperatures, I still like to drive out into the mountains or spend time on one of the amazing beaches.
In this post I will introduce you to some of my favourite places in Thailand for nature lovers. I hope it will help you to plan your holidays and you will be able to see some great spots in the Land of Smiles.
The best spots for nature lovers in Thailand
Here is a list of my favourite spots. Please be aware that even though I like hiking, I don't do it very often there. I also don't do any climbing or diving. However, I tried to think about those things when putting the list together for you.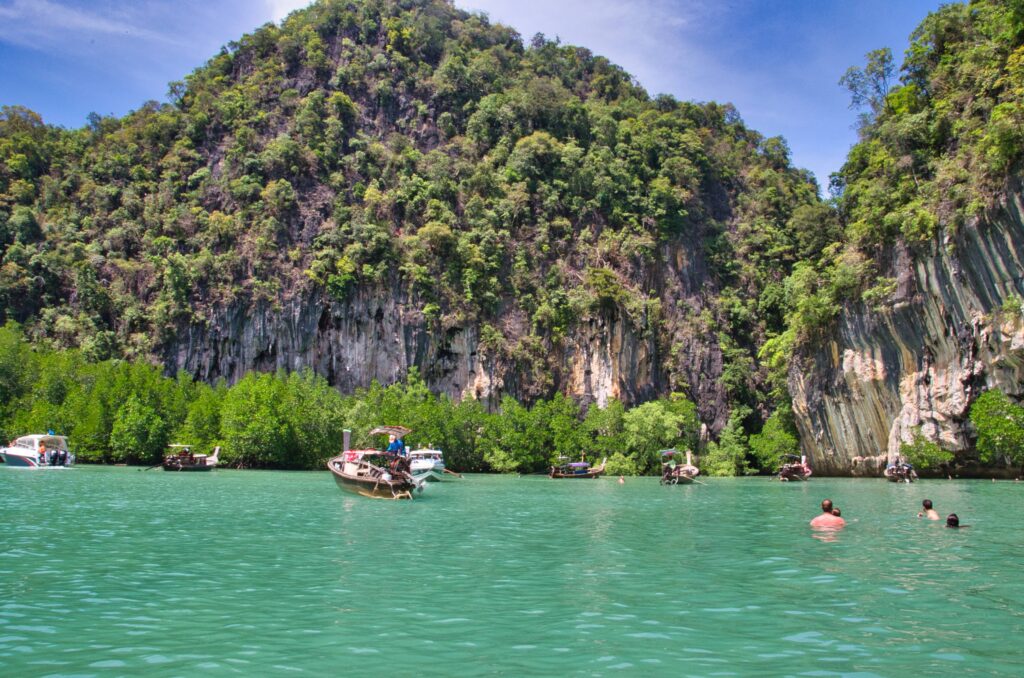 The North
The North of Thailand is amazing and beautiful. During the winter months, from November to March it is green and lush. Many places are not very popular with tourists, so they are very quiet and worth visiting if you want to get away from crowds.
Hung Tong Tao Lake near Chiang Mai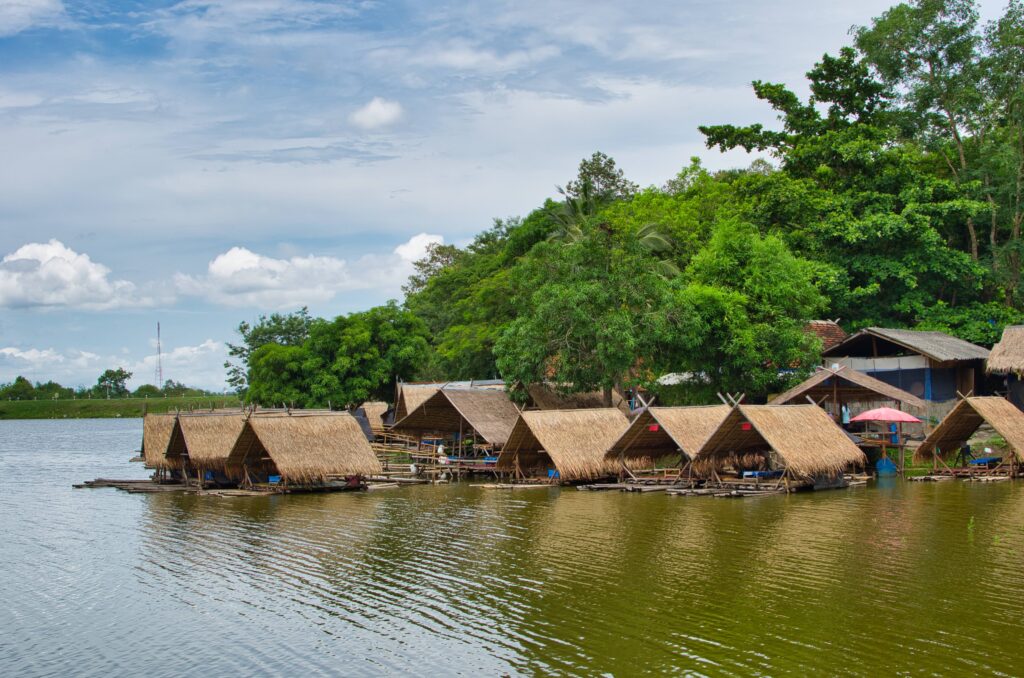 This is a great little spot outside of the city. You can come here for a few hours, or spend a whole day relaxing, eating and having fun with your friends.
Huay Tung Tao Lake is a favourite destination for Thai people and expats. It's usually busy during weekends and bank holidays, so choose to visit on a different day.
Map
How to get here?
Rent a scooter or take a songteaw in Chiang Mai.
The Dam and floating houses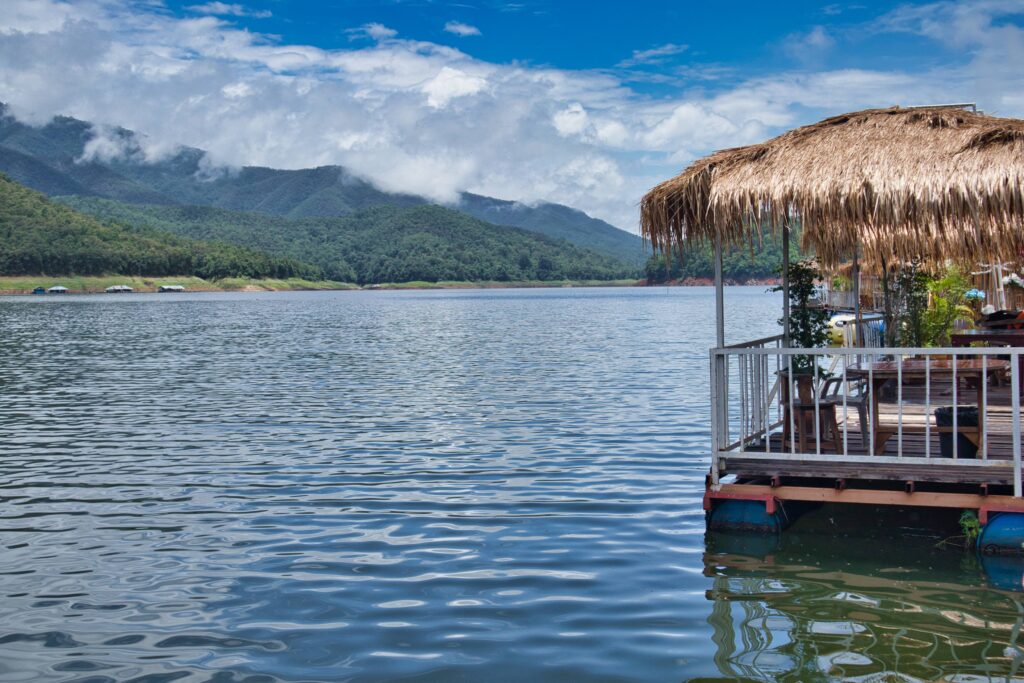 I first heard about the floating houses near Chiang Mai when I was teaching English in Thailand. It's really a unique place in Thailand, which nature lovers will appreciate.
Take a boat to one of the bungalows floating on an artificial lake and spend time in a peaceful atmosphere.
Map
How to get there?
You can drive by scooter. If you're not a confident driver, hire a taxi from Chiang Mai. You can also hire a guide, who will take you there for half a day.
Chiang Dao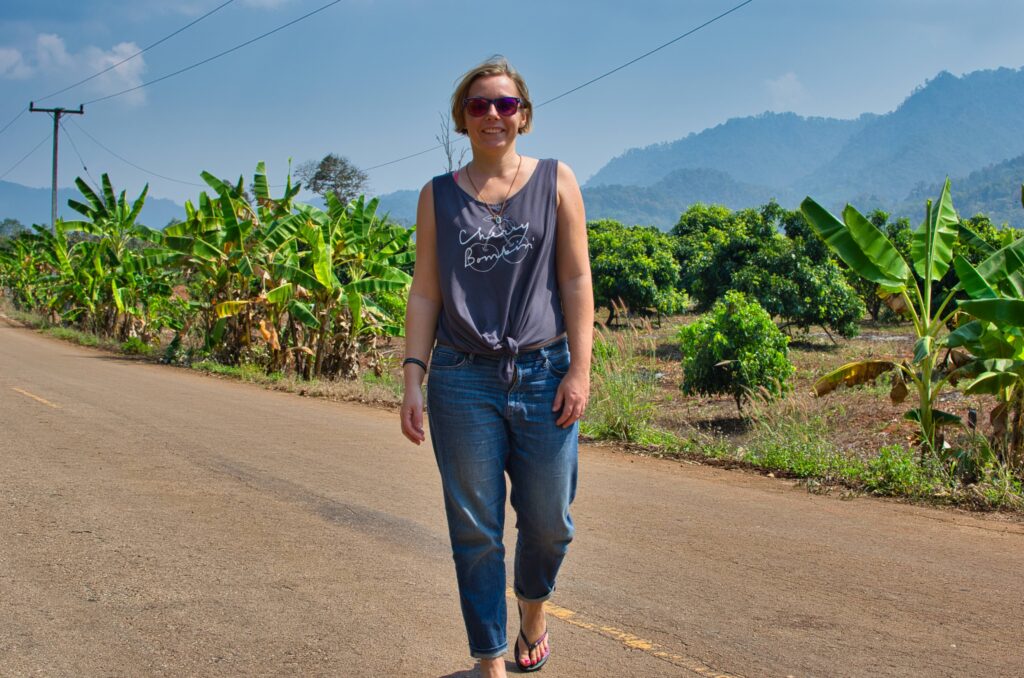 Chiang Dao is one of my favourite destinations in the north of Thailand and one that I always visit.
It's a small town at the foot of a mountain. You can stay in one of the guesthouses in the area, take a trip to the national park and even bathe in the hot springs.
Map
How to get there?
You can drive from Chiang Mai. There are also mini vans and local buses going from Chiang Mai bus station. Check the schedule here.
Someong Loop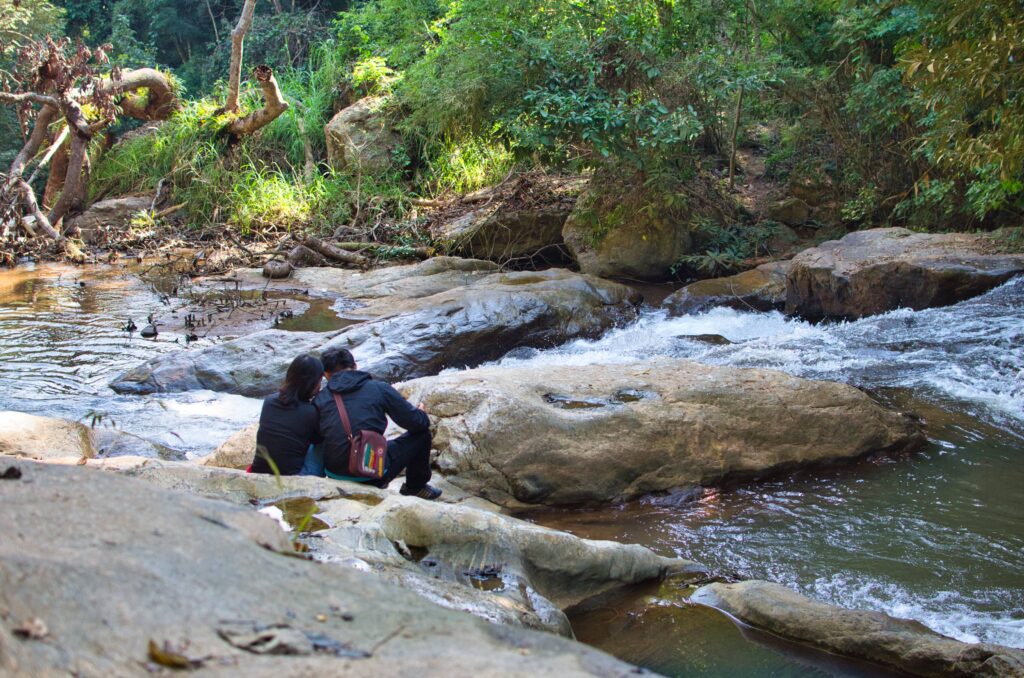 It's one of the more popular things to do on your own two wheels near Chiang Mai.
Someong Loop starts in Chiang Mai, goes around Mae Sai, through the town of Samoeng and finishes back in Chiang Mai. You can stay somewhere on the way and spend a couple of days exploring the area.
Map
How to get there?
Normally, this loop is done by a scooter.
Doi Inthanon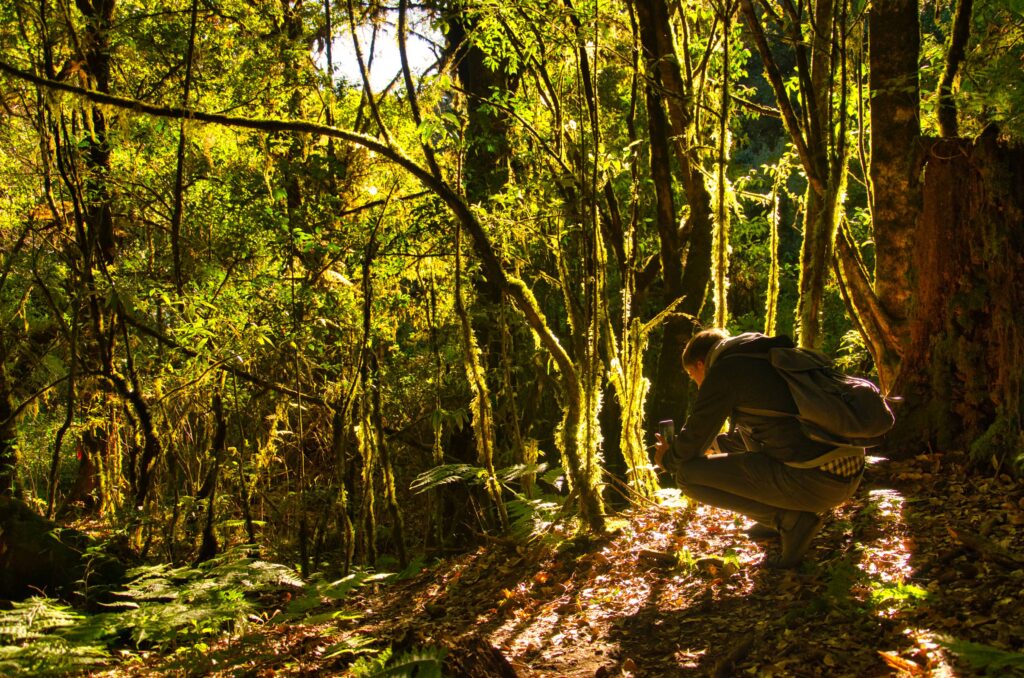 Doi Inthanon a famous destination for many tourists and people. Some sights might be busy, but the national park is huge and you can find some quiet spots as well. If you want to go trekking, you need to rent a guide in the park, or hire one from TakeMeTour before you go.
Map
How to get there?
You can drive a scooter, but it's a bit of a drive. You will then be able to see other places around. You can also hire a guide in Chiang Mai.
Need a flight to Thailand? Look for the cheapest options on Skyscanner.
Sticky Waterfall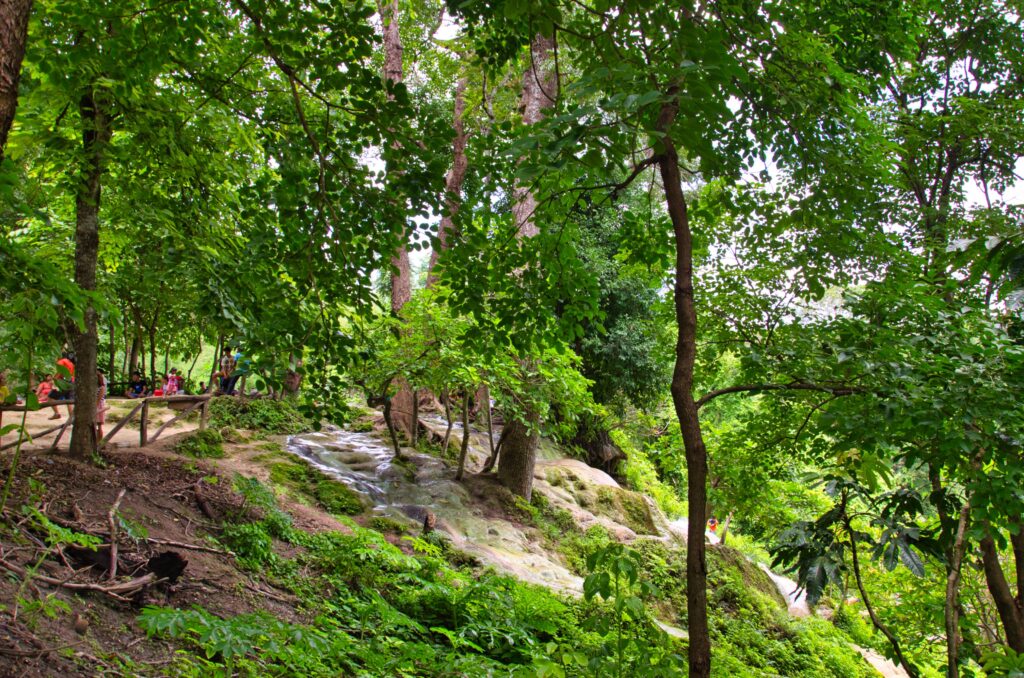 A very short drive from Chiang Mai, you'll find a sticky waterfall. The rocks here, due to a high content of limestone, are actually sticky and you can climb on top of the waterfall barefoot. It's a lot of fun and a good idea to spend the day.
Map
How to get there?
You can take a scooter and drive by yourself. There are taxis that you can hire from Chiang Mai. Alternatively, you can hire a guide and go with someone who can also take you to some other places in the area.
Doi Suthep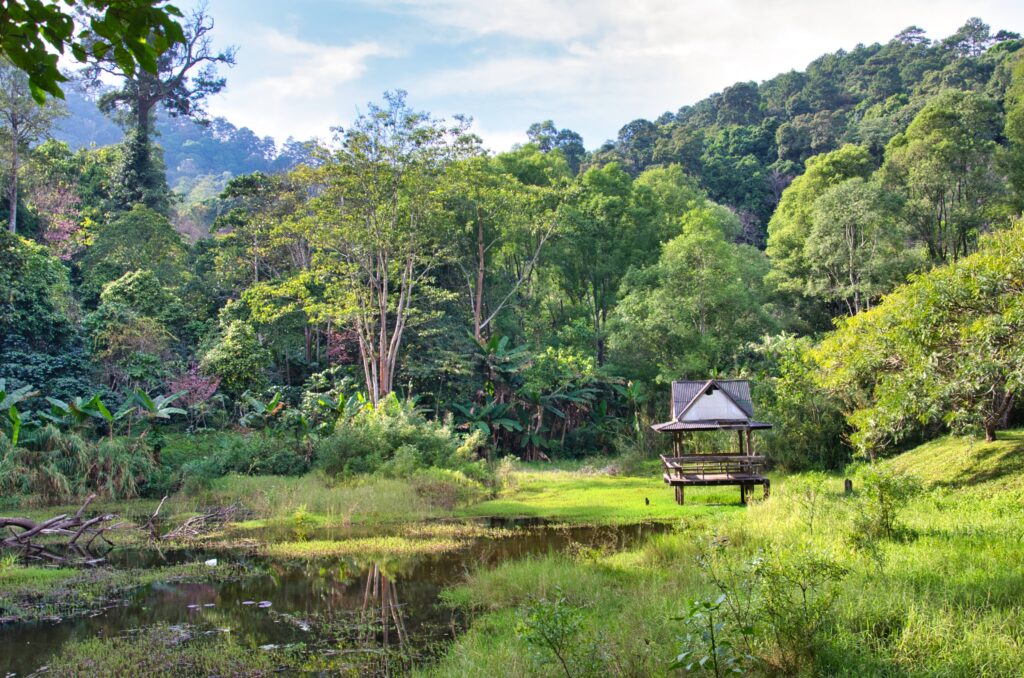 Doi Suthep is the highest mountain near Chiang Mai. It's visible from almost any corner of the city. You can hike up to the top of it and reach the main temple in a few hours. You can also take a scooter, or hire a driver, and drive while stopping at many view points on the way.
If you pass Wat Phra Tat Doi Suthep and continue up, you will reach a botanic garden and Doi Pui, where you will also be able to camp.
Map
How to get there?
You can drive there by yourself, or hire a taxi. There are many songteaw drivers in the city that will be willing to take you for a trip.
Elephant Nature Park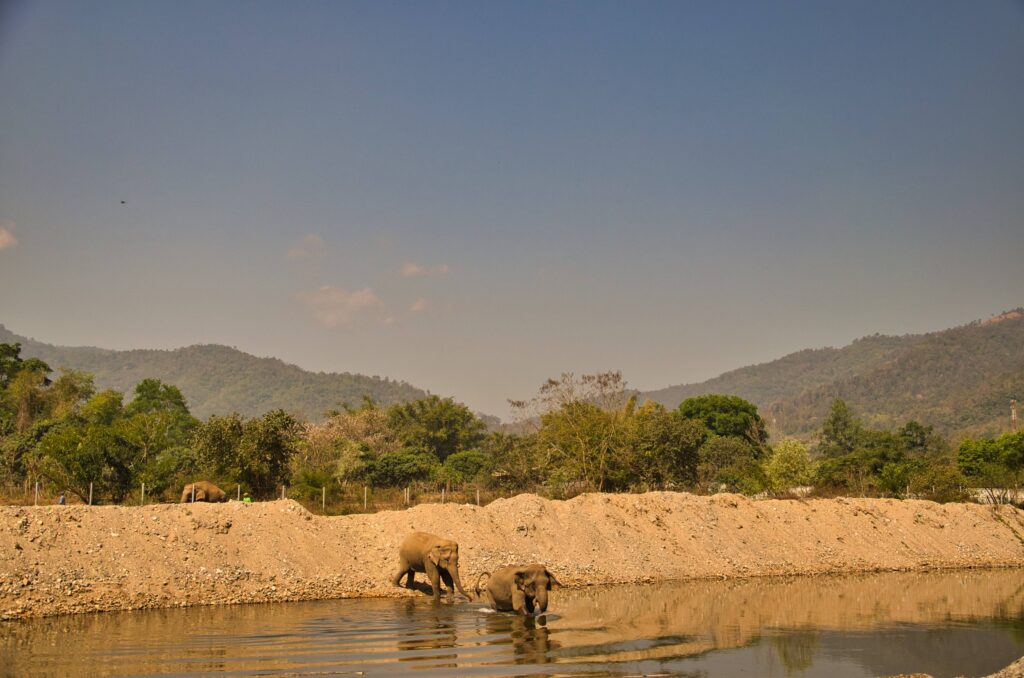 If you are an animal lover, you will appreciate Elephant Nature Park. It's one of the first elephant sanctuaries in the area. It's famous for its founder – Lek – who became well-known as the elephant-whisperer.
You can buy a day tour, or go there for a couple of days to help out on the farm.
Map
How to get there?
The best thing is to buy a ticket online. You will be picked up by a driver from the park.
Nan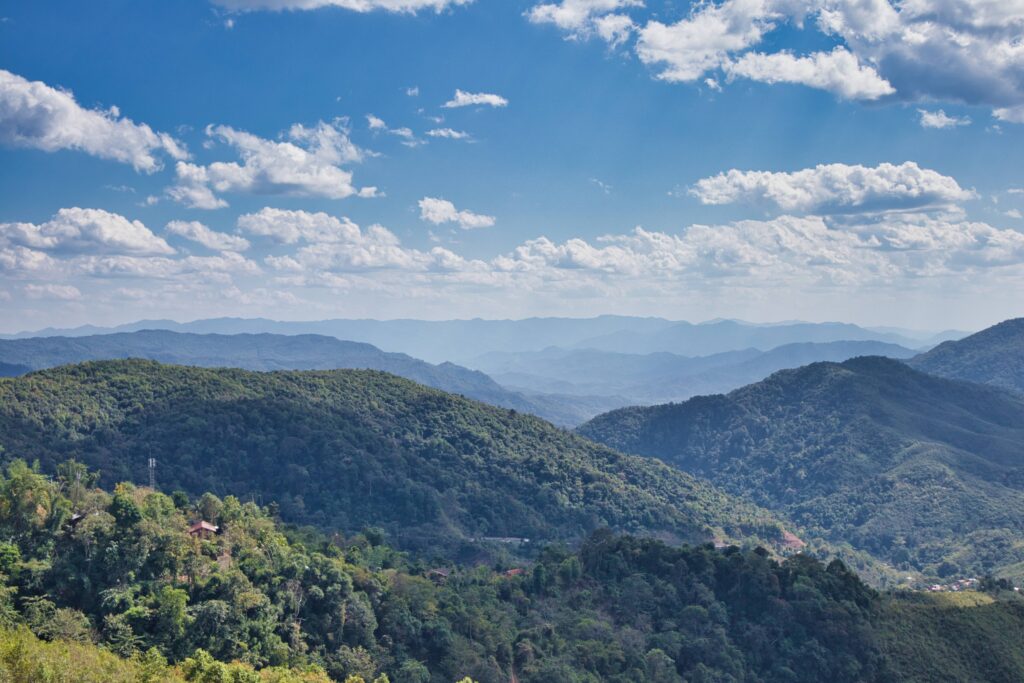 Nan is the city in the north of Thailand. It is pretty large, so you might not enjoy it so much. However, hire a driver, or take a scooter and venture out to the nearby mountains. This is a trip that you will love. The surrounding area is amazing and beautiful. It's worth spending a few days here.
Map
How to get there?
You can travel to Nan from Chiang Mai or Bangkok. When you are in Nan, hire a scooter from your hotel. You can also go with a driver.
The East
I was amazed by the East of Thailand. This part is less explored and a bit less touristy. Therefore, it's lush green and very peaceful. Thai people living here are extremely welcoming, which will add an extra bit to your adventure.
Rayong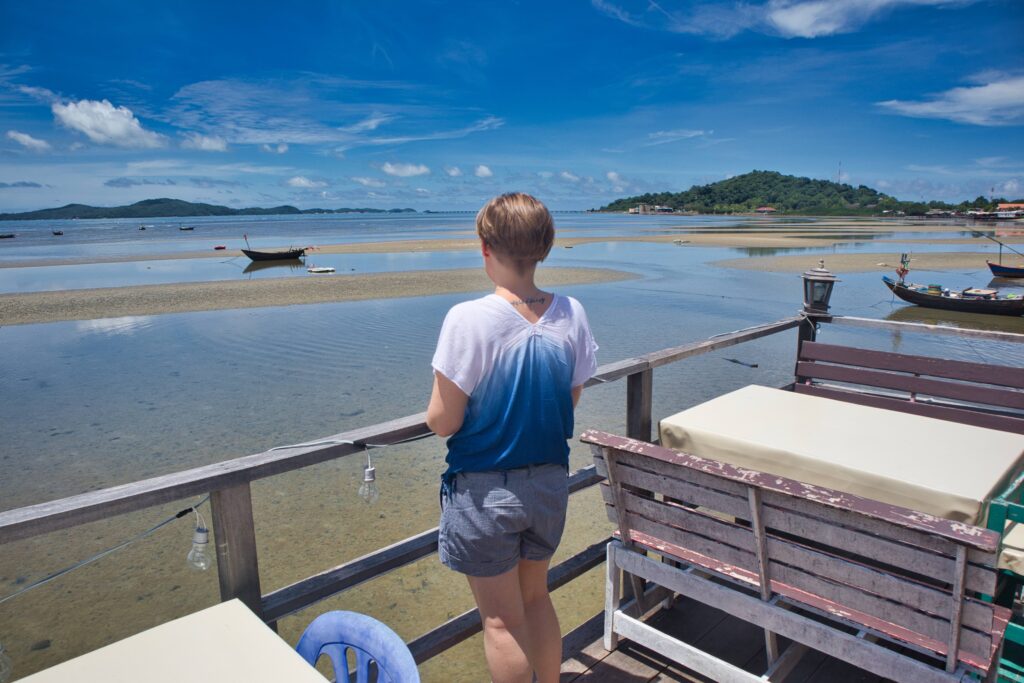 Rayong is a little town on the coast. At first it might seem that it doesn't have much to offer. Try to go away from the main streets. Take a scooter and drive out to the little villages near Rayong, explore the peaceful way of life and the nature nearby.
Map
How to get there?
It's easy to catch a bus or a mini van from Bangkok to Rayong.
Koh Chang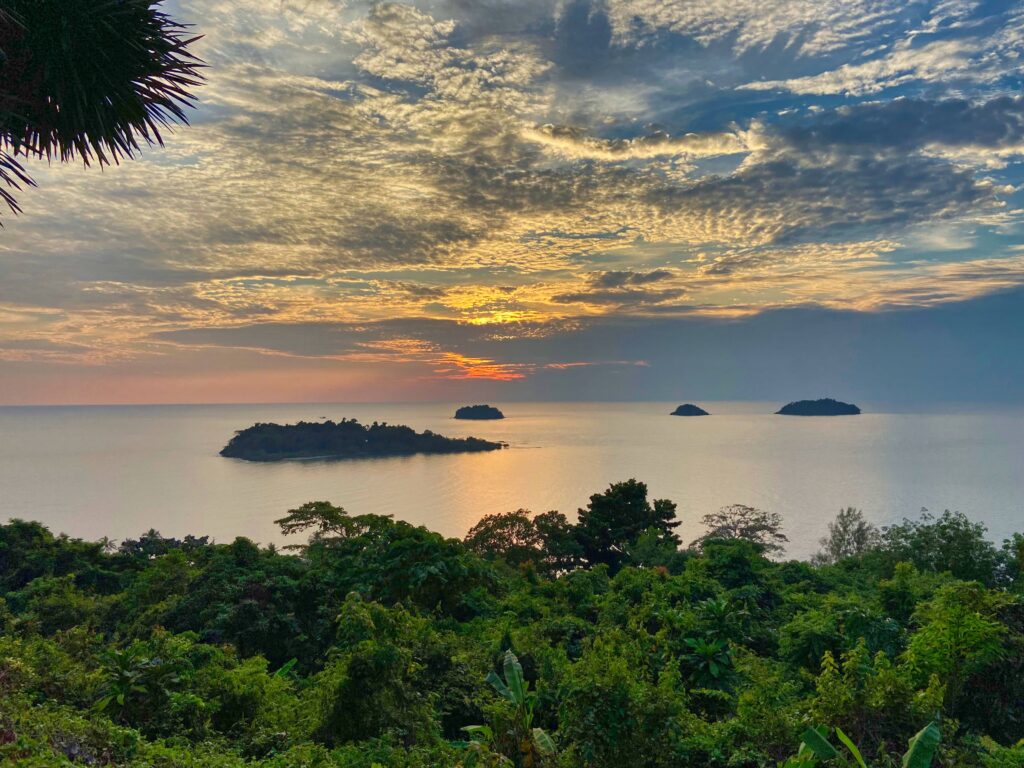 You might have heard about Koh Chang. It's a large island near Trat and Rayong. Here you can enjoy empty beaches, peaceful forests and some wildlife.
If you are brave, go hiking (with a guide, of course) and make friends with those curious cheeky monkeys.
There are a few waterfalls on the island as well, making this an ultimate destination for nature lovers in Thailand.
Map
How to get there?
You can take a flight from Bangkok to Trat and there catch a taxi and a ferry to the island.
The West
The west of Thailand is also really interesting and has a few special places that are worth exploring.
Erawan Waterfalls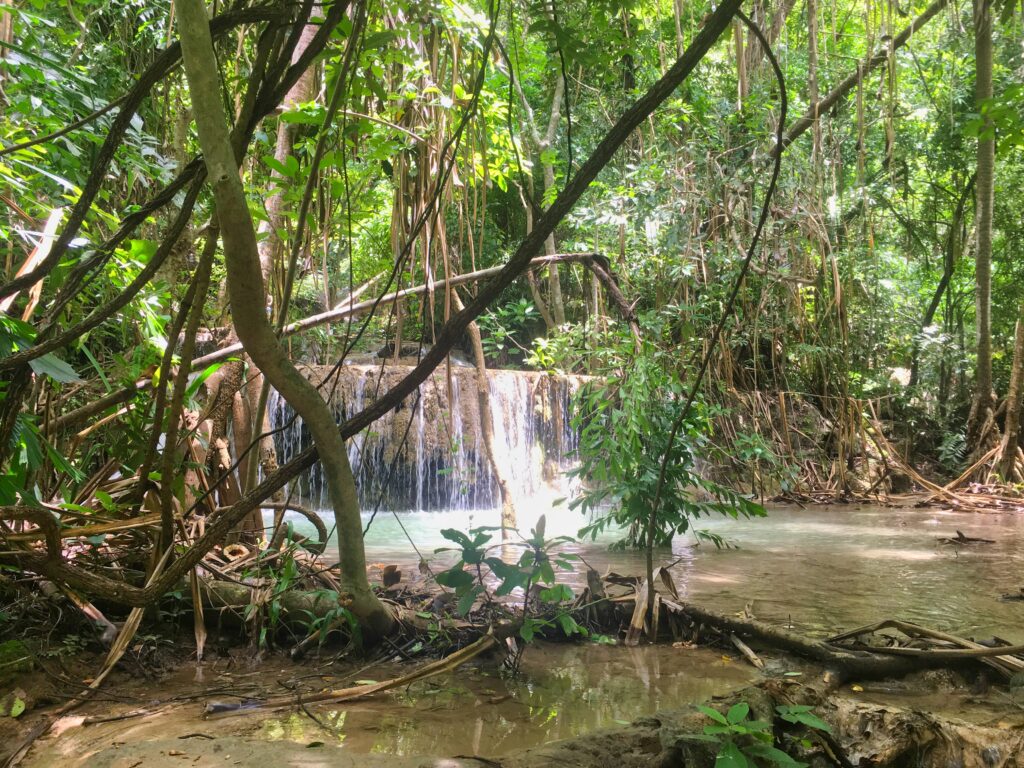 When in Kanchanaburi, take a trip to the Erawan Waterfalls. It is a touristy place and can get quite crowded. But, don't be discouraged. It's really worth seeing the turquoise waters.
Map
How to get there?
It's an easy drive from Kanchanaburi. You can find a taxi driver or book it online.
There are also some trips organised from Bangkok.
Railay Beach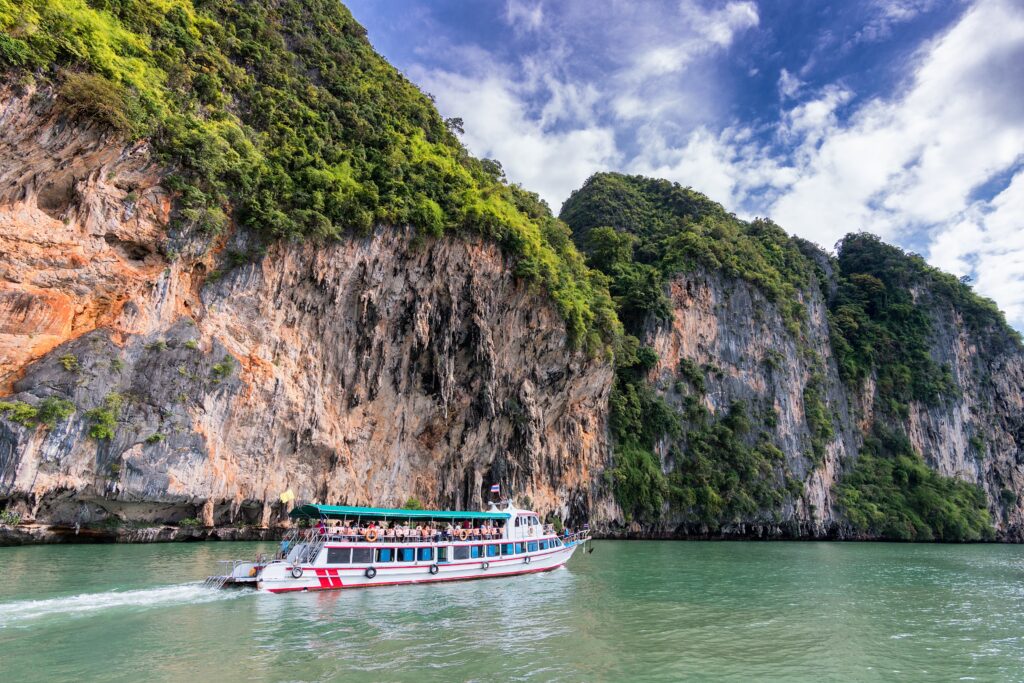 One of the most famous places in Thailand, Railey Beach, which is quite often featured on postcards. It is located on the land, but is separated from it by a strip of cliffs. To get here, you will need to catch a boat.
The area is beautiful and it's perfect for a beach holiday for any nature lover in Thailand.
Map
How to get there?
You can take a taxi from the Krabi Airport.
The South
The South of Thailand is probably the most famous among travellers for its sandy beaches. I chose a couple of places that are less obvious.
Khanom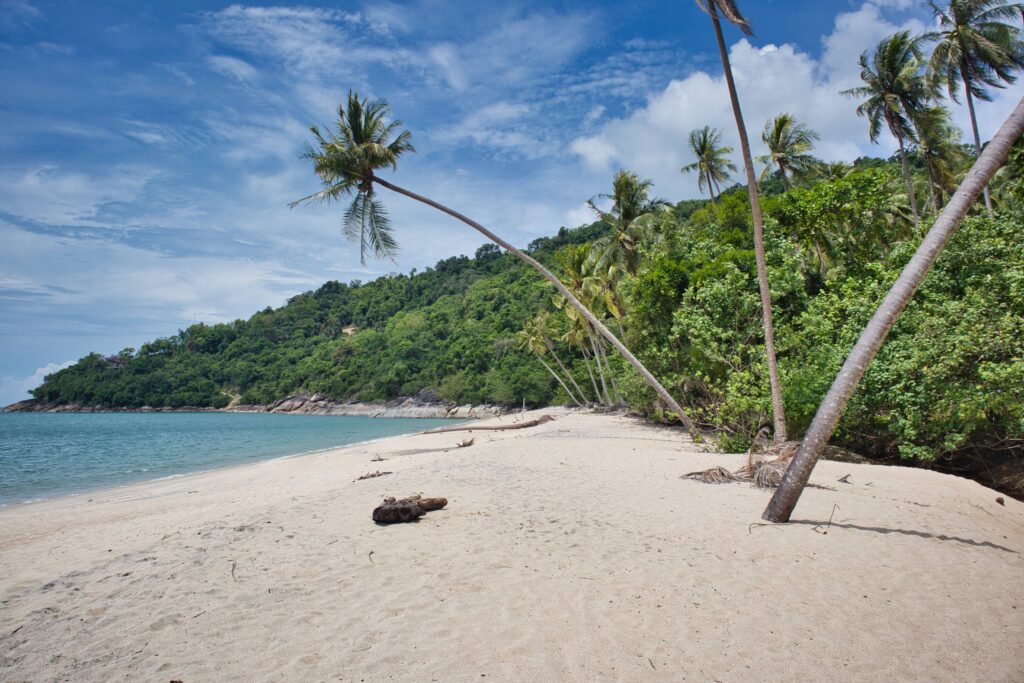 This is a lovely little town in the South of Thailand. There are some interesting markets and a few waterfalls. I took a scooter and drove all the way up a hill, to a hidden waterfall with a nice view over the area.
The beaches here are less frequented by visitors, so they are clean and well maintained.
Some of the local tourist companies organise trekkings and cruises.
Map
How to get there?
The fastest way is to fly to Nakhon Si Thammarat and then take a taxi to Khanom.
Promlok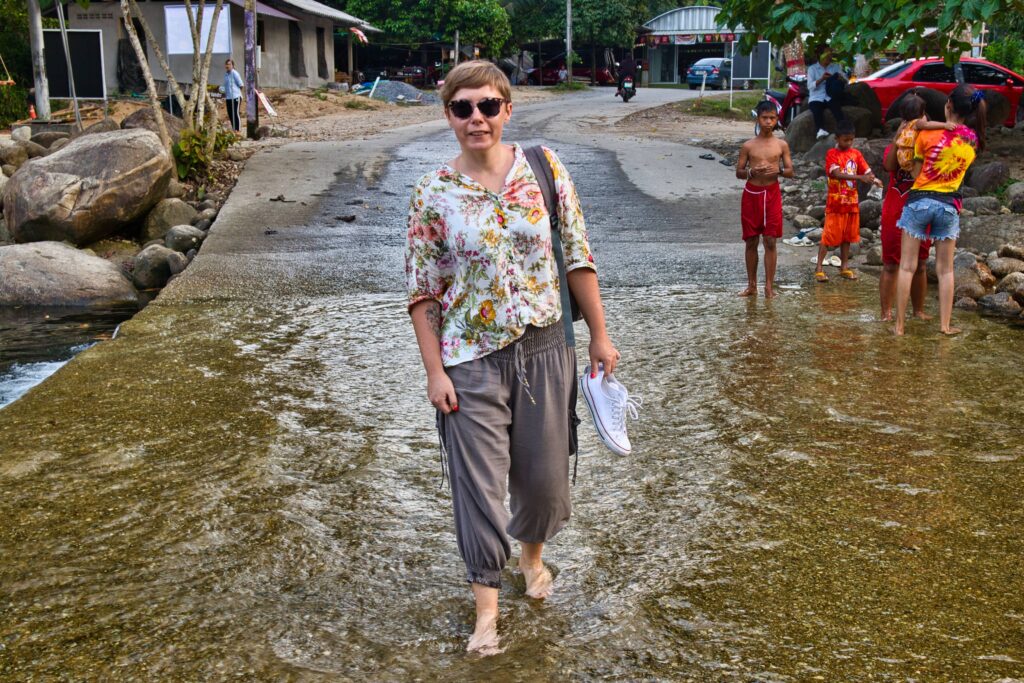 I discovered Promlok thanks to Air Asia and Journey D.
It's a little community near Nakhon Si Thammarat, where you can experience the local life. People from Promlok can also take you biking and hiking to the nearby waterfall.
Map
How to get there?
First, fly to Nakhon from Bangkok. Then, you can contact Promlok and ask to pick you up.
Koh Lanta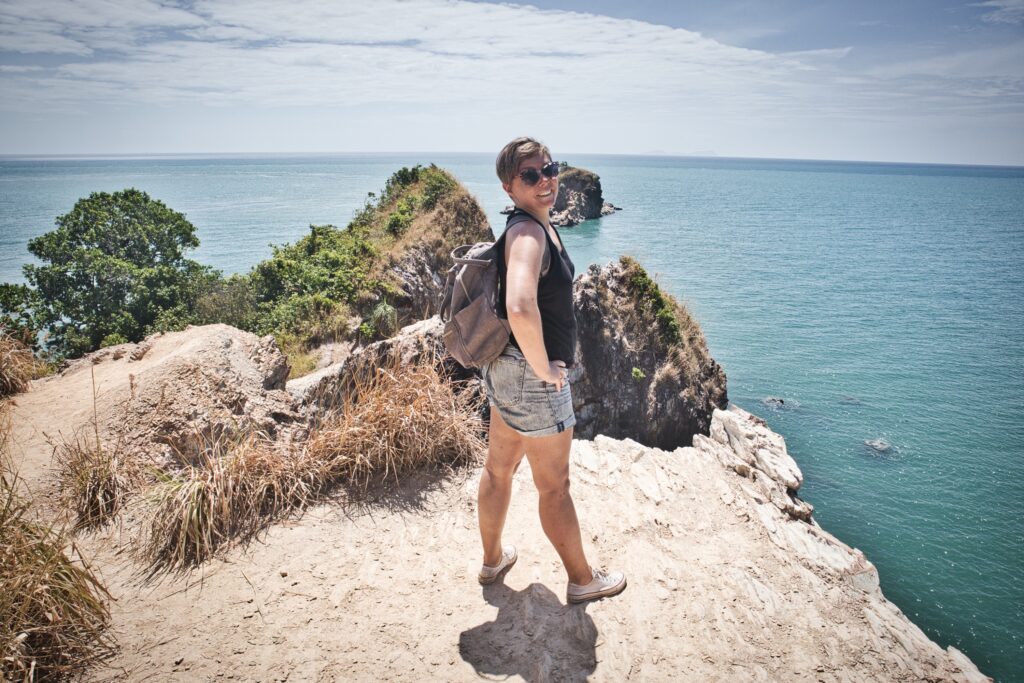 Koh Lanta is also a very well-known island. Many people come here to relax. The main part is quite busy, but you can drive out a bit further, to the nearby national park to find nice trekking routes and lovely, white-sandy beaches.
Map
How to get there?
There are a couple of ways of how to get to Koh Lanta. Here's a post I have on the topic.
Practical Information
Going to Thailand for an adventure? Here are things to consider.
What to expect?
You can spend time in nature in Thailand passively, just by laying on the beach and sunbathing. You can do it also more actively – there are plenty of diving schools, trekking companies and climbing courses. For a good price you can never be bored.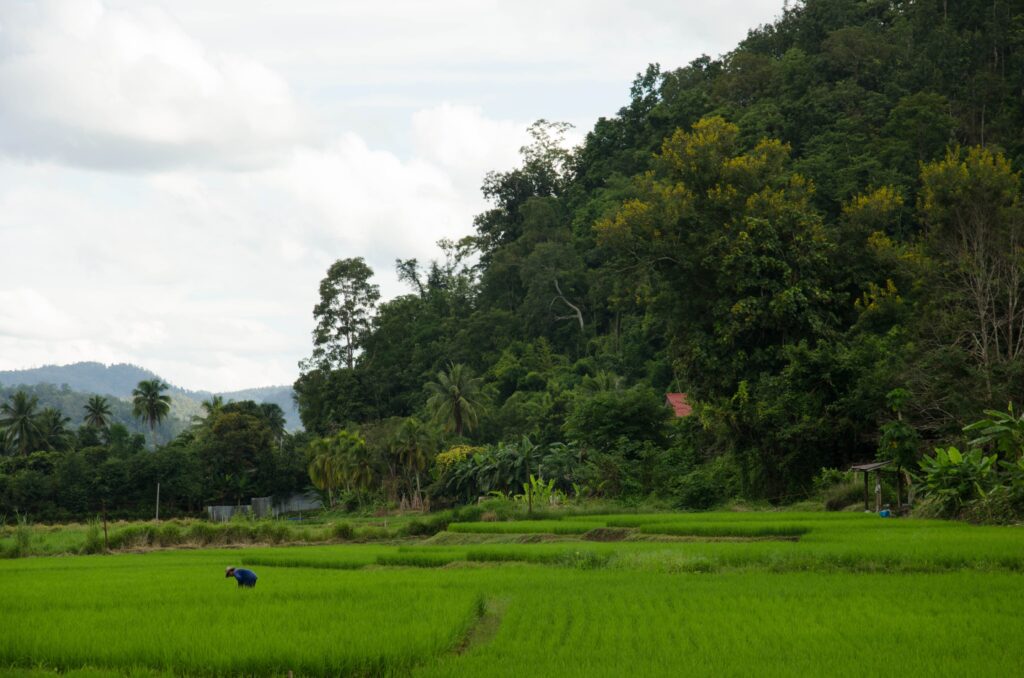 Remember that nature in Thailand might not be something you are familiar with. It's always wise to hire a guide or an instructor. Don't do anything you haven't done before without instructions.
Animals such as monkeys are a common sight on Thai streets and in forests. They are curious and in some places they are not afraid of people. It's best to steer away from them, avoid eye contact and keep your belongings with you at all times.
What to pack?
If you are a nature lover and are going to Thailand, please don't forget to take with you:
Long-sleeved shirt and long pants – Choose ones that are made out of linen or other light material.
Good shoes or trekking boots – If you intend to go for some hiking.
First-aid kit – This depends on what you will be doing. You can also buy a lot of things in Thailand, but it's always good to have a couple of plasters with you and a disinfectant.
Mosquito spray – Buy one bottle at home and then restock in Thailand. In 7-11 you'll find a lot of good mosquito sprays.
Sun lotion – Just like with the mosquito spray – buy one at home and then restock in Thailand. Unless you will be only on the islands, then it's a good idea to have a big supply of this as the prices in the tourist places are quite high.
A hat and sunglasses – Remember that the sun in Thailand is very strong.
Don't forget about insurance!
This is very important if you want to go diving, hiking or do sports. Buy good insurance that covers you in case of accidents when doing these activities. Check out my advice on which insurance is best or buy insurance from SafetyWing – my trusted partner.
Nature in Thailand – How to look for the best places?
These are my favourite locations for nature lovers in Thailand, but if you'd like to see more, then I recommend going on Google Maps, zooming out a bit and then marking national parks.
After that, you can check which major town or city is nearby, travel there and organise trips from that base. It's usually easy to do just that because transportation services are everywhere. Just ask at your accommodation for a taxi or a guide to take you where you want to go.
A good idea is to rent a scooter, but please be careful when driving.